Kapola Trader EA is a trading advisor that was designed to work on Forex. It's hard to understand why the devs didn't provide us with extended explanations about the robot, taking into account that it's a new one. We have no details about the developers and the company legal registration provided.
Kapola Trader EA features
The system has some details explained that describe how the advisor works.
The robot is a set and forget trading solution.
We have to provide only general supervision.
The installation takes several minutes.
The advisor can provide us with safe trading.
The system can fit even a beginner trader's expectations.
There are various entry points.
There's a trailing stop loss feature.
A win to lose ratio is 3:1.
Pricing
We have three packages provided: Bronze, Silver, and Gold. The first pack is available for $99 for a real and demo account copy, lifetime access, 24/7 support, and free updates.the second pack costs $149 and it's featured by two real and two demo licenses. The third pack can be bought for $249 and there are 4 real and 4 demo licenses. The devs support the offer with a 30-day refund policy.
How it works
We have a robot that can run various charts completely automatically. No interactions needed.
The advisor can outperform the market according to the developers' view.
It's possible to get great profits on the Forex market.
It requires a VPS service or a stable internet connection.
The robot receives data from CCI to know where's the right time to close orders.
Trading strategy
The system works with two core indicators Bollinger Bands and CCI.
It seeks trading opportunities based on Bollinger Bands Profit Strategy.
There are five pairs allowed to trade: EURUSD, GBPUSD, AUDUSD, USDJPY, and NZDUSD.
The robot can trade on M15.
Trading results
There are no backtest reports provided that could convince us that the system was properly tested before being released. The final report after the test would show us the real win rate, drawdowns, profitability, etc.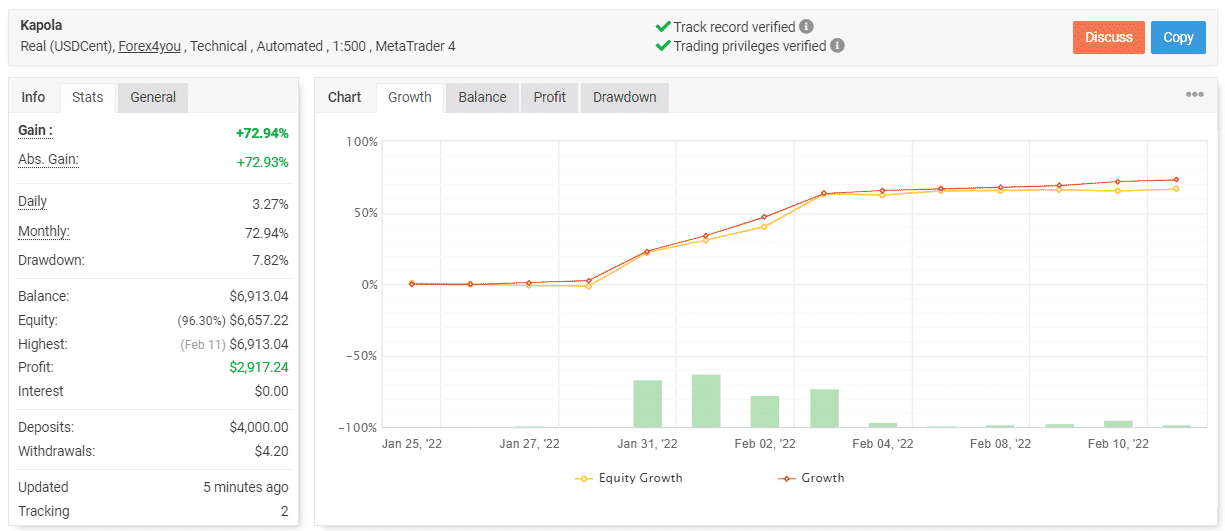 Kapola Trader EA has been working on a Forex4you broker where a real account was created. It has a verified track record. So, we can rely on the data and charts that we see. The account was created on January 25, 2022 and deposited at $4000. Since then, the total gain as well as an average monthly gain have grown to 72.94%. The daily income is 3, 27%, while the maximum drawdown is 7.82%.

There were 607 deals traded with 2,493 pips obtained. An average win is 13.79 pips when an average loss is -21.62 pips. The win rate for long and short trading positions is 75% and 70%, respectively. An average trade length is 13 hours and 29 minutes. The profit factor is good and equals 3.50.

It works with five cross pairs. GBPUSD is the most traded pair with 254 deals performed.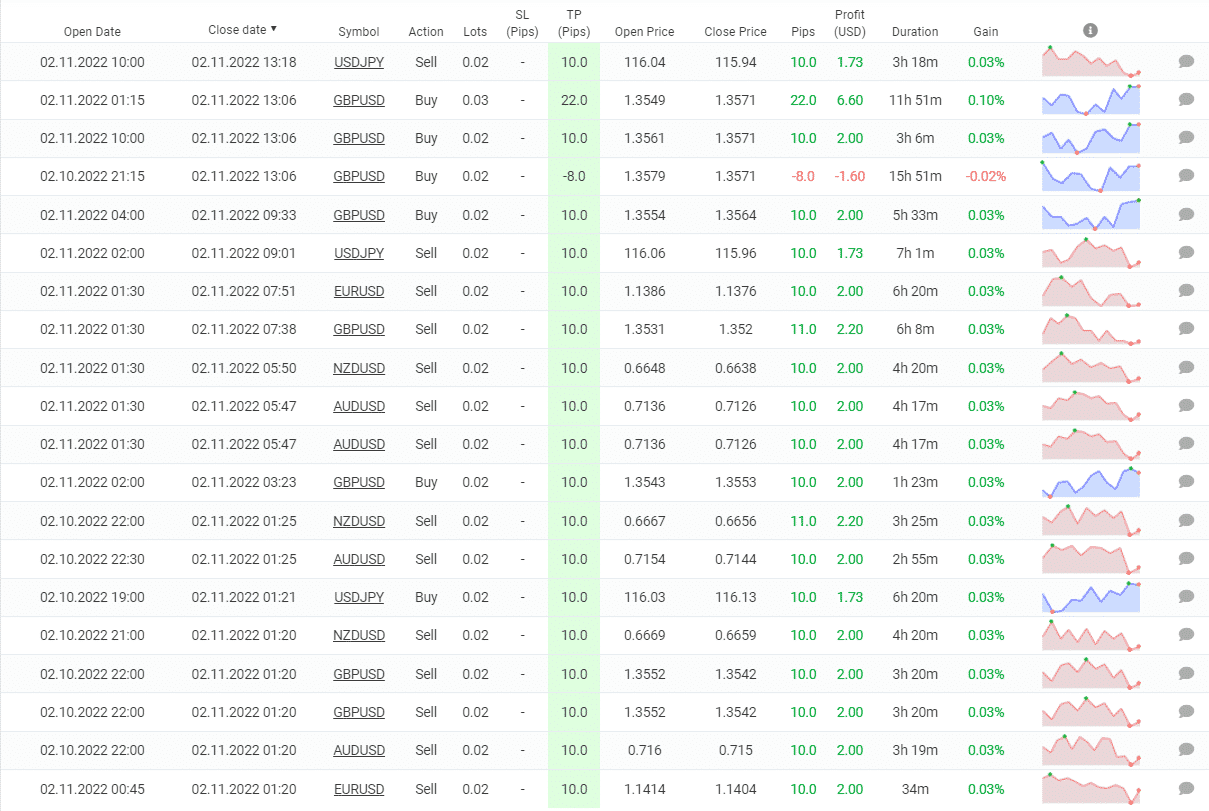 The system works with a Grid of orders strategy alongside with x1.5 conservative martingale applied.
Customer reviews
There are no people's testimonials written that should help us to understand how the system works for real clients.