MATALINO FOREX EA is a fully automated Forex expert advisor. According to the vendor, it automatically generates a steady profit each month without suffering from any losses. This EA promises to automate your profits using a lucrative and safe strategy.
We don't know anything about the company that built this Forex EA. On the official website, there is no information on the year of foundation and the location. The vendor has not revealed the identities of the developers and traders either, so we are not too impressed with the EA when it comes to vendor transparency.
These days, there are many scam EAs on the market, so in order to choose a reliable one, we need to conduct a detailed analysis of all the different performance aspects. After looking at things like trading results, backtests, strategy, price, and customer reviews, we can determine whether the system is trustworthy or not. Check out our best Forex robots list to know more.
MATALINO FOREX EA Overview
On the official website, the vendor focuses on the performance of the Forex EA, making the claim that it can outperform the market. They have shared a list of benefits provided by this robot, along with the link to a live trading account. We also have the pricing details and a contact form that you can use to get in touch with the team. Compared to other services, this robot does not offer anything unique.
Pricing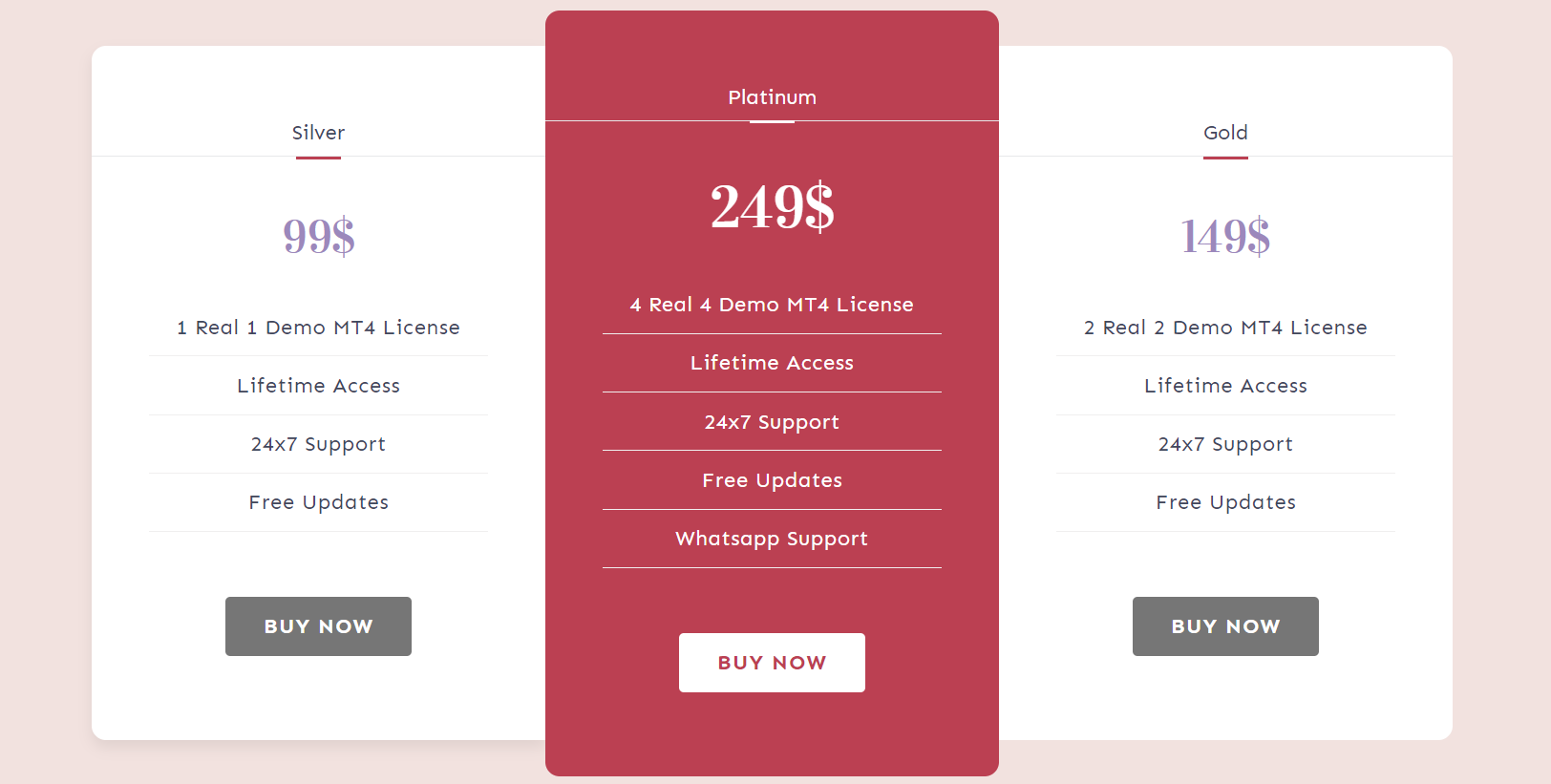 The trial version of this EA costs $7 for 7days. For the full version, you need to pay $99 for a single license, $149 for 2 licenses, and $249 for 4 licenses, respectively. For the full license, traders need to pay $1000, which is extremely expensive. The same number of licenses is offered for real and demo accounts. This EA comes with a 30-day money-back guarantee.
How it Works
MATALINO FOREX EA trades in the GBP/USD and EUR/USD pairs for the M15 timeframe. It monitors the current market price using indicators like CCI, Bollinger Bands, and others. As per vendor claims, it has a win ratio of 3:1, but this is something that needs to be investigated at our end. The company provides 24/7 customer support services. You can reach the support team via email.
Trading Strategy
The vendor does not disclose the trading strategy used by this EA, which is not a good sign. Most traders look for some kind of strategy insight since it allows them to gauge the profitability of the system, to a certain extent. The lack thereof might deter many traders from investing.
Trading Results
The vendor has not shared the backtesting results for MATALINO FOREX EA. All reliable EA vendors are expected to share the historical performance since it reveals the robustness of the system. Since these tests go on for many years, the EA often has to deal with unfavorable market conditions, which is why most traders place a lot of emphasis on them.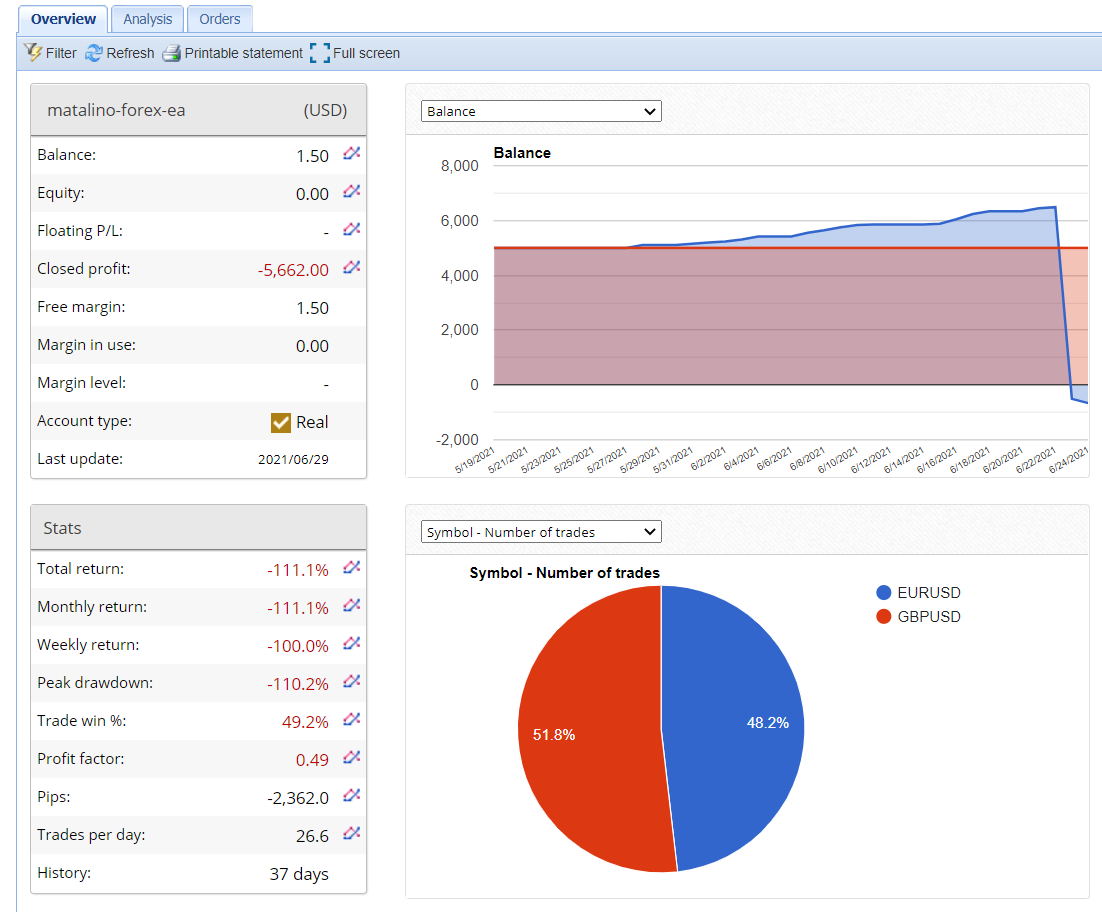 This live trading account on FXBlue has a trading history of just 37 days, which means that this EA has not been trading for too long. As we can see, it has suffered some large losses during this short time period and is currently running at a loss of $5662. It has only won 49.2% of its trades, which is quite low compared to other reliable robots in the market.
At this moment, the daily, weekly, and monthly returns for this account are -100%, -100%, and -111.06%, respectively. There is no way we can trust an EA that has such a dismal track record.
Customer Reviews
Unfortunately, we were unable to find any user reviews for MATALINO FOREX EA on websites like Trustpilot, Forexpeacearmy, Quora, and Myfxbook. It is therefore evident that no people are using this EA as of now and it does not have much of a reputation. This is yet another reason for not investing in this EA.