Monsta Gold is marketed as a fully automated trading strategy for gold. It is designed for high frequency trading, a technique the developer believes is the main form of algorithmic trading in the financial markets. But is this the EA for you? Let's find out in this review.
Thi Tra Mi Duong is the one who created this Forex robot. She is a developer at TraderViet, a company whose whereabouts are unknown. Thi doesn't have any trading experience and, yet, she has created 2 other products: Predator GBPUSD and Small Fire.
Monsta Gold overview
According to the vendor, this system has the following characteristics:
Only supports the XAUUSD currency pair.
Position trailing stop is utilized.
A time filter is available.
A large initial deposit is not required.
Always utilizes stop loss to safeguard a trader's capital.
The minimum recommended balance is $200.
Uses ECN account types with low spreads.
Only works on the MT4 platform.
Pricing
Monsta Gold costs $299. There's also a renting option, which allows you to use the EA for a whole year at a price of $259. These pricing packages are slightly higher compared to the average in the market. We have even come across EAs that cost as little as $100.
How it works
Monsta Gold is a Forex robot that trades the XAUUSD currency pair automatically for you. After completing the purchase process, just download and install the EA. Then attach it on the MT4 terminal. Lastly, watch it as it finds and places orders for you.
Trading strategy
The developer doesn't give us much insight into the robot's trading strategy. We only have a few sentences stating that the EA's signals are based on price action, instant price momentum, and multi-timeframe assessment. More information is that Monsta Gold is for high trading frequency, and therefore, it is able to place orders within fractions of a second. These approaches sound interesting. So, the developer needs to go an extra mile to explain them for traders to fully comprehend how the EA scouts for trades.
Trading results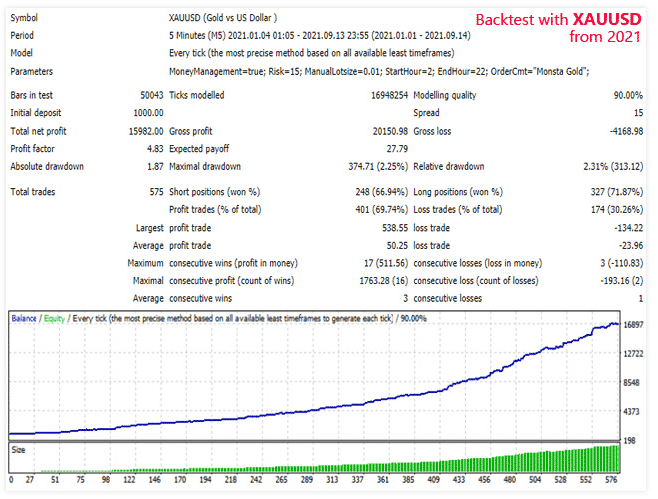 The XAUUSD was tested using the 5 minute timeframe for about 8 months-January 2021 to September 2021. From an initial deposit of $1000, a profit of $15982 was made. This was preceded by 575 trades that attained success rates of 66.94% and 71.87% for short and long positions, respectively. The EA generated a drawdown rate of 2.25%, while the profit factor was 4.83.
Live trading results are not there. This is suspicious given that the backtest results show us that the robot generated some impressive results-a high profit factor value and a low drawdown. It implies that the developer is afraid that similar results cannot be attained in the live market. This erodes any little confidence we had in the EA's performance.
Customer reviews
Only two customer reviews for Monsta Gold are featured in the presentation. This sample size is too small. Therefore, we need more customers to give their views about the EA for us to give our conclusive opinion regarding the traders' experiences with it. We are also concerned that the current feedback may not be genuine. How we wish clients could write their views on trusted sites like Trustpilot, FPA, Myfxbook, or Quora.

Other notes
Monsta Gold has only been updated once since its publication on mql5 on September 19, 2021. Currently, we have the latest version (3.1), which was released on October 5, 2021.