MyForexPath is advertised as an automated trading solution that was designed to help us be profitable on the Forex market. The robot is available on the dev's website and on the MQL5 market. To help you decide whether it is a good investment decision, we have prepared a detailed MyForexPath review.
MyForexPath features
The presentation includes information about features, settings, customization requirements, and other useful details.
The advisor can manage orders completely automatically. We may do nothing in addition.
We are allowed to perform trend trading.
The win rate can be average: 65-70%.
There are sessions for every cross pair.
It's possible to increase the level of upcoming signals.
We can work with any broker house.
Pricing
The system can be bought for $285 for a real account copy. It's a common price for similar solutions on the MQL5 platform. We can expect to get an unlimited license, a possibility to change account number online, both versions of the system, user manual, free updates and the best support 24/7. Also, we can rely on 30 days of the refund period.
How it works
If orders go against the current market trend, it closes them immediately.
So, this allows us to trade with low drawdowns.
It works with three pairs only: AUDUSD, EURUSD, and USDCAD.
We can work on both terminals: MT4 and MT5.
It opens orders in the direction of trends only.
It receives data about the market from the indicators like Moving Average and Parabolic indicators.
It calculates precise entry points.
The robot places orders on the market with relevant SL and TP levels.
Trading strategy
The robot trades in the trend direction only.
There are no details about time frame provided.
The advisor seeks for trading opportunities, using a trend strategy
The losses can be compensated. Most likely, it's a Martingale strategy.
Trading results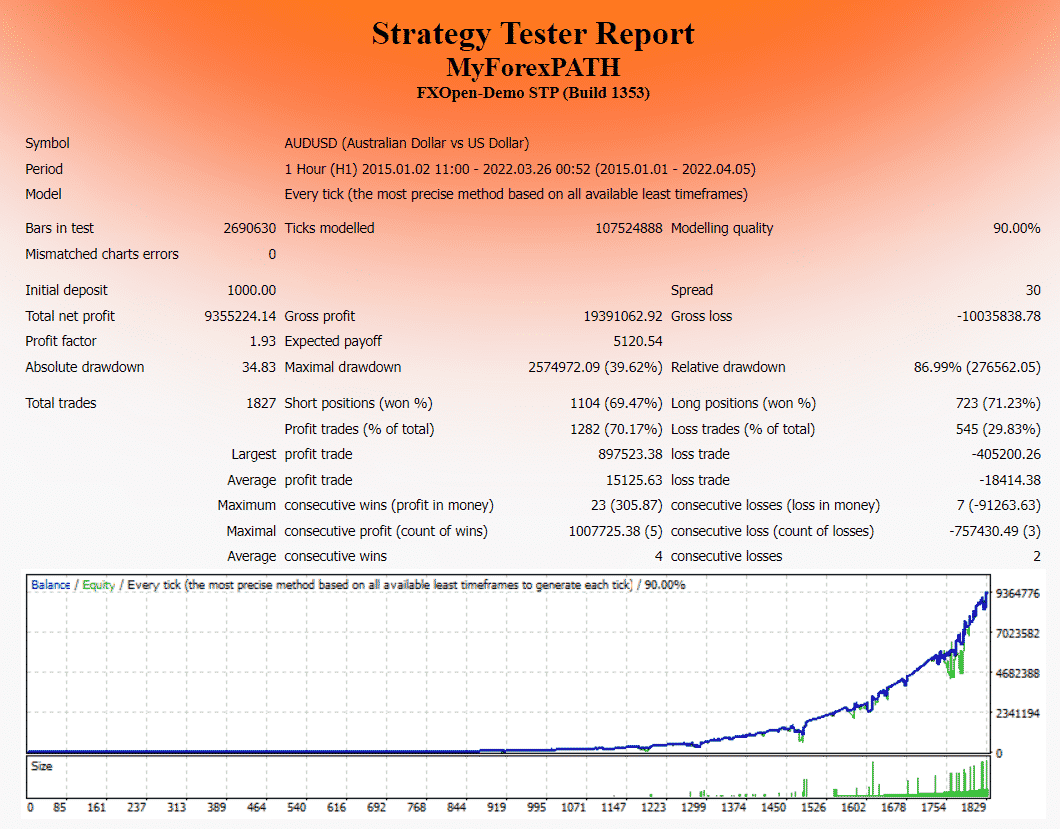 We have an AUDUSD backtest report on the H1 time frame. The modeling quality was 90.00% with 30 pips spreads. An initial deposit was $1000. The robot has obtained $9,355,224 of the total net profit. It trades with the profit factor of 1.93. Out of 1827 deals performed 1282 were winning ones.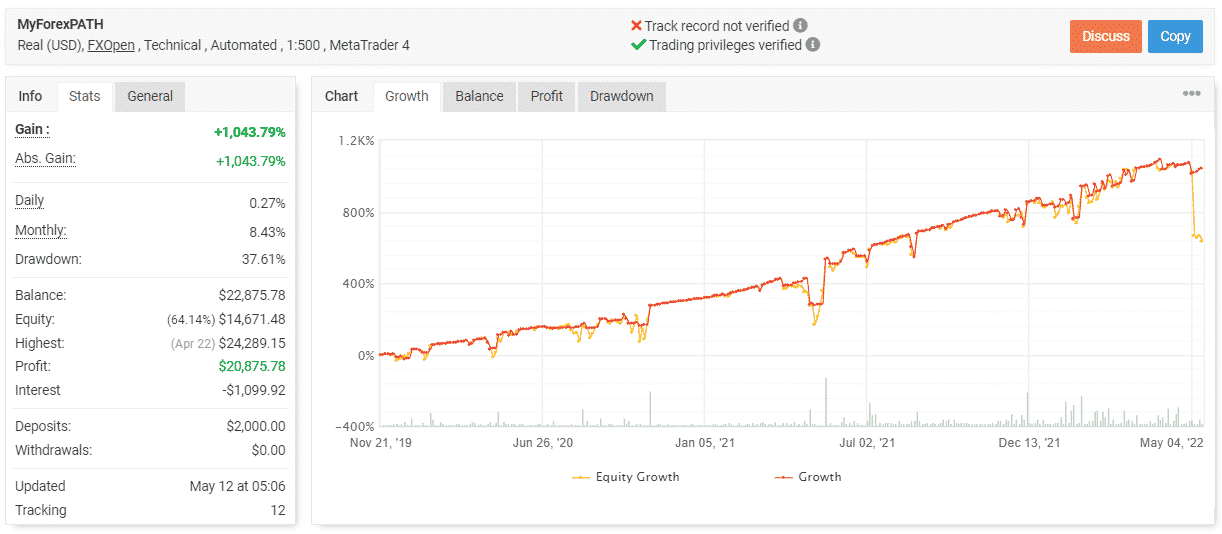 The robot was attached to a FXOpen-based real USD account. The leverage is 1:500. It receives technical indicators data from MT4. The account has lost a verified track record. This means that the data can be moderated. It was created on November 21, 2019, and deposited at $2000. The total gain is 1043.79%, while an average monthly gain is 8.43%. The maximum drawdown is 37.61%.

The robot performed 663 orders, losing -2748.8 pips. An average win is 32.77 pips when an average loss is -72.28 pips. The current accuracy is 68% for long and 57% for short trades. An average trade length is three days. The profit factor is 1.47.

MyForexPath keeps this account profitable because of Martingale.

It works with medium risks to the account balance. There's a 46.51% chance of losing 10% of the balance.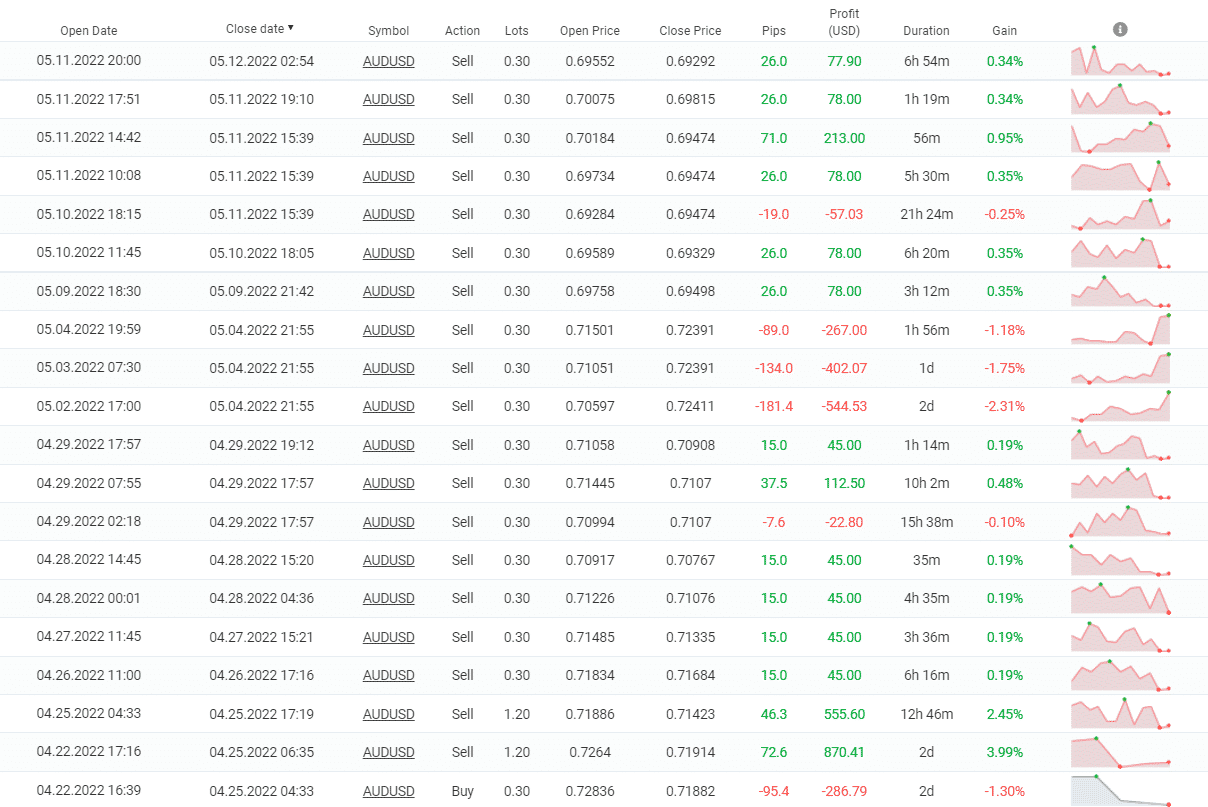 The advisor applies Grid with Martingale approaches.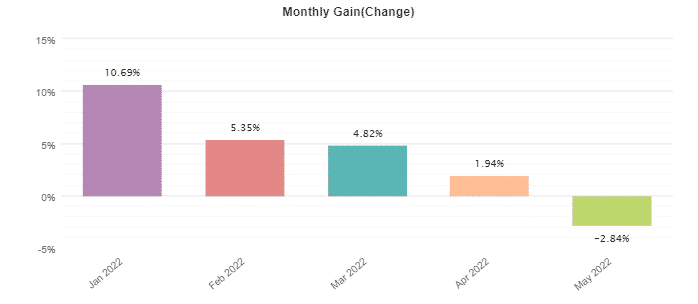 Although the system closed the previous 4 months with profits, it's not what will occur in May 2022.
Customer reviews
We don't have reviews on sites like Trustpilot or Forex Peace Army published. This significantly decreases a level of trust because we don't know how robot works for real clients.