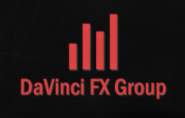 Night Hawk is an expert adviser that was designed by DaVinci FX Group. The company has many services like EAs, Indicators, Scripts, and PAMM management.
Night Hawk Features
The robot has many features that we've systemized in the list:
Night Hawk is a fully automated trading advisor.
It was tested on the 99.90% data from Dukascopy.
It uses several indicators like Bollinger Band, Commodity Channel Index, and so on to open trades.
There are many filters that allow avoiding bad market conditions.
It works with any brokers without restrictions.
ECN account is recommended for trading.
The money management system calculates Lot Sizes automatically, based on desired risks.
Pricing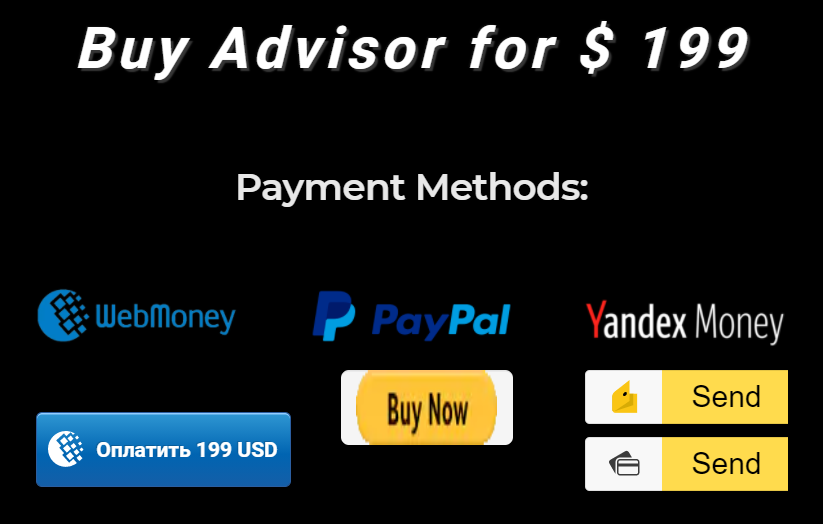 The EA sells in a single package for $199. We can buy it only through paid systems that have never pushed the vendor to provide a money-back guarantee even if the vendor must do it. There's no auto purchasing. We have to send to the devs our account number from MT4 to get approval.
How it works
The EA works on five currency pairs, performing the Martingale strategy.
Trading Strategy
The robot received a Martingale strategy with some improvements as the main one. The Night Hawk trades every day. The main trading activity occurs at night in the Asian session, which in turn guarantees entry only at the best prices.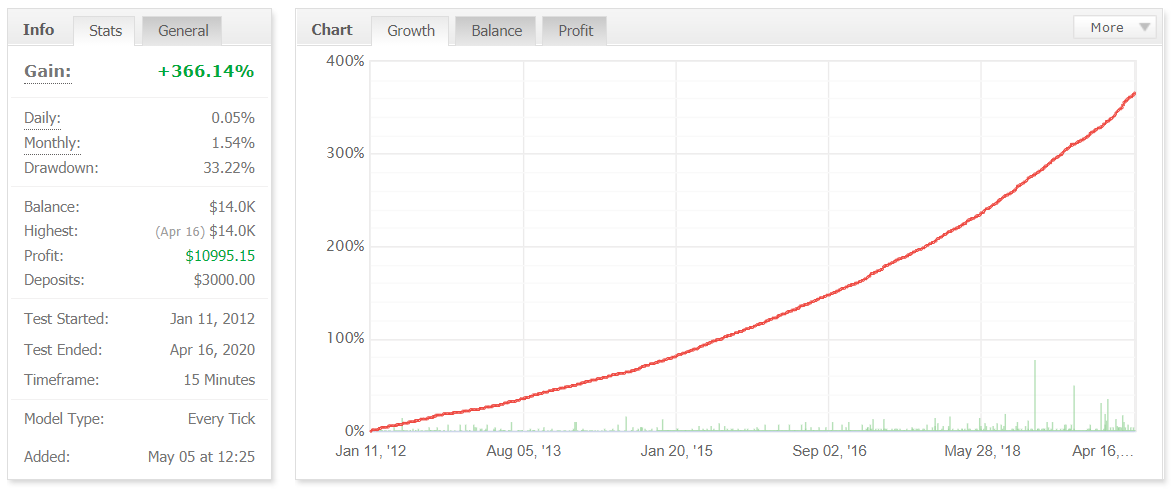 We have eighth backtests to check. This one was GBP/AUD on the M15 time frame. The test united the period from January 11, 2012, until April 16, 2020. The EA could provide +366.14% of the total gain. An average monthly gain was low +1.54%, with a big maximum drawdown (-33.22%).

There were traded 1870 deals with 16769 pips. An average win (28.11) was twice fewer than an average loss (-56.73 pips). The win-rate was between 76% for Shorts and 79% for Longs. An average trade length was up to 18 hours. The Profit Factor was 2.23.
Trading Results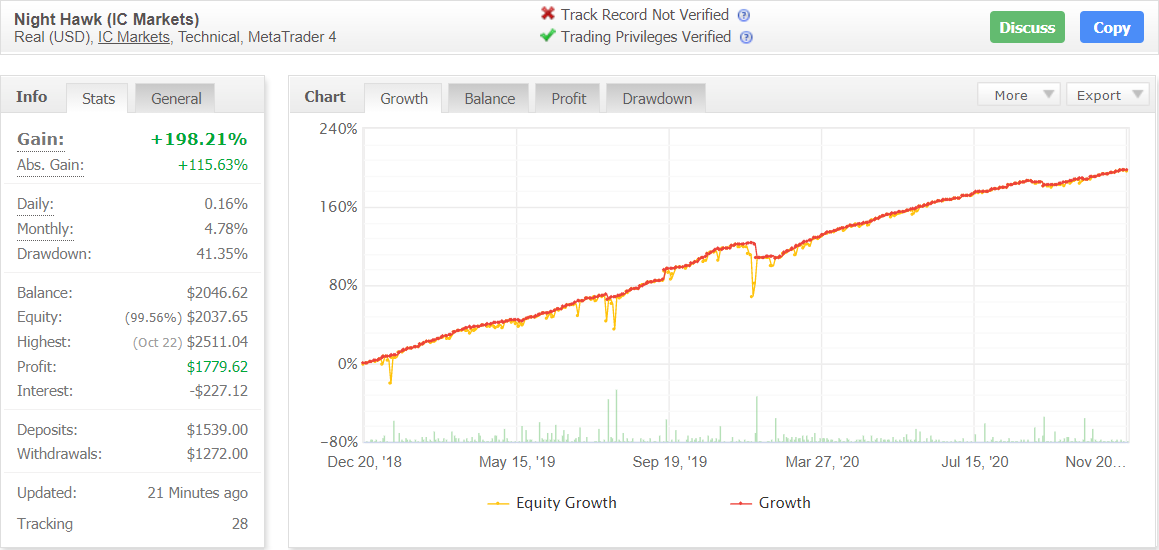 There are two real accounts: USD and Cent. Let's talk about this one on IC Markets. The EA trades (there should be an Automatic badge, right?) on the MetaTrader 4 platform. Track Record is Not Verified. The account was created on December 20, 2018. Since then, the absolute gain has become +198.21%. An average trade length is +4.78%. The maximum drawdown was impossibly high (41.35%). The account was deposited at $1539 and withdrawn at $1272. It's tracked by 28 traders.

It closed 1450 deals with 8272 pips. An average win (24.04 pips) is twice lower than an average loss (-52.14 pips). It trades 25.74 Standard Lots totally. An average win-rate is between 75% and 76%. The average trade length is two days. The Profit Factor is much lower than on the backtest.

The robot opens trades during the night.

Different symbols were traded vary by the EA. NZD cross pairs are an issue for the EA. It can be because of high spreads on them during night trading.

The trading activity during a week looks common.

Night Hawk works with little risk to the account balance.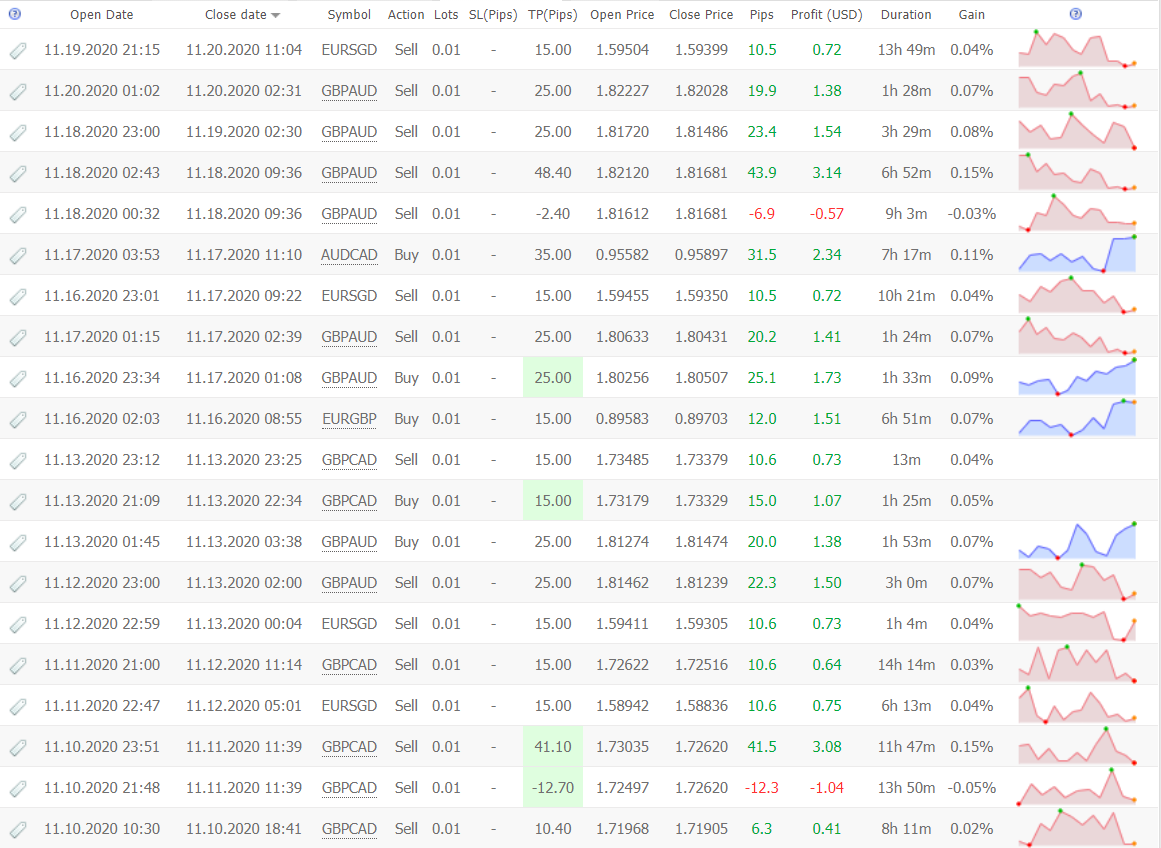 The EA hides SL levels from the broker and uses Trailing Stop Loss to save gained profits.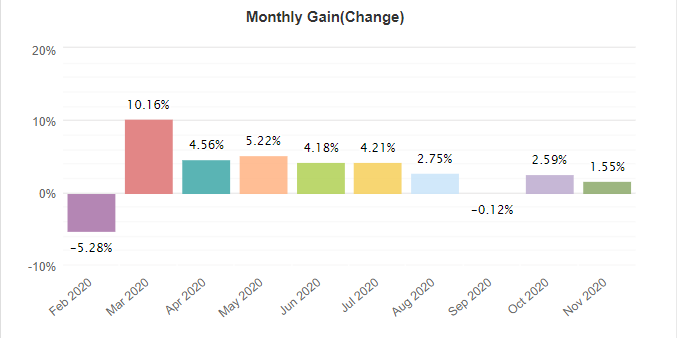 It provides little profits almost every month.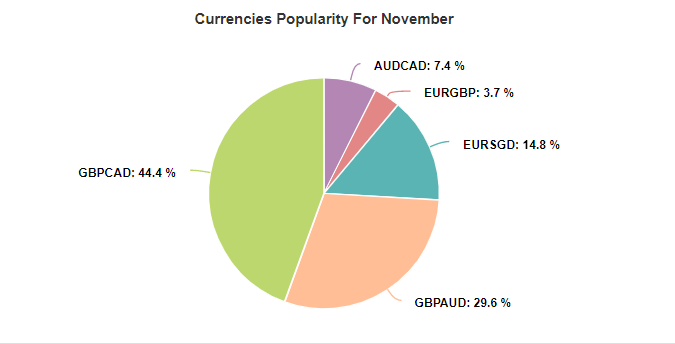 In November, the most frequently traded symbols were GBP/CAD and GBP/AUD.
Customer Reviews

DaVinci company is connected with a Russian company FXTraderKit, but, anyway, the profile has no likes and reviews. The devs didn't connect to Forex Peace Army their real accounts.
Other notes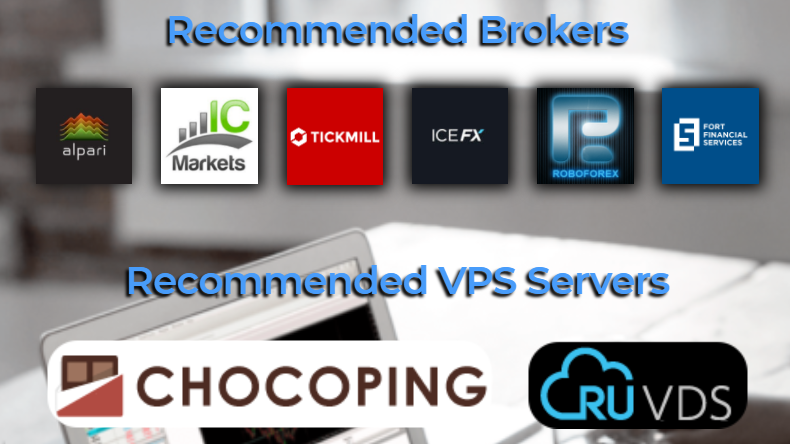 The vendor advises us to use any of these brokers and VPS providers. The Alpari company looks out of place on this list. Chocoping is a Ukrainian VPS provider with quite a high pricing and servers in London, NYC, and Amsterdam.