Night Hunter Pro is a Forex expert advisor that works on both MT4 and MT5 trading platforms. It can trade in multiple pairs. The seller promises to deliver long-term stable growth with this robot.
Night Hunter Pro is a product from Valeriia Mishchenko, a Russian trader with very little experience. There is no available information on this person's background and trading history. Also, we don't know whether they work alone or as a part of a team. This developer has another robot known as Waka Waka EA.
Choosing the best Forex robot requires careful research. There are several trading systems available on the market, but not all of them can deliver stable profit. You need to look into various aspects of the system like trading performance, strategy, vendor transparency, price, reviews, etc. To know more, check out our best Forex robots list.
Night Hunter Pro overview
Night Hunter Pro doesn't have an official website of its own. On the MQL5 product page, the vendor has outlined the main features and described in brief how the robot functions. There is a list of steps provided for installation, along with the EA settings and requirements. We can also find several screenshots showing the backtesting results and a link to a live trading account. There are no features that set this EA apart from others.
This robot can trade in multiple pairs using a one-chart setup. It supports pairs like GBPUSD, EURUSD, EURCHF, USDCAD, USDCHF + CHFJPY, AUDCAD, EURCAD, EURAUD. The vendor recommends running it on M5 charts. Night Hunter Pro is an FTMO and FIFO compatible system with auto GMT detection and advanced news filter. It is a self-diagnostic system that uses a negative swap filter.
Pricing
The current price for this EA is $699. This is a hefty price tag compared to other robots, and there is no way you should spend this much money on a product sold by a vendor with zero reputation. Also, the vendor has no refund policy.
How it works
Night Hunter Pro uses entry and exit algorithms with filtering systems to identify a point of entry in non-volatile markets. It uses a stop loss for each trade and avoids using strategies like grid and martingale. In the beginning, you should attach it to a single M5 chart for EUR/USD. For GMT detection and news filters, you need to allow web requests to the URLs provided by the vendor.
Trading strategy
This is a scalping bot that conducts a large number of trades each day. Trades are kept open typically for a few minutes and there are only small profits from each. Since it is a high-frequency trading scheme, it requires you to monitor the charts all day.
Trading results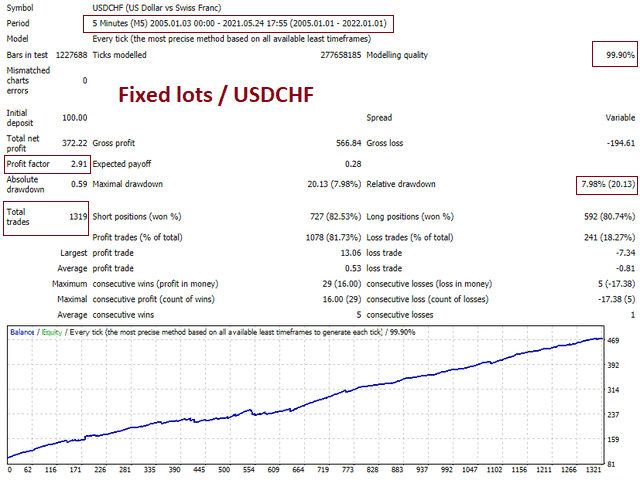 This backtest was conducted from 2005 to 2021 using an every tick model and a modeling quality of 99.90%. Night Hunter Pro conducted 1319 trades for the USD/CHF pair, winning 1078 out of theme. This means it had a win rate of 81.73%. Compared to the live results, the win rate is much higher. The total profit generated during this test was only $372.22.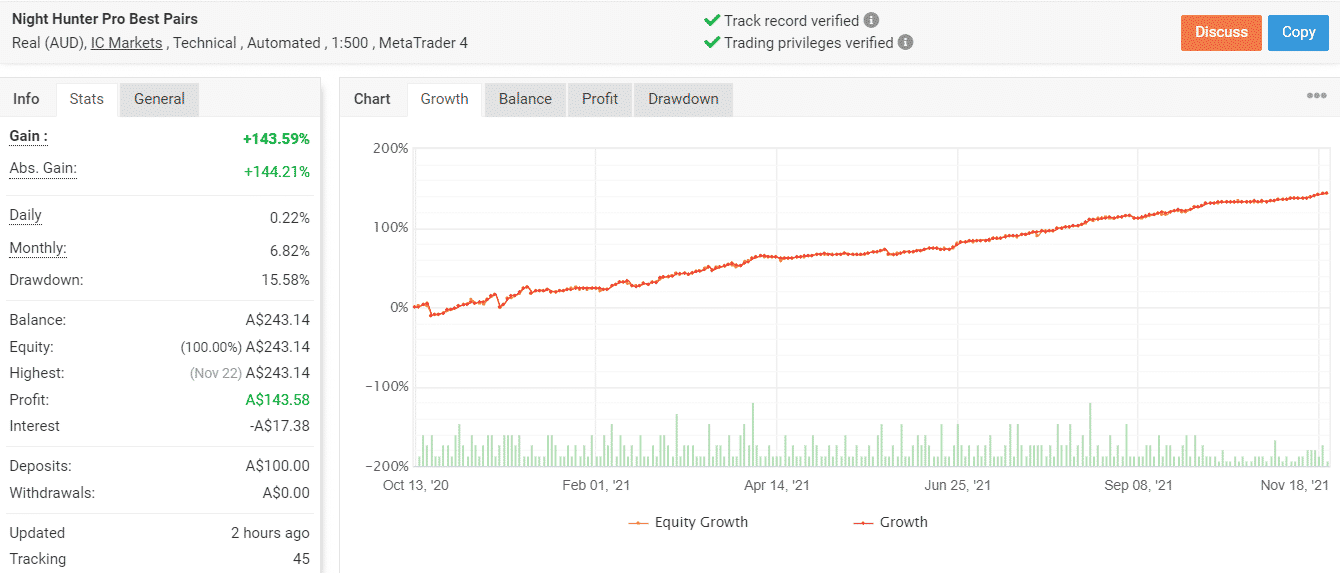 On the MQL5 product page, the vendor has only shared the unverified trading results. We found this account after doing our own research. This live trading account has been active since October 13, 2020. After conducting 434 trades, its total profit stands at A$143.58. As you can see, it is not suitable for making large profits. The win rate for this account is 73% and the drawdown is 15.58%. The account has a profit factor of 2.14 and it has average daily and monthly gains of 0.22% and 6.82%, respectively.
Customer reviews

Since there are no reviews for this expert advisor on trusted third-party websites, it is obvious that not many people are aware of its existence. Although there are a few reviews on MQL5, we cannot consider them authentic since they are not monitored by an independent party.