NightVision EA is a Forex robot that was launched on 31st January 2021. It works on the Metatrader 5 trading platform and can trade in all kinds of Forex pairs. According to the vendor, this EA has a successful history of trading on verified real-money accounts.
The creator of NightVision EA is a Russian trader by the name of Alexander Kalinkin. We don't know too much about this person, apart from the fact that they work with the IC Markets broker. There is no profile picture for this developer on MQL5, and they do not have too many products under their name. Apart from NightVision EA, they have developed another robot known as Lucky Price Action. We don't know if there are any other individuals working under this developer.
Choosing the best Forex robot is not as easy as it seems. Since there are several scam services on the market, we need to be careful while investing in an EA. To gauge the reliability of a system, we need to look into its features, trading strategy, live performance, price, and customer reviews. To know more, check out our best Forex robots/signals list.
NightVision EA overview
NightVision EA does not have an official website. It is sold on the MQL5 website, where the vendor has provided us with a short introduction to the EA, followed by a list of features and EA characteristics. We also have a couple of screenshots showing the live performance of the robot. We can see that the presentation is not very detailed, and there is no particular area the vendor is focusing on.
As per vendor claims, this EA does not use dangerous trading methods like Arbitrage, Grid, and Martingale. With every trade, it uses a take profit and a stop loss. It works on different currency pairs like AUD/NZD, AUD/JPY, EUR/CHF, USD/JPY, EUR/NZD, NZD/USD, USD/CHF, EUR/USD, GBP/CHF, EUR/GBP, EUR/CAD, EUR/AUD, GBP/AUD, USD/CAD, GBP/CAD, and GBP/USD.
Pricing
This EA is available at the price of $449, which is extremely expensive compared to other similar systems on the market. There aren't many traders who would risk this much money for a robot that was only launched recently. The vendor offers a free demo version of the EA but there is no money-back guarantee.
How it works
NightVision EA starts trading during the closing time of the American session. The author claims to have some unique developments for this system, however, we have no idea what they are. It works on a raw spread account type and the vendor recommends using the IC Markets broker with this EA.
This robot has several adjustable parameters. These include the supported pairs, lot size, risk percentage, the maximum number of open orders, GMT Offset, deposit for every 0.01 lot, and daylight saving time.
Trading strategy
NightVision is a scalping EA that extracts small profits from each trade by trying to take advantage of the minor price differences in the Forex market. This typically involves placing a large number of trades on a daily basis, and it might not be suitable for long-term traders.
Trading results
The vendor has not shared the backtesting results for NightVision EA on the MQL5 website. Seasoned traders do not trust EAs that have not been tested using historical data and this might deter many of them from investing.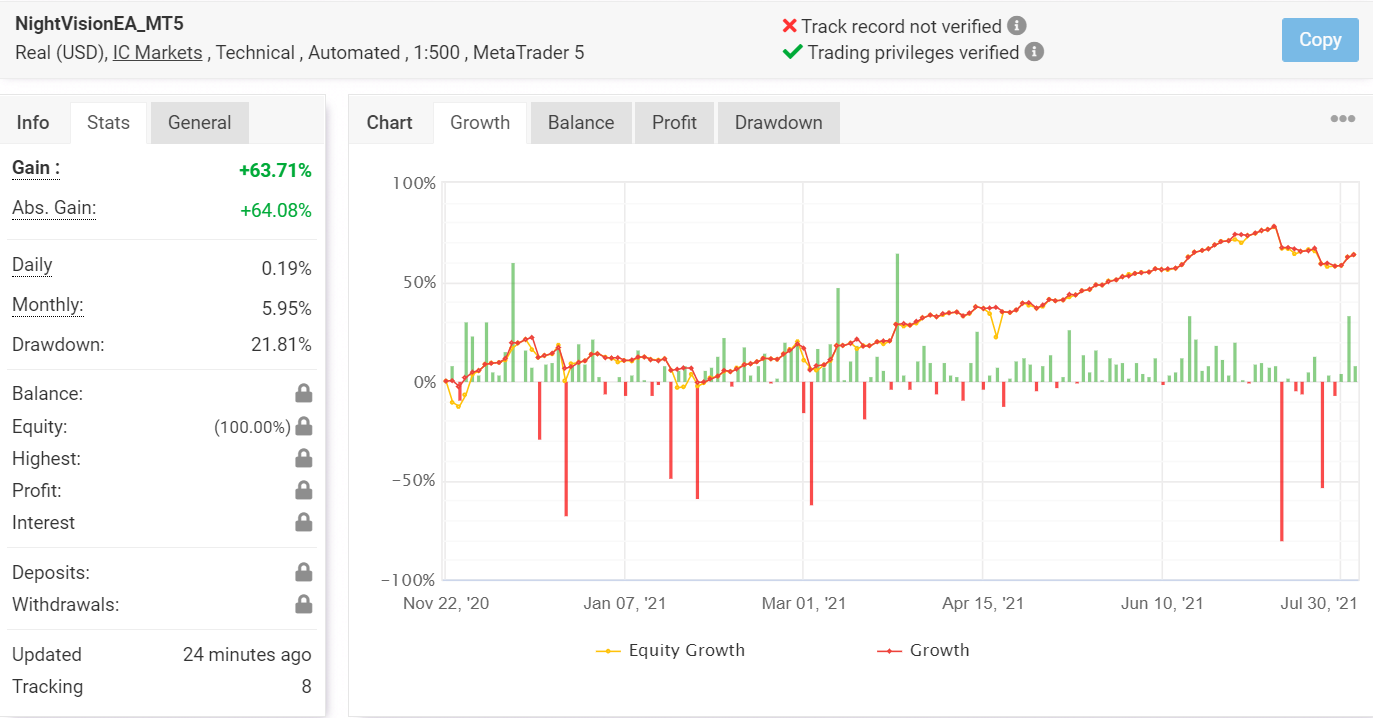 This is a live trading account for NightVision on Myfxbook that has been active since November 2020. The vendor has chosen not to reveal certain parameters for this account, such as balance, profit, interest, deposits, and withdrawals.
To date, the EA has placed 425 trades through this account, winning 71% of them. The daily and monthly profits are 0.19% and 5.95% respectively, while the drawdown is a bit high at 21.81%. Due to the high drawdown, we think this is a system that trades with high risk. Currently, this account has a profit factor of 1.38.
Customer reviews

We couldn't find any user reviews for this Forex robot on trusted third-party websites. Although there are some reviews on MQL5, we cannot consider them authentic, since they might have been manufactured by the vendor.