We'd like you to read a review of Ninja Scalper. As we can see from the name, the robot performs a scalping strategy. The robot has a 5/5 rating, with 100% of satisfied customers. Of course, it's a lie.

Ninja Scalper provides us with a 15% OFF coupon. It's something new because there was no it several weeks ago.
Ninja Scalper Features
The developers systemized features in the schema:

The EA runs a scalping strategy fully automatically for us.
It works only with a EUR/USD symbol on the M5 time frame.
Ninja Scalper works only on the MT4 platform.
It can be run on a Standard and a Cent account.
There are three levels of risks: Conservative, Moderate, and Aggressive.
It calculates swaps and broker's commissions to close deals in profits.
There's a feature that closes deals automatically if they reach drawdowns more than we set.
It uses trend indicators (RSI, Moving Average) and MACD to spot trades.
The system calculates Lot Sizes automatically based on the account balance.
The EA works under FIFO and NFA restrictions.
The devs created a Telegram channel for subscribers.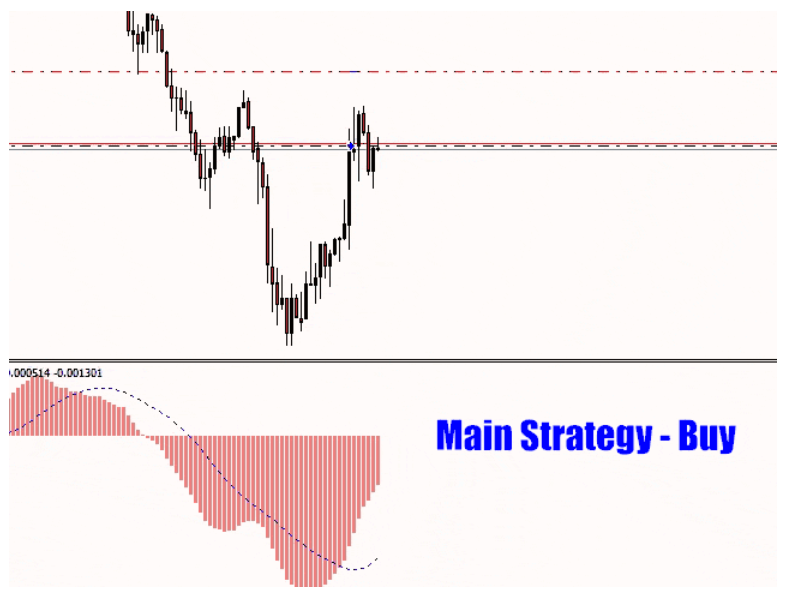 The first strategy scalps in a trend direction.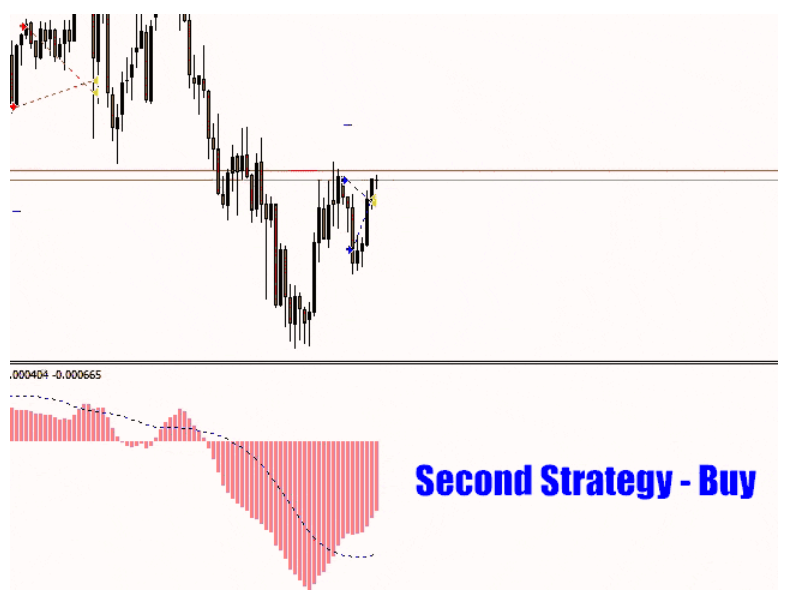 The second strategy is the Grid. It places many orders and closes them in profit.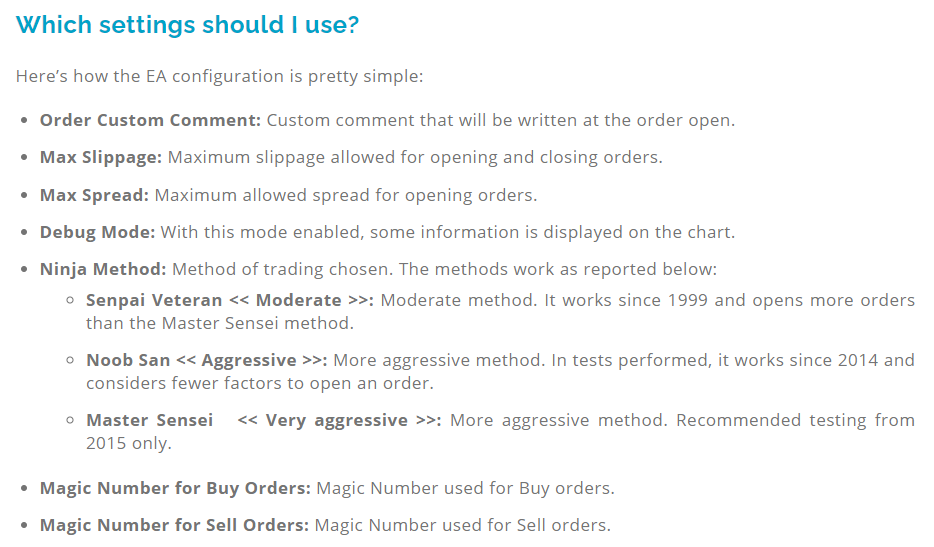 The presentation is featured by a list of EA's settings. So, we can check what's up with it.
Pricing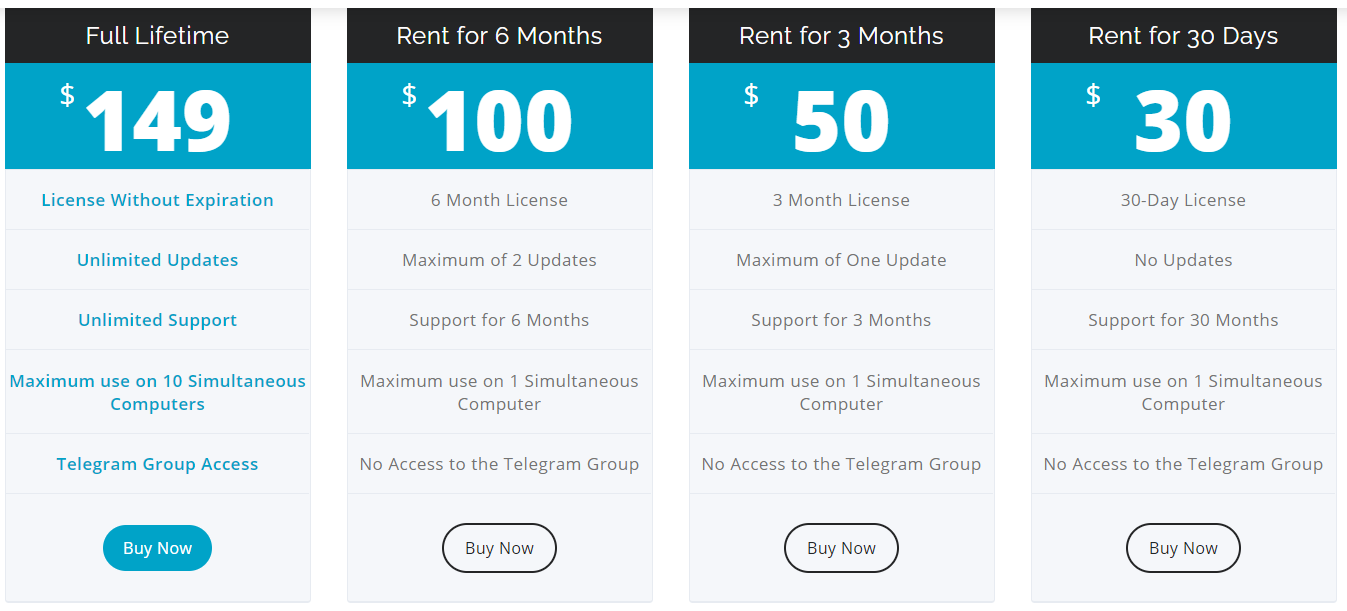 There are four packages. Three of them are renting. The 30-day rent costs $30. The three-month rent costs $50. For half a year, the EA costs $100. They vary by the number of updates the robot can receive. Paying $149, we can buy a lifetime license for one real account.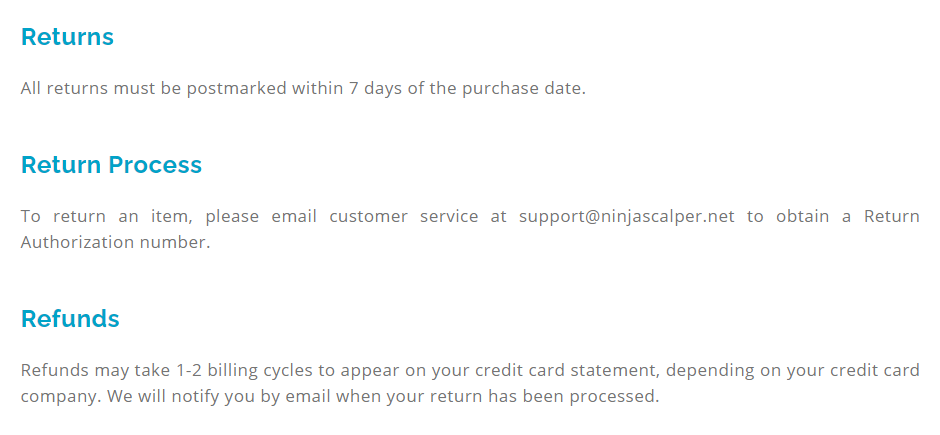 The vendor provides only a seven-day money-back guarantee. It's impossible to check Ninja Scalper's3 performance for that short period.
How it works
The EA scalps little several pips profits in the direction of the trend.
It doesn't spot a trend from the start. It only calculates when a trend goes, and its strange.
Trading Strategy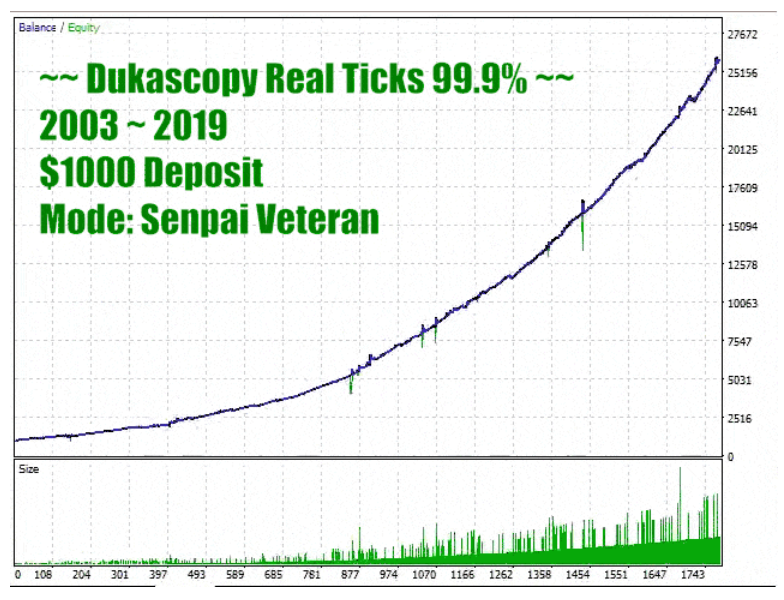 We've got some screenshots of a backtest.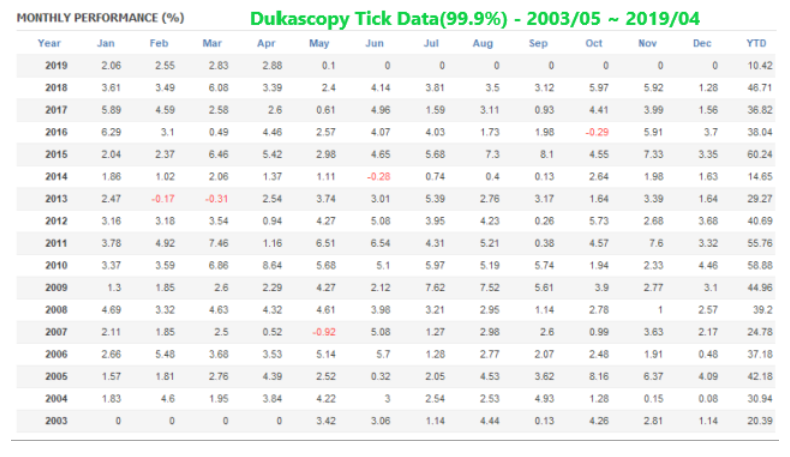 As we can see, many moths were closed with losses.

From a slider, we know that the total profit has become 62089%. The Profit Factor was 1.96. An average win-rate was 68%. Frankly, it's unprofessional to provide intel like that.
Trading Results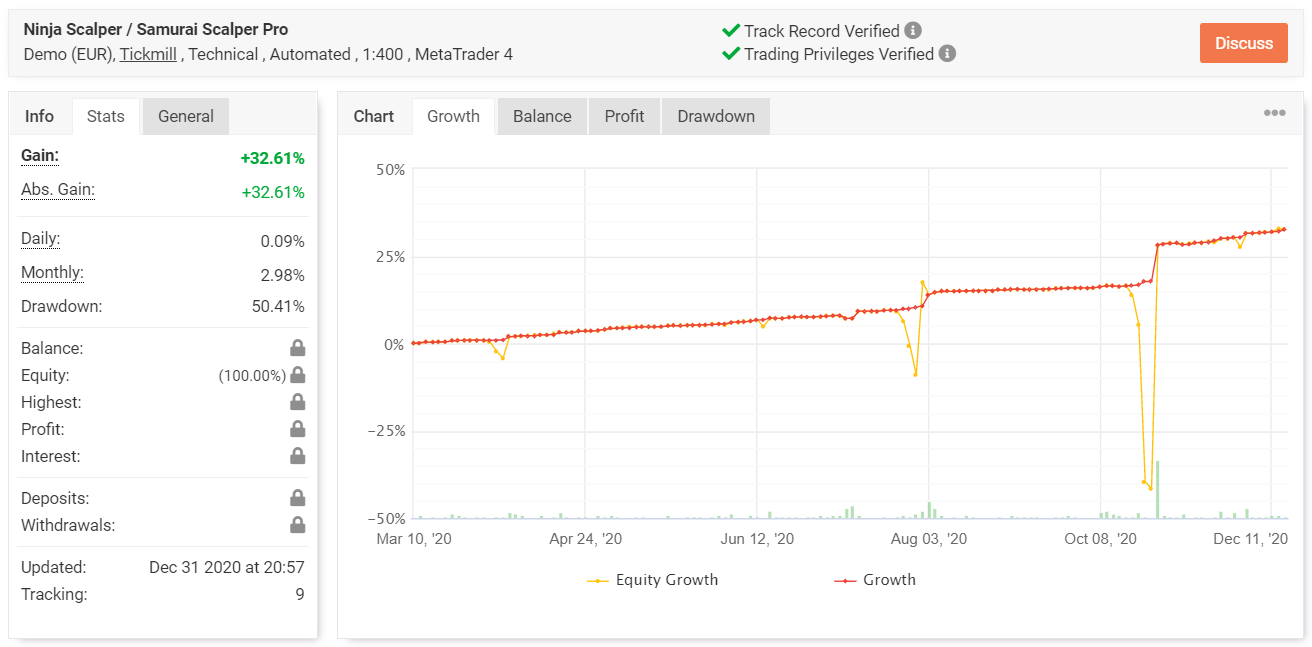 We've got a demo EUR account on Tickmill. The EA uses technical indicators, trading automatically with 1:400 leverage on the MetaTrader 4 platform. The account has a verified track record. It was created on March 10, 2020. Since then, the absolute gain has become +32.61%. An average monthly gain is +2.98%. The maximum drawdown is insane and equals 50.41%.

The robot closed 425 deals with 984 pips. An average win is 12.73 pips when an average loss is -10.57 pips. The win-rate is low as for a scalper – 52%-57%. An average trade length is over ten hours. The Profit Factor is 1.74.

The robot works only with EUR/USD providing 984 pips of the profits.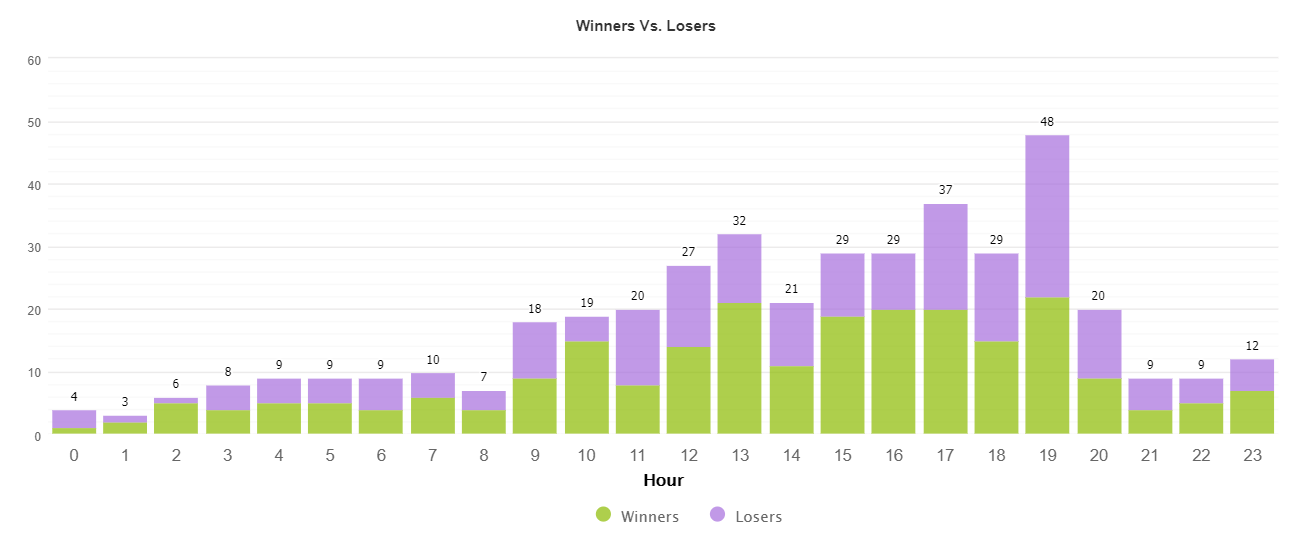 Ninja Scalper trades European and American trading hours.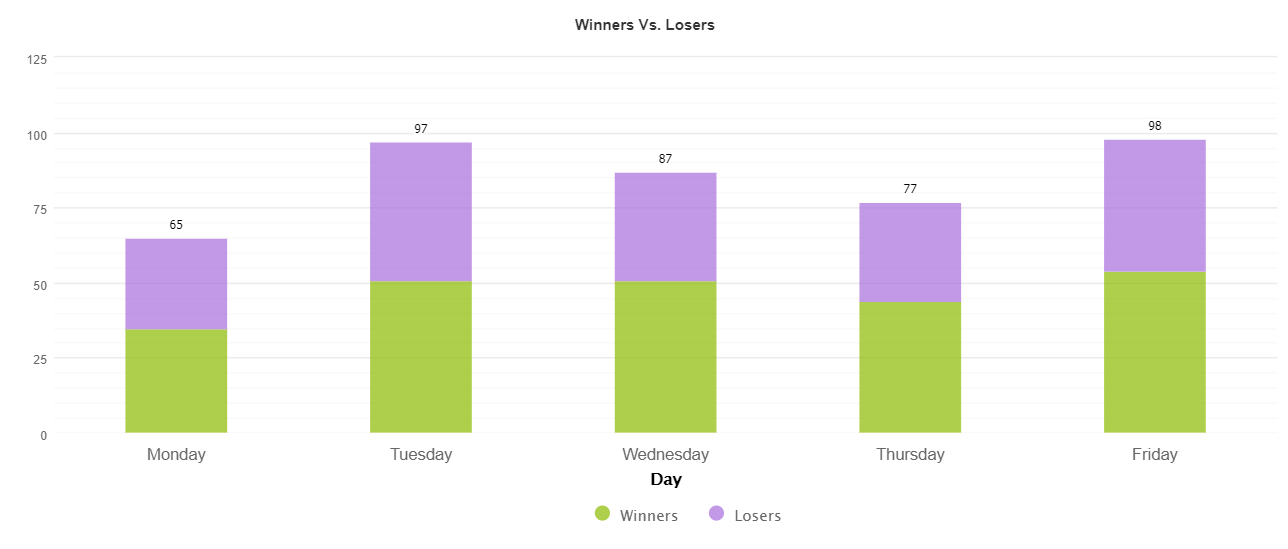 The most-traded days are Tuesday (97) and Friday (98 deals).

It works with insane risk to the account balance. There's a 40.6% chance of losing 10% of the account.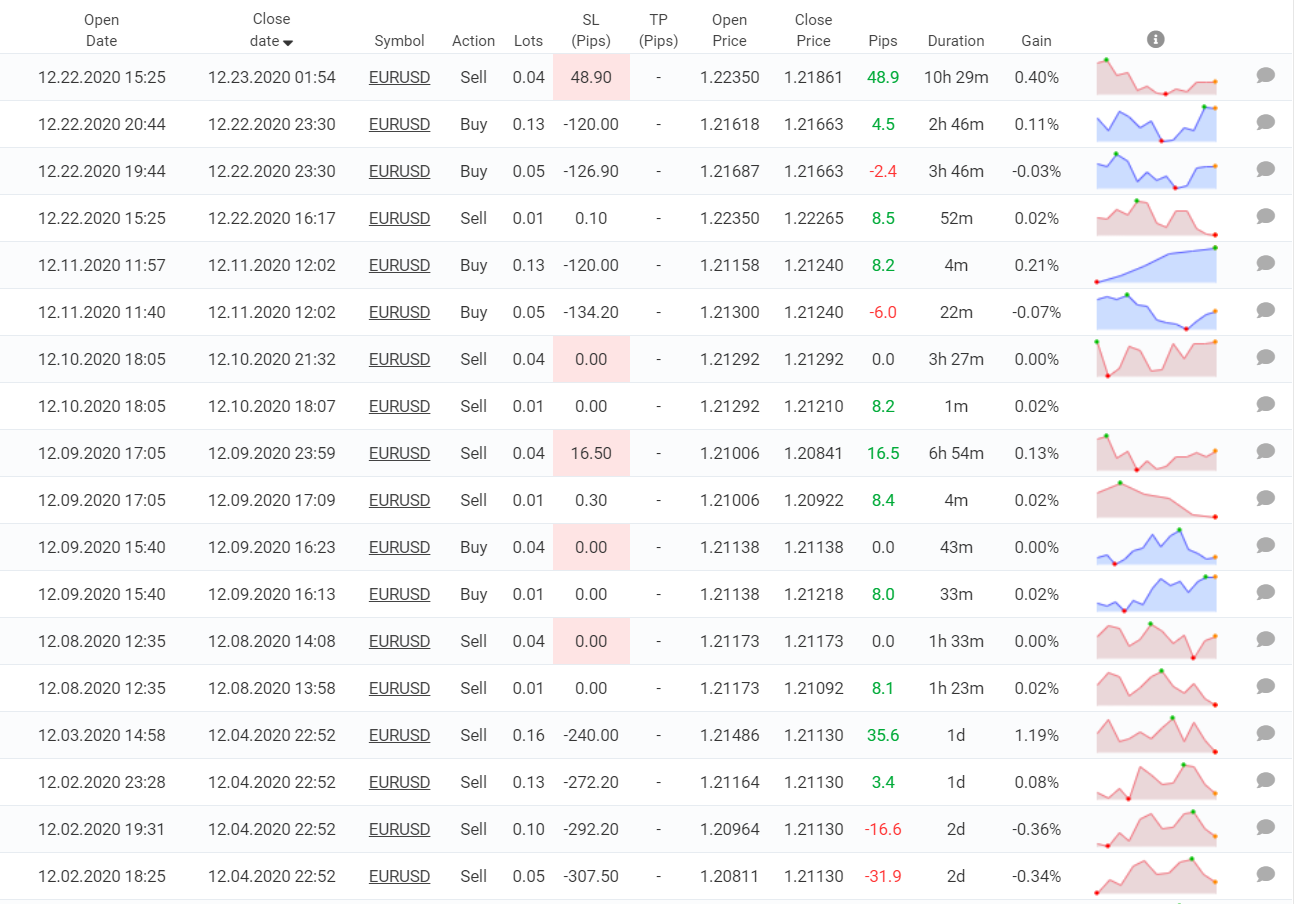 The robot runs insane Martingale increasing Lot Sizes from 0.01 to 0.16. It uses Trailing Stop Loss to close deals with profits if the market goes in the wrong direction.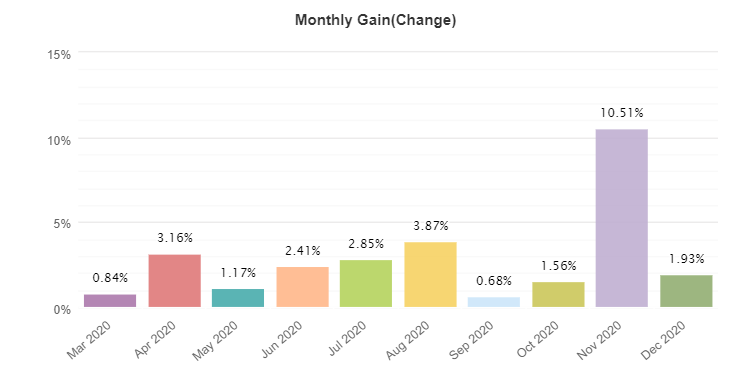 This year was profitable for Ninja Scalper. As for that risk, these monthly profits are good-for-nothing.
Customer Reviews

There are many testimonials on the screenshot. Most likely, all of them were about a removed Samurai robot. We've googled for feedback about Ninja Scalper. There are two abandoned pages on the MQL5 community where it was sold before. Maybe, Samurai robot has become a scam, and it was redesigned and remanded into Ninja Scalper.
Other notes
The robot costs big money and trade with huge risks, but doesn't provide stable, and first of all, significant profits.