Panda Night is created by Jiang Ming Wang, who is situated in Shenzhen, China. It is available on the MQL5 site with no official website of its own. The vendor claims that it is a diverse and low-risk trading system. It is a Forex robot that works on MetaTrader 4 as well as MetaTrader 5 platforms.

Panda Night works efficiently with the default settings and is simple to install. The EA looks for reversal trends during the slow movement of the Forex market. Let us take a look at more information about this software. Also, if you want to choose the best robots, take a look at our best Forex robots.
Panda Night overview
There is very little information on the official website of Panda Night. The expert advisor is ideal for accounts that have low spreads, such as IC Markets and TickMill. Its producer claims that since it does not use several resources, you can use it with other robots as well. The software is vastly diversified, due to which it has low risk. It works great with several symbols and a low correlation of these symbols in its settings.
Pricing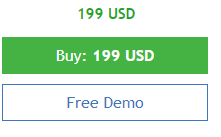 Panda Night is offered at $199. There is also a free demo version of Panda Night, which was initially available in April 2021. You can use it for testing the software. It comes in a 1.2 version with the latest update taking place in May 2021. The price is pretty decent. However, being a new expert advisor, it should have been cheaper. Plus, there is no refund policy.
How it works
Panda Night asserts that it works perfectly with each and every currency pair. There are not many details about the developer and features of this trading tool. The vendor has not created any other expert advisors before. Thus, there is a lack of vendor transparency.
The producer has briefly talked about how this system works. There are some links on the MQL5 site where the robot's live trading signals are provided, along with a zip file of the backtesting results. Then, there is the recommendation for the broker and some screenshots of live trading results, which are unverified.
Trading strategy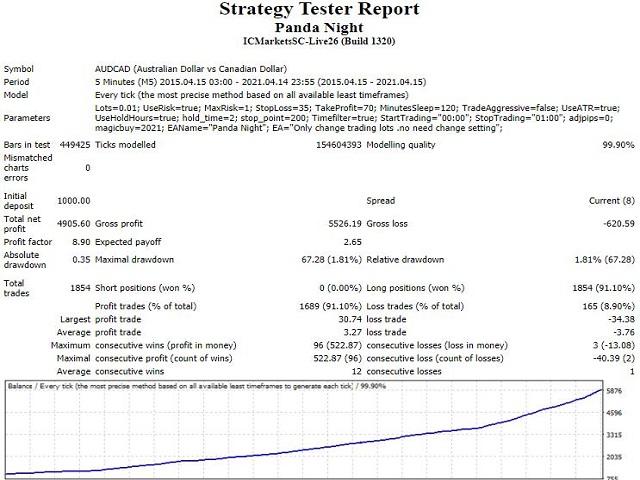 Panda Night has six years of backtesting information. It has traded on the AUD/CAD currency pair for a 5-minute timeframe from April 2015 to April 2021. The account carried 1854 deals in total with a 91.10% win rate for long trading positions and 0 wins for short trading positions. Its primary deposit was $1000 and the total net profit was $4905.60. It had a profit factor of 8.90 and a maximum drawdown of 1.81, which indicates fewer losses.
This software identifies reversal when the market is vulnerable with a low risk of high movements. The developer asserts that it can use several symbols with high diversification owing to the symbols' low correlation, thus minimizing the risk. It is easy to install and use with its default settings.
The producer suggests traders to attach it to an M5 chart and use it with low-spread accounts, which you find at brokers such as IC Markets and TickMill. You can use other expert advisors as well with it since it uses a few resources only.
When it comes to the trading approach, there is no explanation related to it. This technical information is vital for experienced traders as it allows them to check if the automated system is lucrative or not. If this data is not provided, then many users will think twice about investing in a trading system.
Trading results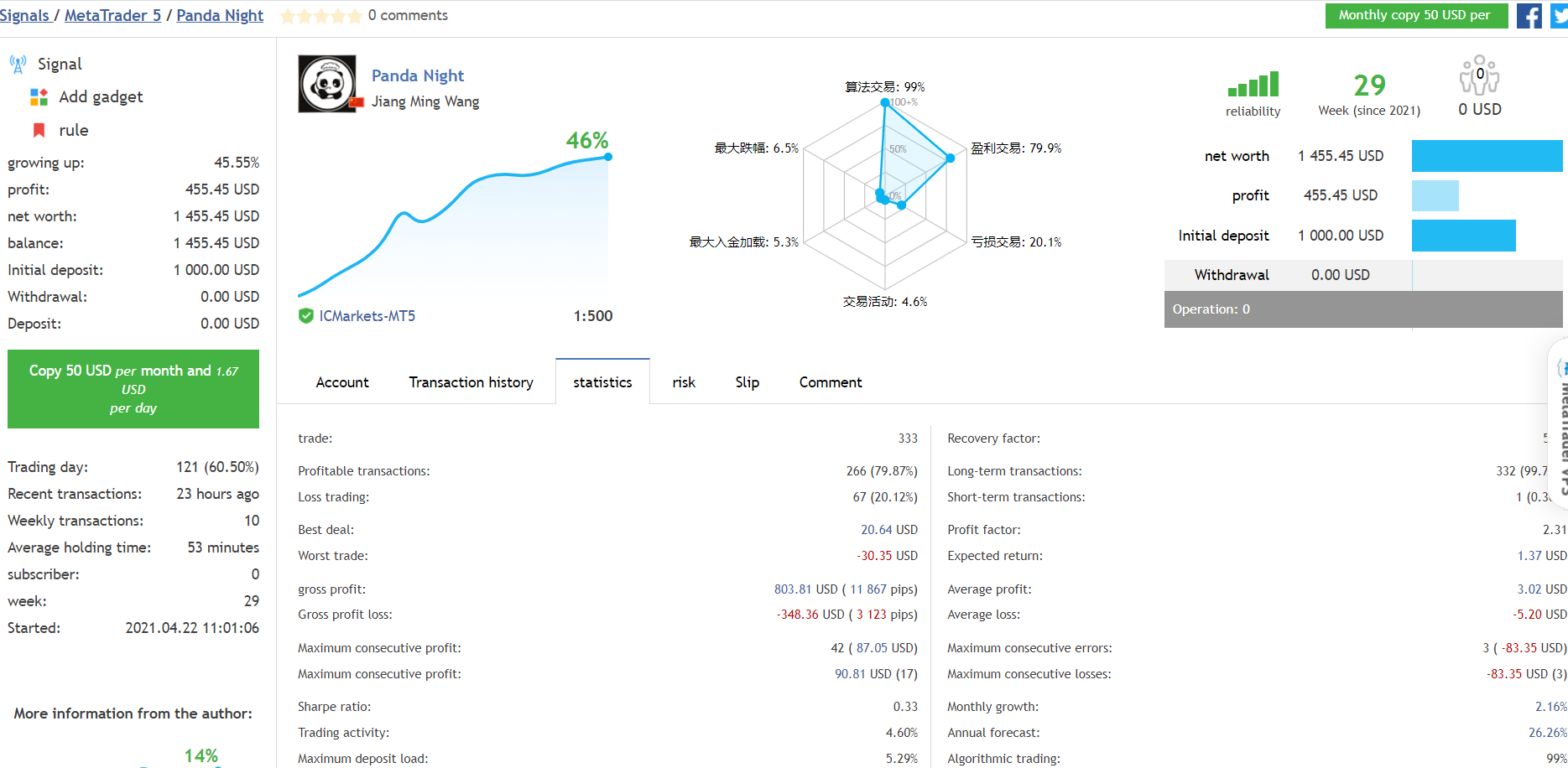 There are four live trading results of Panda Night linked on the MQL5 website. Among these, we decided to review the one with the longest trading history. It is a real USD account on the MT5 platform with IC Markets and leverage of 1:500.
This account has been running for 29 weeks and has a profit of $455.45 with an absolute growth of 45.55%, a maximum drawdown of 6.5%, and a win rate of 79.9%. It has carried out 333 transactions till now, amongst which it has won 266 trades with 79.87% profitability. The first deposit was $1000, which is now $1455.45.
It makes 10 transactions per week and there are no withdrawals yet. However, these results are not verified by any third-party sites. This can prevent traders from investing in this trading tool. Verified trading results on trustworthy sites, such as Myfxbook, FXBlue, and FXStat, ensure that they are not manipulated by the developer.
Customer reviews

Most of the customer reviews are positive about Panda Night on the MQL5 site. Traders state that they have profited from using this tool, which has nice customer support. However, these reviews cannot be trusted as they are not published on reputed third-party sites, such as Forexpeacearmy. So, you can use it at your own risk.