Perfect Score is a Forex robot launched on 2nd July 2020. It trades the market as the London Stock Exchange opens. It claims to be suitable for both experienced and novice traders. There is a dedicated Telegram channel for this EA where trading discussions are conducted.
This system has been developed by a Russian trader Sergei Riebin, who claims to be experienced in algorithmic trading. Apart from Perfect Score, he has also developed other Forex automated trading systems in the past, such as Boss EA, RocketEA, GoldebBot, SharkEA, To The Moon EA, etc.
While in the market for the best Forex robot, you must consider various factors like features, pricing, trading strategy, live trading results, backtests, customer reviews, etc. A legitimate and reliable Forex EA should be transparent about its results and how it functions. Take a look at our best Forex robots list to know more.
Perfect Score Overview
On the MQL5 page of Perfect Score, the vendor has clearly outlined the main features of the software and described in brief what kind of strategy this robot uses. We have the links for a telegram channel, and for the live trading results of the robot presented on the MQL5 website. A list of the various system settings has also been provided, along with several screenshots showing the backtesting data.
The vendor seems to place a lot of emphasis on the robot's performance, which is a good sign. It is stated that every trade placed by the system has a stop loss and that it is not a broker–sensitive robot. It does not use risky money management techniques and has decent resistance to unforeseen market events. The vendor states that this EA is easy to set up and use, even for a novice trader.
Pricing
Perfect Score costs $1499, which is an exorbitant price for a Forex EA. You can find decent and reliable Forex robots for less than half this amount, and honestly, we think this product is overpriced. There is a rent option available for this EA, so you can rent it for 3 months at $399. A free demo version of the software is available if you wish to test its performance prior to using it for live trading.
How it works
Perfect Score makes it market entry when the London Stock exchange opens. It has built-in protection against high spreads, and you can use it to trade an automatic or a fixed lot size. This robot mainly trades in the EUR/USD pair, in the M5 timeframe. The vendor recommends you start with a minimum account balance of $50.
Perfect Score has several customizable settings, namely maximum lot size, the maximum risk for each trade, GMT Offset Auto/Manual, Maximum Spread, Maximum Slippage, Take Profit, Stop Loss, Grid Size, etc.
Trading Strategy
This robot's market entry is based on short-term reversal patterns. Its trading scheme involves taking advantage of the phenomenon where the prices of pairs move towards the average during the London session.
The vendor has stated that the system does not use any indicators and refrains from using risky strategies like arbitrage, grid, and martingale. You have the option of enabling the grid strategy manually from the EA settings if you wish.
Trading Results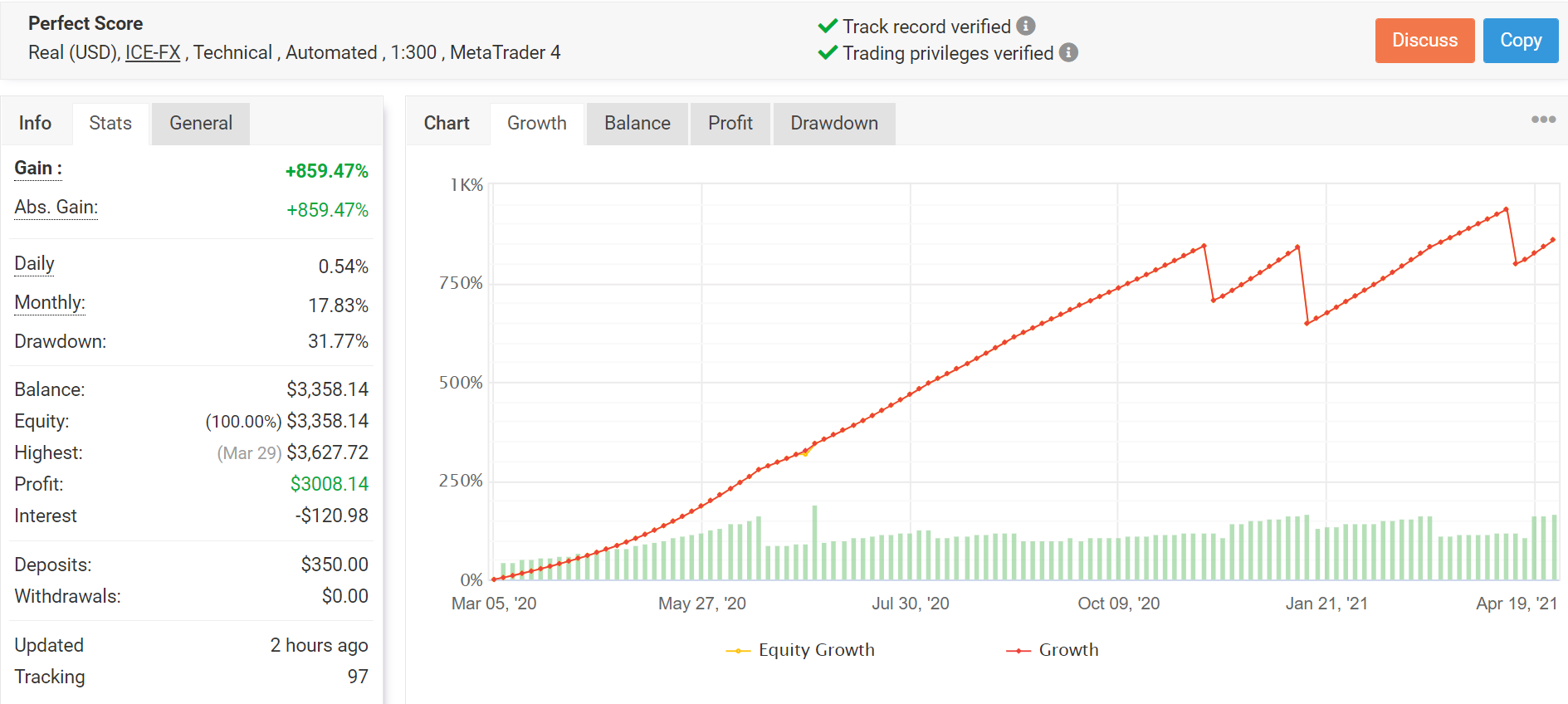 On the Myfxbook website, we found a live trading account for Perfect Score. It has been active since 5th March 2020, and to date 113 trades have been placed through it. The robot has won 110 of these, which means it has a win rate of 97%. Currently, the total net profit generated through this account stands at $3008.14.
The daily and monthly gains are 0.54% and 17.83% respectively, while the drawdown is marginally high at 31.77%. Its profit factor is 2.83.
Customer Reviews

On the MQL5 page of Perfect Score, we have several user reviews praising the system's profitability and performance. However, since these are not verified by third-party websites, we cannot consider them authentic. The absence of authentic user reviews tells us that Perfect Score does not have much of a reputation as of now.
Backtests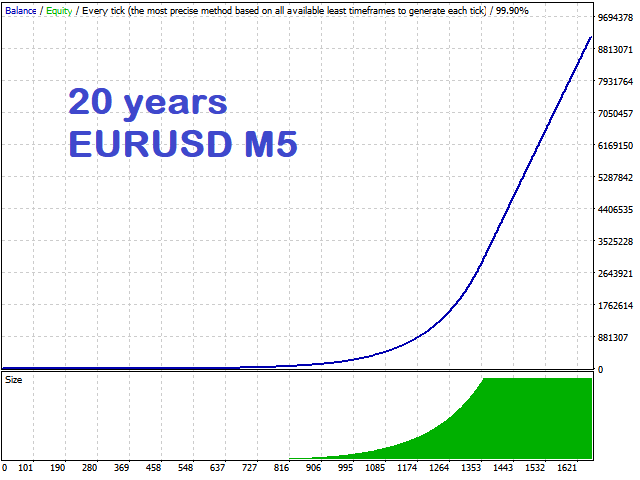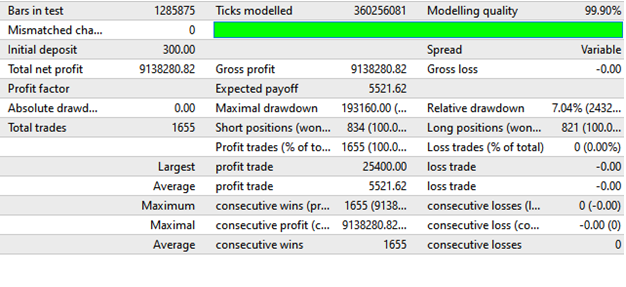 This backtest was conducted for 20 years on the EUR/USD pair. From an initial deposit of $300, a total net profit of $9138280.82 was generated. A total of 1655 trades were placed during this test and all of them were won by Perfect Score. It is worth noting that the relative drawdown here is 7.04%, which is much lower compared to the live trading results.