Pinpoint EA is a Forex EA developed by Ryan Brown, an American trader who has developed other expert advisors in the past. It was launched on 29th October 2020 and is reportedly based on more than 17 years of backtesting data. The vendor claims that the robot has a win percentage of approximately 94% and never suffered more than 2 losses back to back.
We don't know much about the trader's background, apart from what is provided on the MQL5 page, and we have no idea whether they are qualified to develop automated systems for the Forex market. It makes sense, therefore, to take a closer look at this Forex EA, rather than trusting the words of the vendor blindly.
You can check out our list of the best Forex signals and robots to get a general idea regarding how to choose automated systems for Forex trading. It is wise to assess each and every aspect before investing in a system, considering the fact that there are many scam services flooding the market recently.
Pinpoint EA Offering
On the official MQL5 page of Pinpoint EA, the vendor has briefly outlined the main features of the system and provided the link to a demo signal for the latest version of the software. It is mentioned that the system can generate a steady monthly profit of 2-3% using a leverage of 30:1.
The entire advertising is focused on the ability of the Forex EA to generate profits. It uses the best settings applicable for a particular pair to extract the most gains.
Pricing
Pinpoint EA can be purchased for $397, but rent options are also available. By paying $30, you can rent the software for a month, while the 3-month rent option costs $90. The vendor also offers a free demo that you can try out to check the system's performance. Compared to other Forex EAs on the market, the price lies in the middle range, but the fact that no money-back-guarantee is offered makes us wary to invest in this robot.
How it Works
Pinpoint EA trades in the GBP/USD and EUR/USD pairs, following major trades and using a stop loss on every single occasion while maintaining FIFO compliance. The vendor recommends trading in the M15 timeframe and using the ECN account for trading. For the GBP/USD pair, users are advised not to change the default settings.
Although other systems use a modeling quality of 90% while conducting a backtest, this one uses a 99.9% modeling quality for better outcomes. Profits are sought out in the 10-15 pip range. The vendor provides backtests and live trading results for users on the free discord group.
Trading Strategy
No information is provided about the trading strategy applied by Pinpoint EA. Seasoned Forex traders always wish to know what kind of strategy is used by a system for extracting profits and they will be disappointed by the lack of technical details. Without the trading strategy details, it is not possible to fully evaluate the system's efficiency.
Trading Results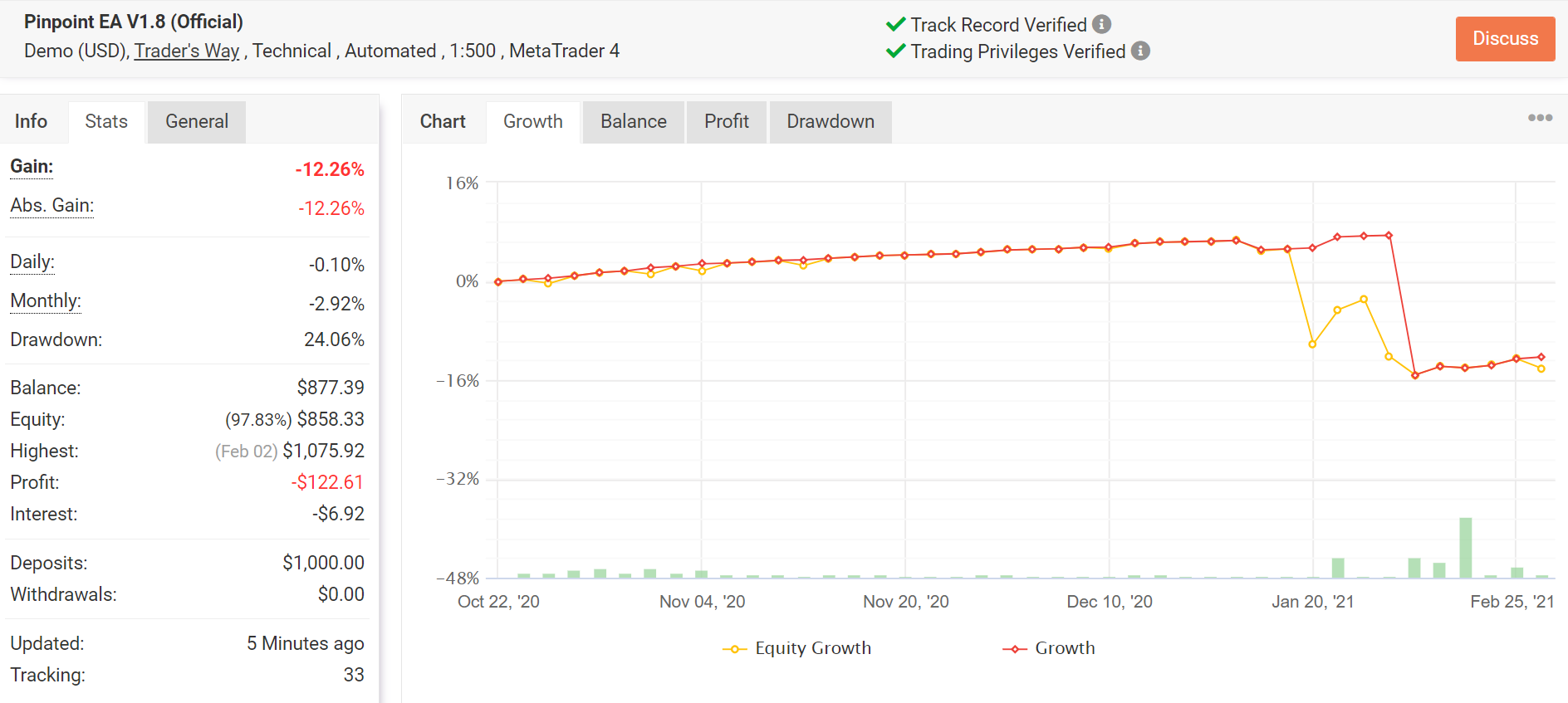 We managed to find a verified demo USD trading account on Myfxbook for Pinpoint EA running on the Trad's Way brokerage. It was launched on October 22nd, 2020, and to date, it has generated a profit of -$122.61 from deposits of $1000. As we can see, the profit is negative, so it is quite evident that the system has suffered some huge losses while trading.
Looking at the daily and monthly gains, we can see that both are negative, while the drawdown of 24.06% is a bit high. Pinpoint EA has placed 72 trades through this account, out of which 69 have been won, representing profitability of 96%. Although only three trades have been closed in losses, it is quite evident that the number of losses suffered was huge.
So, it seems to us that while this system is capable of generating profits with most trades, it also carries a high level of risk. Thus, we don't consider it to be a safe and secure Forex EA.
Customer Reviews
We couldn't find any customer reviews for Pinpoint EA on third-party review websites. This tells us that not many people know about this Forex EA currently and it has a long way to go before it earns the trust of traders worldwide.