The creators of Pipbreaker want us to think that the system can make your trading career better. They describe it as a profitable tool that is capable of attaining a 93% success rate. We are further told that it can protect you from market upsets based on news releases by effectively handling such fluctuations. Therefore, you could become immune to these harmful effects. Nevertheless, we are not convinced by these allegations. It has come to our attention that the system implements the grid approach. So, it is incapable of trading safely.
WeTalkTrade is the vendor behind this product. The company has been in the market since 2009. During this period, it has managed to develop Forex indicators, free signals app, an EA, and publish its very first iOS app in the Apple store. Nevertheless, the info that matters most is not provided. We don't know the identity of the traders and developers involved in the provision of the service. Their levels of expertise and competency are hence doubtful.
Pipbreaker overview
Pibreaker has several features. Firstly, the system is designed to work on the MT4/MT5 platform and can be utilized on any currency pair. Secondly, it has a simple-to-use interface that enables traders to operate it easily. In this regard, the Green arrow represents the BUY order, whereas the Red arrow is for the SELL order.
Thirdly, the tool can blend with any trading style. It doesn't matter if your approach is short term, long-term, or scalping, it will easily fit in. Fourthly, Pipbreaker allows you to apply a stop loss for every trade to secure your account more. Lastly, it has a friendly Help team that is available from Monday to Friday.
Pricing
Pibreaker is said to cost $249.99 only. But you can agree that this pricing is not cheap, especially for an indicator. Furthermore, a money-back guarantee is not featured. This makes the product even more unattractive to traders.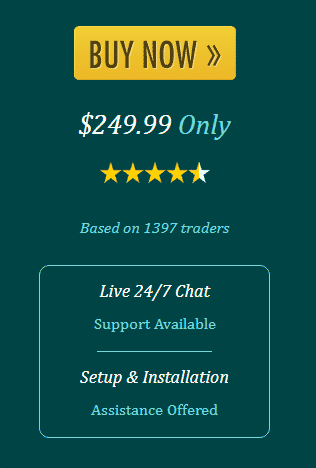 How it works
Pipbreaker is a Forex indicator. This means that it automatically displays buy and sell signals that can be used to make trades. Moreover, the tool can allow traders to recover losses they made in the past in future trades.
Trading strategy
The indicator's strategy is not presented on the website. The devs should explain to us why they strongly believe that the system has a 93% accuracy rate. What approach does it use to navigate the Forex market to attain this supposed success? Well, it might interest you to know that the grid and scalping methodologies are at play. In the next section, we provide you with tangible proof as it pertains to this finding.
Trading results
Backtest results are missing. It is still unclear if this tool was tested prior to being introduced to the Forex community. The importance of this practice cannot be emphasized enough. It assists a developer to identify the problems a system has, and consequently, apply the requisite measures to rectify them. Since we suspect backtesting was not done, then it is likely that the product has some flaws that could make its trading activities in the live market unsuccessful.
The vendor does not share any live trading data. However, we came across a demo account on Myfxbook.com that was only active for 3 months —from October 2, 2020, to January 29, 2020. The indicator performed dismally as it only made a profit of 0.01% daily and 0.47% monthly. Overall, the gain was 1.86%.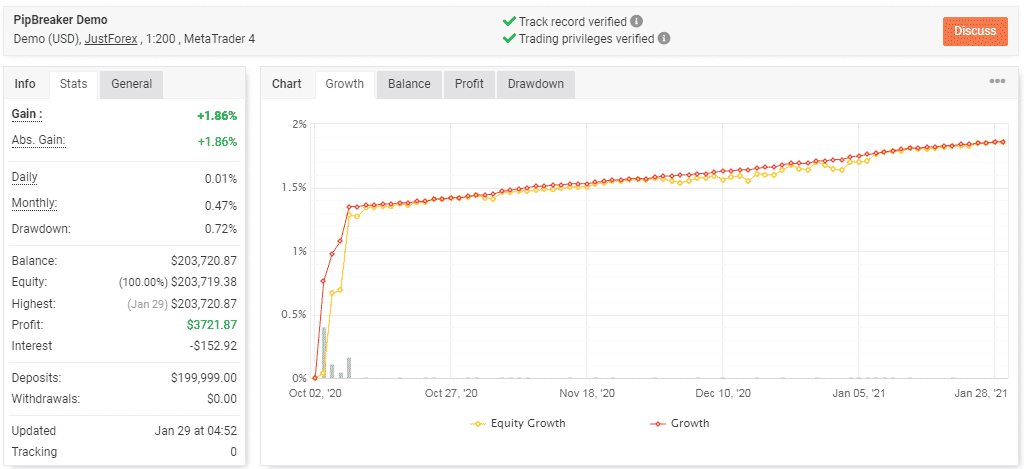 True to the vendor's word, we can see in the trading history below that the indicator placed SL levels, but they were quite large though. In contrast, the TP levels were small. The indicator placed a grid of orders within short time frames.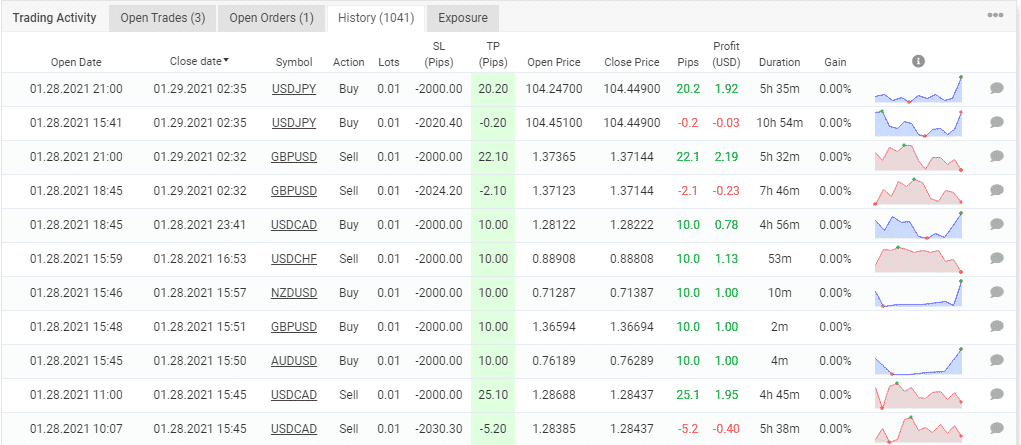 Customer reviews
There are positive customer reviews for the system on the website. However, we are reluctant to believe them. Our main concern is that they are unverifiable. Trusted sites like FPA, Trustpilot, or Myfxbook.com do not have any testimonials for this trading tool.