Pips Alert is a signal provider that claims to supply more than 4500 pips monthly. The team focuses on long-term gains because it believes that's how real wealth is created. They thus promise to give you value for money by helping you earn thousands of pips monthly.
Pips Alert was established by two traders who live in the US and the UK. Over time, they have expanded towards having a team of traders from the US, Tokyo, Canada, UK, and other parts of the globe. Even then, the names of the founders and the other team members are hidden. Their qualifications and experiences in this market are also unknown.
Pips Alert features
Pips Alert provides 3-7 signals/day per group, depending on the package you are using. The team says that it understands you may be busy, and that's why they send the signals during the New York and London trading session. You can begin receiving the signals within a few minutes after payment through email alerts, SMS, android app, or desktop/browser notifications.
You can trade the signals on multiple accounts, and it doesn't matter how big or small the account is. However, you are advised to utilize lot size management. The signals can trade currencies or commodities such as EURUSD, Gold, etc. Average signals are held for 24 hours and up to 48 hours in some cases. A free training course on entering signals and management is available.
Pricing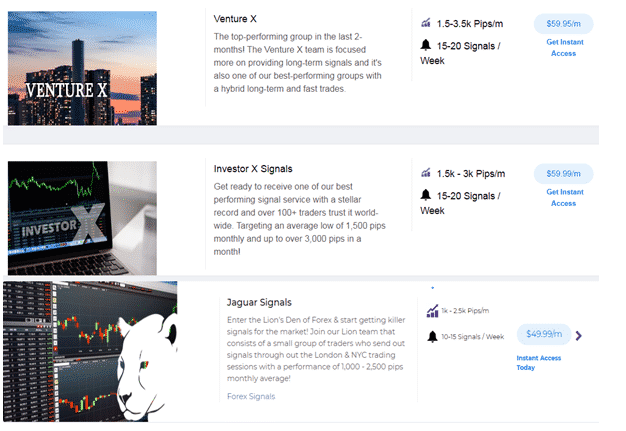 The vendor offers Venture X, Investor X, and Jaguar signals at $59.95/m, $59.99/m, and $49.99/m, respectively. The first two packages supply 15-20 signals/week to customers and promise to earn you 1.5k-3k pips per month. The last package provides 10-15 signals weekly, and supposedly generates 1k-2.5k pips/month. None of the packs offers a money-back guarantee. Instead, a 30-day pips protection is available for premium members. If the team fails to deliver a minimum of 500 pips monthly, the package will be extended until the target goal is attained. A 14-day free trial period is present as well.
How it works
Pips Alert simply supplies you with signals to trade with. The signals feature the currency pair to trade, buy/sell order, price, take profits, early exits, stop losses, etc. But the vendor says that you will still have to utilize your own unique trading style and analysis to get optimum results.
Trading strategy
We have no clue about the type of trading strategy this vendor uses. We can't figure out what market conditions the team relies on to pick out trading signals.
Trading results
The vendor does not share the backtest results of the service. Rather, they give you the chance to back-test their signals using your broker. The team also provides weekly videos illustrating how it tested different signal groups with third-party backtesting. Unfortunately, the videos do not provide much insight into the performance of the signals in terms of profitability rate, trading risks, winning and losing frequency, etc.
Verified live trading results are not presented. Using independent and credible sites like FX Stat, Myfxbook, or FXBlue is usually recommended. This way, traders can see how the service performs in the actual market before they make any purchase decision.
Customer reviews
Pips Alert has mixed reviews on Trustpilot. There's a client who claims that one of the company's representatives advised him to buy the XAUUSD pair. He has lost $100 as a result. Another one doubts if the company is led by professionals because he eventually made huge losses despite making tons of profits at the beginning. We have satisfied customers who praise the provider for being transparent and offering a free trial period.