PREMIUM FX BOT is a Forex EA that claims to be the best expert advisor for the Metatrader 4 trading platform. It updates the functionalities based on the latest market changes and offers efficient customer service so that you always have a balanced portfolio at your disposal.
On the official website, there is little or no information about the company's background, when it was founded, where its headquarters are located, etc. We have no idea who the traders are developers behind the system are, or whether they have the required market experience.
In order to judge the reliability of a Forex EA, we need to look at all of its aspects and try to find the maximum amount of information on them. After doing so, we can reach a conclusion about the system.
PREMIUM FX BOT Overview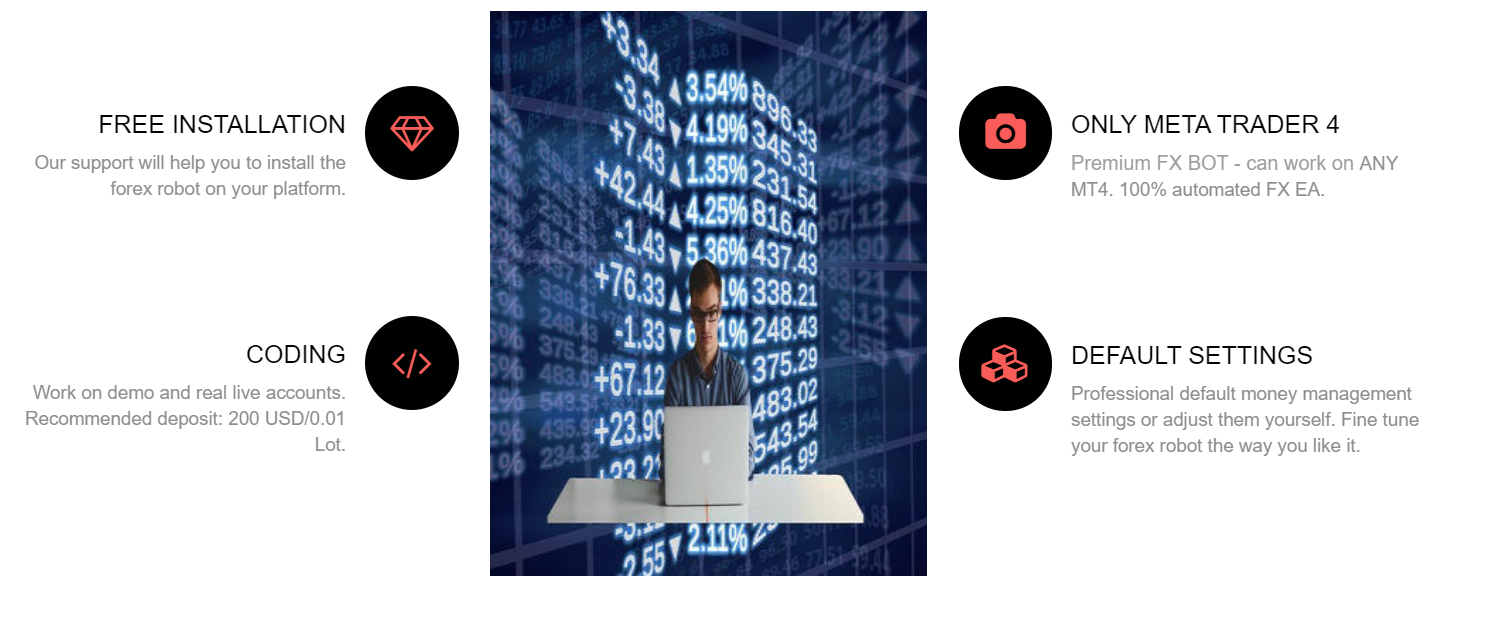 PREMIUM FX BOT is a 100% automated system with default money management settings that you can modify to suit your trading style. On the official website, the vendor gives us a brief overview of the features, along with some general information about the Forex market, live trading results, and backtesting data.
The vendor seems to stress the fact that this service does not charge any additional fees for updates and that the algorithm has been tested thoroughly to be market-proof. Detailed steps are provided on how to set up the software, and the customer service has also been highlighted. Now, compared to other Forex EAs available on the market, PREMIUM FX BOT does not offer anything new or unique, but we do appreciate the vendor being transparent about the features and trading results.
Pricing

This Forex EA offers three pricing plans called Basic, Standard, and Pro, at $109, $129, and $149, respectively. These are all lifetime plans, with the only difference in them being the number of real and demo accounts the user is given access to. In comparison to other Forex EAs, the pricing packages are quite affordable.
How it Works
To use this Forex robot, you first need to install it on your computer and copy it onto the MT4 platform. After the files have been copied, you need to restart MT4 and navigate to Tools -> Options, making sure the settings are checked under the Expert Advisors section.
To use the Forex EA with your charts, you need to click on the Autotrading button and make sure a green color is shown. PREMIUM FX BOT then starts placing trades on your behalf using pre-programmed strategies and optimized settings.
Trading Strategy
Considering the professional presentation made by the vendor on the website, we hoped to find some details about the trading strategy used by the system for extracting profits. Although it is mentioned that the Forex EA used quantitative trading strategies, we don't know what they are, so we cannot pass a judgment on their effectiveness. We hope the company provides us with some strategy insight in the future.
Trading Results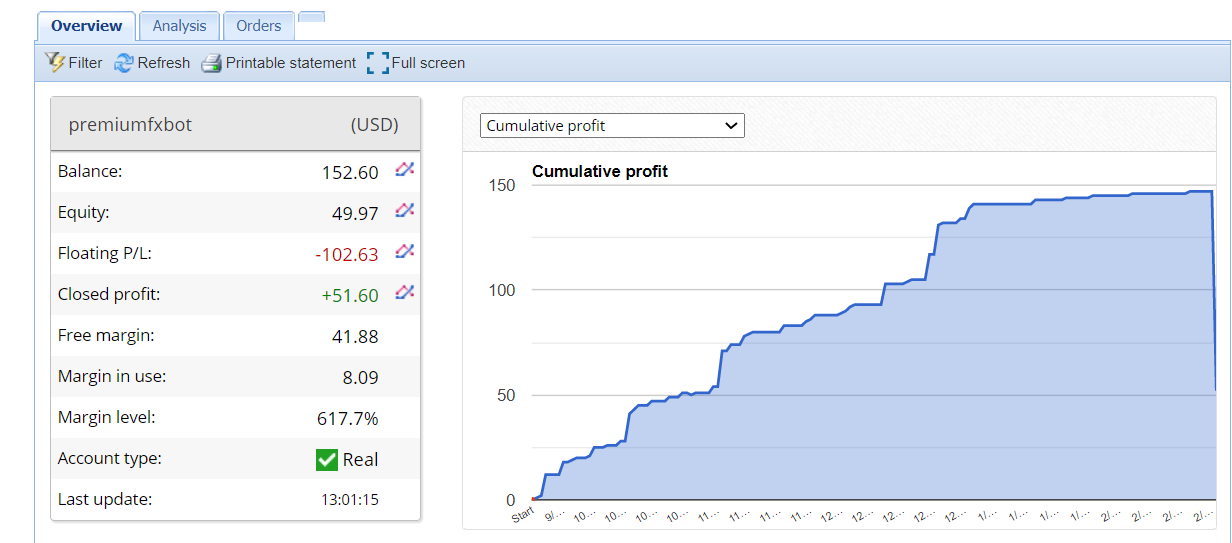 PREMIUM FX BOT furnishes live trading results verified by FXBlue and as we can see, the system has managed to increase its cumulative profit at a steady rate over the years. The account was launched in August 2020 and after placing 0.8 trades per day, its daily, weekly, and monthly returns stand at 0.57%, 2.90%, and 12.77%, respectively. Although this Real USD account has experienced some losing weeks, it has performed well overall, achieving a risk/reward ratio of 1.35.
This PREMIUM FX BOT account has a profit factor of 1.38, which tells us that it's a reliable system capable of earning profits.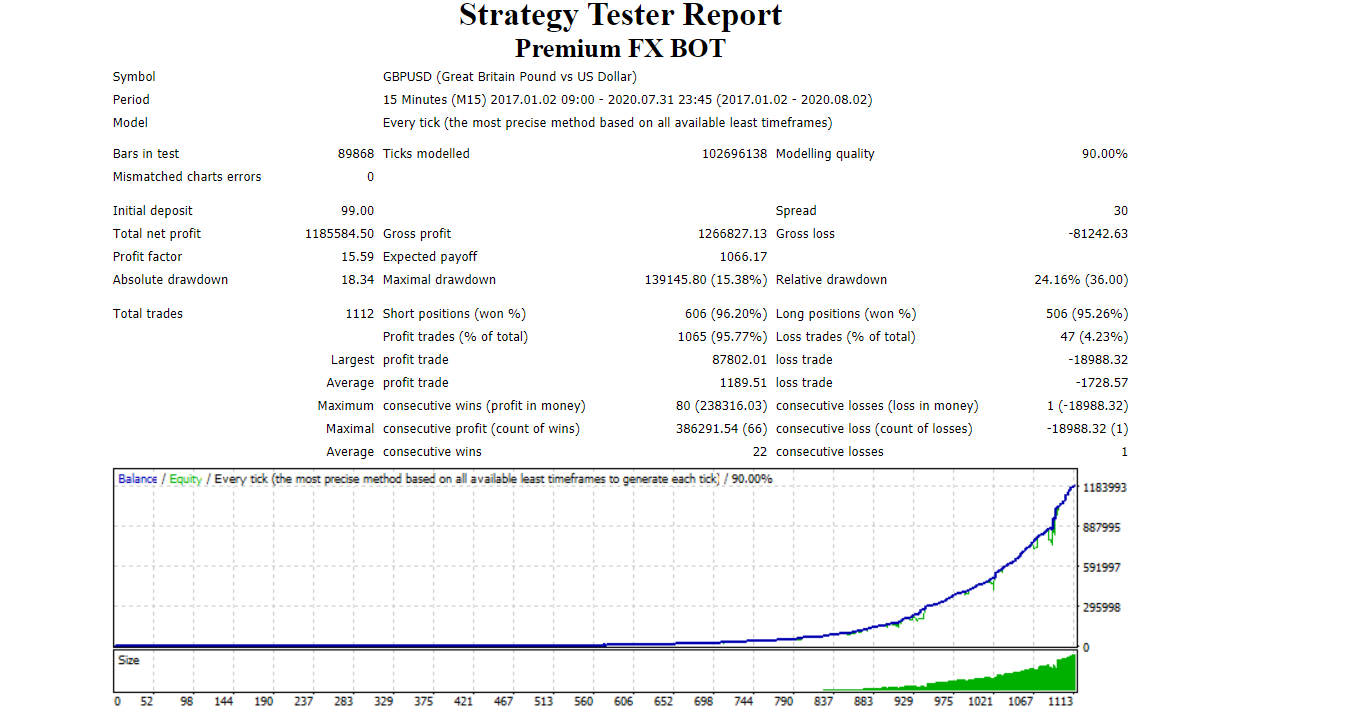 Here, we have the backtesting results for the GBP/USD pair. The testing has been carried out from 2017.01.02 to 2020.08.02 with a 90% modeling quality. We can see that it has generated a gross profit of $1266827.13 from a small deposit amount of $99.
After placing 1112 trades, PREMIUM FX BOT has won 96.20% of short positions and 95.26% of long positions. While 95.77% of trades placed by it were closed in profit, only 4.23% of them ended in a loss, which is quite impressive. The profit factor of 15.59 is quite high compared to that of the live trading account, but otherwise, this looks like a reliable system.
Customer Reviews
We were unable to find any user reviews about this Forex EA on third-party websites. It could be that it's a new service, so not many people know about it yet.