Price Action Forex Ltd is a service providing Forex trading signals. As per vendor claims, this service has provided high-growth and consistent profitability for more than 701,463 customers all over the world. Of course, to gauge the true profitability of the signal provider, we need to carry out our own investigation.
There is virtually no information on the official website about the parent company. We know the headquarters of this organization is located in London, UK. However, the vendor has not shared any information on the service history. Neither have they revealed the identities of the developers and traders working for this platform.
Choosing a reliable Forex signal provider is not that easy. You need to carefully analyze the different aspects like price, trading performance, vendor transparency, user reviews, etc. For more information, check out our best Forex signals list.
Price Action Forex Ltd overview
The presentation on the official website does not give us a clear idea about how the signal provider works. We have vague explanations provided for the features, and screenshots of trading results that seem to have been manufactured. As per our understanding, the vendor is not offering any advanced features through this system.
Price Action Forex Ltd sends you trading signals via Telegram. You have the option of choosing the percentage of your account balance you wish to risk for each trade. Different pairs can have different lot sizes as per your preference. You can also choose to exclude a particular pair you don't wish to trade in. If you wish to close a trade on partial profit, you can select a lot percentage beforehand.
If a signal has multiple take profit levels, you can open multiple positions for every take profit value and set the stop loss accordingly. The trade execution time is less than 5 seconds. You can get signals for different pairs like USD/JPY, GBP/JPY, EUR/JPY, GBP/USD, and EUR/USD.
Pricing

There are four pricing plans for this signal provider. The 1 month plan costs $40, while the 3 months plan is priced at $30, which adds up to $90. For the 6 months and 12 months plans, you need to pay $150 and $199, respectively. The vendor does not entertain any refund requests, which is not a sign of a reliable system.
How it works
After you pay the subscription fee, you need to download the script file and the signal provider software. You will also get a user manual and a video containing setup instructions. After this, you will start receiving Forex signals on your MT4 platform.
Trading strategy
One of the most disappointing aspects of this service is the lack of strategy insight. From the name itself, we can assume that the system uses a price action strategy. But before investing in a service, a trader needs to know the technical details of the trading scheme. This helps them decide whether the signal provider can accommodate their trading style.
Trading results
EA vendors often test their systems using historical data to see whether they can deal with different market conditions. This is only applicable for automated trading systems, however, and since this is a signal provider, we don't have the backtests available on the website.
Verified live trading results are the first thing any serious Forex trader looks for in a signal provider. Unfortunately, the vendor has not shared any links to live trading accounts on third-party websites. Without them, there is no way we can gauge the profitability of Price Action Forex Ltd and there is no way to verify the vendor's claims of high profitability.
Customer reviews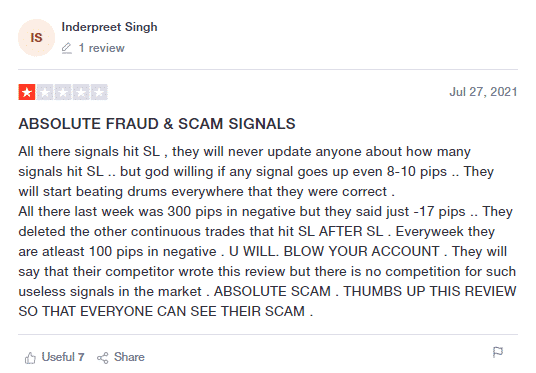 We came across several customer reviews for Price Action Forex on the Trustpilot website. Several users have claimed that this service is an absolute scam. One particular user has stated that all of the signals hit the stop loss and that the vendor tries to hide the unprofitable signals. This is not surprising considering there are no verified statistics that show the system generating profits in the live market.