Redshift is a Forex EA launched on 31st December 2020 by Marco Solito, a trader from Italy who is known for developing systems like Dark Moon, Dark Venus, Blueshift, Dark Absolute, and Dark Oscillator. It is a fully-automated Forex EA that is well-suited for Intraday Trading and that apparently has extremely high profitability.
No other information is available on the vendor and the company background. It seems Marco Solito works alone and does not have a team to back him up, since their identities have not been revealed. We also have no way of finding out whether the developer has any real trading experience.
Choosing a Forex robot is not as easy as it may seem, since there are many scam services flooding the market these days. It takes careful analysis of each and every system aspect to gauge the reliability of a robot accurately. Take a look at our best Forex robot list to find out which ones you can trust.
Redshift Offering
On the MQL5 page of Redshift, the vendor has mentioned that only a single copy of the Forex EA is available at the stated price and that the net 10 copies will be sold at a more expensive price. To us, this looks like a desperate marketing attempt to draw in customers.
The features of the robot are discussed briefly, and all the recommendations are listed. We also have a list of parameters used by the system and what each of them signifies. It is mentioned that this EA won't get you rich overnight. Users are advised to trade using a low-risk setting and to give the robot at least 10 weeks time to show positive results.
We have the backtesting data for different pairs, and a live stream showing the trading results. There is also a video that shows how the backtest was performed for this Forex EA. As far as we can see, this Forex EA does not offer anything different or unique compared to other services.
Pricing
You can purchase Redshift for $399, which to be honest is not a cheap price tag for a brand new Forex EA. If you don't wish to commit for the long-term, there is a 1-month rent option available that costs $348, but since there is not much price difference between this and the previous plan, it does not offer a significant advantage. The vendor also offers a free demo version of the robot, but there is no mention of a money-back guarantee.
How it Works
Redshift trades in different currency pairs like USD/JPY, AUD/USD, USD/CAD, GBP/USD, and EUR/USD for the M15 timeframe. The vendor mentions that this is not a broker-sensitive robot but recommends using the ECN broker since it is better suited for this system.
You are further recommended to use a VPS with low latency and leverage of 1:10 for placing your trades, along with a recommended deposit of $100.
Trading Strategy
Redshift is based on the Moving Average Convergence Divergence (MACD) indicator. It is stated that the strategy begins with market order in counter-trend and trend following. We don't think this information is sufficient and it fails to explain the strategy clearly. The lack of technical information surrounding the strategy will no doubt disappoint some traders.
Trading Results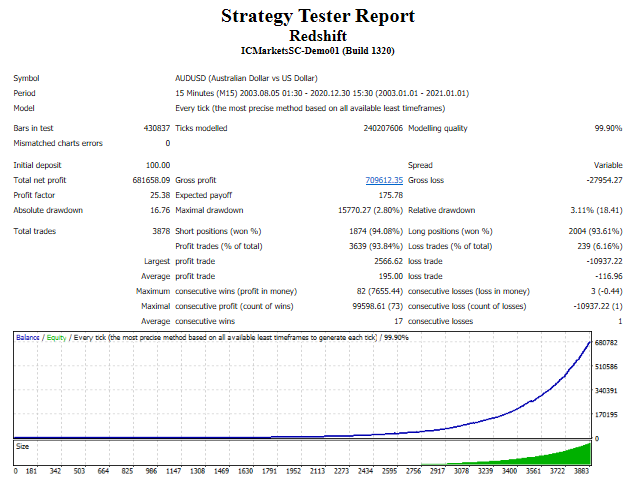 Out of many backtesting results shared on the MQL5 page, we are considering the one conducted for the AUD/USD pair from 2003 to 2020. Here, an initial deposit of $100 was used to generate a net profit of $681658.09. During this backtest, Redshift showed a low relative drawdown of 3.11%, and a high win rate of 93.84%.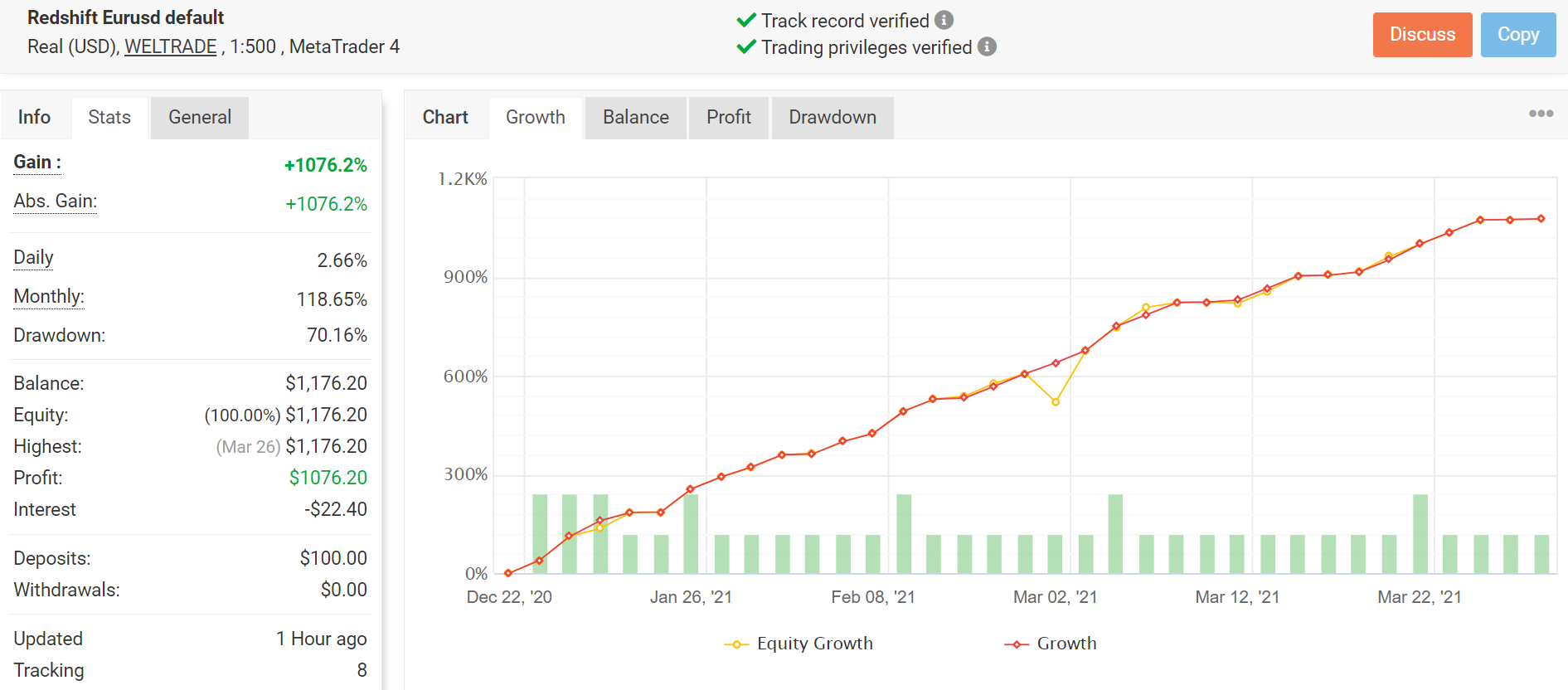 Although the vendor has not shared the live trading results on the MQL5 page, a trading account for Redshift exists in Myfxbook. Here, we can see that a profit of $1076.20 has been generated by the robot after placing 41 trades. Redshift has won all of these trades, which means to date it has a perfect rate.
It is not possible to gauge the profitability of the robot from such a small sample size, but it definitely shows some promise. The daily and monthly profits are currently 2.66% and 118.65% respectively, while the absolute gain is 1076.2%. We need to keep an eye on this account to see how it performs in the future.
Customer Reviews
As of now, there are no user reviews for Redshift on the web. Although there are some user testimonials on the MQL5 page, these cannot be considered authentic.