ROBOCOPY FX is a copy trading system that caters to the Forex market. With it, you don't have to waste your time on finding appropriate trades as it automatically carries out trades on the MetaTrader 4 platform. Here, you will read about the ROBOCOPY FX review, its various features, price, and pros and cons so that you can decide if it's right for you or not.
Choosing the best signal or robot provider is not as difficult as it seems when you read the information provided by us on this website. You can take a look at our best Forex robots list to select the right one for yourself.
ROBOCOPY FX Offering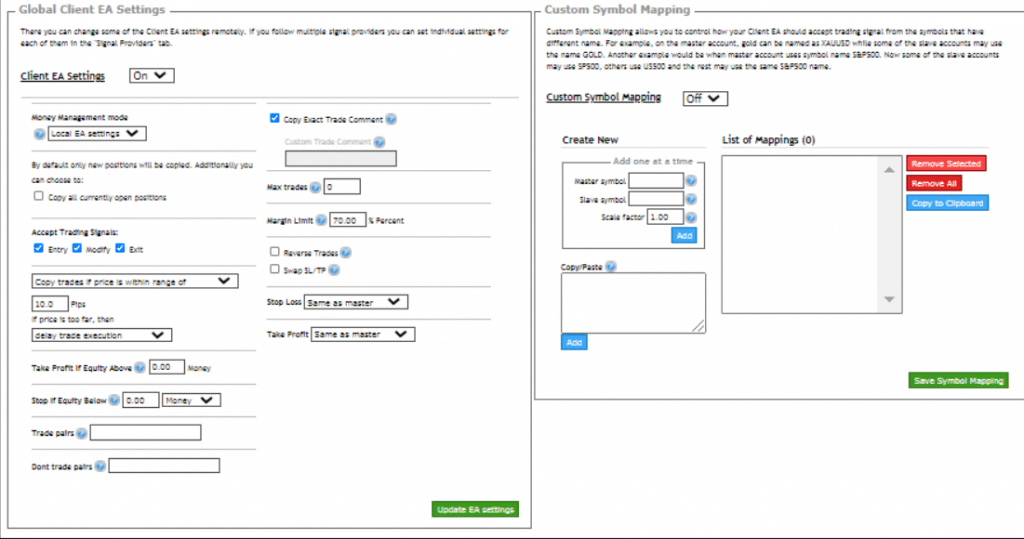 On its official website, ROBOCOPY FX demonstrates its live trading results, order history screenshots, strategy configuration settings, price, etc. Plus, you can check out its affiliate program, cancellation policy, and refund policy on different tabs provided at the bottom of the site. You can contact the tool's customer support team via an email provided in the Contact us section.

ROBOCOPY FX offers several features, including:
Fixed lot size of 0.01 by default
Money management mode and asset mapping to protect your account from losses
You can set risk money, risk percent, and lot money ratio depending on your preferences
Risk ratio server
Lot multiplier
Pricing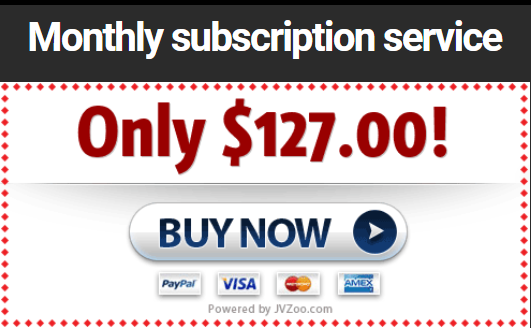 ROBOCOPY FX is offered at a price of $127 for one month. It is based on a monthly subscription plan. The automated system offers you a refund option for seven days after your purchase. You just have to send them an email about the refund and they will give your money back. Plus, you can cancel the subscription up to five days before the following due date.

How it works
ROBOCOPY FX uses copy trading, that is, it quickly copies real-time trades done by other investors. It generates signals that are automatically copied to your account. The system provides signals only on the MT4 platform.
It allows you to trade in 11 different currency pairs on your live account, wherein USD/JPY, GBP/USD, and EUR/USD are popular pairs for trading. The trading tool places Take Profit and Stop levels in all open trades. It lets you configure the risk for every strategy in the control panel.
Trading Strategy
ROBOCOPY FX uses two trading strategies, that is, Robocopy-FX-1 and Robocopy-FX-2. Both these strategies are verified by Myfxbook. You can alter the settings of these strategies as per your requirements and convenience from the control panel. And, you don't have to do anything on your own as the robot places automatic orders.
The first strategy works on EUR/CAD, GBP/CAD, GBP/USD, and EUR/AUD currency pairs. It monitors the support points that are seeking a retraction. The second strategy works on GBP/USD, EUR/USD, and USD/JPY currency pairs. It employs a breakout method. Both strategies use set stop losses with each order.
Only this much information is provided about the trading strategy, which is not enough. There should be more technical data related to its trading strategy.
Trading Results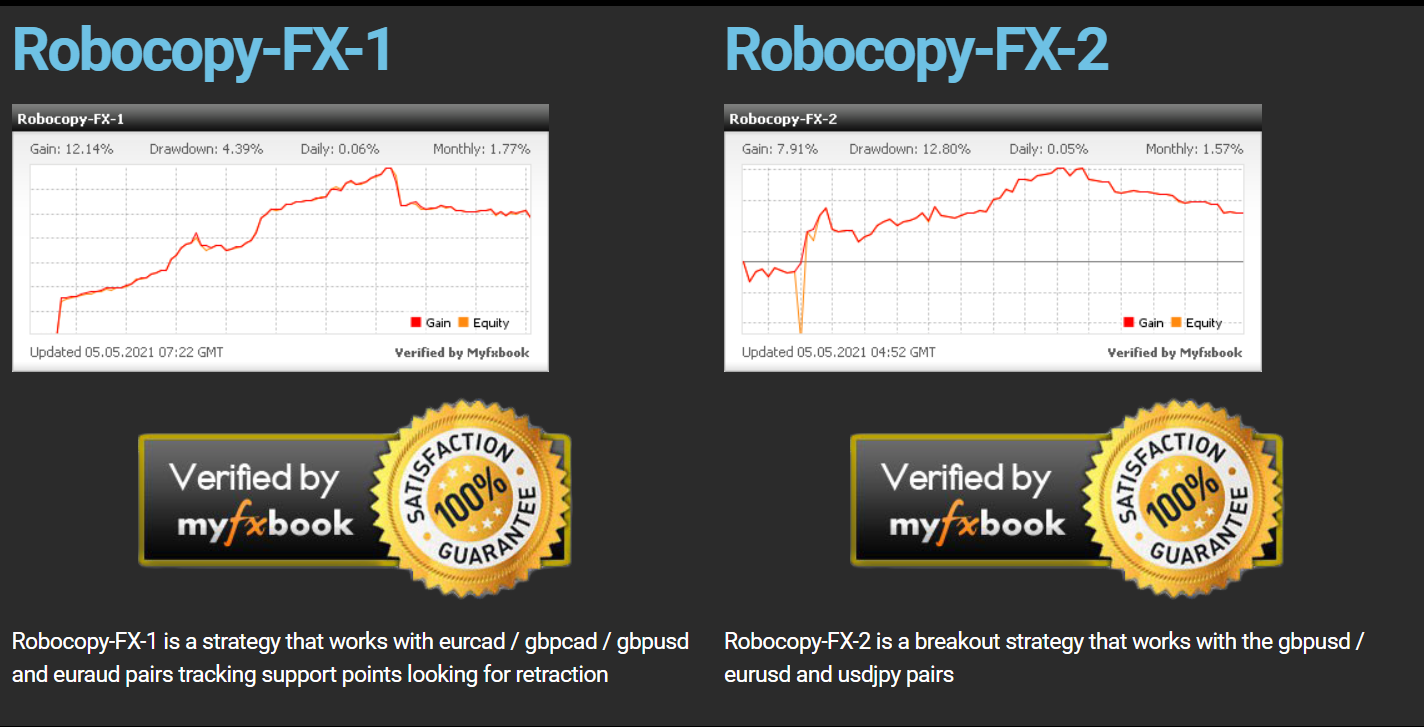 ROBOCOPY FX has two different trading accounts for its two different strategies. Both accounts' trading results are verified. The system has real USD accounts that run on IC Markets. They follow technical data and have a leverage of 1:500. The accounts run only on the MetaTrader 4 platform. There are many hidden trading stats in both these accounts.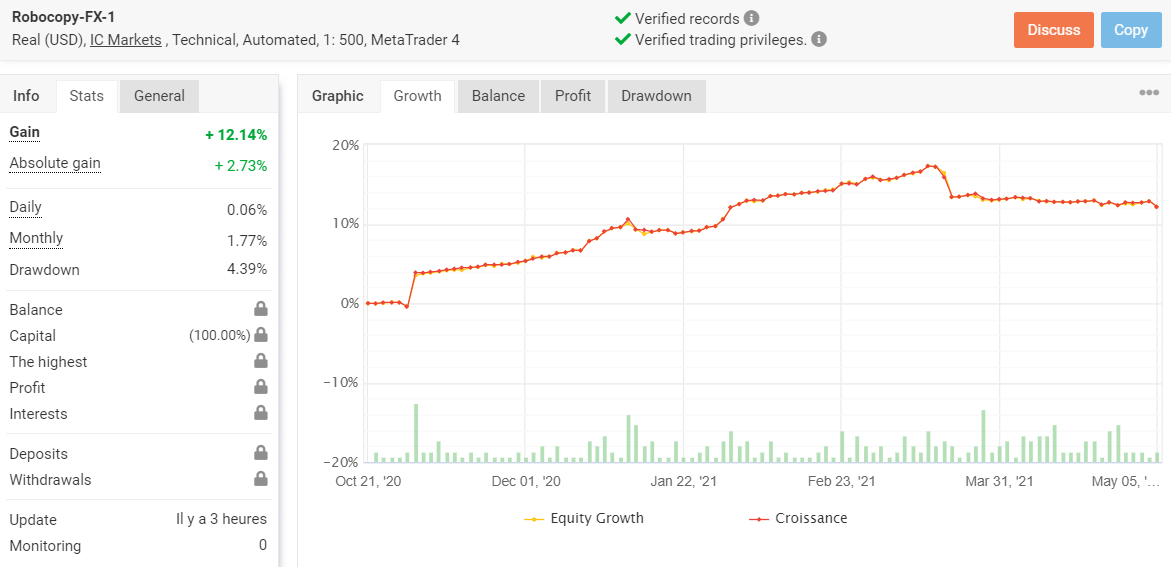 The Robocopy-FX-1 account makes a 0.06% daily profit and 1.77% monthly profit with a drawdown of 4.39%. There is a huge disparity between the profit percent and absolute gain at +12.14% and +2.73%, respectively. This account was created on October 21, 2020 and has traded 270 trades till now. It has 709 pips.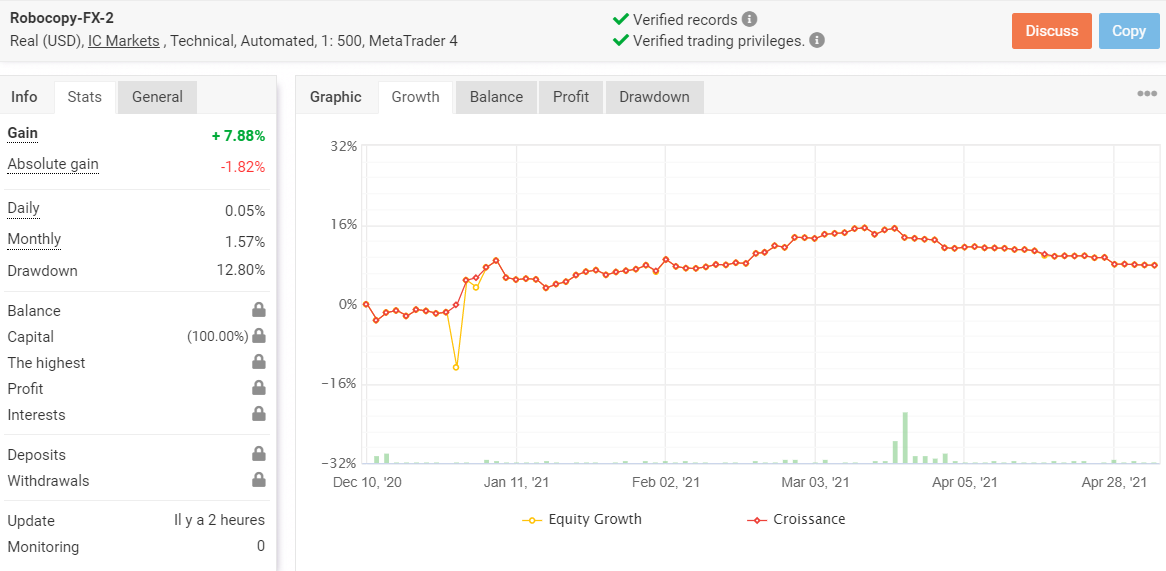 The Robocopy-FX-2 account makes a daily profit of 0.05% and a monthly profit of 1.57% with a high drawdown of 12.80%. The total gain is +7.88% and the absolute gain is negative at -1.82%. This account was started on December 10, 2020. It has 331 completed trades with 248.4 pips.
Both the accounts show poor trading results since they have been started.
Customer reviews
We could not find any customer reviews of ROBOCOPY FX on its official website or third-party sites like Trustpilot and Forexpeacearmy. Customer feedback provides us more information about the system's performance and unbiased opinions about its effectiveness so that we can assess it properly.
Vendor transparency
There are no details about the vendor who provides this trading system or the address of the firm. The vendor has hidden its trading stats and has no backtest results. Due to this, we cannot know about the performance of the software in the past. Thus, the vendor is not transparent.