RoboFi is a decentralized financial system offering DAO automated cryptocurrency robots through an initial bot offering. Traders can generate passive money by listing their algorithms on the marketplace. It employs a variety of trading tactics and supports a number of exchanges, including Uniswap, Pancake, and Kucoin. In this review, we will look at its features, workings, safety, profitability, and so on to decide if traders should invest in the platform.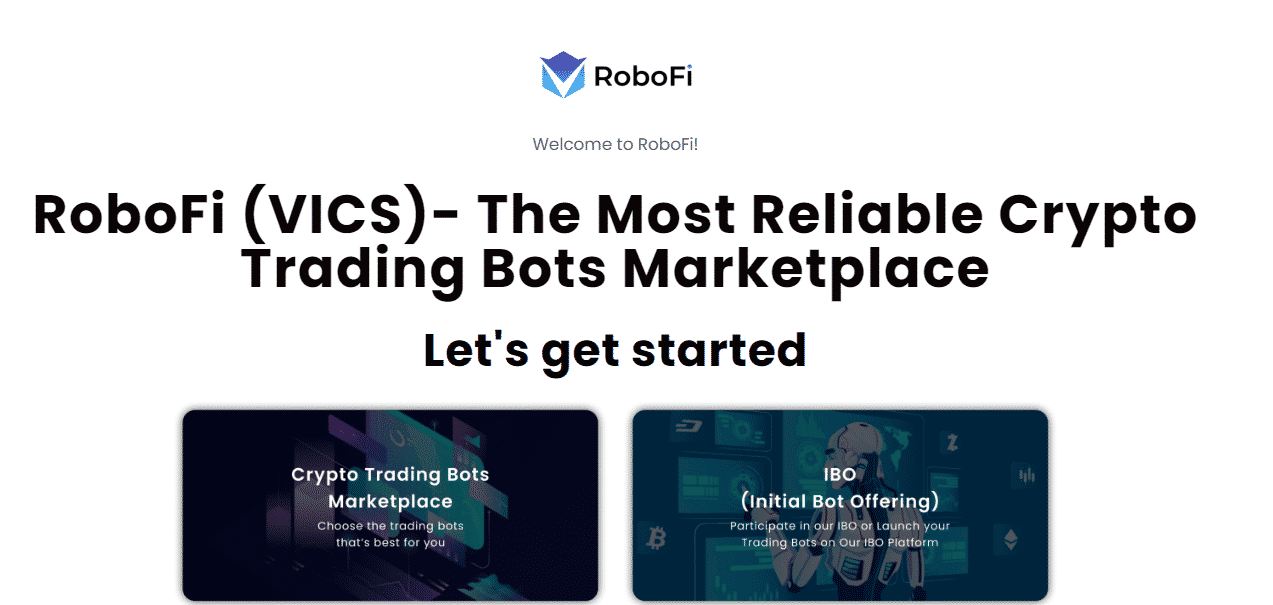 What is Robofi?
RoboFi aims to bring individuals and bot developers in touch with each other in a safe environment. It claims to be featured on popular platforms such as Yahoo, Bloomberg, and Benzinga.
| | |
| --- | --- |
| Price: | N/A |
| Payment Options: | Crypto (VICS token) |
| Supported Exchanges: | Binance / Kucoin/Pancake/Sushiswap/Uniswap/Huobi/Probit global |
| Cloud-Based: | Yes |
| Strategies: | N/A |
Is it easy to use Robofi?
The user interface of Robofi is complex, with few details about the strategies and working of their bots. Investors can choose from the list of algorithms on the marketplace and start trading on decentralized or centralized exchanges. It is entirely fueled by their governance token known as VICS.
Main features of Robofi
The main characteristics of Robofi can be described as:
Marketplace
The platform has a marketplace where traders and bot developers interact for earning opportunities.
Earn VICS token
Investors can earn VICS by participating in the liquidity pool and placing bets.
Buy/sell bots
The bot store allows users to purchase and sell their algorithms.
Strengths and weaknesses of Robofi
After evaluating the system's features, working, and other aspects, we have found the following positives and negatives with the Robofi platform.
| | |
| --- | --- |
| Strengths | Weaknesses |
| The Robofi lending feature allows traders to borrow the required tokens for their bots | There is a lack of proper security measures to ensure the fund's safety |
| The system uses blockchain technology with a Decentralized autonomous organization, enabling a secure and trusted environment | Robofi uses a new technology under experiment, and it is still in the developing stage |
| | The user interface is complex |
Is its technology good?
Robofi uses blockchain technology, and everything functions transparently in the DAO principle because it is not dependent on a single person's decision. Users can also participate in games, staking, and lending. However, the platform is still developing and does not guarantee that its services will be free of bugs, errors, viruses, or other defects.
Is Robofi safe?
Robofi promises a safe and transparent environment, but it lacks the security vital to protect traders' investments.
Customer support
Customer assistance can be reached by an online form or by email. There are four user reviews on a trusted third-party website like TrustPilot. The less number of feedback with no negative testimonials makes the ratings suspicious. A trader wrote that Robofi simplifies the interaction between developers and users.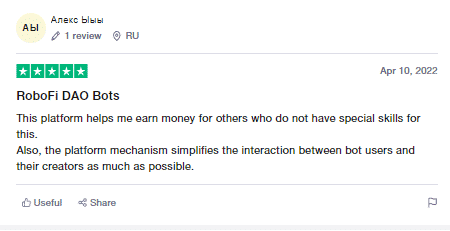 Reputation
RoboFi is developed by SnapBots Ltd, whose headquarters is in Tortola, British Virgin Islands. The company consists of up to 500 employees with 10 of them having LinkedIn profiles.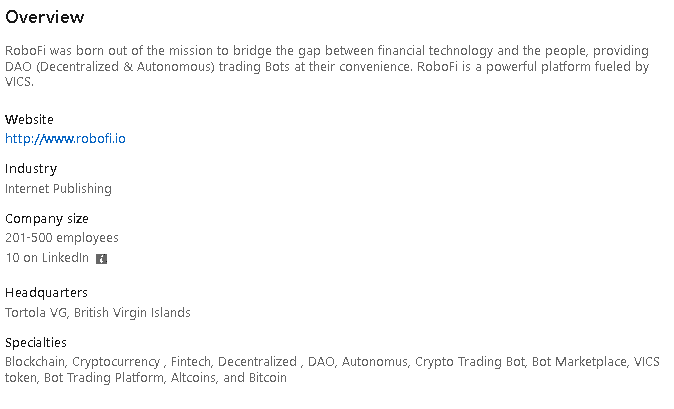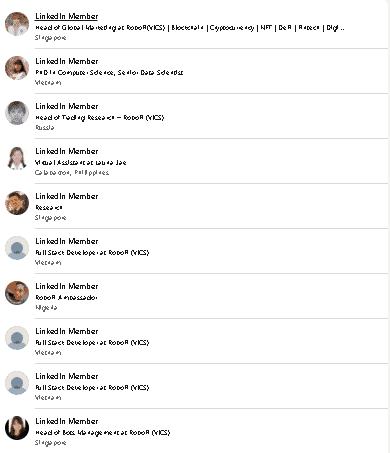 Bottom line
Robofi is a new and developing platform that uses blockchain technology with a decentralized autonomous organization. The functions or working of the system are not clear enough for new users. It is entirely powered by the VICS token, which is used for buying and staking. The security measures are unknown, raising suspicions about its safety.