Is Signalator good to go?
Today's review will be about a Signalator signal providing company. They provide signal services since 2000 (?) for major currency pairs EUR/USD, GBP/USD, GBP/JPY, and others (?) and for Commodities like Gold and Oil. Signals are generated by professional traders and have Take Profit and Stop Loss levels. Trading alerts can be received via SMS and Email. There are several packages of signals. The first one is a common period-based subscription. The second one is a pips-guaranteed subscription.
Each provided signal is offered with a detailed page. It includes an overall description and information about the trading signal, the overall results (a total profit, the maximum drawdown, a monthly profit, etc.), past months results with links to reports with every executed operation, a chart with overall equity growth and monthly performance.
The devs introduce automated trading as an option. It's implemented in two ways: automated execution of trades made by Signalator traders and EA robot generating trades based on trading rules. Automated trading in both cases works with the MT4/MT5 MetaTrader account.
Signalator Autotrader
Signalator Autotrader is an EA that has the next features:
Fully-automated trading solution
Instant order execution
It works with MT4 or MT5 accounts
Automated execution of all alerts: opening signals, SL / TP levels placement, closing signals.
24*5 Automated Trading
Managing lot size depending on the account balance.
Provides detailed trade information for analysis purposes (alert id, position id).
We have to buy VPS or run a PC during the trading hours (Monday 5:00 – Friday 20:00) GMT London time.
API trading available for no MetaTrader platforms.
It works with Interactive Brokers "We can work with it, by using special software available online. All trades can be automatically copied to Interactive Brokers account (for IB Trader Workstation TWS). Service is a subject to an additional fee," devs said.
Money and risks management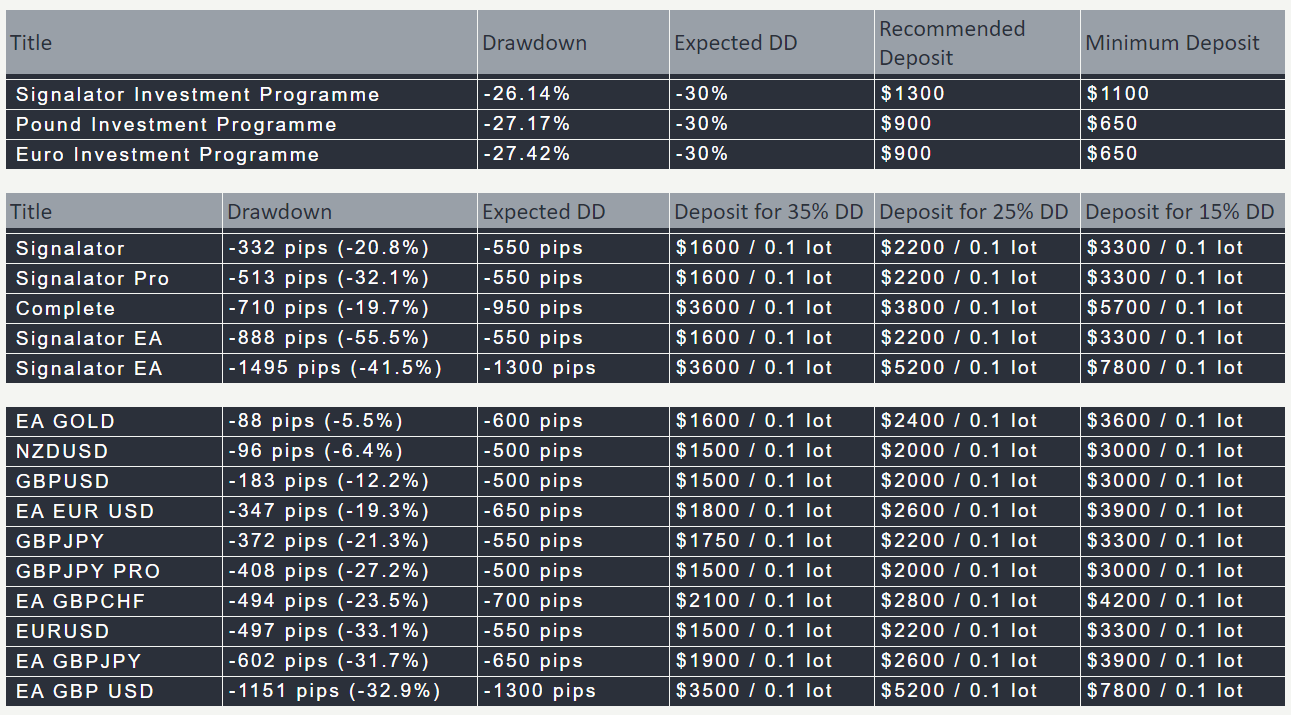 The devs introduced a drawdown sheet that explains for beginners lot size, minimum balance requirements, symbol specific, and expected drawdowns. "All offered forex signals, signals for commodities trading or CFD Indices signals are provided with the two drawdown levels: the one already occurred in the past and the maximum possible level defined by a trading strategy. These two levels may vary significantly. When they provide the recommended deposit levels, all these calculations are based on maximum hypothetical levels of drawdown."

This is an example provided for a $100000 account for four types of lot-sizing Fixed lot (5 lots per trade), a Flexible lot result (0.1 for every $2000 of the balance), Risk trading (2% for each trade), and AI Lot sizing. The best overall results were shown by AI Lot sizing.
Signalator Forex Trading Signals
We can receive signals from the main EA:
EA uses technical and fundamental analysis to find the best trade opportunities.
EA supports 13 symbols
Fully-automated execution of trades
Round-the-clock trading
Some numbers of guaranteed pips
One "Stop Loss" and one "Take Profit" level
There are several packages with various features. Basic signals:
The most popular and efficient trading signals combining high market involvement with short-term analysis.
The highest win ratio among all the signals provided.
Short-term intra-day trading with small SL/TP levels (approximately 30-40 pips).
Low risks.
Low deposit requirements.
Pro signals:
Pro signals are provided only for currency pairs with big price movements, mostly GBP pairs and cross-pairs.
Advanced market analysis tools, flexible SL / TP positioning, both floating losses, and profits covering techniques.
High levels of TP and SL levels.
50+ pips an expecting profit from evet trade.
Signals are not sent during high impact news.
1M and 5M charts trading.
It based on trend reversal and oversold/overbought indicators.
Signals numbers will be around 100+ for every GBP pair.
EA:
EA signals are with the highest monthly profit and the highest market involvement.
Trades are created automatically and controlled by traders based on 5M, 15M charts.
40+ trades during a month on one trading pair.
Pairs to work: GBP/JPY, GBP/CHF.
Onsite trading results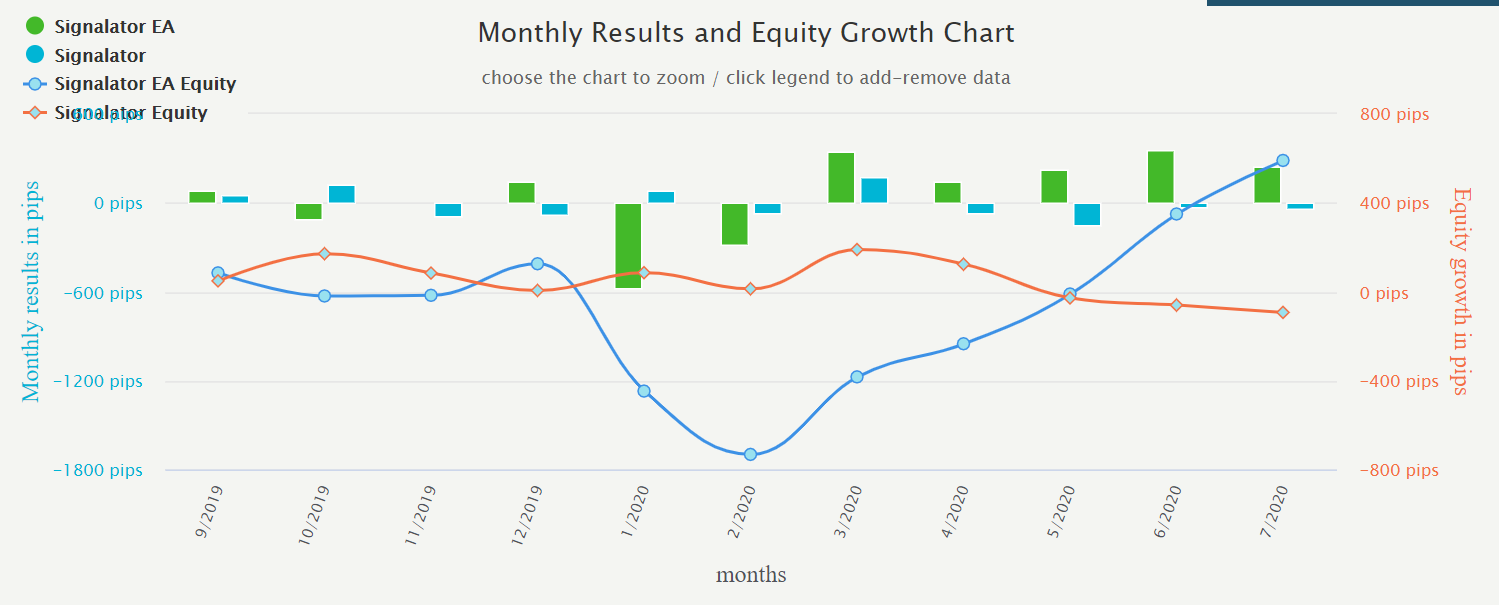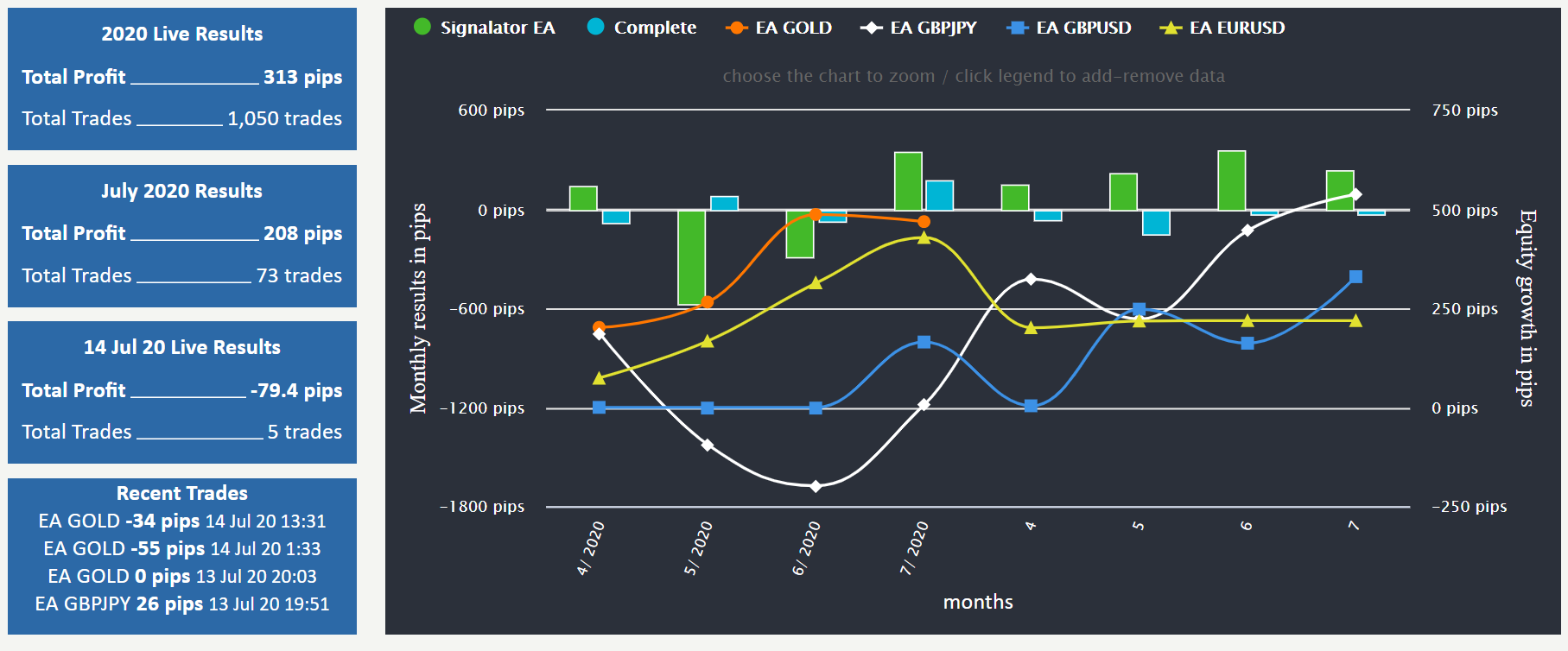 We don't know why there are charts after July 2020 and what this means. It seems to be fake trading results, so, charts were built previously based on the fake numbers.

If we even entrust these results, anyway there are many months that were closed with huge losses. Looks at results from October 2019 until March 2020. There were 1437 pips lost. We know no person who would keep using this service after half a year of this kind of trading.
Pricing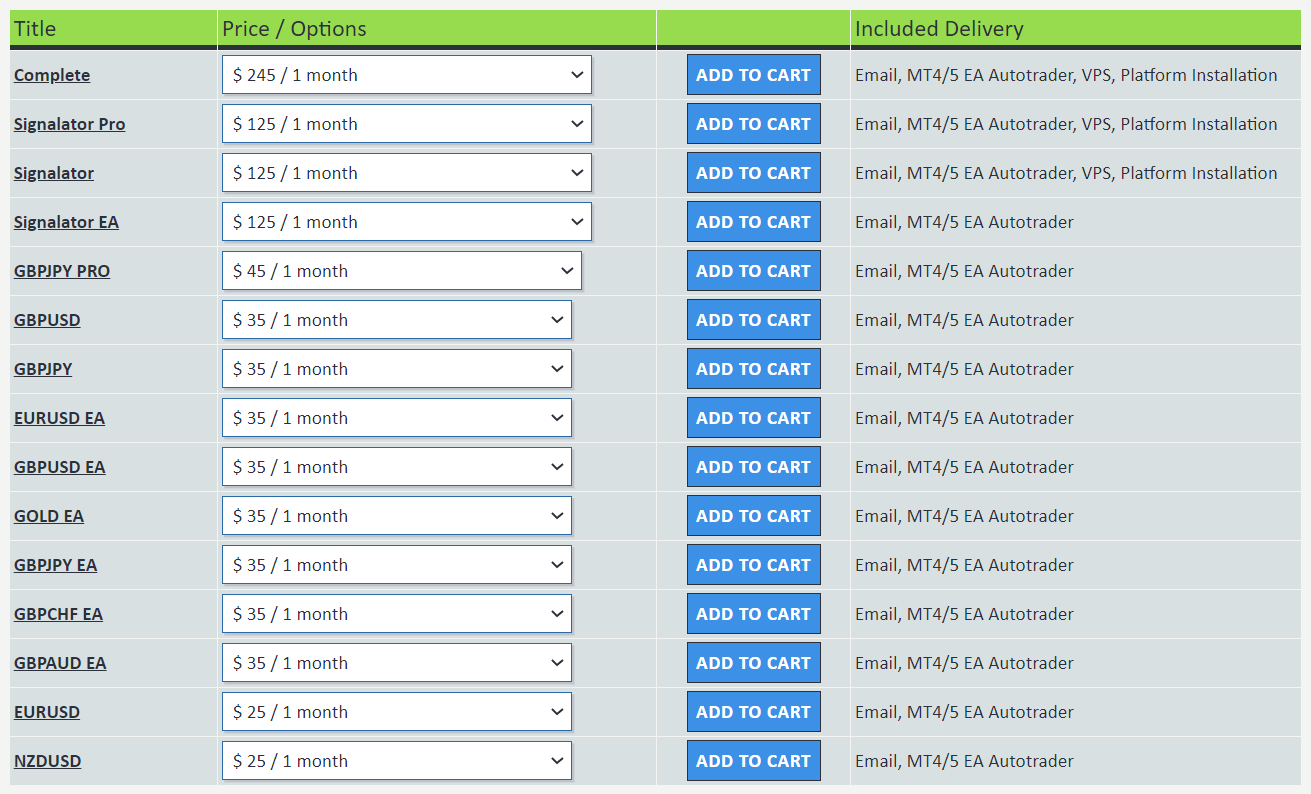 The first package includes 16 auto-trading options.

This package includes signals. We don't know why this pricing is so insane.


Guaranteed pips packages vary and look like one big mess copying each other.

And this joke-kind price for an EA that has lost 1400+ pips for half a year, having run 5 from 6 months with losses.