Smart Scalper Pro is a Forex expert advisor that is an upgraded version of the BF Smart Scalper EA. The vendor makes some tall claims about this robot, declaring it as one of the most successful trading systems and one that is optimized for the 2021 market conditions. However, we must conduct our own investigation before forming an opinion about this robot.
This is a product from the FXautomater team which is based in Seychelles. On the official website, the vendor has not shared any information about the company's history, so we don't know when it was founded. There are links to the social media handles of the company, and we have a contact form for sending a message to the service team.
Since there are several scam EAs on the market today, you need to do your research before investing in a robot. It is vital to consider factors like pricing, live performance, trading strategy, and customer reviews. To know more, check out our best Forex robots/signals list.
Smart Scalper Pro overview
The vendor has provided a short introduction to the Forex robot on the official website, after which they have highlighted some of the main features. We have the links to multiple live trading accounts as well as the backtesting results for different currency pairs. The vendor has explained in brief how the system works and has shared the pricing details. They seem to be focusing on the features, but as per our understanding, the EA does not have anything special to offer.
Pricing
You can purchase Smart Scalper Pro for the price of $137. This is pretty close to the market average for EAs. By purchasing, you get access to a single real and 3 demo accounts. The vendor offers a 60-day money-back guarantee for this product.
How it works
Smart Scalper Pro comes with a money management system that lets you specify the risk percentage. Based on this, the robot calculates the trading lots. It also has a news filter that lets you avoid trading on days when important events are scheduled to occur. You must enable this feature manually to allow the MT4 terminal to form a connection to the official website.
You can instruct the robot not to trade during certain hours of the day or specific days of the week. It has a Friday exit system that allows the system to cease trading on Friday evening to avoid the weekend. When there is a trading opportunity, the EA sends you an email or a push notification.
For a lot size of 0.05, you should use an account balance of $1000. You can use Smart Scalper Pro to trade in pairs like GBP/USD, USD/CAD, USD/JPY, USD/CHF, EUR/USD, and GBP/USD.
Trading strategy
While the vendor has not mentioned the trading strategy explicitly, we can assume it's a scalper bot. These systems follow a high-frequency trading approach, opening multiple orders every day to win small profits. Many traders do not prefer scalping bots because they are not ideal for making quick money. It takes a high degree of expertise to work with such a strategy, so it is not suitable for beginners.
Trading results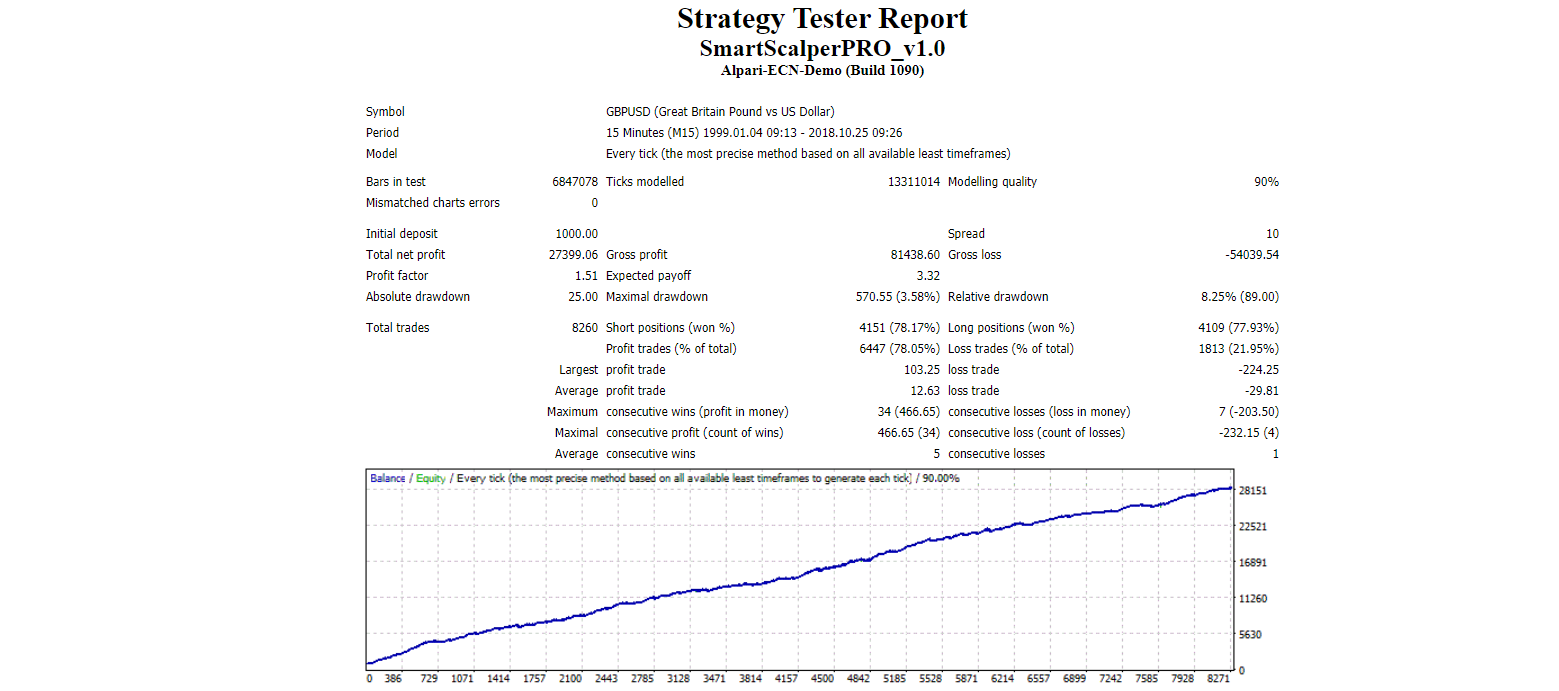 Smart Scalper Pro started this backtest with $1000 and managed to earn a profit of $27399.06 after winning 78.05% of all trades. The win rate is slightly higher compared to the live statistics and so is the drawdown.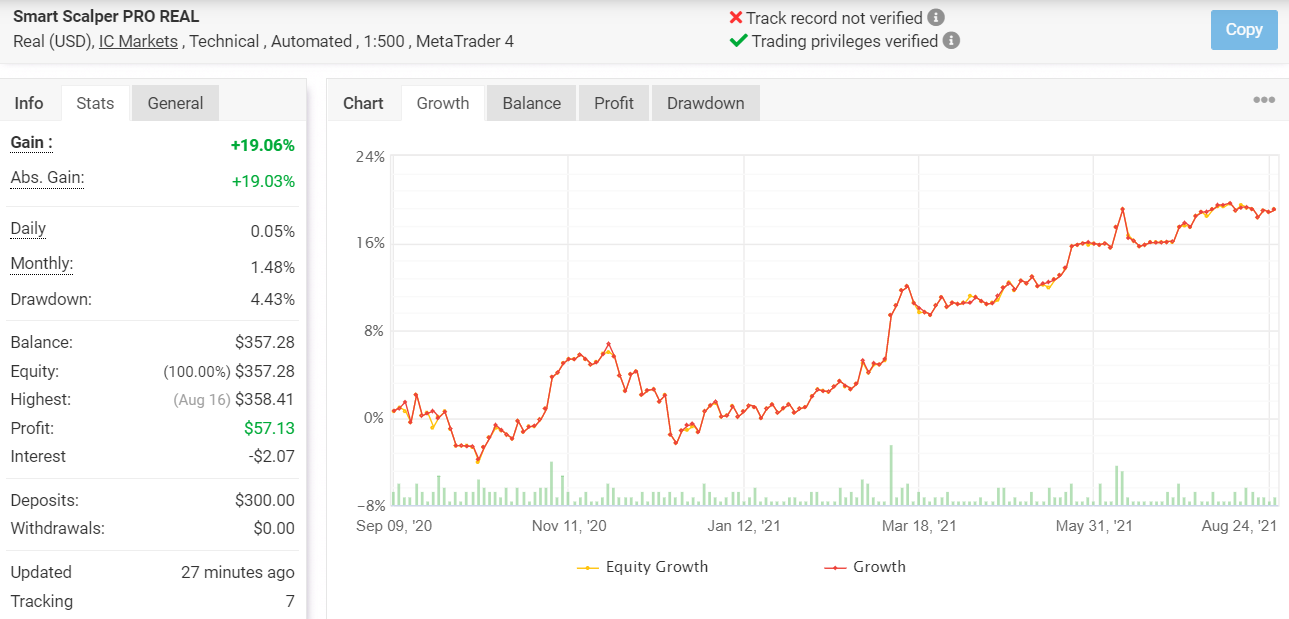 Here we have the live trading results for Smart Scalper Pro presented in a trading account on Myfxbook. The account has been active for a long time and the EA has placed 396 trades through it, but we can see the total profit is only $57.13. The daily and monthly win rates are quite low at 0.05% and 1.48%, respectively.
Clearly, this is a robot that fails to generate large profits in spite of winning 71% of all trades placed. The account has a profit factor of 1.29 and a drawdown of 4.43%.
Customer reviews
We couldn't find any user reviews for this EA on third-party websites. This indicates a lack of reputation and it is evident that not many people have used this system and benefited from it.