Sodobe Scalper is promoted as a safe trading tool that works best for the XAUUSD currency pair with default settings. The vendor also assures us that his product is not a scam. Let's evaluate the system to see what more is offered and whether you should buy it.
Nguyen Van Cho is the brains behind this EA. He is claimed to be a manager at Sodobe, a company with zero reputation in Forex. There is no information about his professional background. It is also not clear if Cho created this robot alone or with the help of other people. This lack of transparency is enough to cast doubt about the reliability of the product.
Sodobe Scalper offering
The EA features of the robot are:
Requires a minimum leverage of 1:100 and a minimum deposit of $100.
Traders need to work with the recommended brokers, including LiteForex, Exness, and IC Markets.
Works better with low spreads, mainly below 20.
USD per lot: default is 100. If it is less than 100, then the risk may increase.
Pricing
Sodobe Scalper is very expensive. The vendor is selling it at $590, a price that is nearly 3 times higher than the average cost in the market. The renting options are not cheap either. To hire the EA for 3 months, the developer wants you to pay $150, money that you can use to get a lifetime license of another more effective EA. The one-year renting plan is available for $290.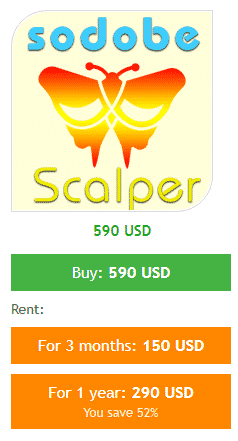 How it works
Sodobe Scalper is a software program that is based on several signals which help it to determine when to buy or sell the XAUUSD currency pair. Therefore, instead of conducting your trading manually, the developer is offering you an alternative-an automated device.
Trading strategy
Scalping is the strategy that this Forex robot uses. The goal of this approach is to make profits from small price oscillations. Scalping may not be suitable for you if you are the kind of trader who is impulsive, seeks immediate gratification, and desires to "make it big" with each trade. You may not attain anything but disappointment while using this robot.
Trading results
The robot's presentation on mql5 features several backest records. We have picked one. The backtest below is for the XAUUSD currency pair, which was used to test the workability of the robot's strategy. So, a small deposit of $100 was placed, and within 20 months, the robot only made a profit of $124.98. This is after it conducted 142 trades and won 70.42% of them. The long positions were more successful — 70.59% compared to short positions — 69.57%. The drawdown was 8.49%.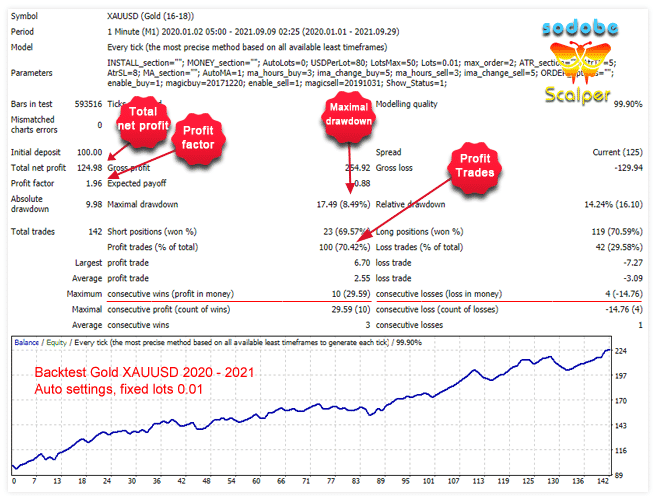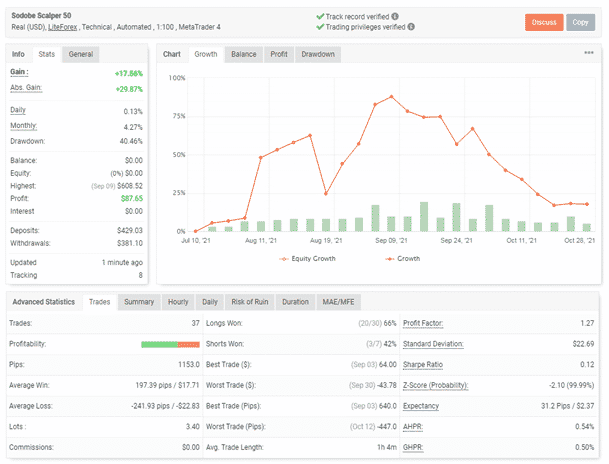 Sodobe Scalper is operating a live account on Myfxbook. A total of $429.03 has been invested, but it is evident that the EA's strategy is not working effectively. This is because it has only made a profit of $87.65 and an insane drawdown of 40.46%. So, its trading decisions are not well calculated, resulting in losses most of the time. A total of $381.10 has been withdrawn, and therefore, the balance is now zero.
To date, the number of trades conducted is 37. And from the 1153 pips made, we have an average win of $197.39 pips against an average loss of -$241.93 pips. The difference between these values is substantial and tells us that the trading strategy is risky.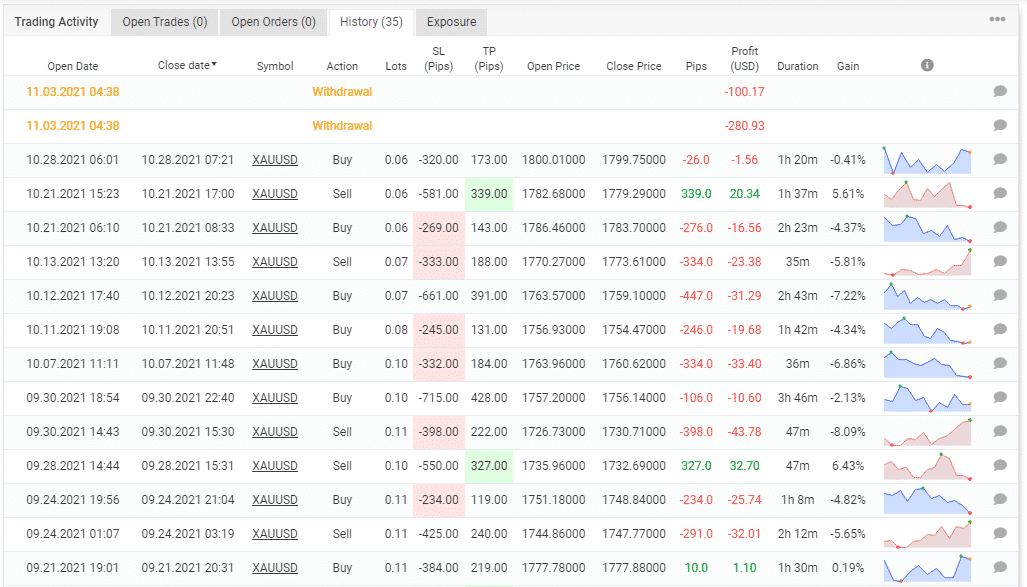 From the trading history above, we can see that the system made losses throughout October and only had one profitable period. We believe that this poor performance is what prompted the developer to withdraw the remaining capital at the beginning of November.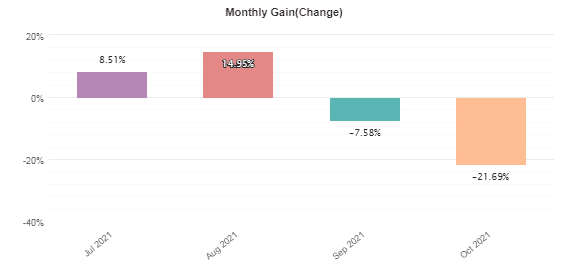 The only time the EA managed to rake in significant income was in August when it made 14.95% profits. September and October weren't profitable at all.
Customer reviews
Sodobe Scalper has a few reviews on mql5. According to one of the users, the EA has stable profits and a low drawdown. The other one just says that the product is good. These testimonials may not be authentic because they are unverified.