SV3 Trading is a Forex signal provider based on Telegram. It claims to have a team of experts specializing in the Forex market, who conduct thorough study and analysis to bring the most lucrative trading opportunities to you. As per the company website, traders can enjoy a high success rate of 70-90% with this system, while also getting access to educational resources and training courses.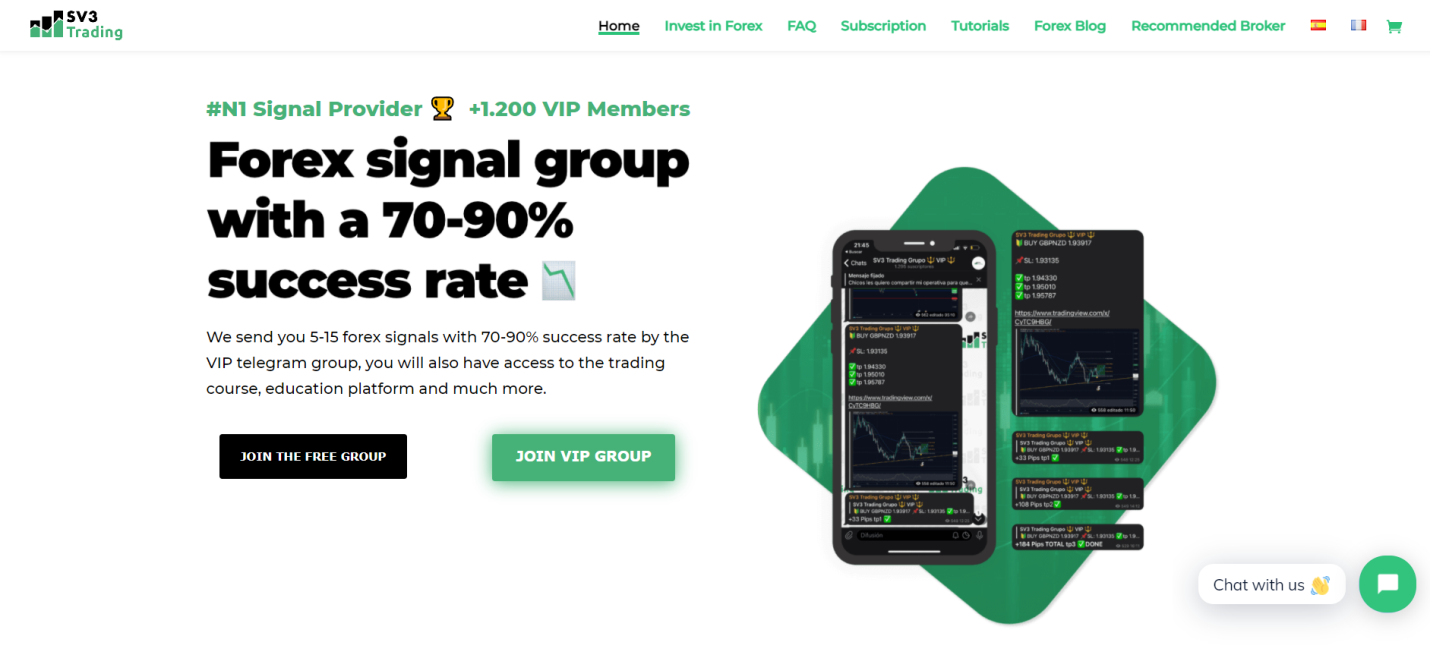 The system was launched in February 2019, reportedly by 3 traders hailing from Britain and Spain who have several years of experience trading in the Forex market. However, there is no way to corroborate this information.
There are several things a Forex trader needs to look into before investing in a trading system. These include the user-friendliness of the system, it's trading performance and strategy, customer reviews, etc. You can consult our best Forex signals list to check out which system would be suitable for you. Now, let us study the various aspects of this system in order to assess its trustworthiness.
SV3 Trading Overview
On the SV3 Trading website, we can see an aesthetically pleasing presentation with details about the pricing plans, FAQs, tutorials, and how to get started with the software. Yet, there is very little information about each section, which raises some questions.
It claims to provide accurate trading signals generated by expert traders, but it carefully avoids some of the crucial aspects like vendor transparency. Overall, we couldn't find anything that sets this system apart from others.
Pricing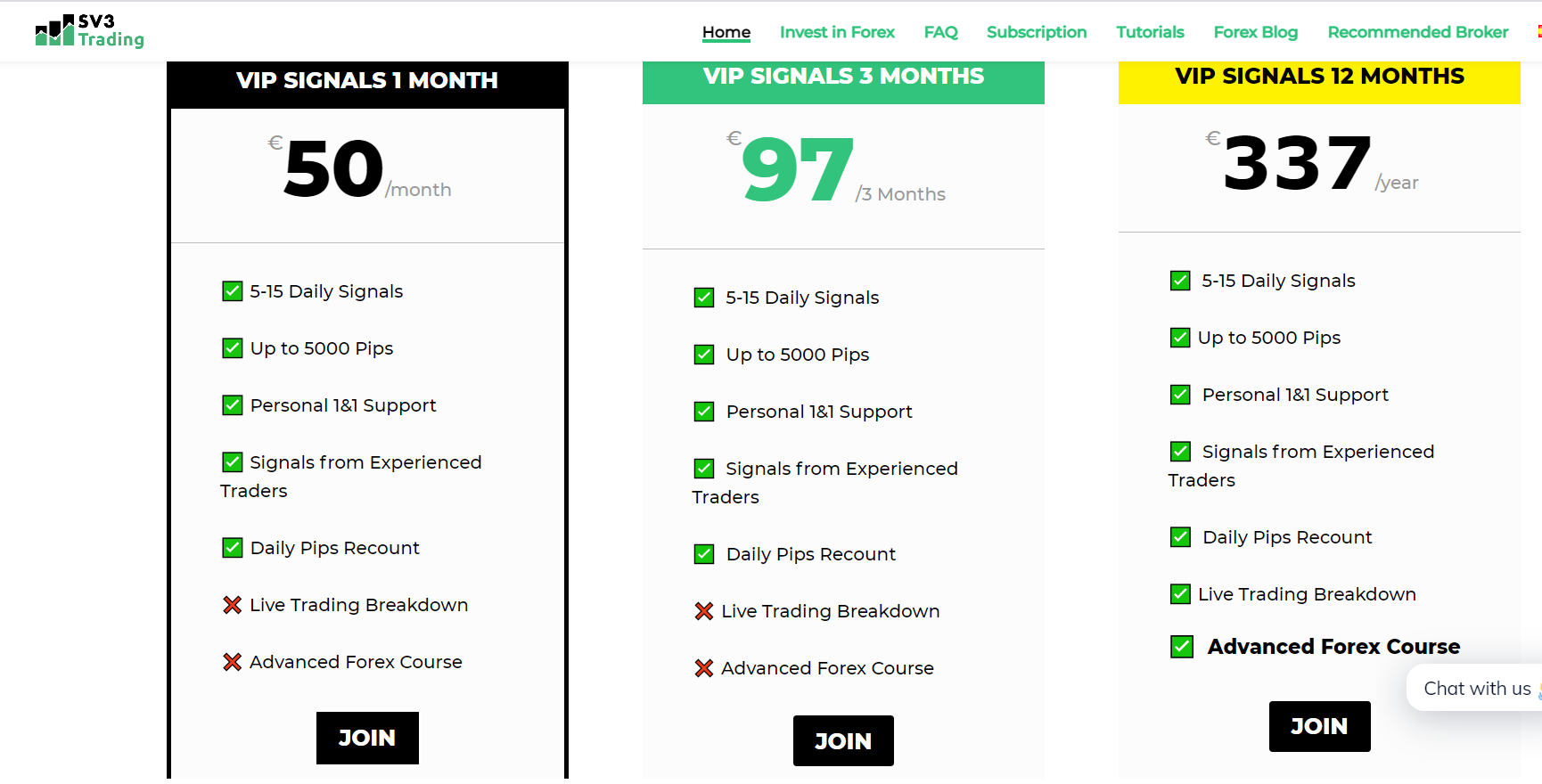 We are given four options in terms of pricing plans for the SV3 Trading Forex EA. The first one is where you join the Free Group on Telegram, where you can receive trading signals. It should be noted that this is a Spanish language group.
The VIP plans are for 1 month, 3 months, and 12 months, and they cost $50, $97, and $337 respectively. These plans are pretty standard compared to other Forex signal providers on the market, and they all provide similar features like personal support, daily signals, and up to 5000 Pips. With the yearly plan, however, you can get access to an advanced Forex course and live trading breakdown.
How It Works
In order to get started with this software, the Telegram app needs to be downloaded onto your smartphone using the Play Store or App Store. This system uses the MT4 platform for trading, so you'll need to download this as well. The signals are provided through Telegram after which you can place your trades accordingly.
Trading Strategy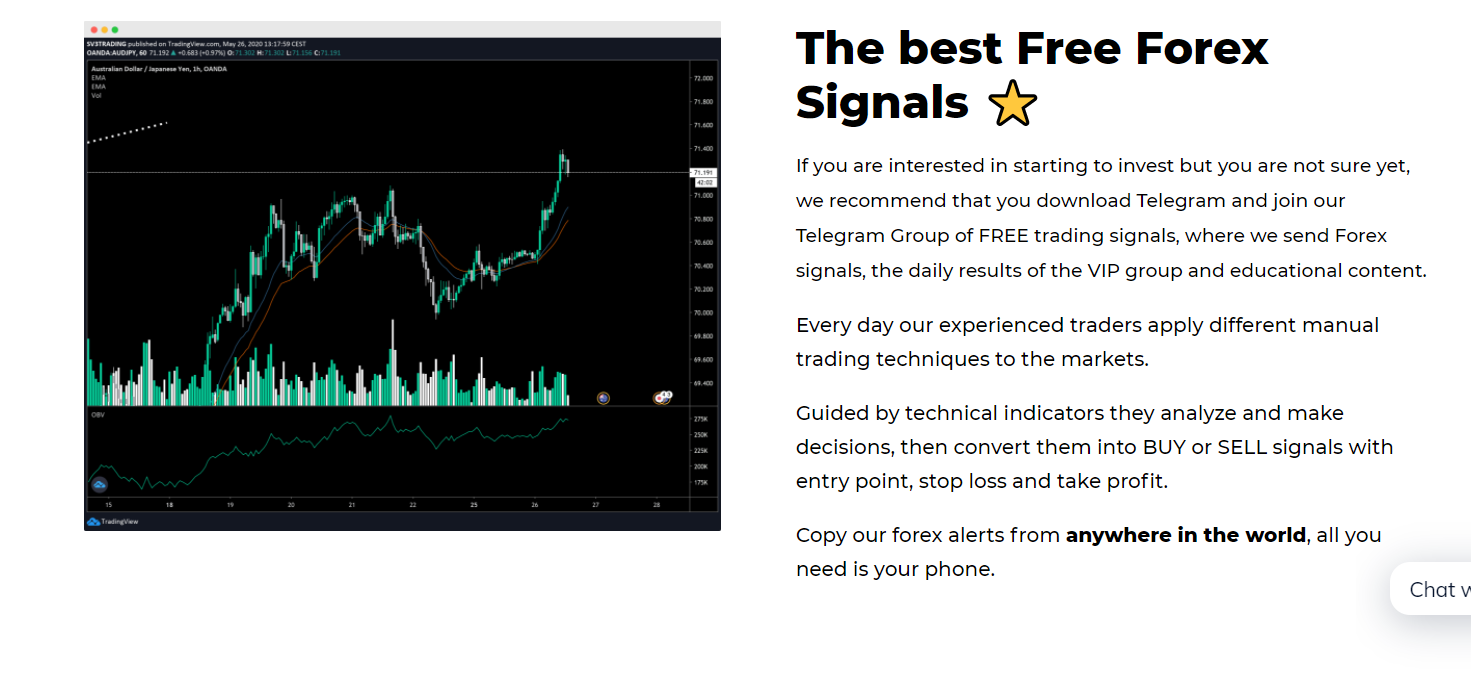 There is little or no information on the company website when it comes to the trading strategy used. It vaguely touches upon the subject that various manual trading strategies are applied by their expert traders, but no technical details about the same are revealed, which is extremely disappointing.
The website tells us that trading signals are obtained through market analysis and the take profit, stop loss, and entry point related information are provided along with them. But, honestly, this is not much to go on, and we think the company should reveal more information about the strategies.
Trading Results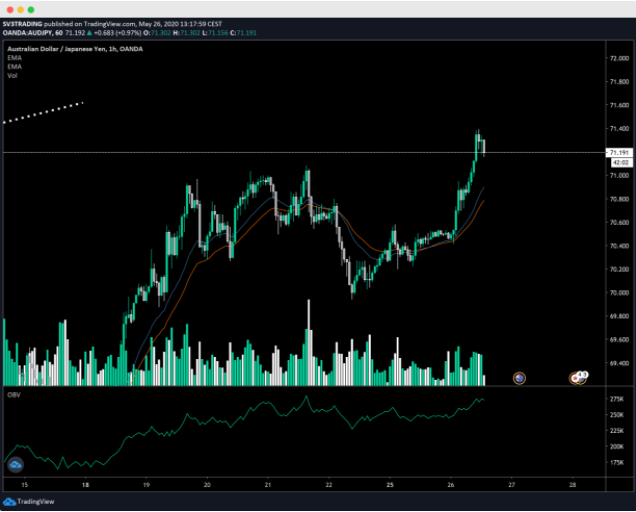 No live trading results are provided on the website, and we couldn't manage to find one on myfxbook for an active system. We only found the above trading result to go on, but there is no way this can be verified. Live trading results from verified accounts of third-party sites are crucial because they assist Forex traders in judging the efficiency of a system.
The lack of live trading results tells us that the company is unlikely to back up its promises of a 70-90% success rate and huge gains. Considering the tall claims made by the company, it should at least provide live trading results that help us verify these figures.
Customer Reviews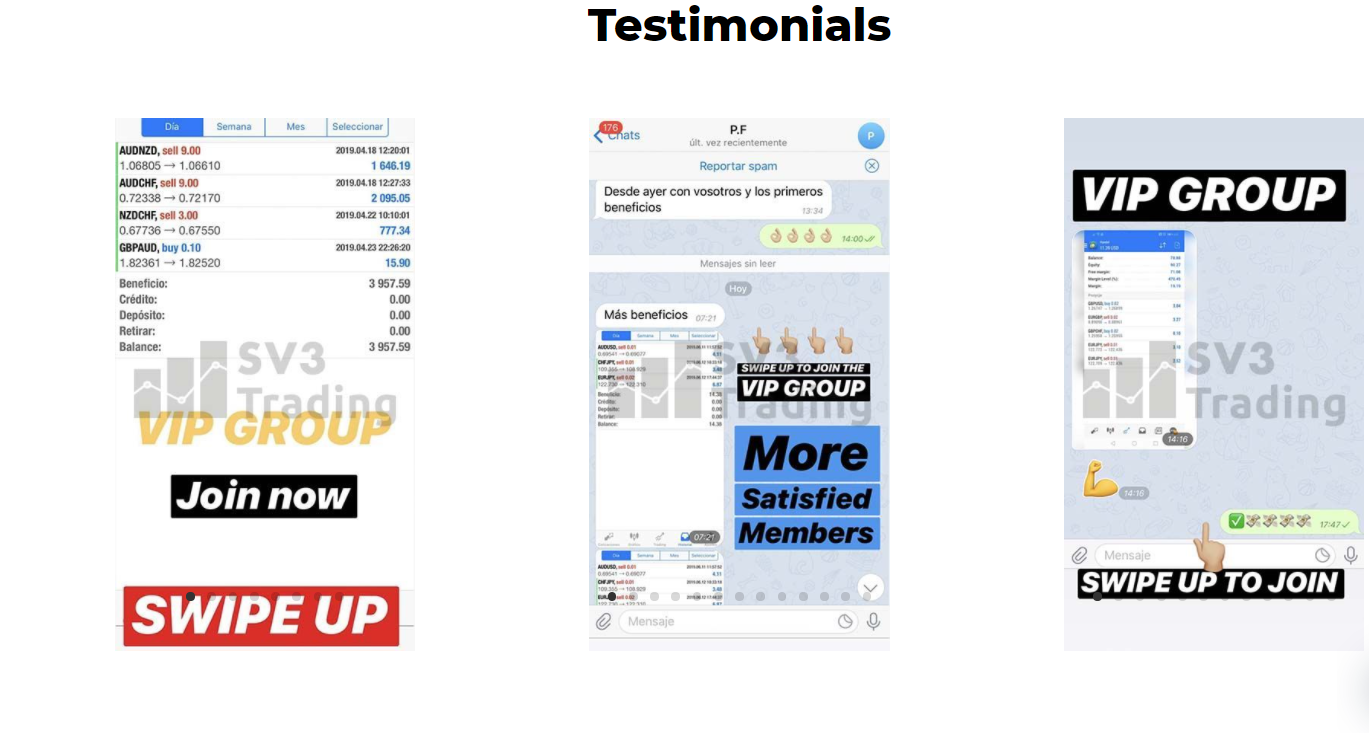 We were unable to find any reviews concerning SV3 Trading on third-party websites like Forexpeacearmy, Trustpilot, and myfxbook. However, there were some testimonials in Spanish on the official website, but these seem to be a desperate attempt to fake legitimacy. This tells us that there are some serious transparency issues with this software.