Automated Forex trading software has become a staple addition for traders looking to make high returns with minimum efforts and time. Sweet Profit Robot is one of such systems, which claims it has high compatibility with all kinds of market types. It guarantees a high-profit ratio and everything you need to experience smooth and hassle-free trading.
The main goal of our Sweet Profit Robot review is to analyze this EA and decide whether it is worth to be listed on our best forex robots list or not.

To start with, we'd like to analyze their product presentation. It consists of brief product information, live trading results, main requirements to trade with Sweet Profit Robot, and pricing details. There is a fake '12,000 5 Star Rating'.

If you click on it, you will find yourself on the site builder: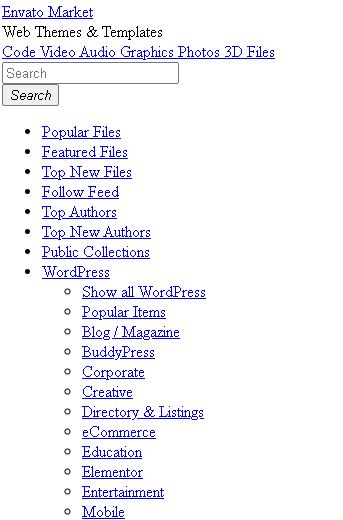 The devs are incognito, as they fail to provide any sort of info about their identity. We know neither who they are or what trading experience they have in the Forex market. The one thing they decided to provide is a contact form. They think that a contact form that is available 24 hours is enough for traders to trust them and to be certain they'll get a quick response in case of necessity. However, it is not so.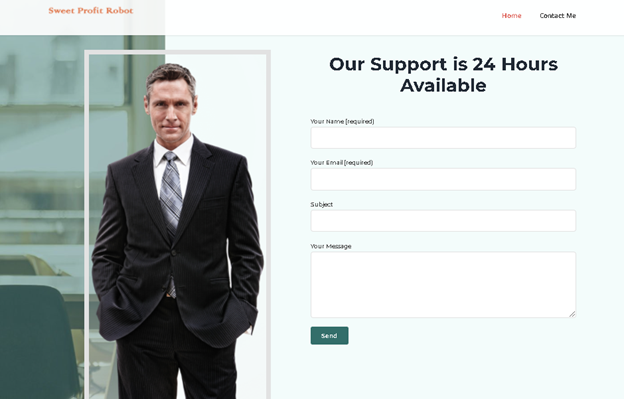 Traders can also email [email protected] directly.
Sweet Profit Robot Offering
We've gathered all the main features, settings, recommendations, and strategy details in this list:
The robot is a 100%automated trading system
It works on the popular MetaTrader 4 platform
It promises a high-profit ratio
It is based on a reliable trusted strategy (what exactly?)
The robot is compatible with all kinds of market types
It can work on all major currency pairs (the system also allows traders to disable currency pairs they do not want to trade)
It has an in-built filter
It has a full Money Management System, which can calculate your account balance and take lot automatically or let you set SL and TP levels for every deal
With the help of technical analyses, based on different algorithms, the system promises to provide stable profits
The minimum account balance to trade with the EA is $100
The optimal leverage should be 1:500
Sweet Profit Robot trades on one chart only
The default setting is recommended for trading
Pricing
The robot is available in 2 different packages: Standard ($99/month) and Premium ($169/month). The Standard package comes with one license for an MT4 account that is real or demo. The Premium package includes 2 licenses (they can be either Real or Demo) for 2 MT4 accounts.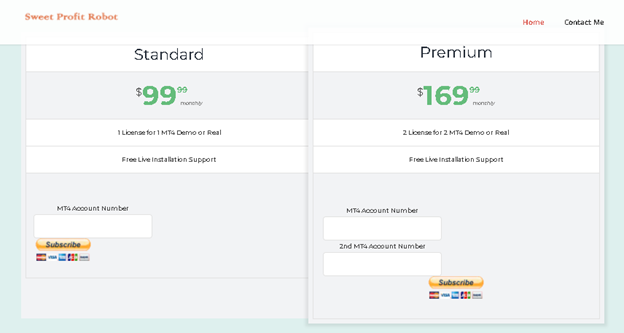 Both packages include free live installation support. Shelling $100-$170 for a robot monthly is expensive, as the average price of any EA in the Forex market ranges between $150 and $300 for a one-time payment.
How it works
Sweet Profit Robot is an expert advisor that uses automatic trading on MT4 accounts. It is equipped with a Full Money Management System, which allows the EA to analyze account balance and place the lot sizes accordingly. Traders can also customize Lot sizes, decrease automatic Lot size, or disable currency pairs they do not want to trade.
Trading Strategy
The trading strategy of this expert advisor is not properly disclosed on the site's homepage. We know that the robot is 'based on reliable tested strategy' and is 'based on various Algorithms'. There are no details said about the trading approach or methodology. They add that thanks to its algorithmic nature, the robot provides stable profits one by one. However, just because the EA works on algorithms, it does not mean it can always beat the market. If it were so, the developers would not sell the EA. Instead, they would better use the robot to make money themselves. The devs only recommend using default settings for trading with a minimum balance of 100 dollars and optimal leverage of 1:500. There is nothing said about the EA timeframes when the robot trades best.
Trading Results
The developer decided to provide live trading results of their EA verified by myfxbook. Let's analyze what we see: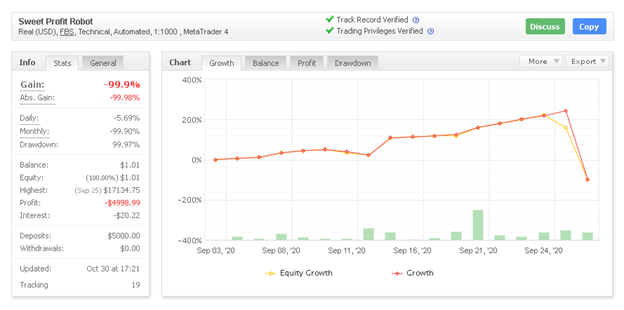 It was a Real USD trading account, working with FBS brokerage and trading with a 1:1000 leverage on the MT4 platform. It had a verified track record. The robot was launched on September 03, 2020, and stopped trading on September 28, 2020. For less than a month of trading, the EA has gained nothing but only a money loss, which equaled -$4998.99. It reached a drawdown of 99, 97% and lost its deposited funds which equaled $5000. As we can see on the growth chart above, something went wrong several months ago and the robot zeroed the account 3 months ago.
The robot traded 217 trades and won only 130 out of them. Its average loss was twice higher than the average win: -$353.38 vs $198.04. The average trade length was 7 hours and 54 minutes. Its win-rate for Longs was 58%, for Shorts – 60%. The profit factor was low – 0,84. This year the EA has stolen -99,9% of the account balance (-$4998.99).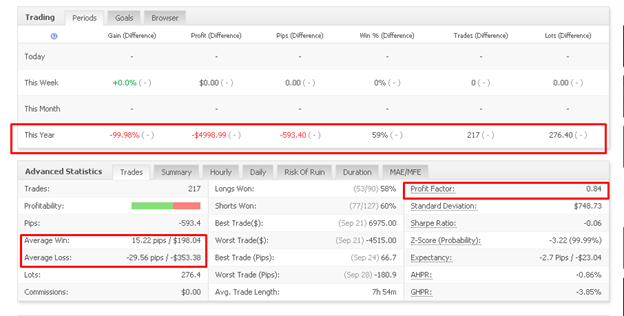 The risk of ruin for every single trade was 99, 99%.

That is exactly the kind of situation that unregulated and reckless strategies lead to, especially when there is a high risk-to-reward ratio. The robot frequently used Grid or Martingale, on less than 60% win rate. It was extremely dangerous!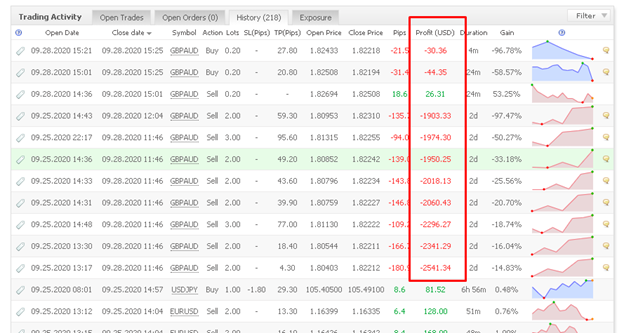 So, the account dropped, but the devs still sell their product and do not carry that their EA shows a -99, 99% of total gain. It looks like they are scammers, who do not care about their customers or their brand reputation. They are incognito. So, whom can we judge?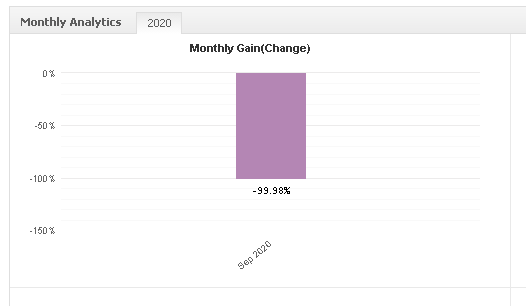 Customer reviews
There is a Sweet Profit Robot account on FPA. However, there is no customer review.