Telegram Connector is a system that sends Telegram signals to its clients. It links your signal provider's Telegram group with either your MT4 or MT5 trading account. The vendor says that this way, you will not miss on any good trades from your signal provider. Traders are thus invited to take advantage of this product so as to eliminate the need to be on the phone all day tracking trading signals.
Unfortunately, Telegram Connector's owners have not made any effort to be transparent. There is no background info about the company or developers on the software's official website. We do not know their names or profiles. The only thing that is clear is that the vendor is situated in Denmark.
Telegram Connector Overview
The software features the following:
Instant execution of signals from Telegram groups
Ability to read any language
Custom stop loss and take profit levels
Management of risk on every trade using various lot sizes on signals or a certain percentage to the balance
Different TP and SL levels
Ability to control if the signal should be an instant or pending order
Management of risk on each asset
Can read many take profit levels and execute each of them
Expiration time on pending orders
Can trade all types of instruments including indices, FX, cryptocurrencies, and commodities
Inbuilt signal analytics that allow a trader to see how channels they copy from are performing
Management of risk on every channel
Runs on both the MT4 and MT5 platforms
Pricing
Telegram connector has 3 distinct subscription plans. The basic plan costs $39.99/month and features 2 MT4/MT5 accounts. The pro package is $49.99/month and includes 5 MT4/MT5 accounts. The VIP pack is the most expensive as it is priced at $79.99/month. Subscribing to this plan allows a trader to get 10 MT4/MT5 accounts. The vendor recently introduced a free package. This new offer which comes with 1 MT4/MT5 account, gives traders the chance to try out the software free of charge.
Regardless of the plan you decide to subscribe to, you will receive limitless Telegram signals and signal groups as well as lifetime updates and support. However, we believe that the software is rather expensive.There are other signal providers that  are way cheaper and more effective than Telegram Connector. Therefore, we conclude that this software is not worth your money.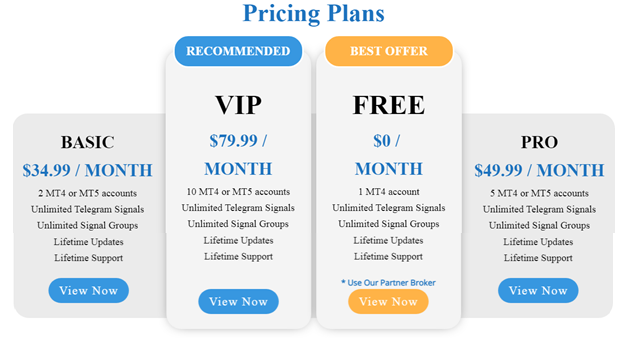 How it works
Telegram Connector tracks all trades that are sent on your signal provider's Telegram group. It then sends you these signals. In order to get the system to begin working, you are advised to subscribe to a plan of your choice. After that, the vendor will send you an email with your Telegram Connector software. The next step is to follow the directions to set up the system in your Meta Trader account. You can finally start receiving signals from the vendor.
Trading Strategy
The trading strategy is not indicated. The vendor does not tell us the approach this software uses to ensure that the trader benefits from the signals provided. We do not know the technical indicators or data it relies on to publish reliable Forex signals.
Backtest results are also missing. So, it is difficult to know how the software has performed in different market circumstances in the past. Traders nowadays are keen on assessing the profitability potential of a system before deciding to purchase it. This way, they are able to make a decision that they are sure will generate significant returns for them. The lack of backtest data may hence make them not to give this product a chance as they would not want to venture into something they know little about.
Nonetheless, the vendor offers a backtester which interested customers can purchase to gauge the profitability of a provider.
Trading Results
Telegram Connector's developers have failed to provide us with the software's live trading results as well. This is disappointing to say the least. Perhaps the system does not perform well and that is why the developers are reluctant to supply us with these statistics. Therefore, we are forced to doubt the reliability and validity of the product.
Customer Reviews
We found user testimonials for this software on the Trustpilot website. However, we were shocked to discover that most customers praise it. We also noted that there are several traders who are dissatisfied with the product. One of the discontented clients says that the signal disconnects often. Another one complained of not understanding how to use it. The snapshots of these clients' reviews are shown below:


Other Notes
With Telegram Connector, it is possible to change, edit, upgrade, downgrade and cancel your subscription. After you sign up, you are able to access the customer portal that allows you to make the aforementioned changes.
The software also supports signals in all text formats. However, if there is any signal format that is unrecognizable by the software, you are advised to write to the vendor and it will be provided ASAP. Image signals are not provided at this moment.