The Money Tree is a fully automated forex EA that claims to have accumulated over 700% in profits in just 180 days. It was created by Cory Ross of the LeapFX group. He claims to have 12 years' experience under his belt, and knows what works and what doesn't. If you're having trouble choosing the most suitable robot for all your trading needs, check out our best robots list.
The Money Tree overview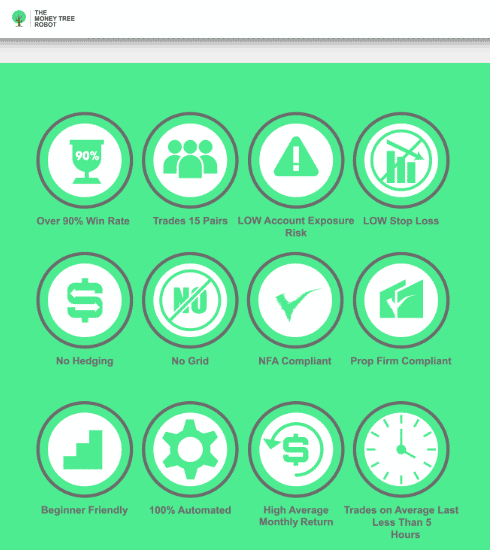 This EA has an intuitive official website, which highlights some of its most prominent features. These include:
A win rate of over 90%
It is capable of trading up to 15 currency pairs
Utilizes tight stop losses and ensures low risk exposure
Doesn't utilize risky strategies such as hedging and grid trading
It's NFA and Prop Firm compliant
Promises high monthly returns
Pricing
There are two payment tiers to this EA. You could opt for the annual membership, which costs $597. Alternatively, you could pay for the lifetime license, which would set you back $899. This is a bit expensive compared to other bots in the industry.
Regardless of your payment plan, you'll get full access to their software, as well as a detailed manual on how to set it up. You will also get round the clock assistance via email, Skype or Telegram. Whenever they improve their software, you also get these updates for free. What's more, they offer a 30-day money-back guarantee, which speaks of the vendor's faith in their product. That was not enough to persuade us, though. Besides, there is no one to confirm they actually received their refund.
How it works
Essentially, the Money Tree EA is a scalping bot. It takes advantage of short-term volatility for profit. It utilizes a combination of custom volatility filters and MA filters. These help it avoid potentially losing trades. Coupled with their use of tight stop losses, this ensures minimal drawdown.
Trading strategy
Unfortunately, the bot's official website does not provide any details on the strategies it employs. This lack of transparency from the vendor raises a red flag, as there is no way to gauge the viability of their strategies.
Trading results
The vendor provides screenshots of live results of their bot on their official site. They also provide a link to a Myfxbook page containing these results.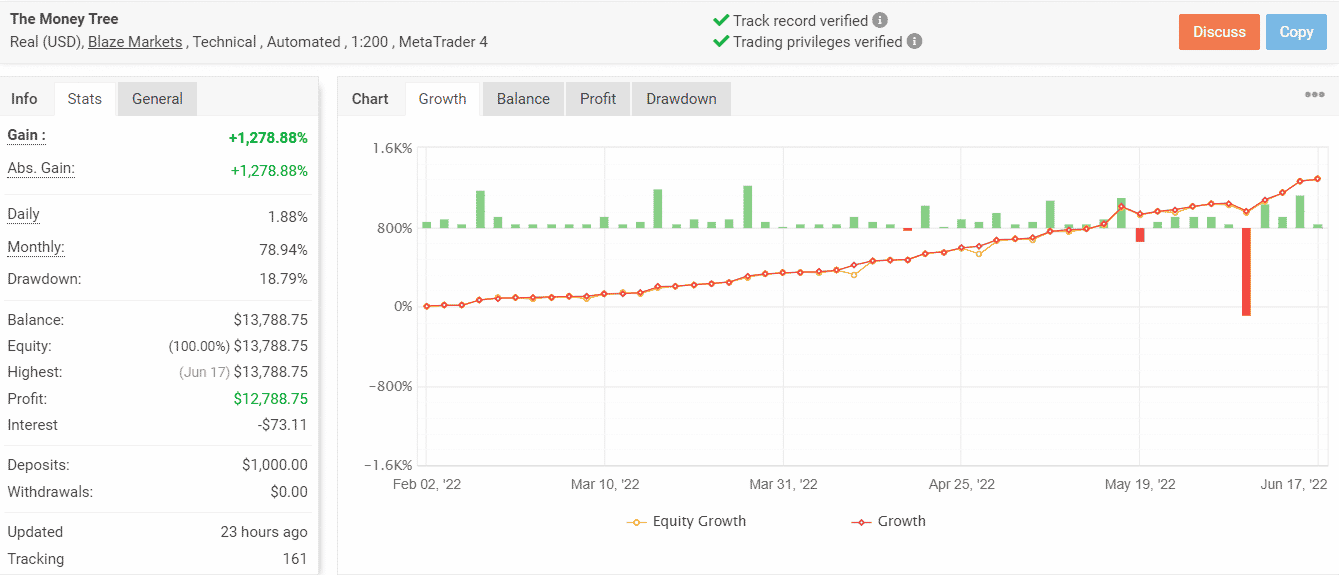 Above is an illustration of one live test running from February 2022 to June, 2022. The test began with an initial deposit of $1,000, which grew to $12,418 by June. This was a gain of 1,142%, or a 76% monthly gain. Within this period, the maximum drawdown was 18.79%. The bot made a total of 226 trades; 121 long trades and 105 short trades. The profit factor was 3.04%, which is rather impressive.

Customer reviews
We could not find reviews of The Money Tree bot on trusted third-party websites like Forex Peace Army and Trustpilot. However, their official website contains glowing customer reviews. There is no way to tell if they have been selected by the developer team and if they are untrustworthy. Nevertheless, here are some examples.