Tiburon EA was launched on 1st September 2021. As per vendor claims, this EA has shown impressive results on the H1 timeframe for a backtest conducted between 2011 and 2021. Since historical performance is not an indicator of live results, we need to thoroughly analyze the various aspects of this robot.
The developer behind this expert advisor is Elizaveta Erokhina, who is based in Russia. We don't have an official address for the company headquarters, and the seller has not revealed the identities of the team members. Since there is no information about the developer's service history, we are quite disappointed when it comes to vendor transparency.
Owing to the presence of scam products, it is not easy to choose the best Forex robot. Before you invest in an automated system, you must conduct extensive research. This involves analyzing the live performance, trading strategy, customer reviews, etc. For further details, check out our best Forex robots/signals list.
Tiburon EA overview
On the MQL5 product page for Tiburon EA, the vendor has briefly explained how the robot works. We have a list of features along with some vendor recommendations. They have also shared the EA settings and some screenshots of backtesting results. Although the vendor advertises the EA as a great money-making tool, it has no special features as such. Compared to other services, Tiburon EA does not give you an edge over the market.
Pricing
You can purchase this Forex robot for $400. This is not at all cheap compared to other EA, especially considering the system was launched only recently. There are a couple of rental options available for Tiburon EA. The 1-month and 3-months rentals cost $200 and $250, respectively. The vendor also offers a free demo version of the robot, but unfortunately, there is no money-back guarantee.
How it works
Tiburon EA is a fully automated EA that works on the EUR/USD currency pair. The vendor recommends running it on H1 charts. To get started, you need to make a minimum deposit of $3000. Also, you need to sign up with ECN brokers to run the robot efficiently.
This Forex EA is compatible with all brokers. It uses a dynamic take profit with each trade. You can change the EA settings to specify the maximum possible number of trades as well as the fixed lot size. By enabling the AutoLot setting, you can program the robot to calculate the lot size based on a certain percentage of your deposit.
Trading strategy
Tiburon EA uses multiple indicators like Stochastic Oscillator and Relative Strength Indicator. To identify entry points, the EA uses the standard crossing of oversold and overbought areas. Using the Stochastic Oscillator and a custom indicator, it identifies the probability of price change at specific levels. The vendor has not provided any explanation for the custom indicator.
Trading results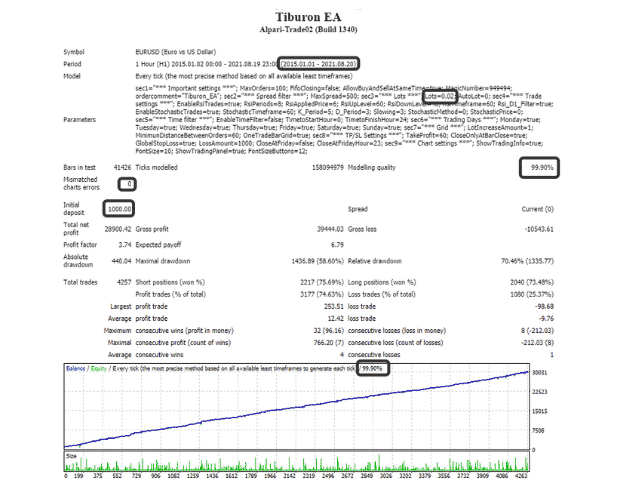 This backtest was conducted from 2015 to 2021 with 99.90% modeling quality. The EA used an initial deposit of $1000 to place 4257 trades, thus generating a profit of $28900.42. It had a win rate of 74.63% which is a bit high compared to the live trading results. However, the relative drawdown was 70.46%, which indicates a high-risk trading approach.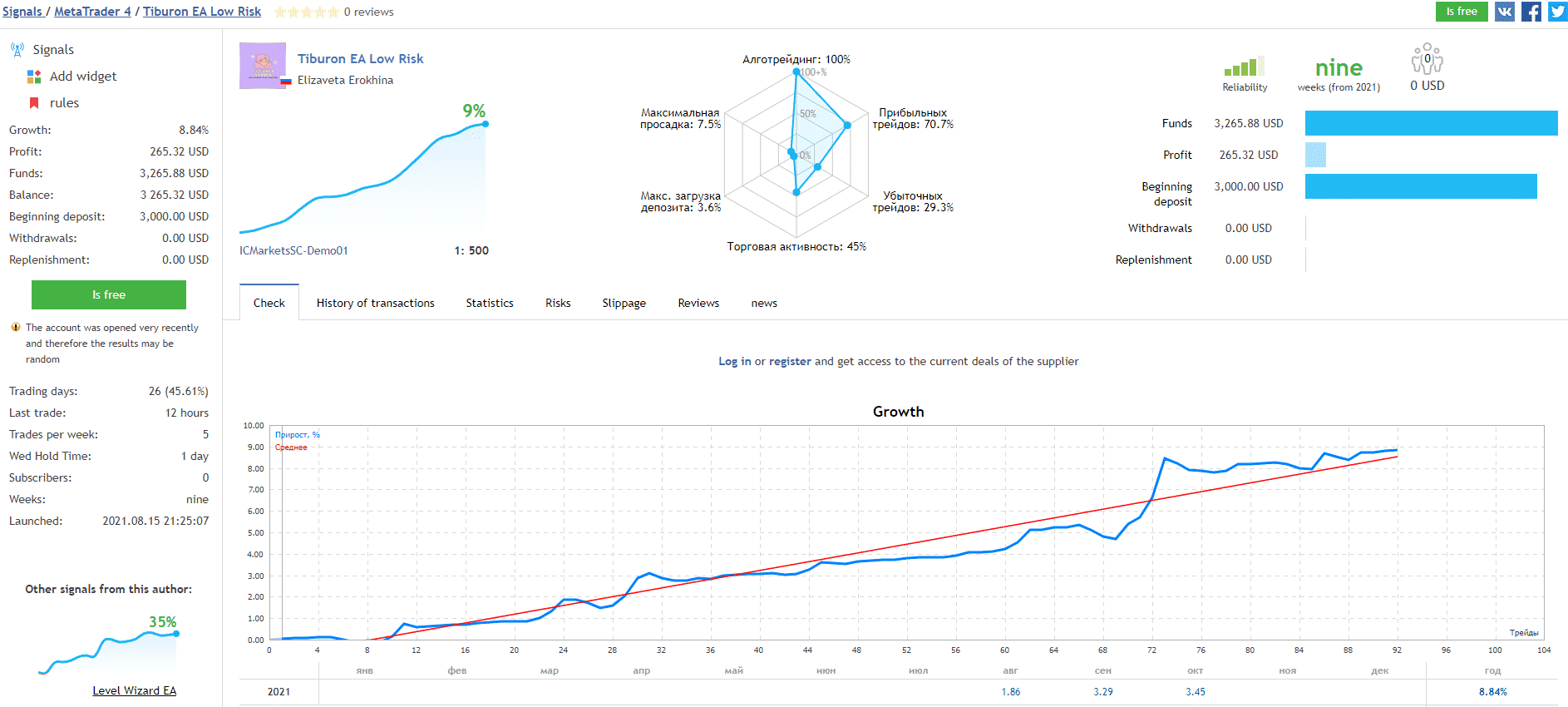 There are no verified trading results for this EA on third-party websites like Myfxbook, FXStat, and FXBlue. This is not a sign of a reliable expert advisor. All we have is a demo account on the MQL5 website. This account has an extremely short trading history of 26 days. Therefore, it is difficult to assess the system's profitability.
To date, the robot has placed 92 trades through this account, winning 70.65% of them. As a result, it has generated a profit of $265.32. The account has a profit factor of 3.63 and a recovery factor of 13.48.
Customer reviews

We were unable to find any verified user reviews for this robot on third-party websites like Quora, Myfxbook, Trustpilot, and Forexpeacearmy. It is evident that not many traders are using this system right now. There is a single user review on MQL5, but of course, we cannot take that into account for the purpose of the review.