TradeSanta is a platform that claims to let you deal in crypto like a seasoned trader. It has a trading terminal with a set of useful functionalities, trading bots, as well as signals from analysts with several years of experience behind them. It supports some of the top exchanges and has affordable pricing plans.
What is TradeSanta?
TradeSanta lets you automate the trading process across top exchanges. It was launched in 2018, and since then, it claims to have helped several crypto traders with automated trading. In the year 2020, the platform expanded the available markets by linking new exchanges and introducing some advanced tools. The goal of this system is to make algorithmic trading available to traders of every experience level.
| | |
| --- | --- |
| Price: | $15/month, $27/month, $35/month |
| Payment Options: | Credit or Debit Card/ Crypto |
| Supported Exchanges: | Binance, OKX, Coinbase Pro, Huobi, Binance Futures, HitBTC, ByBit |
| Cloud Based: | Yes |
| Strategies: | Grid, DCA, Long and Short strategies |
Is it easy to use TradeSanta?
The very first step is to link the system with your exchange account. After that, you can start configuring the bot parameters. You need to choose the crypto pair, the trading strategy, take profit level, and other options. There is a Wizard that helps you throughout the setup process.
Once you are done setting up the system, it will start trading automatically. Based on the filter set, it will initiate an order immediately or after getting a signal from technical indicators. For the initial order, it will purchase the amount of base currency set by the user. Once it has finished executing the order and the deal is open, the bot uses take profit orders and adds positions following the averaging technique.
Every time the price of the asset moves in the opposite direction to the chosen strategy, the system executes an extra order and places a new order automatically. Each time this occurs, it also brings down the take profit level. With the help of extra orders, it capitalizes on the changing price and modifies the trading scheme according to market scenarios.
Main features of TradeSanta
Let's check out the key features:
Multiple technical indicators
You can use numerous indicators to optimize your market entries. There are several options in terms of indicators, like Bollinger, MACD, and RSI.
Demo trading
Thanks to this feature, you can assess the potency of your trading schemes without investing any real money. This is useful for beginners as well as pro traders.
Bot templates
It is possible to build your own strategy on this platform. However, not everyone has the technical know-how to do so. For them, there are bot templates that you can launch in a few minutes and start trading.
Risk mitigation
The highly unpredictable nature of the crypto market makes risk mitigation a necessity. This platform lets you protect your assets against market risk with the help of stop signals, trailing stop loss, and stop loss.
Referral program
You can refer your friends to this platform for incentives. Each time the referred person buys something on the platform, you get paid.
Strengths and weaknesses of TradeSanta
| | |
| --- | --- |
| Strengths | Weaknesses |
| Demo trading feature | No information on team members |
| Multiple indicators | |
| Affordable pricing plans | |
Is its technology good?
Yes, the technology of this platform is quite good compared to others. Unlike some other systems, it lets you engage in futures and spot trading. There are ample risk management schemes and the interface is intuitive enough.
Is TradeSanta safe?
It does not hold your assets, which remain on your exchange account. API keys are used to link to the exchange and you can retain full ownership of your assets.
Customer support
On the official website, you can find an email address where you can contact the support team. There is a Telegram group where you can seek help from community members. The website also has an extensive documentation section where you can find information on the different features and settings.
Reputation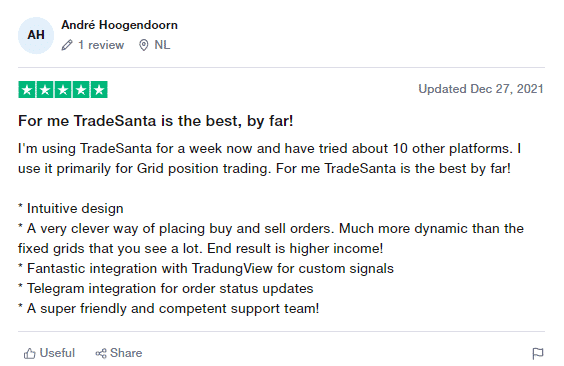 TradeSanta has an average rating of 4.0 out of 5 based on 44 reviews on Trustpilot. Several users have praised the friendly support team, intuitive design, and innovative ways to place buy and sell orders. It is clear that this brand has a great reputation.
Bottom line
TradeSanta is a reputed brand that is trusted by traders and has been covered by several media outlets. It offers multiple ways to trade in crypto by building your own bot. New users can also benefit from this platform since it offers demo trading and readymade bot templates that would help them get started easily.