Vader is introduced as a Forex robot that is redefining the meaning of vicious trading. According to the devs, the system's performance is unmatched, and it has traded in the live market across numerous brokers. Moreover, Vader works by cutting your Forex charts into small pieces utilizing day to day Fibonacci levels to identify predictable trades automatically.
Forex Robot Trader is the author of this robot. The company works with a team of programmers who are skillful in the mql code that is used to write Forex robots. Unfortunately, we are not informed who these developers are or if they have any trading experience or not.
Vader Forex Robot overview
Below you will find a list of the robot's features:
It is fully automated, so you don't need any experience to use it.
It calculates safe lot sizes automatically based on the equity in your account. It supports mini, micro, and full lots.
The robot hides SL and TP levels internally to prevent stop hunts.
It provides an informative and clutter-free user interface.
It's compatible with other robots.
The expert advisor covers many currency pairs 24 hours daily.
The EA does not engage in revenge trades or doubling down.
It runs on the MT4 platform.
The devs offer free customer support.
Pricing
The cost of acquiring this robot isn't much. If you have $79, you can easily buy the system on its official website. But the vendor will not give you a refund in case you become dissatisfied with its workings in the future.
How it works
Vader trades automatically on behalf of the owner. So, it searches the markets, identifies trading opportunities based on preset parameters, and conducts trades according to its in-built rules.
Trading strategy
When it comes to the trading strategy, the vendor indicates that Vader focuses on finding large trades utilizing daily Fibonacci levels as chart thresholds. The system typically uses these Fibonacci levels to identify points of price support and resistance on Forex charts. It then turns these levels into entry and exit thresholds.
Trading results
There are no backtesting results for Vader. The bot should have gone through simulation in various market conditions and on a range of trading instruments. This is a great way to assess the efficiency of the strategy over a long trading period.
Vader doesn't have live trading results that are verified by a trusted website like FXBlue or Myfxbook. The vendor provides us with several monthly statements illustrating the EA's performance, but the source is unknown.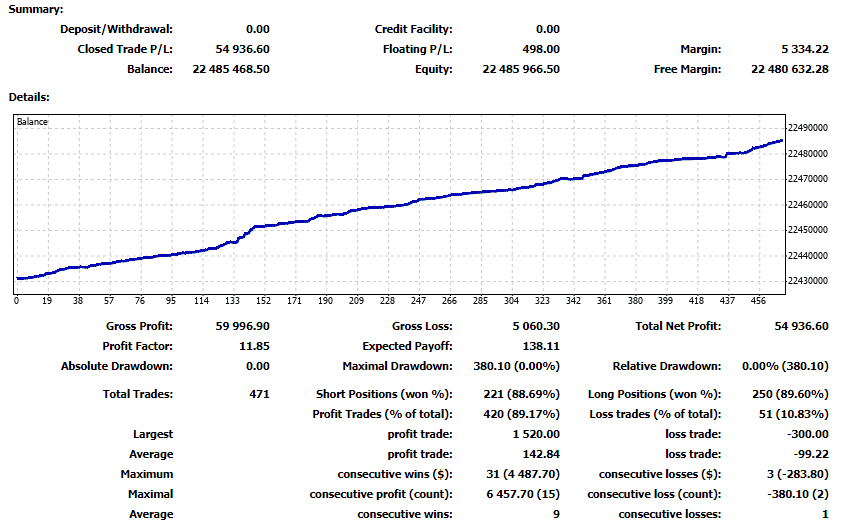 According to the devs, the robot has made a total net profit of $54936.60 within two weeks of trading. This was preceded by the completion of 471 trades and attainment of win rates of 88.69% for short positions and 89.60% for long ones. The maximum drawdown is still 0%, which intimates that Vader is not a risky trader. The EA has traded for years and the accumulated profits over time amount to $22485468.50.
Customer reviews
We found several customer reviews for this robot on FPA, but none of them is up to date. Anyway, some of the assertions are that Vader doesn't make money and closes trades at will for fake profit. However, there's a client who says that the robot can make profits but not with regular settings. Another one commends the robot for running solidly for 3.5 weeks of trading.