Vantage Point X is a Forex EA that promises 85% profit while trading in all major pairs while guaranteeing more than 50% profit in a single month. It is the first AI expert advisor that follows a mathematical approach to close trades in profits, regardless of the market condition. The vendor claims that the robot uses simple settings and it has figured out how to pip scrape the major pairs to give you desirable results.
We don't know anything about the company background and nothing is mentioned on the website about the identity of the developers or where they are based. Thus, we have no way of finding out whether they have any prior experience in developing profitable Forex trading systems.
If you wish to find out how to choose the best Forex robot, check out our best Forex robots list. Forex traders prefer to carry out some thorough research before investing in a system and this includes an in-depth assessment of the various system components.
Vantage Point X Offering
The presentation on the official website is quite detailed, with the vendor focusing on the high profitability of the system as well as the wealth of educational resources provided by them. A lot of emphasis has been put on how the system is better than others and how it provides real proof of its trading results.
There are a number of posts highlighting profitable trades and some customer testimonials where users can be seen heaping praises on the Forex EA. The phone number and email address are provided on the website, and a user can also get in touch with the service team via the Telegram app.
Pricing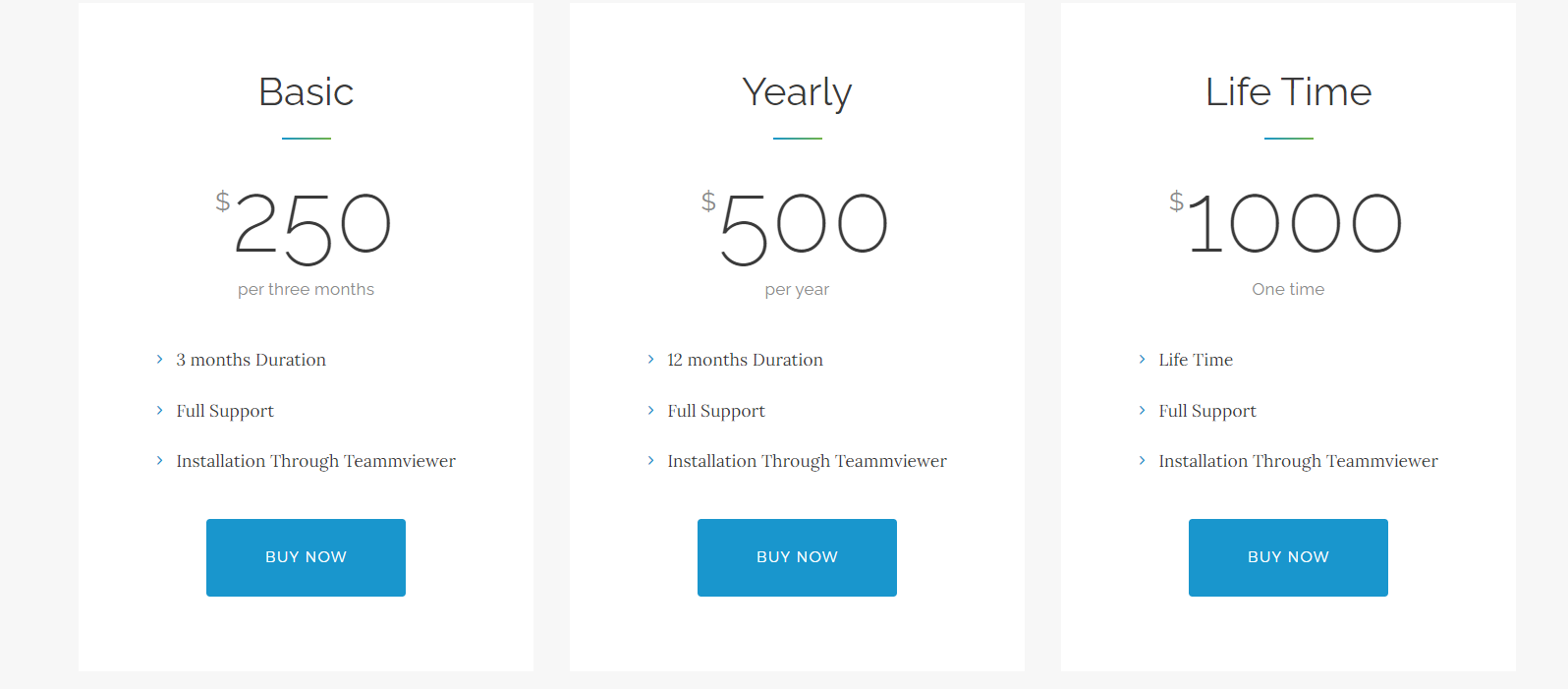 Vantage Point X provides three pricing packages, namely Basic, Yearly, and Life Time, and these are priced at $250, $500, and $1000, respectively. While the Basic package is of 3 months, the yearly package lasts for 12 months. It seems the features provided with these packages are more or less the same.
No money-back-guarantee is provided by the vendor, but it is mentioned that the user will get their investment back within 3 months. Now, these packages are not cheap by any standards and the absence of a money-back guarantee comes as a bit of a disappointment.
How it Works
Firstly, you need a trading account with a reputed broker and if you don't have one, you need to open one. Next, you need to purchase the Vantage Point X Forex EA and send the service team your trading account number. Then, they will email an installer via email, which you can install yourself or ask the service team to install for you.
With this Forex robot, you don't need to optimize the settings by yourself. The system is inherently profitable and no human intervention is required. It has a special stealth mode that allows you to hide your stop losses from other brokers.
Trading Strategy
The one and only thing that really disappointed us with this Forex EA is that there is nothing mentioned about the trading strategy. Serious Forex traders look for some insight into the strategy since it helps them determine whether the system is profitable or not. They will no doubt be disappointed at this.
Trading Results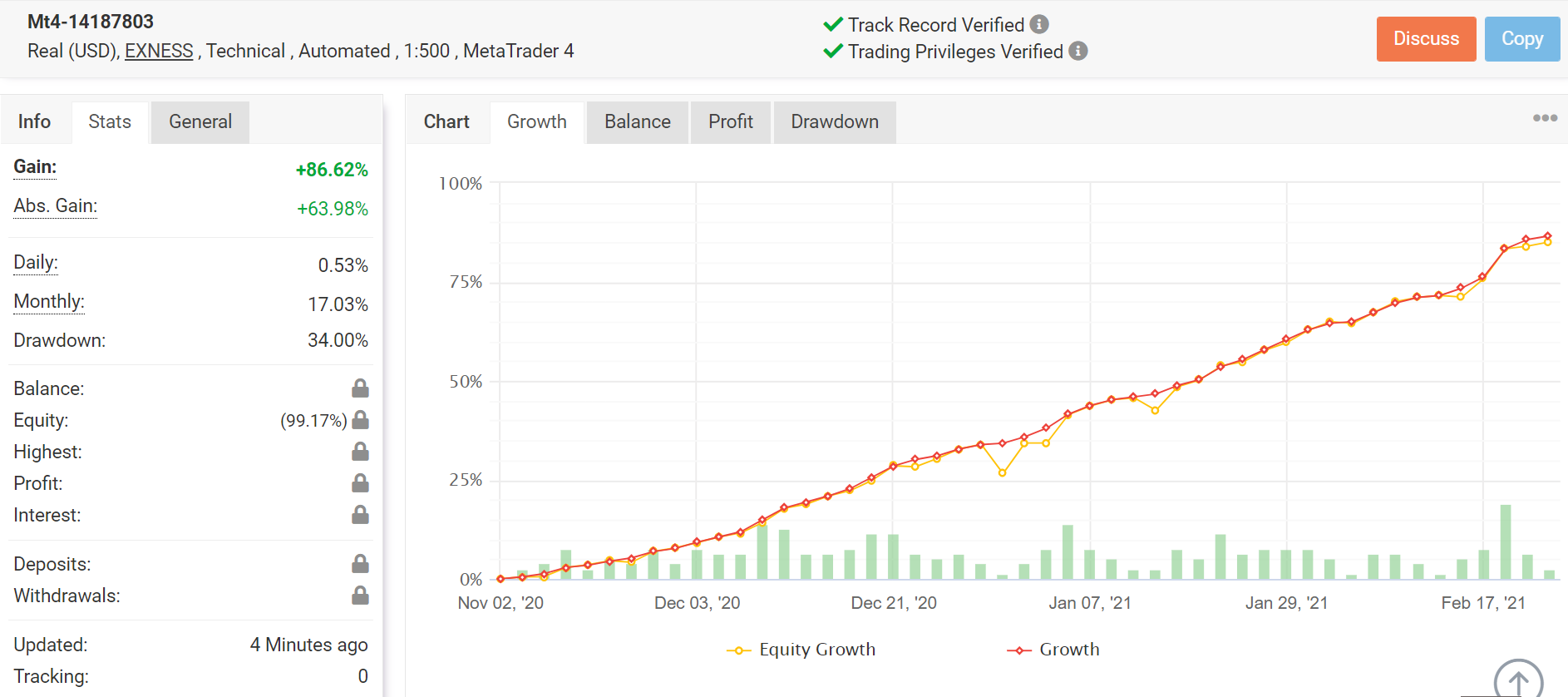 Here we have the Myfxbook account for Vantage Point X that was launched on 2nd November 2020. The vendor has chosen to hide certain figures in this account, such as interests, profits, deposits, balance, etc. But, we can see that the gain and the absolute gain stand at 86.62% and 63.98%, respectively, and this tells us that the system is profitable.
This account has a daily and monthly gain of 0.53% and 17.03%, respectively and a drawdown of 34%, which we think is a bit high. Nonetheless, it has won 82% of the total number of trades placed through it with the best trade in terms of pips being 164.3. It has a high profit factor of 3.70, which is more than what most Forex EAs have these days.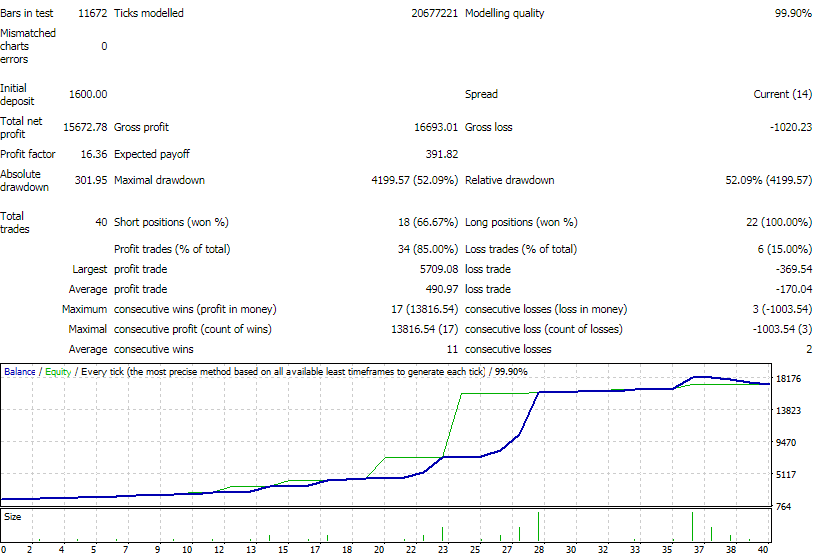 We also have backtesting data showing a total net profit of $15672 being made from an initial deposit of $1600. 85% of trades have been profitable in this backtest and this is in accordance with the live trading results.
Customer Reviews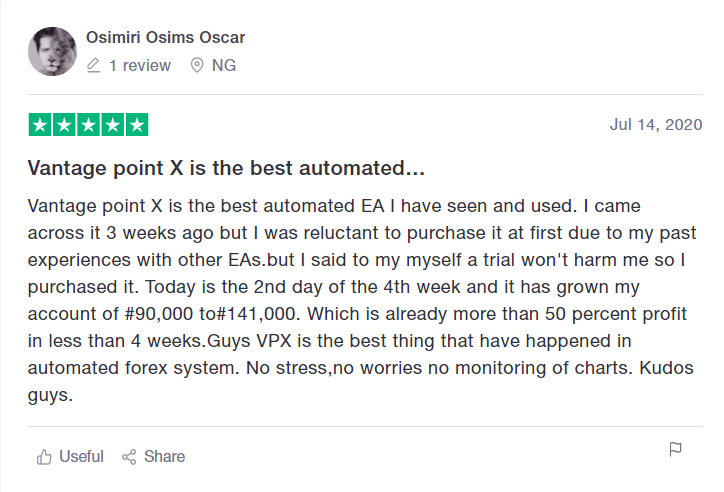 We came across a few user reviews for Vantage Point X on the Trustpilot website and most of them are positive. Users have praised the high profits generated by the system in a small amount of time and the consistent rate at which it delivered these profits.