Velocity Finder Neural Trader is a Forex indicator that provides traders with signals for long and short trades. As per vendor claims, this indicator can function with the most popular Forex trading schemes. They also claim that it is based on sound rationale and advanced analysis and this allows it to generate superior results for all currency pairs. However, this is something we need to verify independently.
Velocity Finder Neural Trader is a product from the WeTalkTrade team that was founded back in 2009. The company headquarters is located in Wilmington, Delaware, USA. We don't know anything about the developers and traders working for this company and what kind of experience they possess. Thus vendor transparency is a bit of a grey area for this system.
For choosing the best Forex robot indicator, you need to thoroughly analyze the performance of the system. This requires you to look at the live trading results and backtesting data. Other factors to be considered include price, money-back guarantee, vendor transparency, and trading strategy.
Velocity Finder Neural Trader Overview
The vendor makes a detailed presentation on the official website, explaining all the different features available on this system. We have several screenshots showing the trading outcomes for this indicator, but there are no links to third-party websites. Following this, there are the pricing details, customer reviews, and a set of FAQs.
The vendor seems to focus on the features while presenting the indicator. However, they don't offer anything novel or highly unique through this system.
Pricing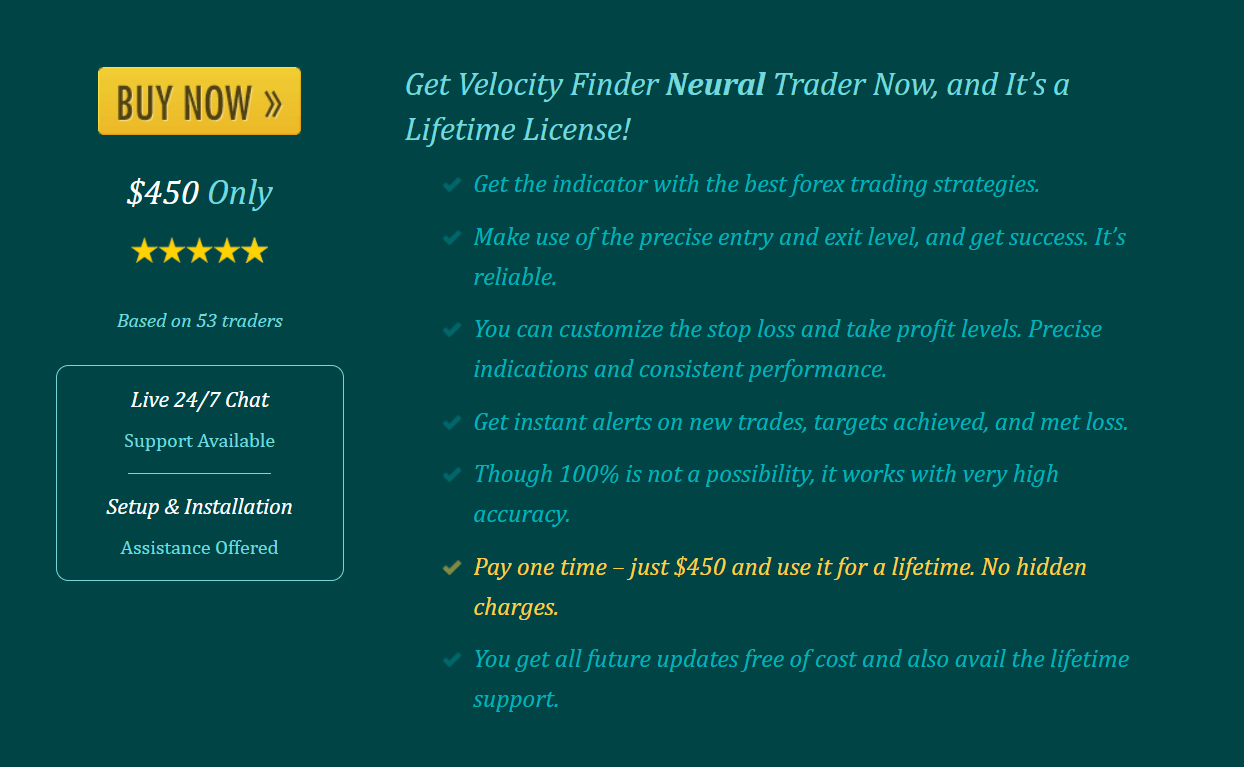 You can purchase Velocity Finder Neural Trader for the price of $450. This is too expensive for an indicator and at this price, you can find a decent automated trading system on the market. The vendor does not entertain any refund requests, which makes it an extremely risky investment.
How it Works
This system analyzes live data without any repainting. The vendor recommends knowing the fundamentals of Forex trading and practicing with a demo account initially. Velocity Finder Neural Trader can function as a plug-and-play tool.
When you purchase this indicator, you get a user guide that details the functioning of the system. It sends you instant alerts on new trading occasions, profit targets, and stop loss. You have the option of altering the take profit and stop loss levels to suit your trading scheme.
The support team is available 24/7 and you can contact them via live chat. They can help the customers with the setup and installation process as well. All future updates are provided for free.
Trading Strategy
On the official website, the vendor claims that this indicator applies the best trading schemes. However, nowhere is it mentioned what these strategies are. It is difficult to trust an indicator without knowing what kind of strategy it uses since it affects profitability. Seasoned Forex traders always look for some kind of strategy insight and they might take this as a red flag.
Trading Results
The official website contains a blog section where you can find articles related to Forex trading. Some of them are suitable for beginners while others cover advanced topics. At this moment, the signals delivered by the system cover all pairs involving USD and EUR.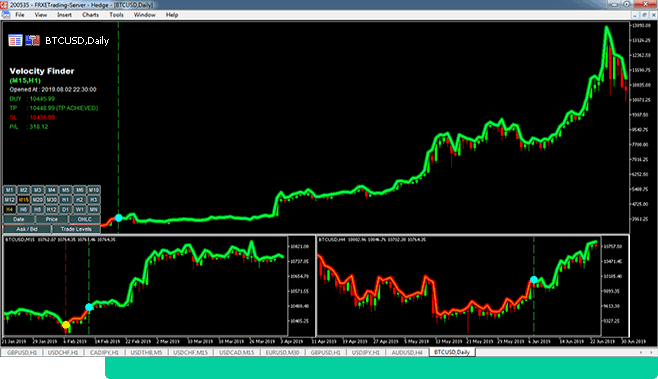 The vendor has not shared the verified live trading outcomes on the official website. We have some screenshots of trades placed through this indicator, but we cannot consider them genuine. The only way to accurately analyze the live performance of a system is through verified trading results and in the absence of the same we cannot say with confidence that Velocity Finder Neural Trader can win in a live trading scenario.
Customer Reviews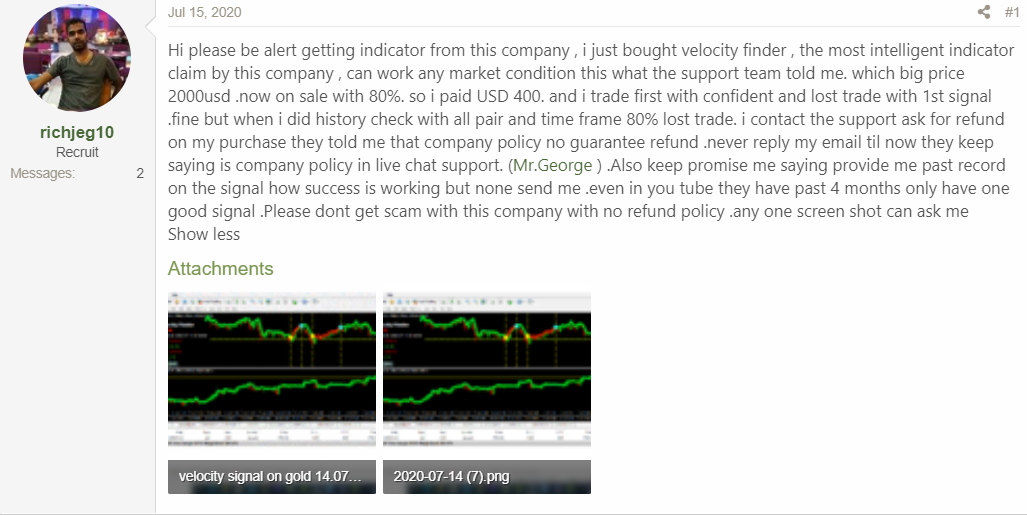 While there are some customer reviews presented on the website, these seem to have been manufactured by the vendor. In a community thread in Forexpeacearmy, we found this user claiming that the service is a scam. They claim to have lost 80% of their trades while using this indicator. It seems that this Forex indicator is not that popular among traders and not many people feel confident about using it right now.