Very Well Trader is a Forex EA that promises steady profits every month without incurring any losses. The vendor markets the robot as a high-performance, complete system that used advanced strategies to outperform the market. It promises to place you among the top 5% of Forex traders that win profits on a consistent basis.
We couldn't find any information related to the company's year of foundation, their history, or where they are located. The vendor has chosen not to reveal the identity of the development team and the traders working behind this Forex EA. By taking a look at the website, we can see that vendor transparency is definitely lacking.
Now, there are several Forex robots available on the market today, and many of them are scam services. We have provided some general recommendations on how to choose them in our best Forex robot/signals list. Judging the reliability of the Forex EA requires us to thoroughly assess each and every aspect of Very Well Trader.
Very Well Trader Offering
On the official website of Very Well Trader, the trader has emphasized the fact that the robot is based on real live trading results, and has provided evidence of the same. A large portion of the homepage is filled with marketing write-ups where it is explained how this Forex EA performs better than others and why you need it.
A detailed explanation is provided on how the robot functions and how it prevents losses from occurring. We also have the pricing details, the steps for installation, and a contact form that you can use to drop a message to the service team.
Pricing

There are three pricing plans for Very Well Trader, namely Standart, Most Popular, and Private. These are priced at $149, $249, and $299, respectively. With all of these plans, you get access to 24*7 and free software updates. The only difference is the number of real and demo accounts you can use.
Compared to the market average, the pricing plans look pretty affordable. The vendor also provides a 30-day money-back guarantee, so you can get a full refund if the Forex EA fails to earn you profits within this time period.
How it Works
Using Very Well Trader, you can trade in pairs like USD/JPY, AUD/USD, GBP/USD, and EUR/USD in the 5-minute timeframe. It is a 100% automated system employing proper capital management so you don't need to worry about exhausting your account. Entries and exits are properly calculated and lot sizes are created based on the size of the user accounts.
Very Well Trader does not trade unless all the market conditions are favorable. If the conditions start to change, the trades are quickly closed by the Forex EA, thus preventing losses. Thus, the system is able to adapt itself to market conditions and ensures most positions are closed in profit.
Trading Strategy
The vendor has not disclosed the trading strategy used by the Forex EA, which is quite disappointing. By studying the technical details of a trading strategy, it is possible to gauge the robot's profitability, and that's why many experienced Forex traders look out for them. By not disclosing the strategy, the vendor has left many traders in the dark, and they will certainly not appreciate it.
Trading Results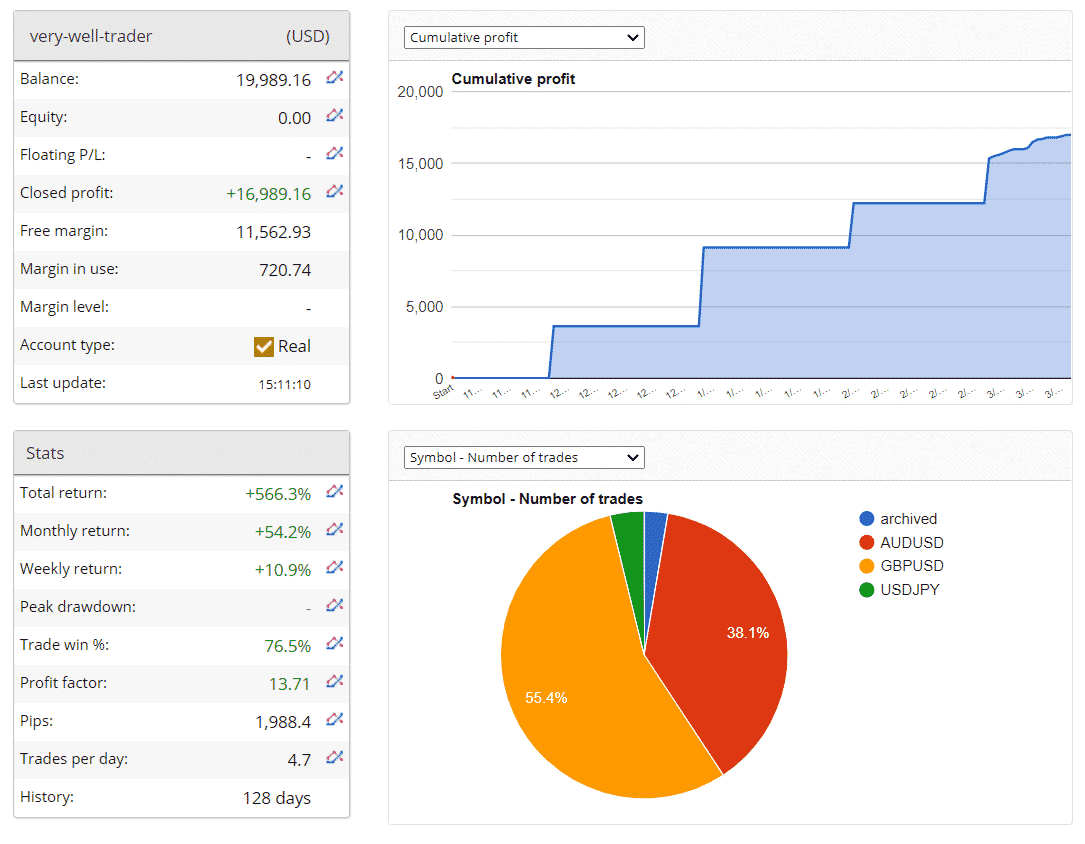 The link to a live trading account on FXBlue has been provided on the website, and from the graph, we can see that Very Well Trader has maintained a steady growth of cumulative profit. This account has a trading history of 128 days, during which it placed on an average of 4.7 trades per day. Currently, the total closed profit for this account is $16,989.16, while the total return is 566.3%.
We can see that 599 trades have been closed by the system, out of which 458 have been closed in profit, representing a trade win percentage of 76.5%. The daily, weekly, and monthly returns for this account are 2.08%, 10.86%, and 54.17%, respectively. It looks like a reliable system with a high profit factor of 13.71.
Customer Reviews
We were unable to find any reviews for Very Well Trader on websites like Quora, Myfxbook, Trustpilot, etc. Since it has a short live trading history, perhaps not enough people are using the system as of now.
Backtests
No backtesting data has been supplied by the vendor. So we cannot compare it with the live trading results to gauge the profitability more accurately. It is not possible to figure out whether the system can survive long periods of market drawdown.