Vigorous EA is a scalping robot that scalps the EUR/USD pair around 100 times weekly and promises to earn gains every day. As per vendor claims, this EA has been backtested using historical data for more than 21 years.
Vigorous EA is a product from the Responsible Forex Trading Team led by American trader Ryan Brown. This person has developed other systems in the past, like Ranger EA and Pinpoint EA. The robot has been sold on the MQL5 website since 11th May 2021. We don't know if this person works alone or has other people working under him.
While in the market for a reliable Forex EA, you must assess all the different performance aspects of the system such as live trading results, backtesting data, price, trading strategy, and vendor transparency. To know more, you can check out our best Forex robots list.
Vigorous EA Overview
On the official website of Vigorous EA, the vendor has highlighted the main features of the EA. We have two sets of backtesting data conducted over 14 years and 21 years respectively. The vendor has also highlighted some key achievements of the system and has shared the live trading results. Additionally, we have a video providing us with a run-down of the system, as well as the pricing details.
The vendor seems to focus on the performance of the system and the average profits it can generate. They have not elaborated on the features, and from what we can gather, this EA does not offer anything advanced or unique.
Pricing
You can purchase Vigorous EA for the price of $247. We think this is a little expensive for a scalping robot. Moreover, the vendor does not offer a money-back guarantee for this product.
How it Works
Vigorous EA uses the larger timeframes for trading in the EUR/USD pair. It looks for positions within the dips of such a trend where it can take scalping trades of 3-9 pips. When the trend exists, the robot uses a flex-grid money management technique.
According to the vendor, the projected monthly profit for this robot is 1-3%. You are recommended to start with a balance of $5000, which might be excessive for some traders. Also, the recommended leverage is 250:1. The system places 50-100 scalp trades on a weekly basis.
Trading Strategy
Vigorous EA uses a scalping strategy where it looks to take advantage of the small price shifts to make minor profits from each trade. Thus, in order to make a sizable profit, it has to place a large number of trades. It requires constant monitoring of the market, and there is very little room for error. Also, it requires you to be alert at all times and follow a tight schedule, so it might not be suitable for everyone.
Trading Results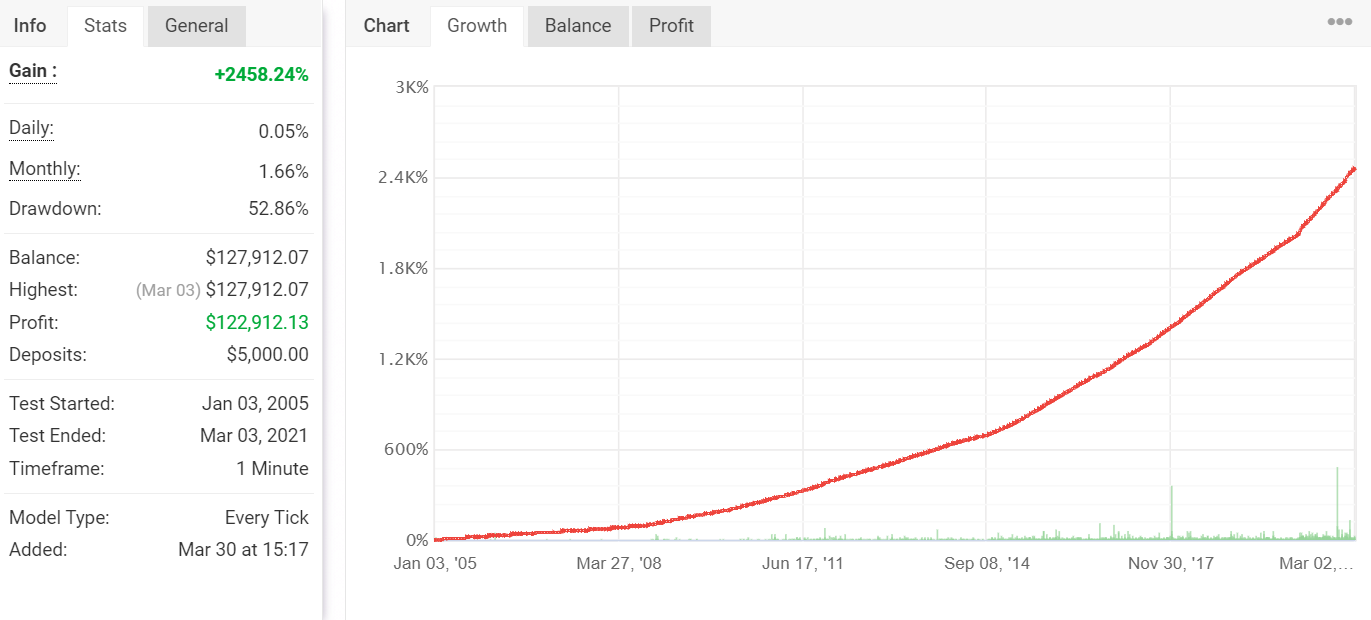 This backtest was conducted from January 2005 to March 2021. The EA placed 65,733 trades during this test, winning 75% out of them. We can see that the drawdown for this backtest was incredibly high at 52.86%, which indicates a risky trading strategy. The total net profit generated by the robot was $122,912.13, while the daily and monthly profits were 0.05% and 1.66%, respectively. Compared to the live trading results, the profitability is slightly higher for the backtest, so is the drawdown.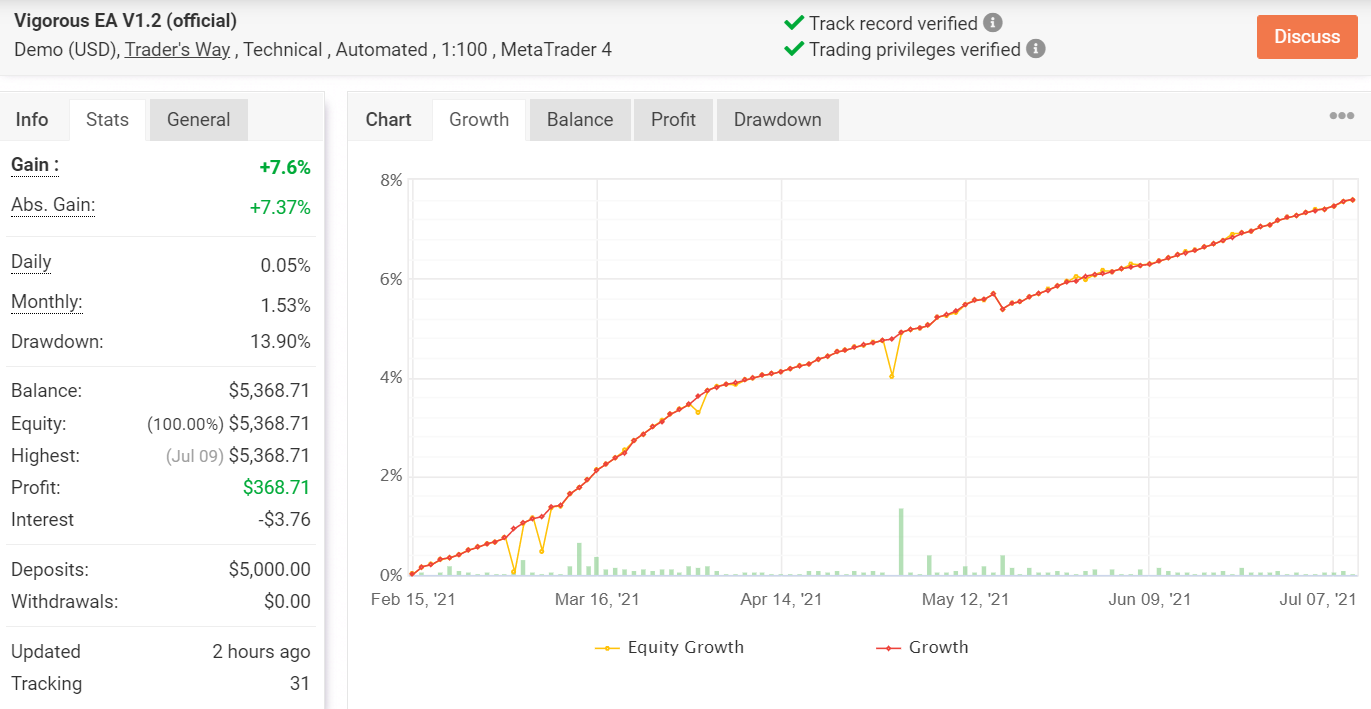 Here we have the live trading results for Vigorous EA presented in a live trading account on the Myfxbook website. This account has been active since February 15, 2021, and to date, 1363 trades have been placed through it. The EA has managed to win 71% of all trades, generating a small profit of $368.
As you can see, the robot placed a large number of trades, but the resultant profit is quite small. Moreover, since it has only been active for a few months, it is difficult to assess its profitability from an objective standpoint.
Customer Reviews
There are no user reviews for this Forex EA on trusted third-party websites. Thus, it is evident that the robot does not have much of a reputation in the market as of now.