WallStreet Forex Robot is a trading tool that allows you to earn profits in the currency market. As per the vendor, this software is created by professional traders. It is simple to use and shows you quick, reliable, and precise results in a few days.
Based on a proven trading strategy, this tool can be used by anyone, including beginners and experienced traders alike. However, this is what the developer claims. In order to know if this Forex robot is a scam or not or if it's worth purchasing, read our review below and find out.
Moreover, if you want to select the best Forex robot or signal provider, then you should consider its various features, price, customer reviews, trading and backtesting results, etc. Plus, you can look at our best Forex robots list.
WallStreet Forex Robot Overview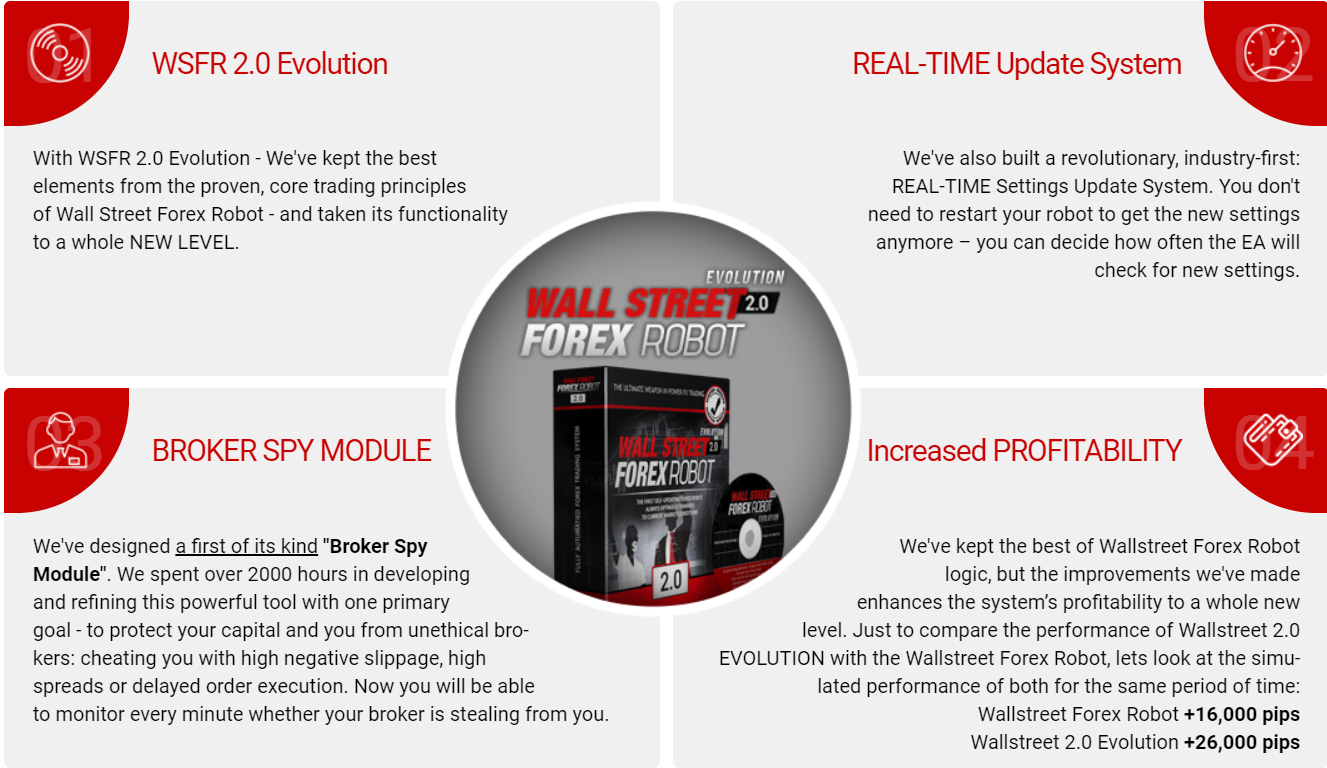 Some of the top features of WallStreet Forex Robot are listed below:
Works with all MT4 brokers, including ECN, and all brokers regulated by NFA
Accompanies an innovative Broker Spy Module
Trades through three methods – micro, mini, and standard
Makes use of 4 and 5 digits following the decimal point
Advanced time management system
Automatic updates with self-adaptation as per the Forex situation
Developed by a team of professional traders who have over 30 years of trading experience
Based on low-risk scalping that follows medium- and short-term trends
Pricing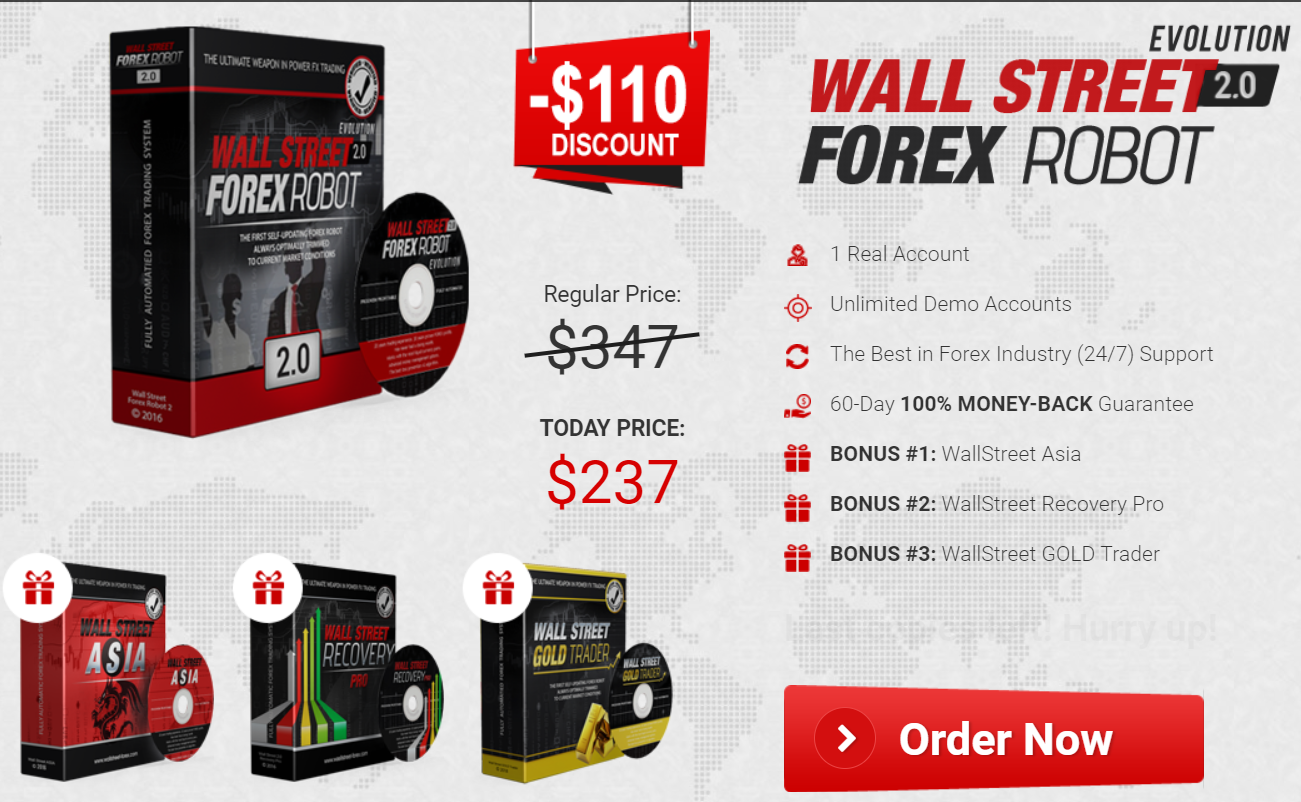 WallStreet Forex Robot is offered at $237, which is quite costly as compared to other automated systems out there. This is after a discount of $110. It comes with one real account, unlimited demo accounts, a 60-day money-back guarantee, round-the-clock customer support, and three expert advisors as a bonus.
How it works
WallStreet Forex Robot trades in several currency pairs, including EUR/USD, USD/JPY, AUD/USD, GBP/USD, USD/CHF, USD/CAD, and EUR/JPY. It works on M15/15-minute timeframe. Plus, it requires you to install MetaTrader 4. You can use it with any broker that uses MetaTrader 4. This scalper has average winning transactions between 10 and 15 pips.
Trading Strategy
WallStreet Forex Robot attains low-risk profits by following medium- and short-term trends. This automated trading system evaluates and trades the market dynamics 24 hours a day and 5 days a week without any time limitations. It opens positions on daily price movements when the market liquidity is high and the spread is low. The system protects its every position by placing Stop Loss orders.
Trading Results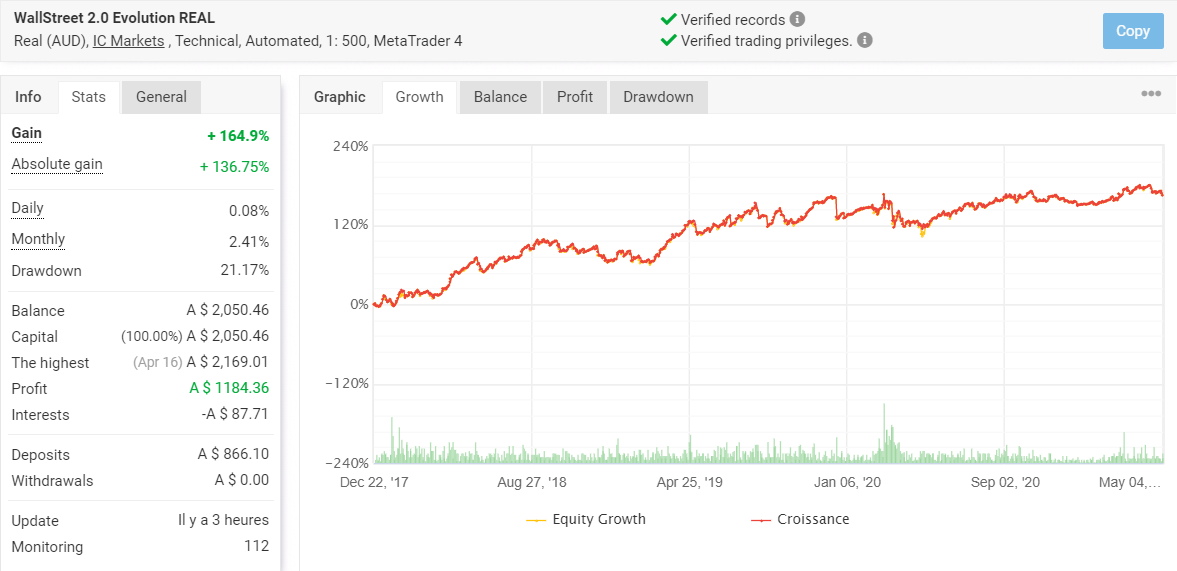 WallStreet Forex Robot has a Real AUD account on IC Markets. It was created in December 2017 and shows verified records. This account was started with a balance of A$866.10. It shows a total gain of +164.9%, an absolute gain of +136.75%, and a drawdown of 21.17%.

Moreover, the account uses technical data from MetaTrader 4 and has a leverage of 1:500. The daily and monthly gain is 0.08% and 2.41% respectively. However, when you see the account growth, it seems unstable.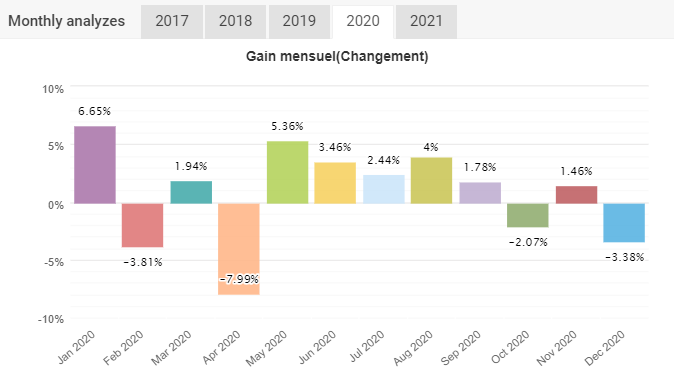 As per the monthly analysis, most of the growth is shown in the early months of 2020 with 6.65%, 5.36%, and 4%. But, when you look at the last four months of 2020 and also in the first four months of 2021, then you would notice that the software is going backwards, winning less and losing more.
This is quite common in the market of Forex robots since they need to be regularly updated so that they can continue earning profits in all types of market conditions. It shows that the system is not earning that much profits lately. This does not mean that the tool cannot perform in the future, but it surely needs an update so that it can continue winning in the present market situation.
Customer reviews

WallStreet Forex Robot has received reviews on the Forexpeacearmy website. It has got a total of 18 reviews with an average rating of 2.85, which is considered somewhat poor. Users say they didn't earn profits using this software.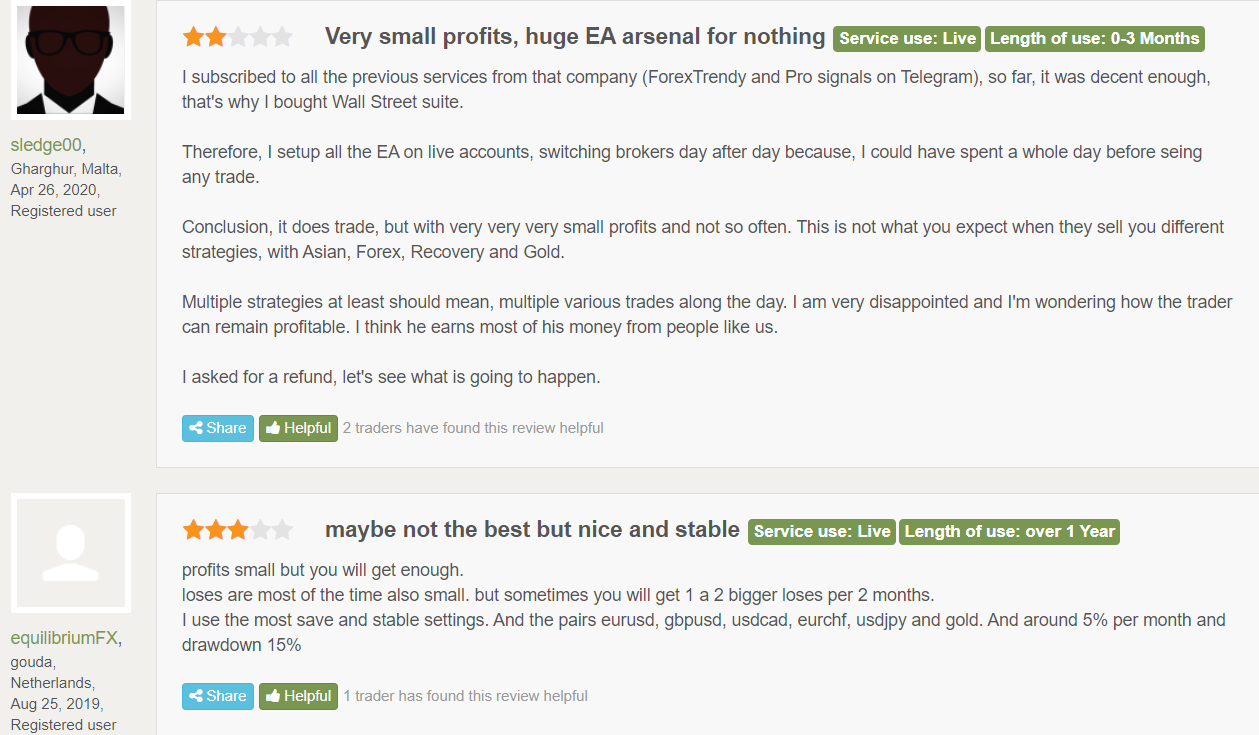 Plus, they said that Stop Loss levels were comparatively higher than Take Profit levels. There are also customer reviews on the software's official website. These are all positive reviews, which they obviously would be since the vendor can easily manipulate them.
Vendor Transparency
WallStreet Forex Robot is created by experienced Forex market trading professionals who have an experience of more than 12 years. The tool has several modules, such as a business tracker, an industry tracker, a Forex tracker, a market tracker, profit protection, Broker Spy, etc. All of these modules come with their own tables, statistics, drill-down choices, data, charts, graphs, and analysis. Moreover, this trading tool is transparent with its trading results as they are provided on a real account for a few years. The results have a verified track record.