We'd like to read a review about an Accurate Forex Signals service. Let's figure out if this is a viable option to go.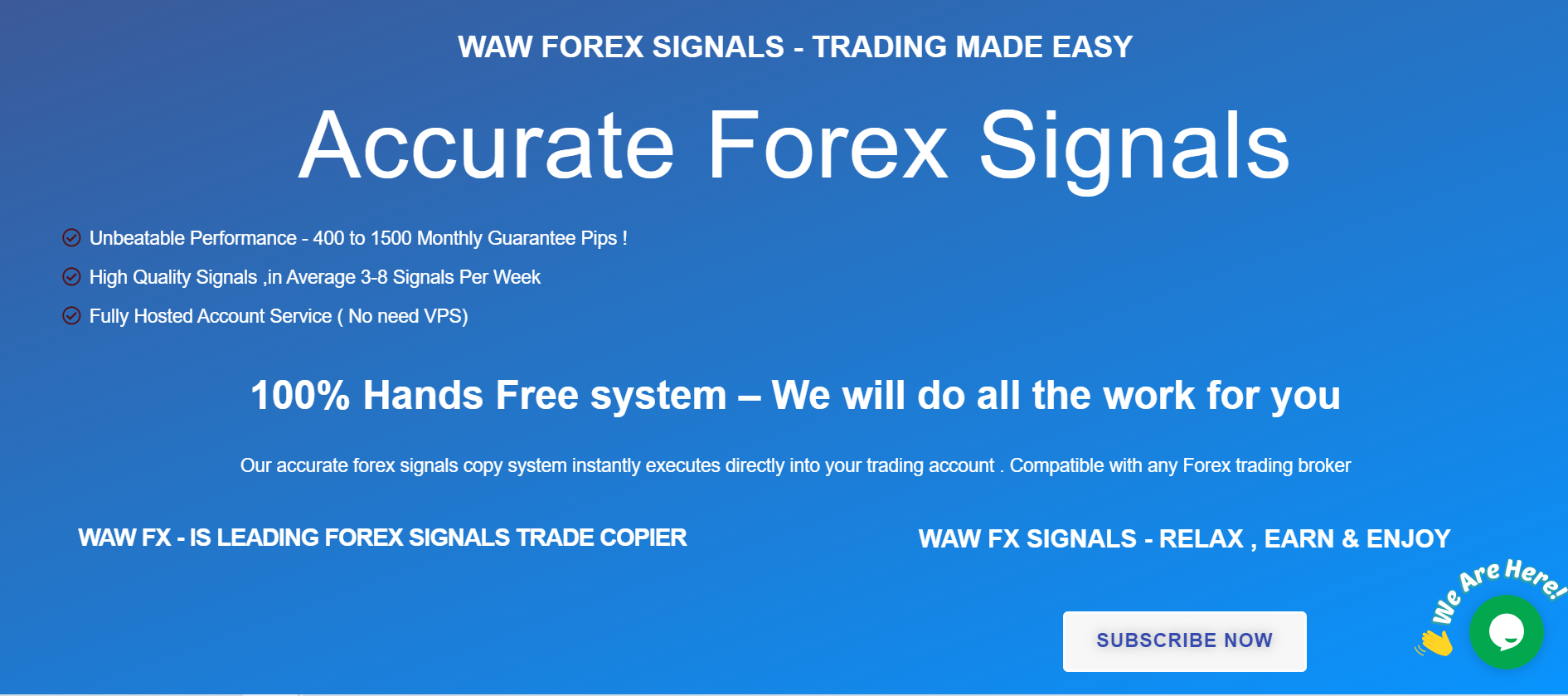 Waw Forex Signals Features

The signals can provide 400-1500 pips monthly.
An average signal frequency is very low: from 3 to up to 8 signals weekly.
They can host us, so we won't need a VPS service.
Copy-trading works completely automatically for us.
The devs insisted that signals are generated by manual trading – short and long term.
The signals are delivered for all currency pairs.
There's a team of professionals who decides when it's time to open trades for us.
We can customize risks to our account balance or just copy master's ones.
The software supports 4 and 5-digit brokers and all account types: MT4, MT5, cTrader, and FXCM & LMAX,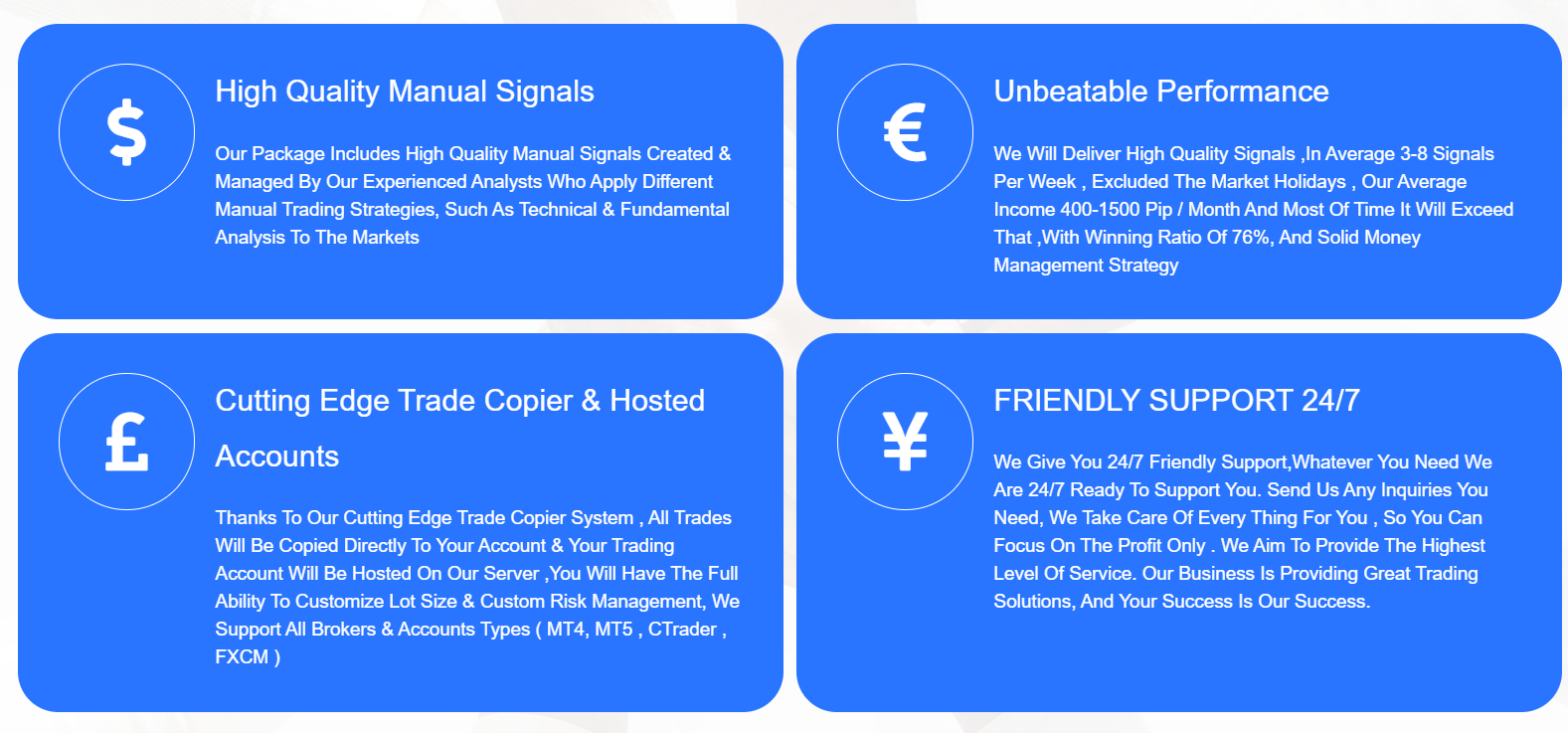 The win-rate is up to 76%.
There's friendly and knowledgeable support.
Pricing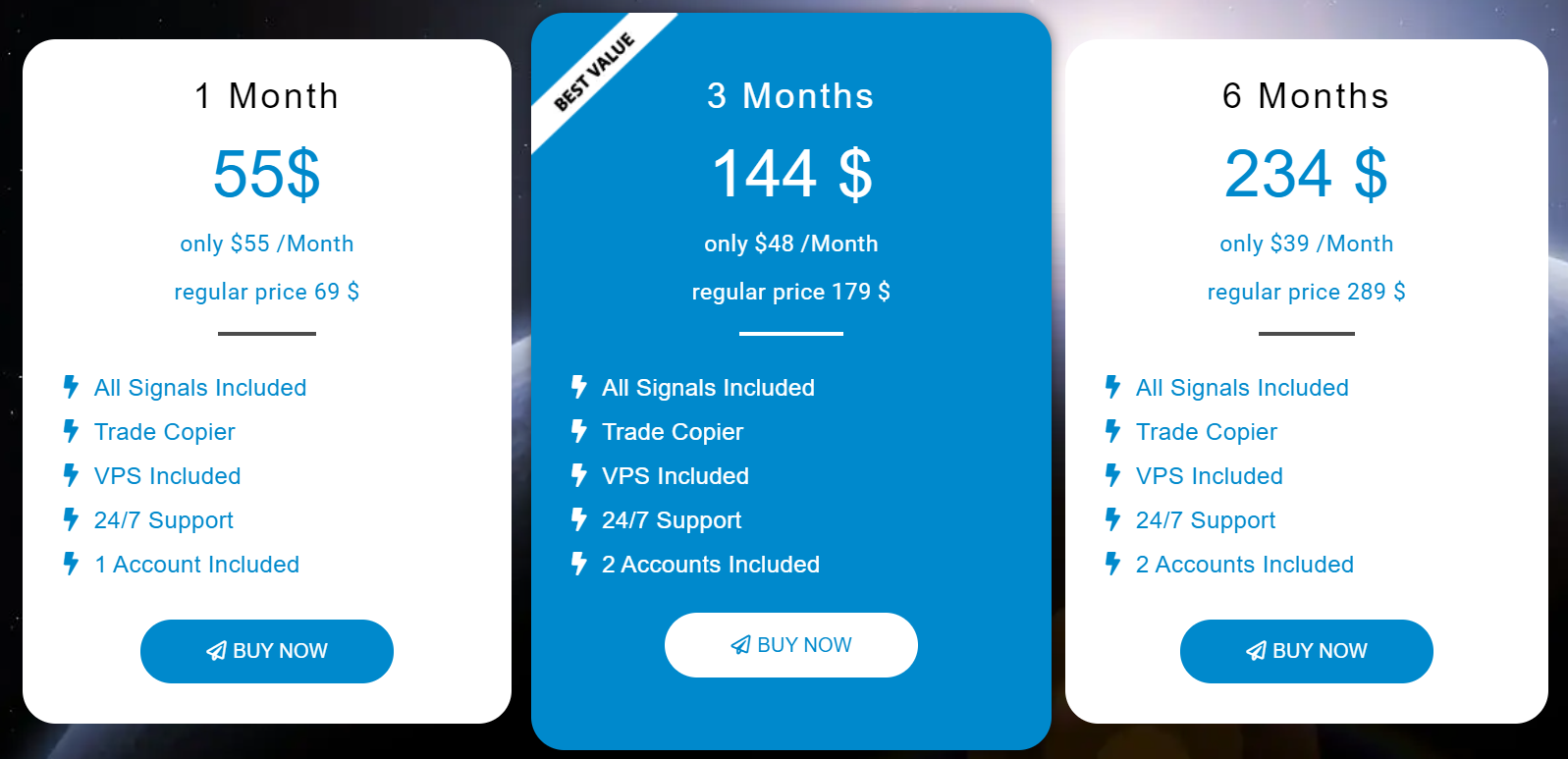 There are three packages that vary by terms. The one-month pack costs $55. It's weird to see the price in USD as for the best company from the UK. The three-month pack costs $144. The half a year package costs $234. All of them include signals, trade copying software, VPS, support. The cheapest pack includes a single license, the rest ones – two licenses.
How it works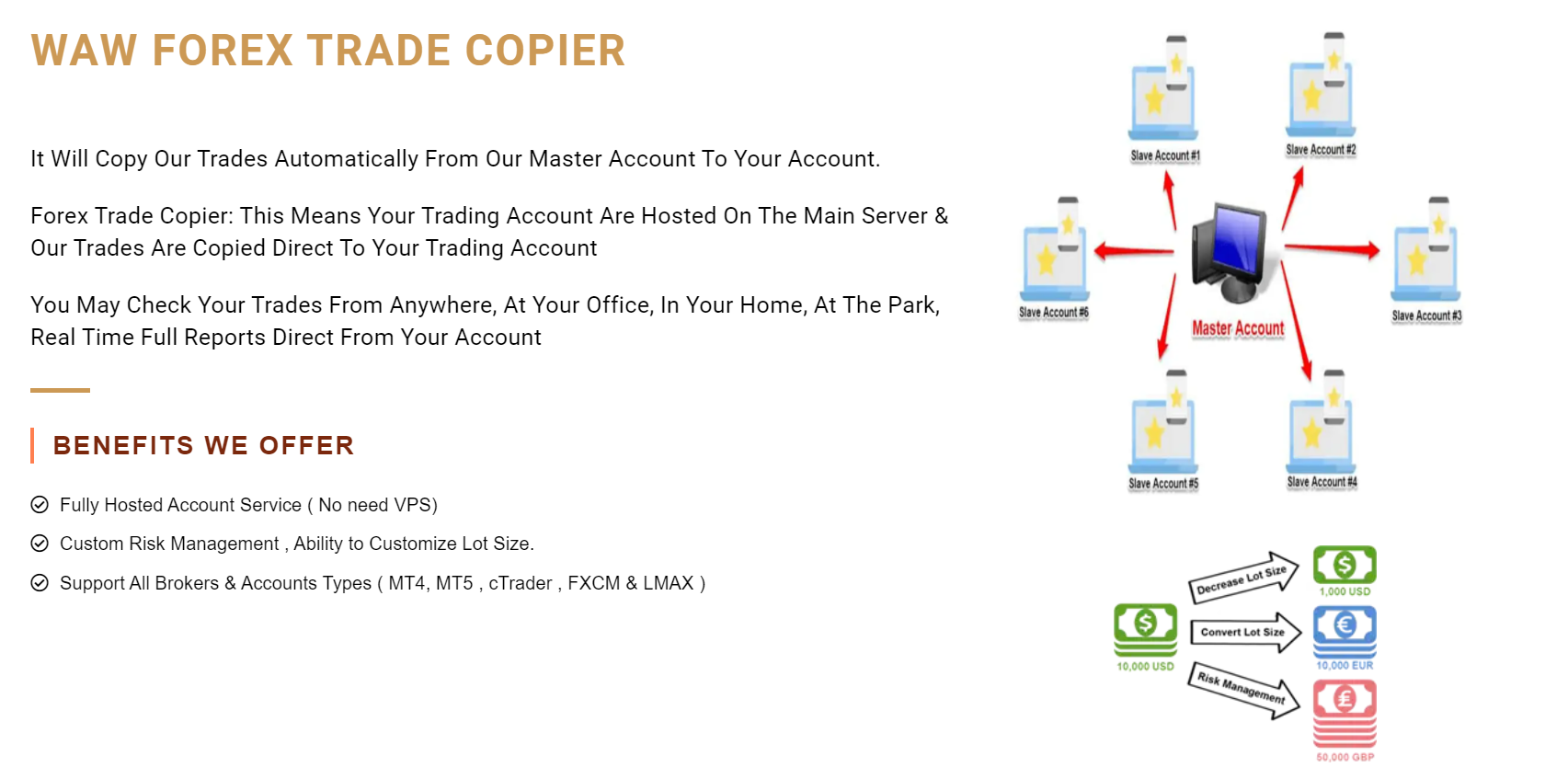 It allows copying trades from a master account on any number of slave accounts without delays.
We can check our account running from anywhere.
The system allows copy-trading software to do all trading duties for us.
Trading Strategy
The trades are generated by various strategies based on Fundamental, Technical analysis, Day, and Swing trading styles.
Trading Results
The developers didn't provide any proof that their efforts can make profits. We were surprised by this. They mentioned that there are great analysts behind all open trades. So, if yes, how can we take a look at verified by myfxbook, fx blue, or fxstat results? It's such a big deal to know if there are Grid, Martingale, Hedging, Averaging, or even Arbitrage trades.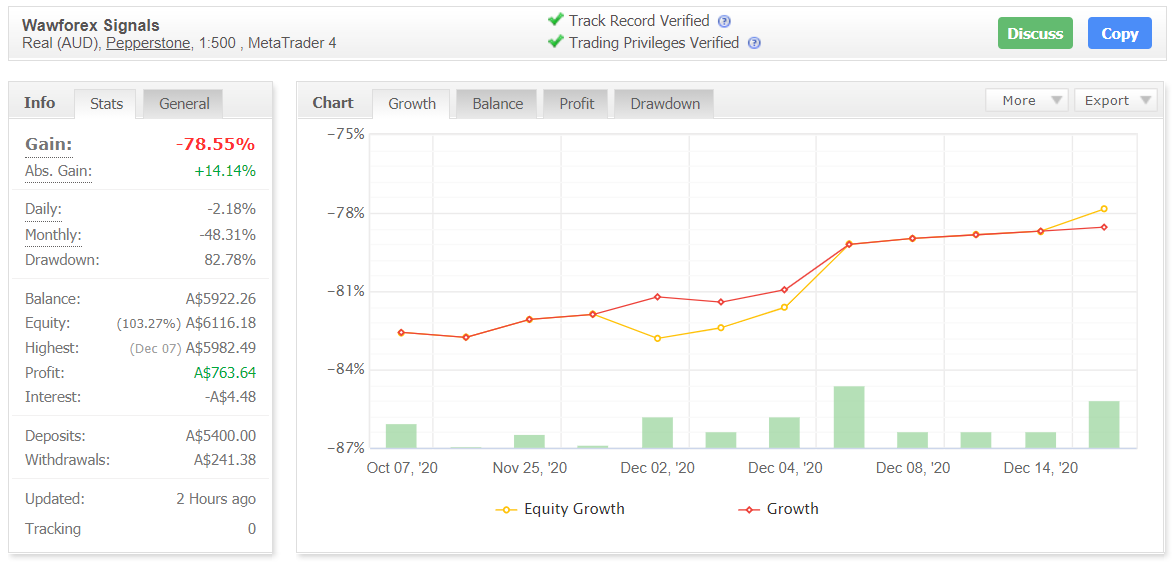 We've searched for the account on myfxbook. It was the only one with Waw in its name. It's a real AUD account on Pepperstone. The trader trades with 1:500 leverage on the MetaTrader 4 platform. This account has a verified track record. It was deployed on October 07, 2020, and funded at A$5400. Since then, the absolute gain has become -78.55%. An average monthly gain is -48.31%. The maximum drawdown is -82.78%.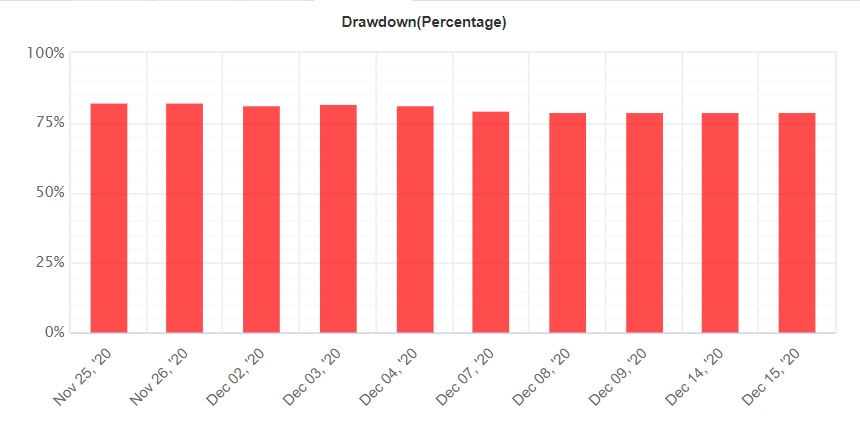 As we can see, last month's drawdowns were insanely high.

The robot closed 26 deals with 234 pips. An average win is 23.31 pips, while an average loss is -13.84 pips. The win rate for Longs is 20%, for Shorts is 71%. An average trade length is one day. The Profit Factor is 2.19.

The most profits were brought by trading EUR/AUD and EUR/CHF in the SELL direction ($652 and $491).

There's no system at the time of opening trades.

Thursday and Friday are the less active days. Clients won't be happy to know that most signals are delivered only three days a week.

The EA runs the account with moderate risks to the account balance.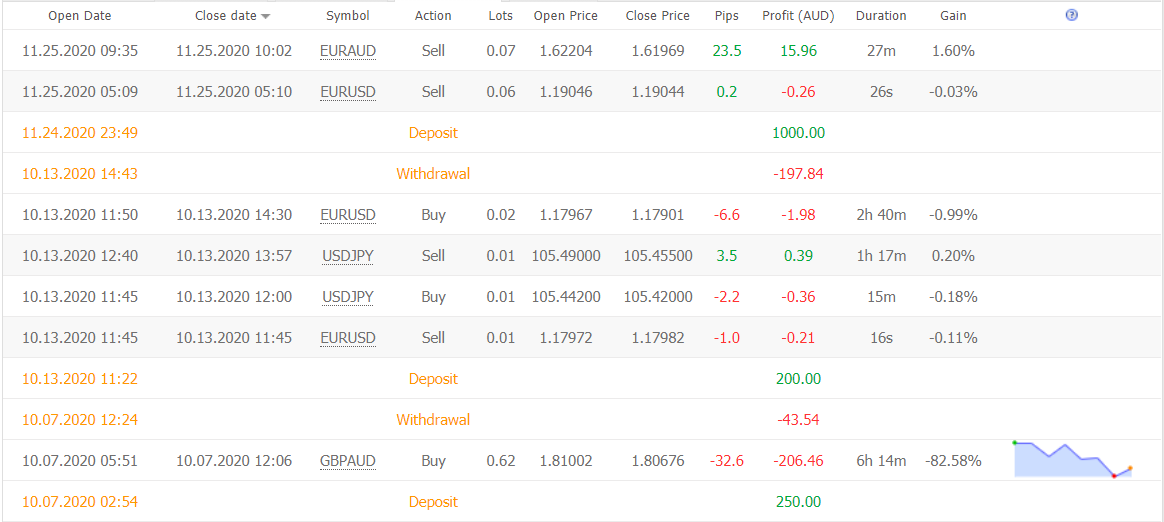 As we can see, the robot opened a deal with an insanely high Lot Size. This forced the account to lose 82% of the balance.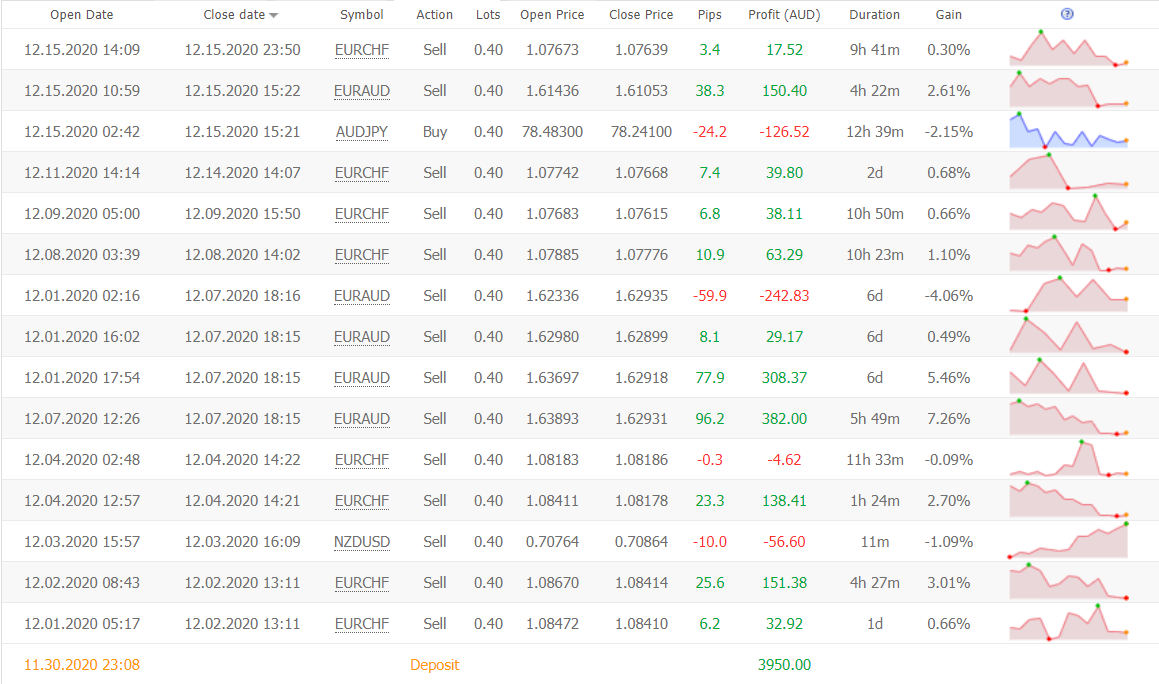 Even after losing much, the EA keeps trading with big Lot Sizes that keep the account in the risk zone.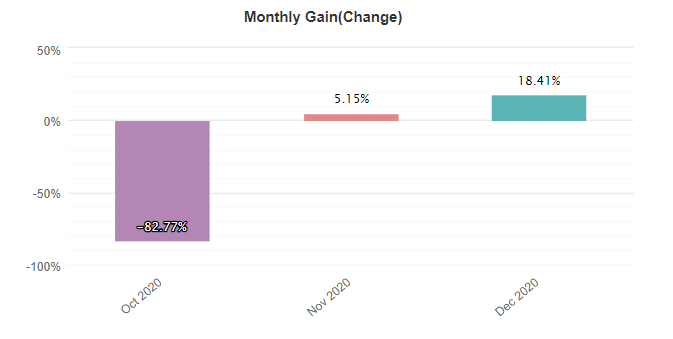 After these trading results, we have to check future ones for at least a year before making a final decision.
Customer Reviews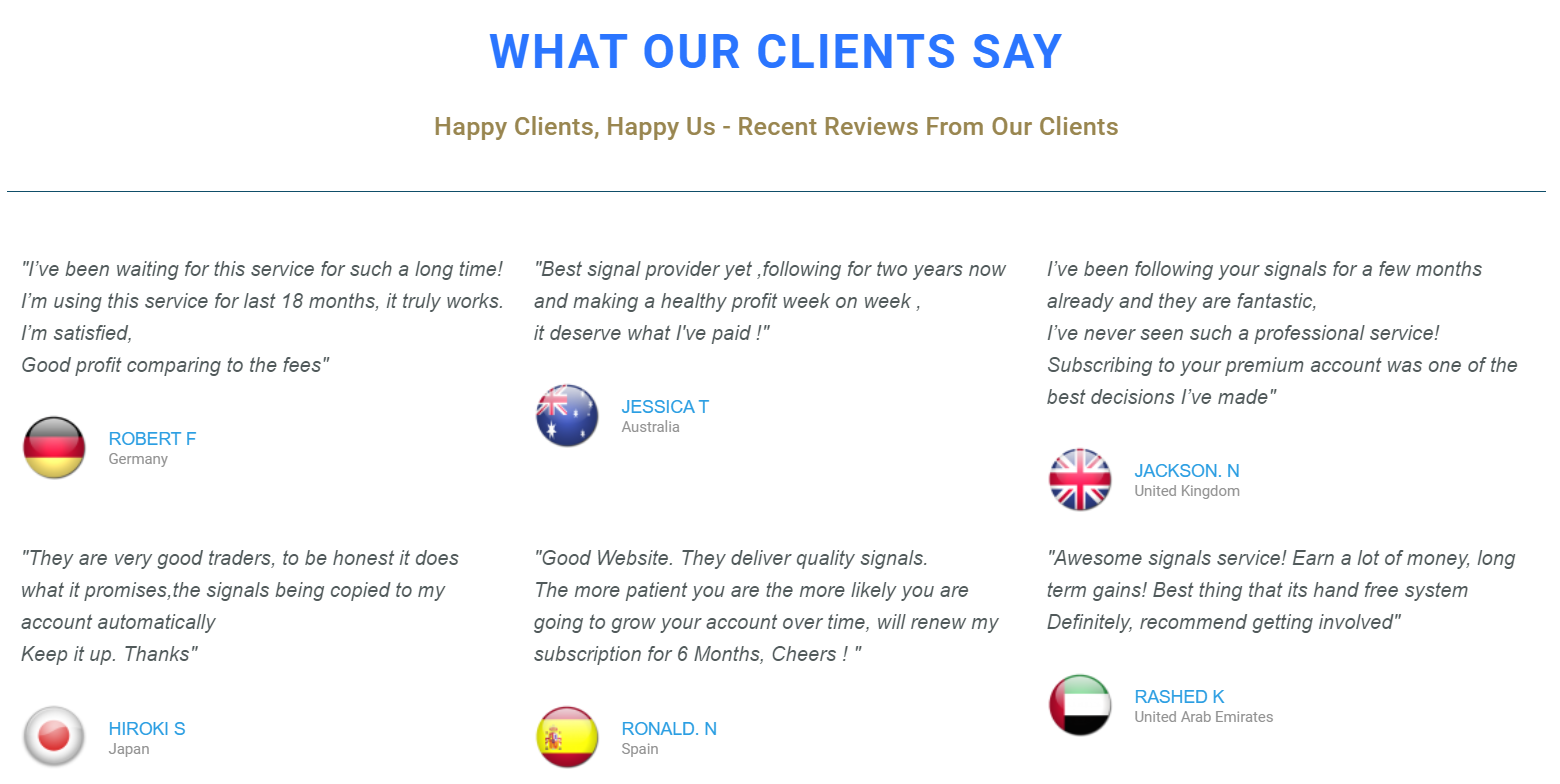 We've got only on-site, most likely faceless fake reviews. Just check them, there is nothing about profits in pips or money. Robert said that he used the service for 18 months. Let's be it. So, how many pips have you got since starting?
Other notes
This service looks like an iconic scam. The developers carefully avoided everything that can prove their previous trading experience and a deep understanding of the market. Without verified trading results, it's just another scam service.