WealthyBot is an automated trading bot to work on the crypto market. The system was designed by Sevan Bomar on December 22, 2020. So, this solution has been existing for over a year on the market. We decided to check how good the system is.
What is WealthyBot?
| | |
| --- | --- |
| Price: | We should have $30 on the balance. The bot works with 20% commissions for winning trades |
| Payment Options: | Crypto only |
| Supported Exchanges : | Binance |
| Cloud Based: | No |
| Strategies: | Price Action |
Is it easy to use WealthyBot?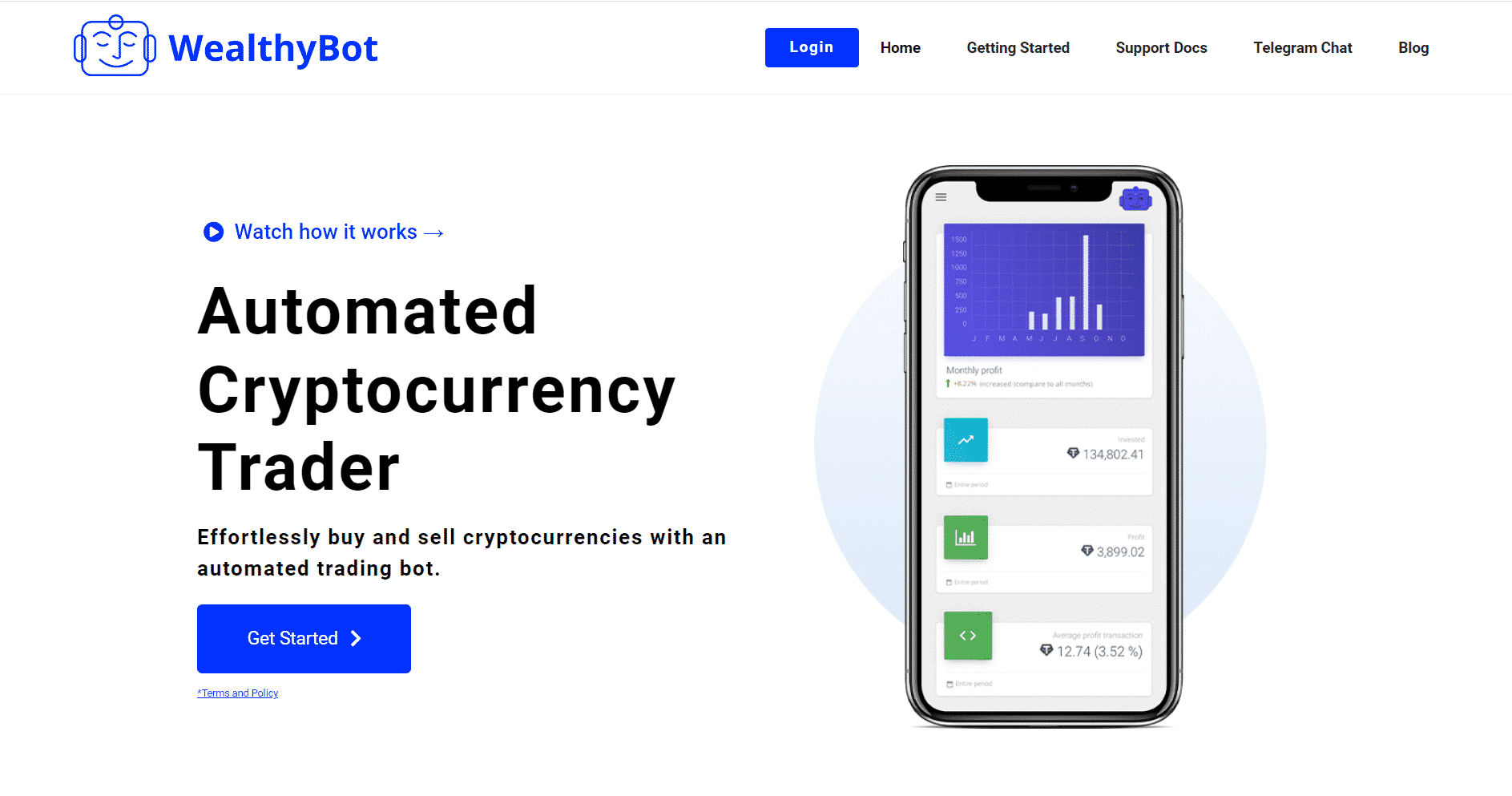 The rovot looks pretty welcome for those who don't have relevant trading experience.
Features of WealthyBot
The presentation includes various information about how the bot was designed, what features it has, and what performance we can expect to receive from it.
Automated and secure trading experience
WealtyBof can provide us with completely automated orders execution.
The platform requires us to get registered to start.
There's a possibility to work with free trading simulations.
The devs provide support via Telegram.
To get everything work right, our account on the robot must have enough on a deposit to close orders.
The core strategy is price action.
The devs want to receive a percentage of profit from every order.
We can download the user manual to customize the system if needed.
Trading on the account manually is prohibited.
The simulator feature allows us to be sure that the robot will safe for our account.
Binance and other top exchanges are allowed to work.
We have some restricted stated within the US to work with: Alabama (AL) Connecticut (CT) Florida (FL) Georgia (GA) Hawaii (HI) Idaho (ID) Louisiana (LA) New York (NY) North Carolina (NC) Texas (TX) Vermont (VT) Washington (WA).
The devs claim that Binance is the best exchange to work with.
Easy to configure
We can store API keys on our PC without a need to upload them on the cloud.
We can use a VPN service for working with different exchanges.
We should add Binance API to WealthyBot in order to link them together.
Pricing
Our balance on an exchange has to be higher than $150. The balance on the robot has to be over $30. From it, the developers will charge 20% commissions.
Strengths and weaknesses of WealthyBot
| | |
| --- | --- |
| Strengths | Weaknesses |
| We pay only for winning orders | No team revealed |
| low prepaid requirements | No risk advice given |
| | No backtest reports provided |
| | No trading results shown |
| | No people's testimonials written |
Is WealthyBot good?
The developers provided no proof of its profitability. So, it's difficult to say for sure.
Is WealthyBot safe?
It works with our account on an exchange through API keys. The system will work from pur behalf but it can't withdraw our account.
Customer support
We can rely on welcome and knowledgeable support via Telegram and email.
Reputation
It has no verified trading results and no clients' testimonials. So, it is not possible to form a reputation.
Bottom line
WealthyBoy is a trading bot that has a presentation of average quality. The developers explained to us features and some general details. Anyway, we don't have verified trading results or at least results from paper trading. Moreover, the owners charge us 20% for winning trades. So, the final decision is up to you.