XXL Real Profit is a Forex automated trading system that promises to help you earn substantial profits in Forex trading. It is a system that works on different types of accounts and is capable of monitoring the market on a 24/7 basis.
There is no background information on the developer company. We don't know where they are based or how long they have been manufacturing Forex trading systems. The vendor has not shared the details of the developers and the traders.
Choosing a reliable Forex robot is not as easy as it sounds. The presence of so many scam services necessitates careful research and analysis prior to making a purchase decision. You must look into different factors like live performance, trading strategy, price, reviews, and features. Check out our best Forex robots list to know more.
XXL Real Profit overview
The presentation on the official website is a bit haphazard. We are not able to get a clear idea regarding what the robot offers and how it works. The vendor has highlighted some of the main features and shared some of the details of the strategy. We have the trading results of the system presented on Myfxbook on FXBlue. However, the Myfxbook account is no longer active.
Compared to other EAs, this one has no special features. It is compatible with standard, mini, micro, and ECN accounts. It does not use risky trading strategies like martingale and grid. After purchasing the software, you can install it and start trading immediately.
Pricing 
The vendor is currently offering this EA for free.
How it works
XXL Real Profit is a robot that uses indicators for analyzing the Forex market. These include trend line, support and resistance, price action, and others. It can initiate and close trades without any manual intervention on the trader's part. The robot has a money management system that allows you to preserve your trading capital. You can use this system to trade in pairs like GBP/USD, EUR/USD, and AUD/USD.
Trading strategy
Apart from mentioning a few indicators, the vendor has not shed light on the trading strategy that the EA uses. We have no idea what conditions the EA looks for while identifying profitable trading opportunities.
Trading results
It is a normal practice for EA vendors to test their systems with historical data. These tests are performed using several years' worth of data, thus revealing the long-term performance of the robot. Unfortunately, the vendor has not shared the backtesting results of XXL Real Profit.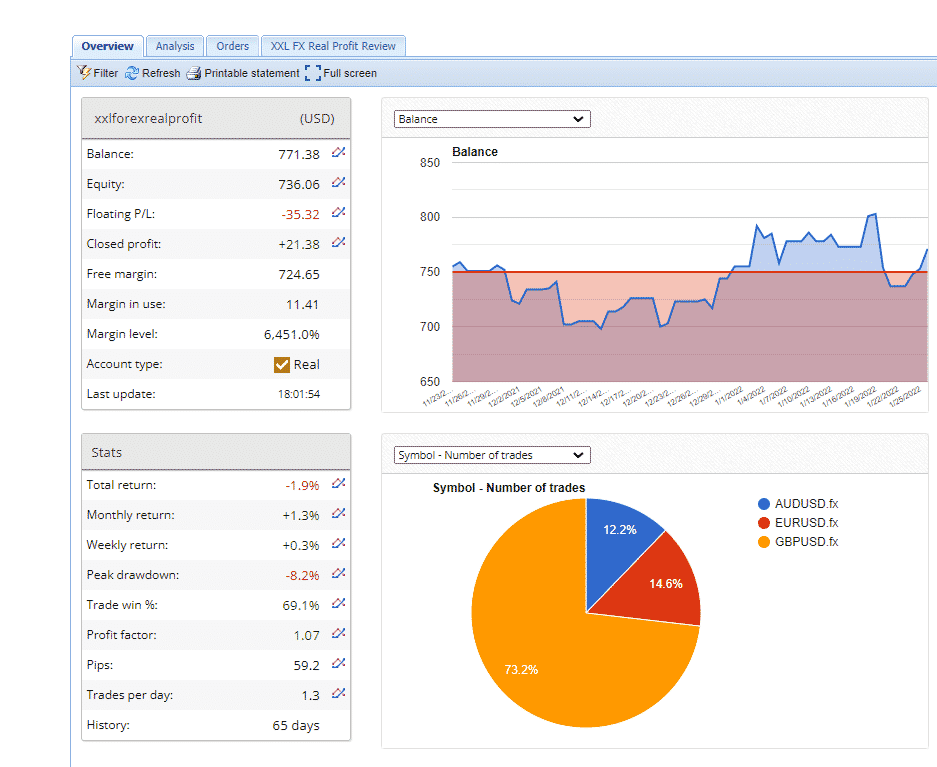 This trading account on FXBlue has a short history of 65 days. To date, the EA has conducted 82 trades through this account, winning 56 and losing 25. This means it has a healthy win rate of 69.1%. At this moment, the total profit generated through this account stands at $21.38.
The daily, weekly, and monthly returns are 0.06%, 0.30%, and 1.26%, respectively. This account has a decent profit factor of 1.07. However, we can see that the average loss of -12.75 exceeds the average win of 6.08. On average, the length of each trade is 10.8 hours. The risk/rewards ratio is more or less acceptable at 0.43.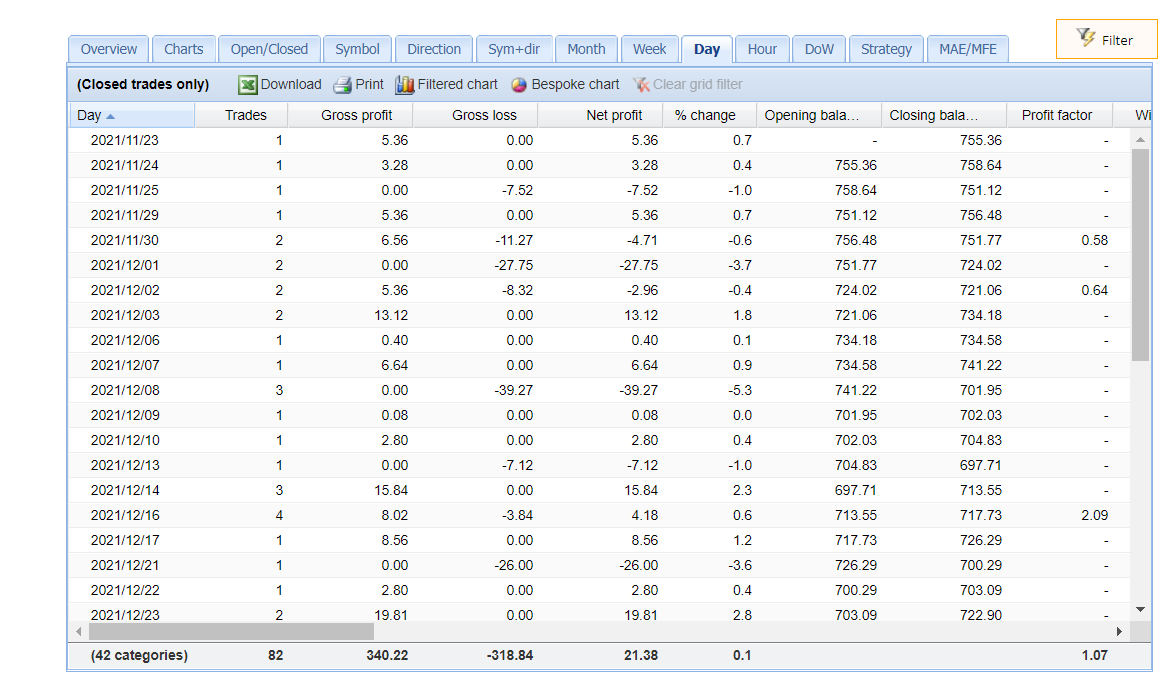 Here we have the trading history of XXL Real Profit. As you can see, the robot is prone to suffering heavy losses occasionally. The lot size usually lies between 0.07 and 0.32. This EA places an average of 1.3 trades on a daily basis.
Customer reviews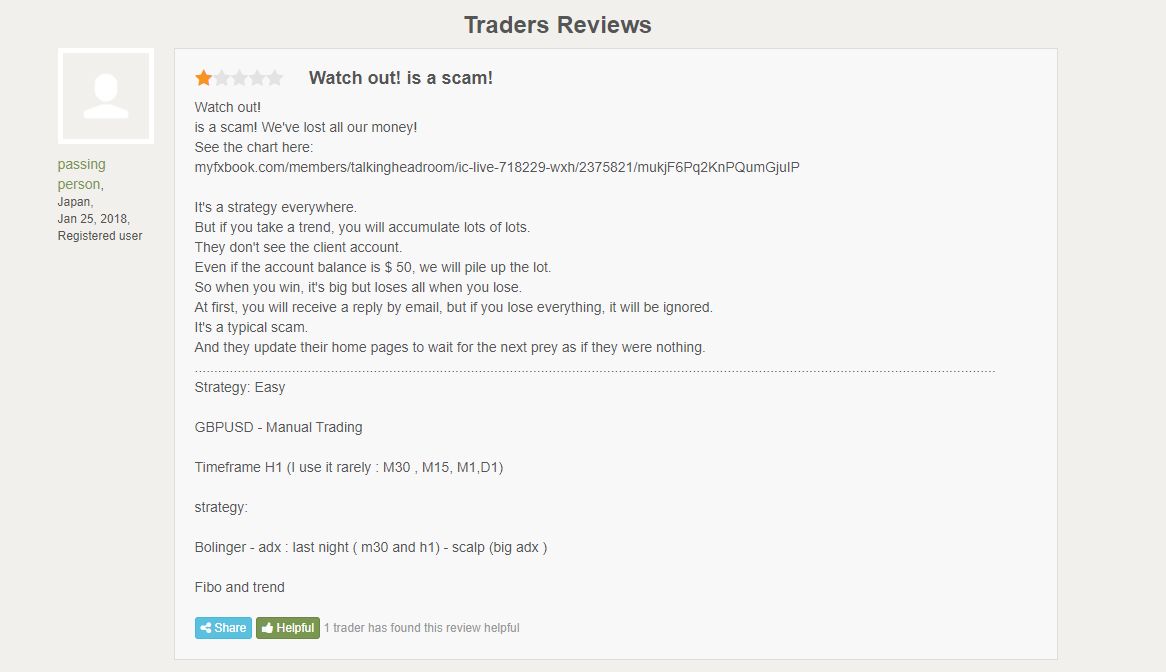 On the Forex Peace Army website, there is only one user review for this expert advisor. Here, the user has stated that this is a scam service that drains your account. They have claimed that this is a high-risk high-gain system that occasionally loses big. According to them, the service team ignores the users' emails.
Customer support
On the official website, the vendor has shared an email address. If you face any issues, you can reach the support team at this address.