Z Trader FX is a Forex robot that promises excellent outcomes and boosts your trading account to the next level. It is based on a year's worth of rigorous development and there are live trading accounts that show its outstanding market performance. It works on the MT4 platform and automatically follows the user's instructions once certain criteria have been satisfied.
There is no information on the official website regarding the company's background, its year of foundation, service history, location, etc. We don't know the identities of the traders and developers or what kind of experience they possess.
In order to choose the best Forex robot, you must first analyze each and every aspect of the system you wish to purchase. These include the features, pricing, trading strategy, live trading results, and customer reviews. Take a look at our best Forex robots list to know more.
Z Trader FX Overview
On the official website of Z Trader FX, we have some slides on what makes this software so great. This is nothing new and many vendors advertise their Forex EAs in this manner. Next, we have a list of all the main features, along with the link to an FXBlue account showing live trading outcomes.
The vendor has also provided us with the pricing details and the backtesting data. We also have a broker recommendation and an email address using which you can get in touch with the service team. Z Trader FX is a 100% automated system that can be set up in 2-5 minutes.
It has in-built money management functionalities that can be fine-tuned as per your preferences. Support is provided to all customers on a 24/7 basis.
Pricing
You can purchase 2 real and 2 demo licenses for Z Trader FX at $117. For $137, you get 3 real and 3 demo accounts. The support team will help you with every step along the way, and free upgrades will be provided whenever applicable. We must say that the pricing plans are quite affordable compared to the market average.
How it Works
Z Trader FX functions on both real and demo live accounts. The vendor recommends starting out with a deposit of $100 for a 0.01 lot size. This robot runs inside the MT4 terminal and it can trade in any currency of your choice. After purchasing the software, you need to send your MT4 account number to the service team to activate the license, and after it has been activated, you'll receive a notification via email.
The robot works best with the Forex4you broker, and with this users get access to technological and qualitative services. If you register on this broker using the link provided on the website, you can get 1 additional copy of the Forex EA. This won't lead to you incurring additional spreads and commissions.
Trading Strategy
On the official website, the trader has supplied no information on the trading strategy that is utilized by the robot for extracting gains. Several Forex traders look for strategy insight while investing in automated software and this might serve as a deterrent for them.
Trading Results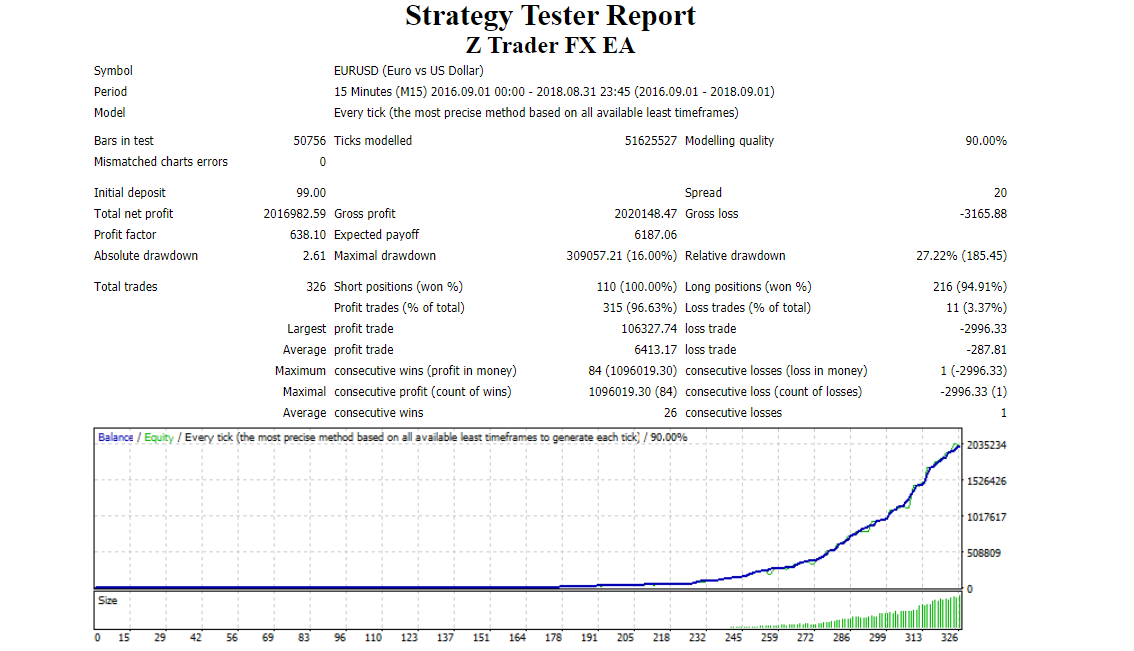 This backtest was conducted on the EUR/USD pair from 2016 to 2018, during which 326 trades were placed. The robot managed 96.63% of these trades, generating a net profit of $2016982.59. During this period, it achieved 84 maximum consecutive profits and had an incredibly high profit factor of 638.10.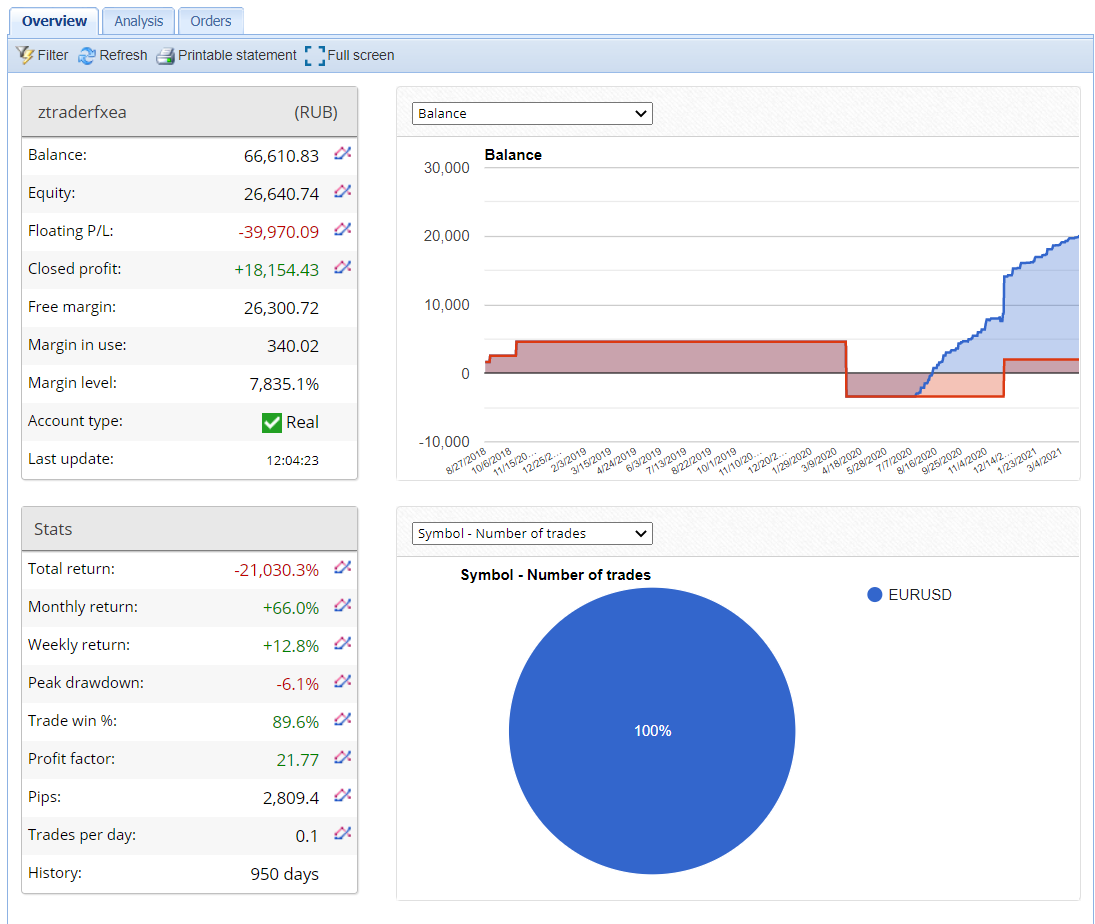 Here we have a live trading account for Z Trader FX EA on the FXBlue website. This account has a trading history of 950 days, during which it has managed to generate a profit of 18,154.43 Rubles. It has daily, monthly, and weekly returns of 2.44%, 12.83%, and 66.04%, respectively.
However, we can see that the account has suffered a gross loss of 40,317.40 Rubles from open positions, which is the reason why the floating P/L currently stands at -39,785.48 Rubles. So from what we can gather, the system follows a risky trading approach that can lead to huge losses. In fact, this account has an 89.1% risk of ruin, which is a cause for concern.
Customer Reviews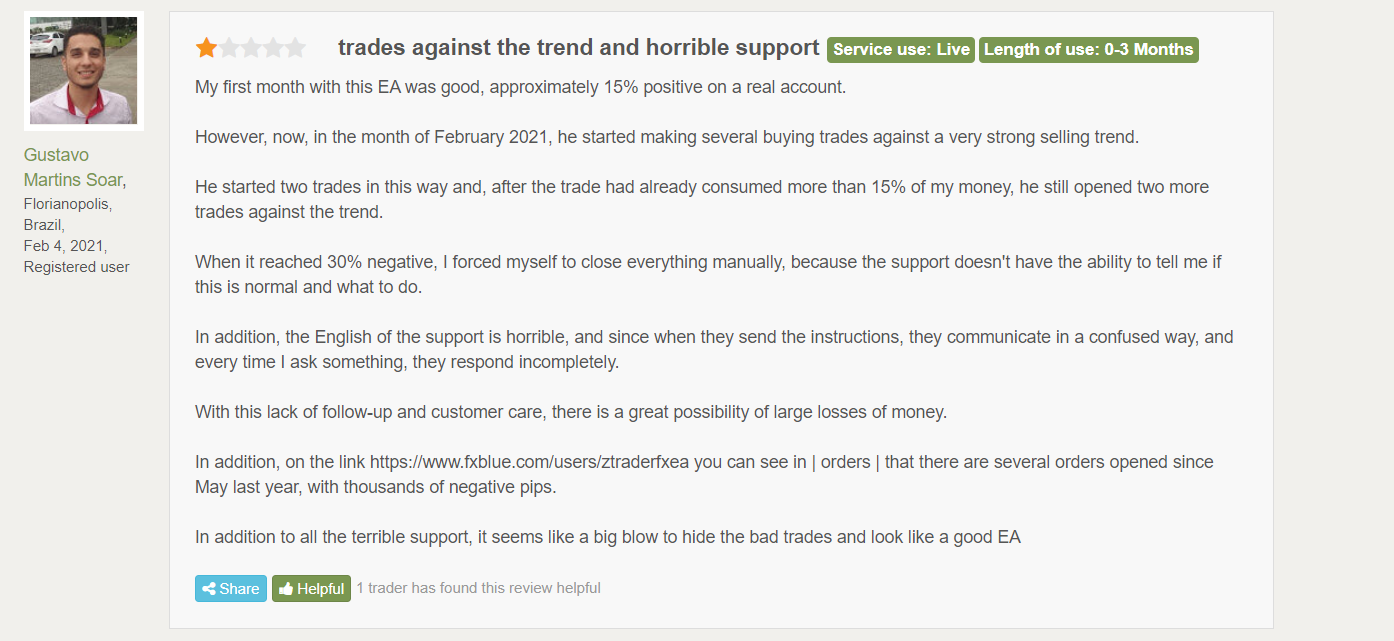 On forexpeacearmy.com, most of the customer reviews for Z Trader FX EA are negative. One customer has complained that after the first month, the robot started trading against the trend, which led to major losses. He has also criticized the support for not providing him with clear instructions and no following up on his issue.