Pterodactyl Forex Robot is an intelligent trading system that trades using a complicated fractal strategy. It identifies the ripest trend trades automatically using retracements and fractals. We will see in detail what this robot offers in this review.
Pterodactyl Forex Robot is the creation of Forex Robot Trader (FRT). The company has been operating in this market for almost 16 years now, but it is rather odd that the developers behind its operations are never introduced. We are only told that they are experts in their field. Anyway, there's an autobiography that provides basic info about the founder, Don Steinitz, and what led him to start the company. Apparently, he used to gamble in casinos before he ventured into Forex trading.
Pterodactyl Forex Robot overview
We highlight the features of the robot in this section:
It is designed to run on the MT4 terminal and work on any currency pair.
The system trades with discretion by ensuring that several real time computations are utilized in determining the general appeal of a signal before it is utilized.
It allows you to hide your stop loss and take profits from your broker.
The EA comes with a fully automatic money management system to optimize profits and restrict risks.
It does not require any experience to operate.
The vendor recommends you use it with other robots for best results.
It is easy to use and set up.
Pricing
Pterodactyl is priced at $49. This makes it one of the most inexpensive robots sold in this market. The previous asking price was $199. A money-back guarantee is not featured in the package.
How it works
Being that Pterodactyl is a Forex robot, it basically makes use of mechanical trading rules to spot possible trade setups. In any case, the system comes with a Fractal Breakout Forex Indicator, which filters out false signals and open trades based on fractal computations. More details on how the system works are available in the next section.
Trading strategy
According to the devs, Pterodactyl has a code engine that allows it to conduct thousands of fractal calculations every minute in real time. It then uses these computations together with retracements to look for trades on your charts. The system assesses the potency of a certain trend and computes the best period to initiate trades based on retracements. After observing a retracement, the bot plots fractal set ups and trades them automatically.
Trading results
The devs fail to showcase the backtesting results for this robot. This test normally provides strategic insight. It helps developers to ascertain whether their selected strategies will produce expected returns. Live results are available, though. But there is a hitch. The data isn't verified, so we don't know if it's genuine or fake.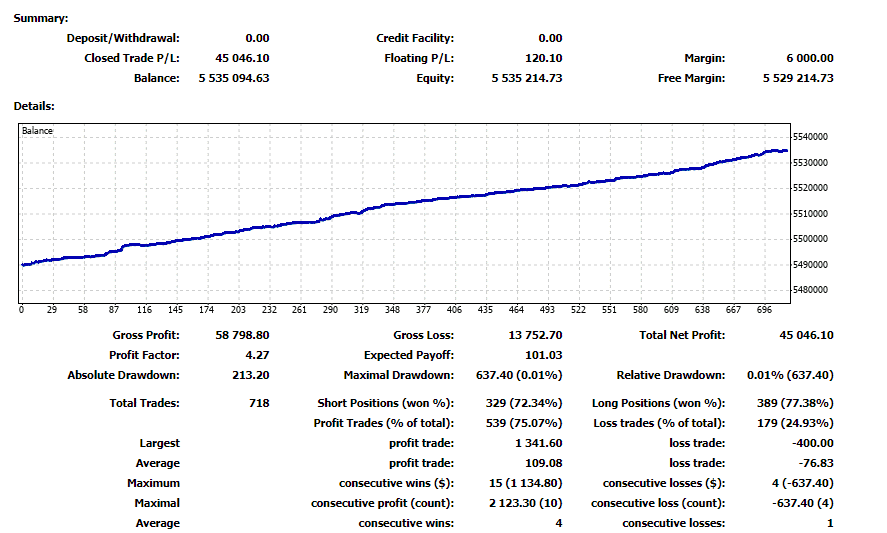 To date, the EA has made a profit of $45046 for this account after opening and closing 718 trades. The recorded win rates for short and long positions are 72.34% and 77.38%, respectively. The profit factor of 4.27 implies that the system is able to increase your investment exponentially. From the average profit trade ($109.08) and loss trade (-$76.83) values, it is apparent that the robot brings in more wins compared to losses.
Customer reviews
There are no recent customer reviews for Pterodactyl on Forex Peace Army or Trustpilot. In that regard, we cannot tell if it is efficient in the current market conditions or not.