Aura Rocket is a robot that works with a price action strategy on the real market. The presentation includes various details about the system's functionality and trading results to check. So, we are going to systemize these features.

Stanislav Tomilov is a developer from Russia with a 11,794 rate. He had over 7 years of trading experience. The robots he sells were demo downloaded 4047 times. Stanislav's portfolio rate is 4.2 based on 79 reviews.
Aura Rocket features
The presentation includes various details about the system and its features:
The robot knows how to manage orders on our account automatically.
There's a deep machine learning algorithm and hyperparameter search technology.
The owner doesn't provide us with explanations about this.
It works with a Grid strategy to utilize the market move.
We have various indicators applied to the system.
It trades only in the market direction.
We can expect that the robot protects orders with SL.
It doesn't work with Martingale, Averaging, Scalping or Arbitrage.
The same type of machine learning model requires different constraints, weights, or learning rates to generalize to different data models.
These parameters are called hyperparameters and it can manage them to fit the calculations.
We have a current price of $995 but the dev wants to increase it to $1295.
The system can work with high risk and moderated risk modes.
If we set the highest risk, the system can double the account in 5-6 tardes.
If we use it, we have to grasp profits as soon as they are generated.
It works with a Gold cross pair.
The time frame should be H1.
The minimal deposit can be as low as $100.
The leverage is 1:200
We can work with any broker if it has low spreads.
The installation process takes not so much time.
It is compatible with FIFO and FTMO rules.
Pricing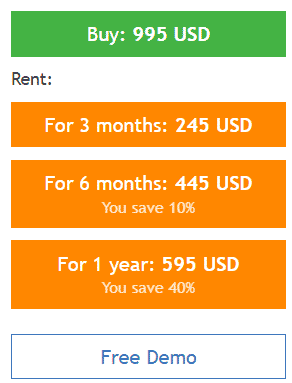 The offer includes a lifetime copy and rental options. A copy of the system costs $995. We may rent a copy for $245 (3 months), $445 (6 months), and $595 (1 year). The MQL5 market functionality doesn't support refunds. Anyway, we can download a demo copy of the robot for free to check settings on our terminal.
How it works
The robot seeks trading opportunities.
It calculates an entry point.
After preparing SL and TP levels, the order is placed.
Trading strategy
It works with a price action strategy.
The core time frame is H1.
The one and only currency pair is XAUUSD (Gold).
Trading results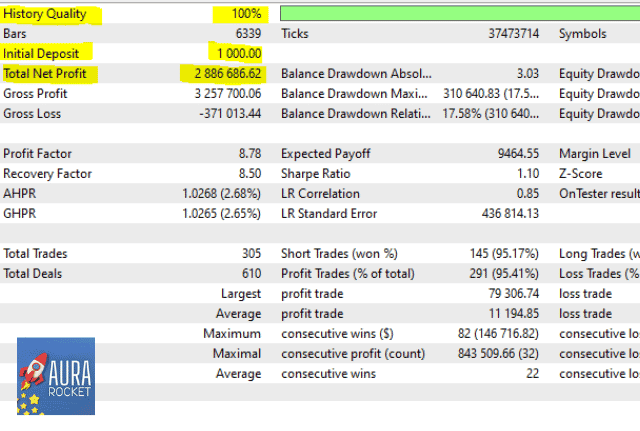 The system was tested on the 100% history data. An initial deposit of $1000 turned into $2,886,686. The profit factor was 8.78 when the recovery factor was 8.50. The maximal drawdown is 18.58%. There were 610 orders traded with a win rate approximately 95%.

Aura Rocket works on IC Markets real account with 1:500 leverage. The maximum drawdown is 14.9% when the maximum deposit load is 1.9%. The accuracy is 84.1%. For 3 months of trading activity, its total gain could only grow to 8%.

The advisor had a big problem with trading predictably.

The robot works with deep stop losses like -$59.94.

The system executed 69 deals. The best trade is $100.01 when the worst trade is -$150.76. A recovery factor is 0.84 and a profit factor at 1.23. An average number should be approximately 1.6. An average monthly growth is 6.49%.

It opens orders on Gold only.
Customer reviews

The presentation includes opposite testimonials. We don't know which of them are real.