Volatility Forex Robot is a trading system that is based on the following premise: "big volatility, bigger profit." Therefore, it loves to work in volatile markets as it attempts to generate high pips from highly volatile pairs.
The vendor of this EA is Forex Robot Trader. The company was founded by Don Steinitz, an individual who ventured into the Forex market hoping to find the "holy grail" of trading. However, he didn't find it. But this didn't deter him as he went on to put more than 1000 hours studying the charts to establish what made up a winning trade. He eventually teamed up with top notch programmers and began developing Forex robots for the market. Some of these products include Odin, WaveRunner, Directional, HAS, Ganon, Reaper, and many more.
Volatility Forex Robot features
The main features of this EA are outlined below:
Works on all Forex currencies and all timeframes
The volatility channel custom indicator is drawn on a similar chart as the EA for full transparency
Has in-built optional trailing stop loss capabilities
Supports the MT4 charting software
Has in-built automatic money management
All text and color objects are user adjustable
Trades can be closed manually without disrupting the robot
Works with 4 or 5 broker digit pricing automatically
Inputs are customizable such as "applied price types" and "moving average modes"
Comes with all custom indicators and templates
Pricing
Volatility Factor is currently being sold at $49, down from $199. The pricing is very cheap. Other providers usually sell EAs at $100 or more. There are no refunds provided.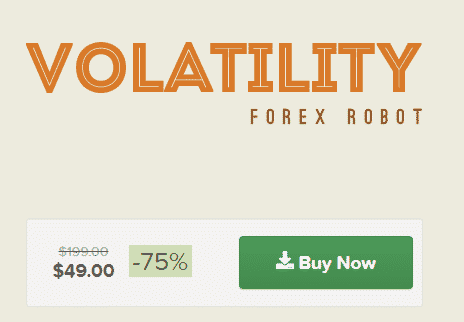 How it works
Volatility Forex Robot is designed to conduct trades automatically. You can easily download and set it up on the MT4 trading platform if you want it to take over your trading. Since the system comes with customizable features, you can adjust the parameters to suit your needs. After activated, it will begin searching for trades based on the strategy described in the next section.
Trading strategy
The trading strategy that this robot uses is based on the ATR (average true range) indicator, which is drawn on the price chart. This is how the indicator works:
It computes the ATR for the last X bars, where X is an external variable.
It deducts the ATR value from the highest price in the last Y bars and draws a line. It should be noted that Y is an external variable and can vary from the ATR period.
The indicator finally adds the ATR value from the lowest price in the last Y bars and draws a line.
Eventually, there will be a channel that will be utilized as a SAR (stop and reverse).
Trading results
The devs fail to share the backtest results for this EA. This is rather disappointing. Backtesting is one of the most vital tools used in monitoring the performance of a system by assessing its past trading patterns. As a result, a trader can ascertain the efficiency of the adopted strategy and its shortcomings and hence know what to expect while using it.
Verified live trading results are also missing. What is available are several links to statements that illustrate the supposed performance of the system in different months. The team attempts to convince us that the EA raked in thousands of profits monthly. It has allegedly made $4517 in January 2022 so far. Even then, we would like to see if these outcomes can be produced in a trusted site like Myfxbook.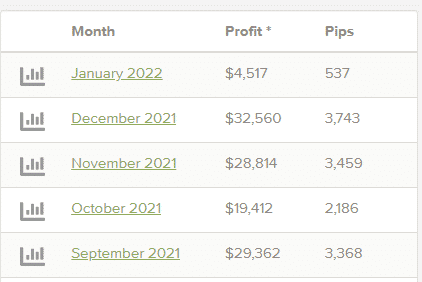 Customer reviews
Volatility Forex Robot lacks customer reviews, though the company behind it has a page on FPA. There are many negative reviews about the systems produced by the vendor. The main claim is that they are ineffective.