Euro Hedge is a Forex expert advisor launched on 29th March 2021. It trades in multiple currency pairs, and according to the vendor, manages to recover partial losing positions. Since this is a new system, we need to be extra thorough while analyzing its live performance and other vital aspects.
Euro Hedge is an EA developed by Sugianto, a developer based in Indonesia who has more than 6 years of experience, according to their MQL5 profile. On this profile, we can find some educational material related to Forex trading, but no data on the background and trading history. Other expert advisors created by this person include One Direction Pro, Green Gold Scalper, Simple Trade Panel, Switch Side, GO Trendline, Trendline Trader, Hedging Pro Ultimate, and Yellow Gold Scalper. The lack of vendor transparency is quite apparent and raises questions about the system's reliability.
Detailed Forex robot overview
Since we don't have an official webpage for this Forex robot, the MQL5 marketplace is the only source of information. Here, the vendor has shared a long list of EA parameters, without explaining in detail how it functions. We have some short clips and videos showing the trade setups, but there is no way to confirm their authenticity. Overall, the presentation does not look very professional at all.
Pricing
The price of this expert advisor is $349, and we feel this is excessive. There are a couple of rental options available for this EA. You can rent it for 1 month at $99 and 3 months at $199. The vendor offers a free demo version of the software, but there is no money-back guarantee offer.
How it works
The dev claims that we can use this robot for trading in pairs like XAU/USD, GBP/USD, and EUR/USD. According to the vendor, it can return 100% of the deposited amount within 1-2 months, but we think this is an unrealistic claim. They have also mentioned that the EA requires adequate free margin to open hedging positions with increasing lots. Furthermore, it is sensitive to slippage and spread, and if the broker has high slippage, you might end up suffering a loss.
As per vendor recommendation, you should use a hedging account having minimum leverage of 1:500. The starting balance should be $5000 and the corresponding lot size should be 0.01. You would also need a VPS to run this robot efficiently. Thus, it is clear that the robot follows a high-frequency trading scheme where it exits trades quickly to avoid the price swings caused by unexpected market shifts.
Trading strategy
Euro Hedge applies eight different strategies for trading the Forex market. It uses hedging for continuously opening buy and sell orders. If the initial position ends in a loss, it opens another position using the averaging strategy. In case the initial position generates a gain, the robot uses a pyramiding scheme.
What concerns us about this system is that it uses risky strategies like Martingale and Anti Martingale. Experienced traders usually consider these strategies risky and tend to avoid them. When the minimum target is reached for an open position, Euro Hedge uses pending order positions. It also closes orders partially by percentage or money and uses trailing orders based on money and percentage.
Trading results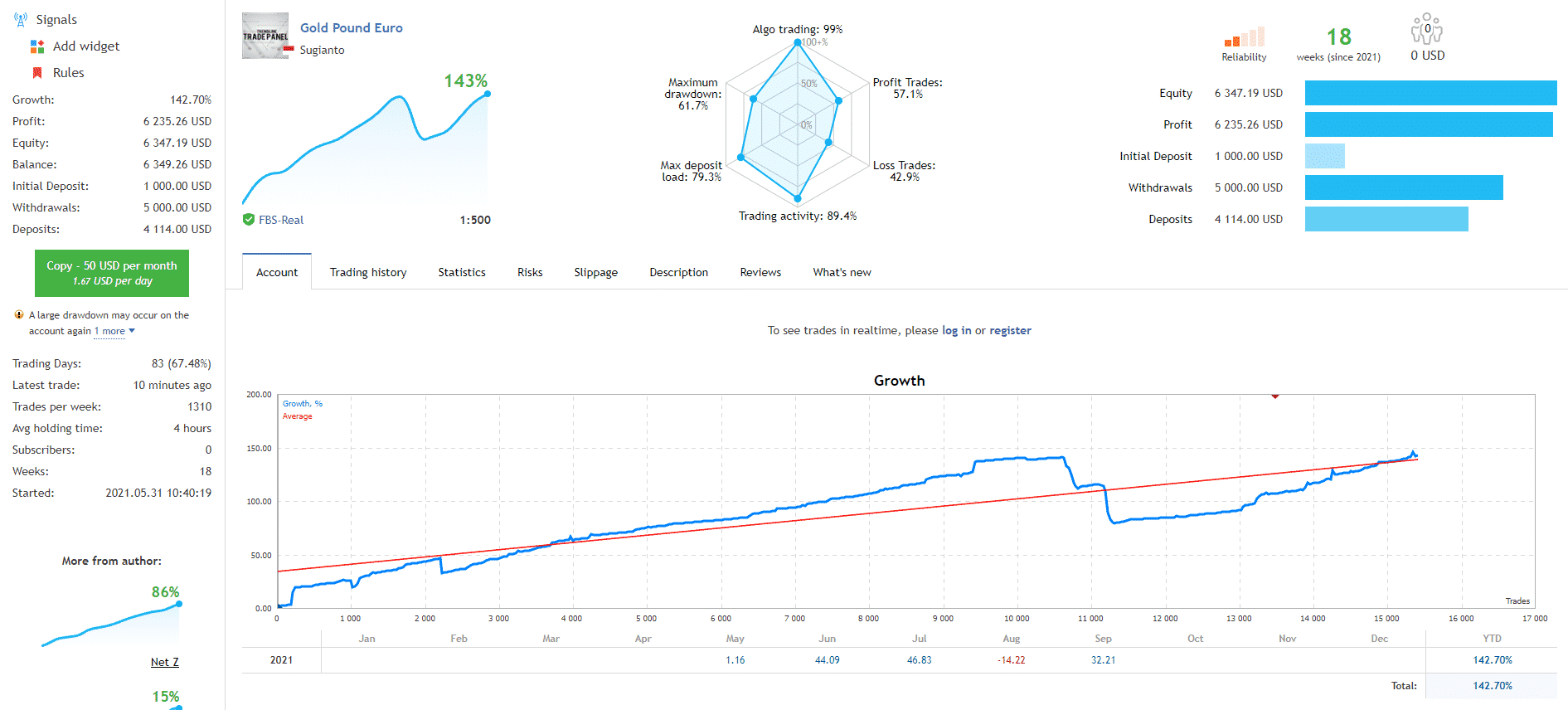 The vendor has not shared any verified trading results for this expert advisor. Before investing in an EA, Forex traders usually look for trading results verified by third-party websites like FXBlue, FXStat, and Myfxbook. Here we have the trading results published on the MQL5 website, but they cannot be considered authentic.
This account has a short trading history of 83 days, during which the robot has placed 15404 trades. The win rate of 57.17% is pretty low for a high-frequency trading system. Also, the maximum drawdown is 61.7%, which indicates a high-risk strategy that can result in heavy losses. At this moment, the total profit generated through this account is $6235.26.
Customer reviews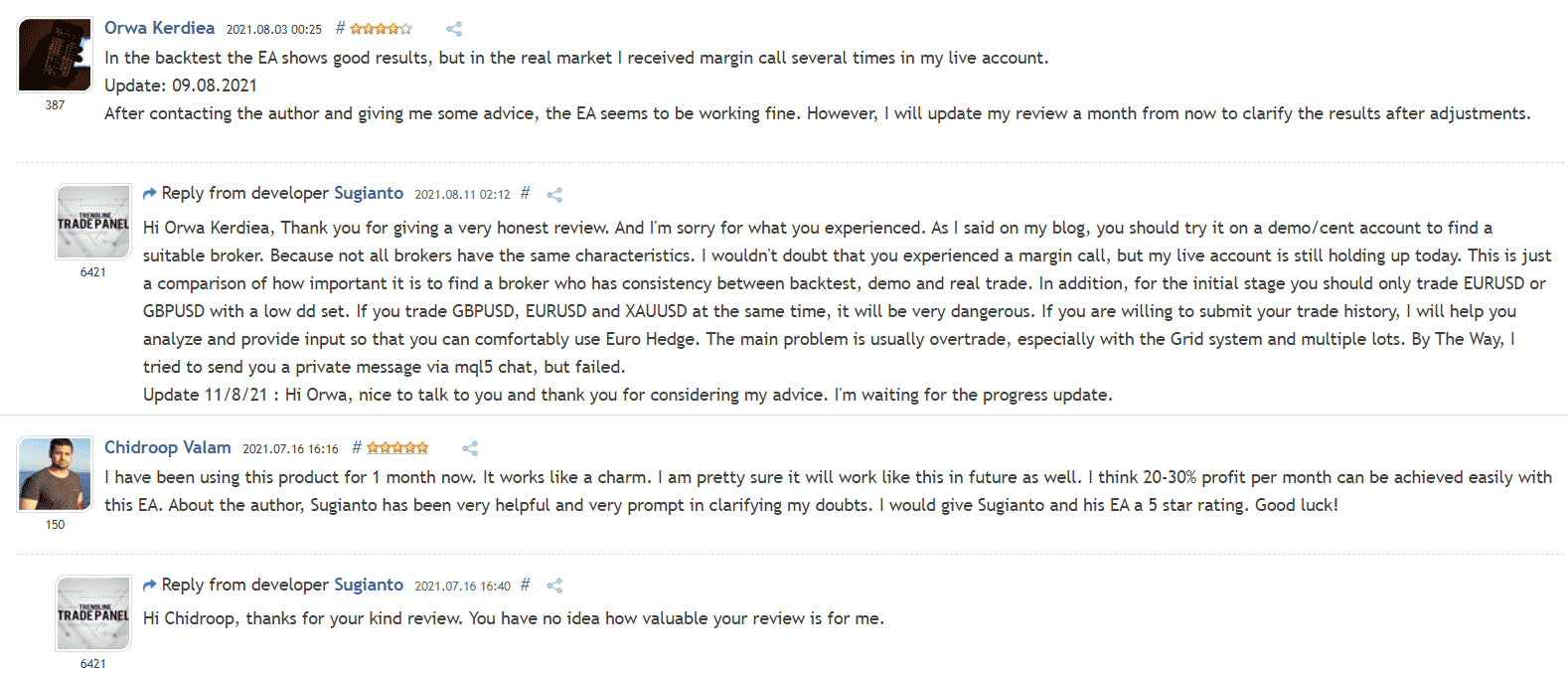 We were unable to find any user reviews for Euro Hedge on third-party websites like Myfxbook, Quora, Forexpeacearmy, or Trustpilot. There are a few user reviews on MQL5, but we cannot take them seriously for the purpose of the review.