Automic Trader is a Forex robot strictly designed for any person who wants to take back their life and freedom. The vendor promises that the EA will earn you 20-30% monthly profit on lower risk. With higher risk settings, you can get 50-100% profits on a monthly basis. Let's figure out in this review if the robot is this lucrative.
Automic Trader was developed by the LeapFX Team. The company was founded in 2018, and it specializes in creating trading systems and offering account management services. In all its presentations that involve Forex robots, the company never introduces the profiles of its team members. It is highly likely that the developers have no trading experience and are only interested in making money. So, they would care less if you lost your investment.
Automic Trader overview
The vendor describes the EA's features as follows:
Has an account protection feature
Trades 6 main currency pairs: AUDUSD, EURGBP, EURUSD, GBPJPY, USDCAD, and USDJPY
Fully automated
Beginner friendly
Detailed setup guide with recommendations
Full customer support
Free lifetime updates
Pricing
To acquire the one-year or lifetime membership for Automic Trader, you have to pay $497 or $697, respectively. The packs come with a software license, best recommendations, a $100 bonus guarantee, a 30-day money-back guarantee, etc.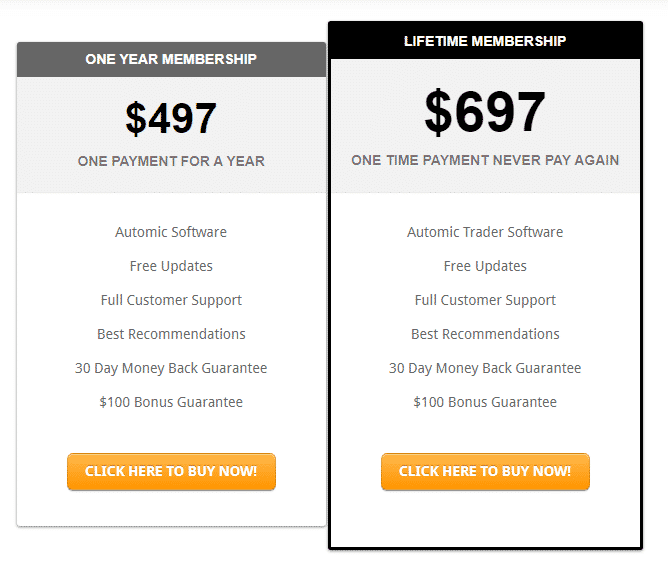 How it works
Automic Trader is an expertly coded computer program that handles trading for you. The next section highlights the algorithm it uses to conduct trading.
Trading strategy
Automic Trader spots the early start of trends on each of the pairs it trades with based on momentum and volatility. The trade is triggered automatically once the entry criteria satisfy the robot's algorithm. A dynamic auto adapting trade management system is then used to manage trades into profit all the way before exhaustion.
The devs fail to mention that the grid strategy is present for obvious reasons. The approach is dangerous and notorious for causing margin calls on trading accounts.
Trading results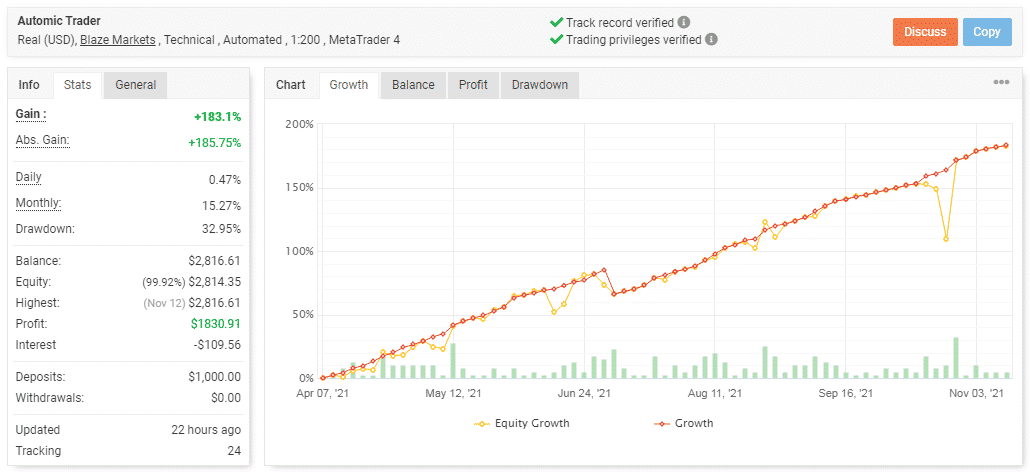 As you can see in the screenshot above, the EA has verified results on Myfxbook. The chart shows that the system has been making profits consistently since April 7, 2021. So, a deposit of $1000 has been turned into a profit of $1830.91, increasing the account's value by 183.1%. Even then, many risks are involved in trading, as reported by the high drawdown — 32.95%.

The robot has implemented 236 trades, with the average trade length being 2 days. Regrettably, a significant number of these orders aren't profitable if the average win (30.84 pips) and average loss (-42.14 pips) values are anything to go by. We have a profit factor of 2.58 and poor win rates of 78% and 75% for long and short positions, respectively.

According to this table, the system trades with medium risks. If it loses 65 orders in a row, then half of the account will be lost.

The EA places orders throughout the day.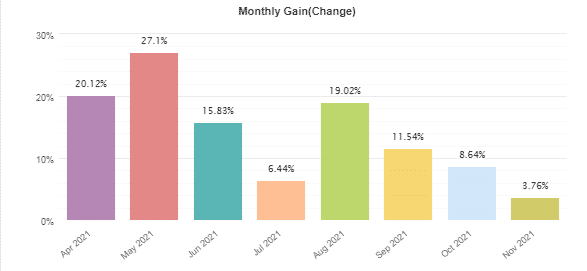 May was the most lucrative month, with a profit of 27.1%.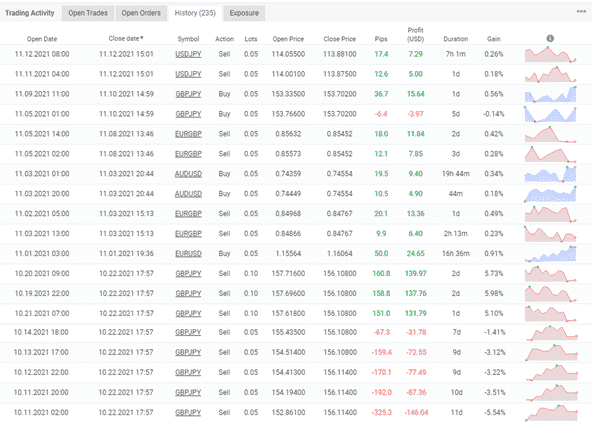 It is very clear that the EA works with grids of orders. The method has earned the account substantial profits. However, it seems that at some point, the market took a wrong turn causing the account to suffer a series of huge losses.
The devs state that they ran back tests and discovered that the performance was not different from live trading. They also note that the tests revealed slippage and execution speed do not affect the system's ability to spot and implement lucrative trades. The team does not furnish us with a detailed strategy tester report to prove these claims, though.
Customer reviews
There are no customer reviews for Automic Trader on reputable sites like Trustpilot and FPA. What we have, instead, are a few screenshots of testimonials on its official website. We cannot rely on them because they are biased and have not been verified by a third-party.