5 Pips a Day is an automated forex trading system that claims that traders can make a lot of money by winning 5 pips regularly with the help of the EA. Let us take a look at their website for an honest review.
The website of 5 Pips a Day is very amateurishly designed. There is no menu for navigating through the site. You have to scroll through the whole site to find what you are looking for and it is very inconvenient. There is no information about the developers on the website. Most of the site is full of useless content like too many unverified feedbacks from customers. We cannot trust such feedback which looks like a desperate try to make the EA better when they have nothing meaningful to share.
5 Pips a Day Offered plans
This EA is not subscription-based. You can purchase the robot for $99. It is a one-time purchase. After purchasing, it needs a setup and then it can be used. 
| | |
| --- | --- |
| Type | Automated Forex EA |
| Price | $99 |
| Strategy | Not Disclosed |
| Compatible Platforms | MT4 |
| Currency Pairs | EURUSD |
| Timeframe | Min1 |
| Recommended Min. Deposit | N/A |
| Recommended Deposit | N/A |
| Leverage | 1:500 |
Automated Trading Strategy
The developers have not provided any information about the trading strategy on the website. They claim a 96% win rate in backtesting but do not proceed to explain their strategy. You simply cannot spend your money on a robot when you do not even know how it works.
Strategy Backtests
Backtest results are a great way to know about the performance of an EA. 5 Pips a Day offers backtest results on its website but we are not sure if the results are reliable. 

5 Pips a Day Live Trading Performance
As always, we need to visit the Myfxbook account to view the trading results. However, we found something outrageous when we looked into it. There is a screenshot of the Myfxbook account on the website and it shows great results. According to this screenshot, the account started trading with $100000 in deposits and currently has $380324 in its balance. There have been no withdrawals, so, the profit is $280324. The gain and absolute gain is +280.32%. This screenshot also shows that the account has maintained equity of 95.43% which is very impressive. The only negative stat is drawdown which is 54.99%. This account is updated only seconds ago.
It looks like a great account, right? However, there is no link given to the account with this screenshot. So, we looked it up and found the account. Now, take a look at this chart.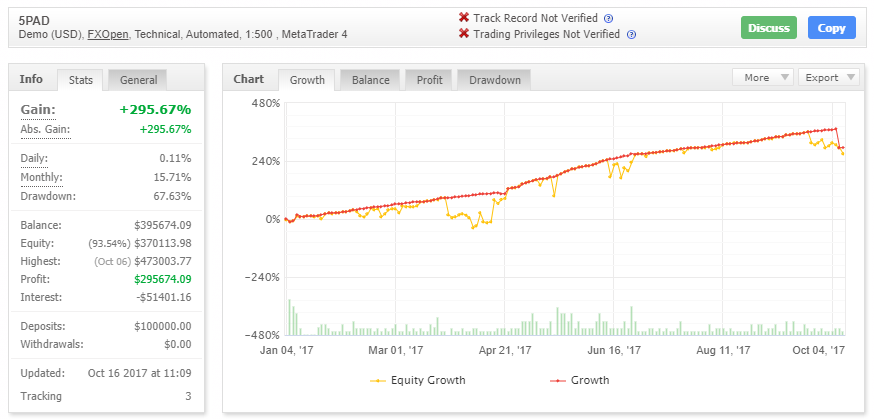 The deposits are the same as the screenshot. The gain, balance, profit, and equity are not very different either, as mentioned in the table below. However, take notice that the drawdown is even higher, at 67.63%. Moreover, the chart was updated on October 16, 2017. So, it is not wrong to say that they tried to fool people with a fake screenshot on the website. Also, the upper portion of the chart was cropped in that screenshot. Here, on the real chart, we can see that track records and trading privileges are not verified. So, this chart is not very reliable either. We would also like to point out that they are stating that they have 99% profitability, which is not at all trustworthy, judging all facts.
| | |
| --- | --- |
| Myfxbook Account | 5PAD (Demo USD) |
| Started | January 4, 2017 |
| Deposit | $100000 |
| Balance | $395674.09 |
| Gain | +295.67% |
| Daily | 0.11% |
| Monthly | 15.71% |
| Drawdown | 67.63% |
| Profitability | 99% |