Forex Gold Investor claims to be the preferred automated trading system for individuals who invest in precious metals. According to the vendor, this EA is well-suited to the market conditions in 2021 and it has generated more than 23838 profit in terms of pips in a verified live trading account. All of these claims need to be verified independently.
This robot has been developed by the FXAutoamter team. It's a Seychelles-based company that was founded in 2009 and has 15 years of trading experience. However, not much is known about their background and service history. Other EAs built by this company include Smart Scalper Pro, BF Scalper Pro, Grid Master Pro, Gold Scalper Pro, Omega Trend EA, News Scope EA Pro, and BF Smart Scalper EA. We have no information about the traders and developers working for FXautomater.
Choosing the best Forex EA requires some thorough research and analysis. You must consider important factors like live trading results, backtests, trading strategy, and customer reviews. Check out our list of best Forex robots list to know more.
Forex Gold Investor Overview
On the official website, the vendor has outlined the main features offered by the system. Next, we have a long list of live trading accounts on Myfxbook showing real-time results. The vendor has also provided some general information about gold trading and has shared the backtesting and pricing data. Compared to other services, this EA is not promising anything unique or special.
Pricing
Forex Gold Investor is available at the price of $187. By purchasing this, you get access to a single real-money account and multiple demo accounts. For this robot, the vendor offers a 60-day unconditional money-back guarantee. The price for this EA is pretty close to the market average.
How it Works
This EA is compatible with the MT4 trading platform. When you purchase the system, you get a quick-start guide that will help you set the software up within 5 minutes. There is a quick-response help desk on the website where you can get the answers to any question you might have.
The EA has integrated money-management and drawdown protection systems, although the effectiveness of the same can be determined only after further investigation. The dev also claims that the system has a broker spy module that prevents dishonest brokers from seeing your take profit and stop-loss levels.
Trading Strategy
On the official website, the vendor has mentioned that the EA uses a couple of proven strategies. However, we have no idea what these are, so there is no way we can form an idea about the robot's profitability by studying the technical details of the strategy. This robot has a high frequency of trading and follows the "buy on strong" and "buy on deep" approaches.
Trading Results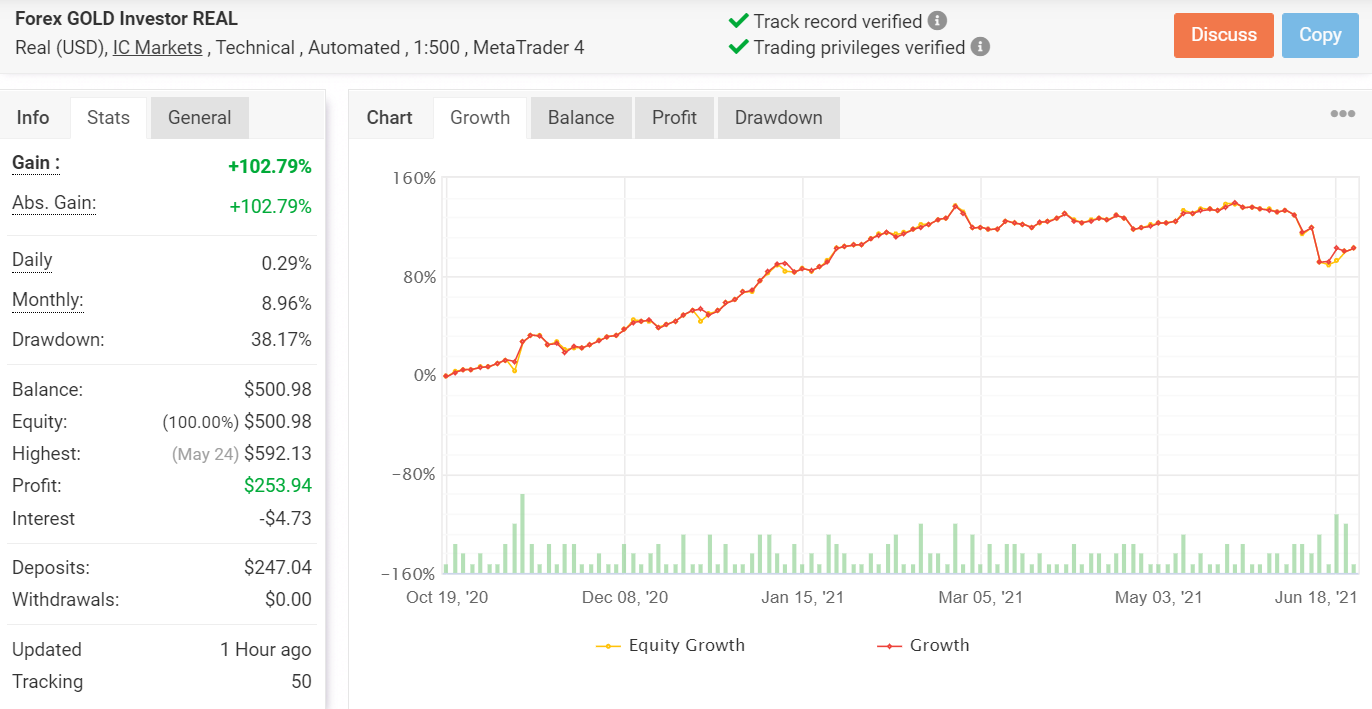 Here we have a live trading account for Forex Gold Investor on the Myfxbook website. A total of 197 trades have been placed through this account to date, out of which 140 have been won. This means the win rate for this account is 71%.
Currently, the daily and monthly gains are 0.29% and 8.96% respectively. A total profit of $253.94 has been generated after several months of trading, and this is not too impressive. We can also see that the drawdown is much too high at 38.17%. This indicates a high-risk trading approach.
Customer Reviews
There are no customer reviews for Forex Gold Investor on trusted websites like Trustpilot, Myfxbook, Forexpeacearmy, and Quora. This tells us that not many people are aware of this EA's existence or they simply don't trust it enough to use it for live trading.
Backtests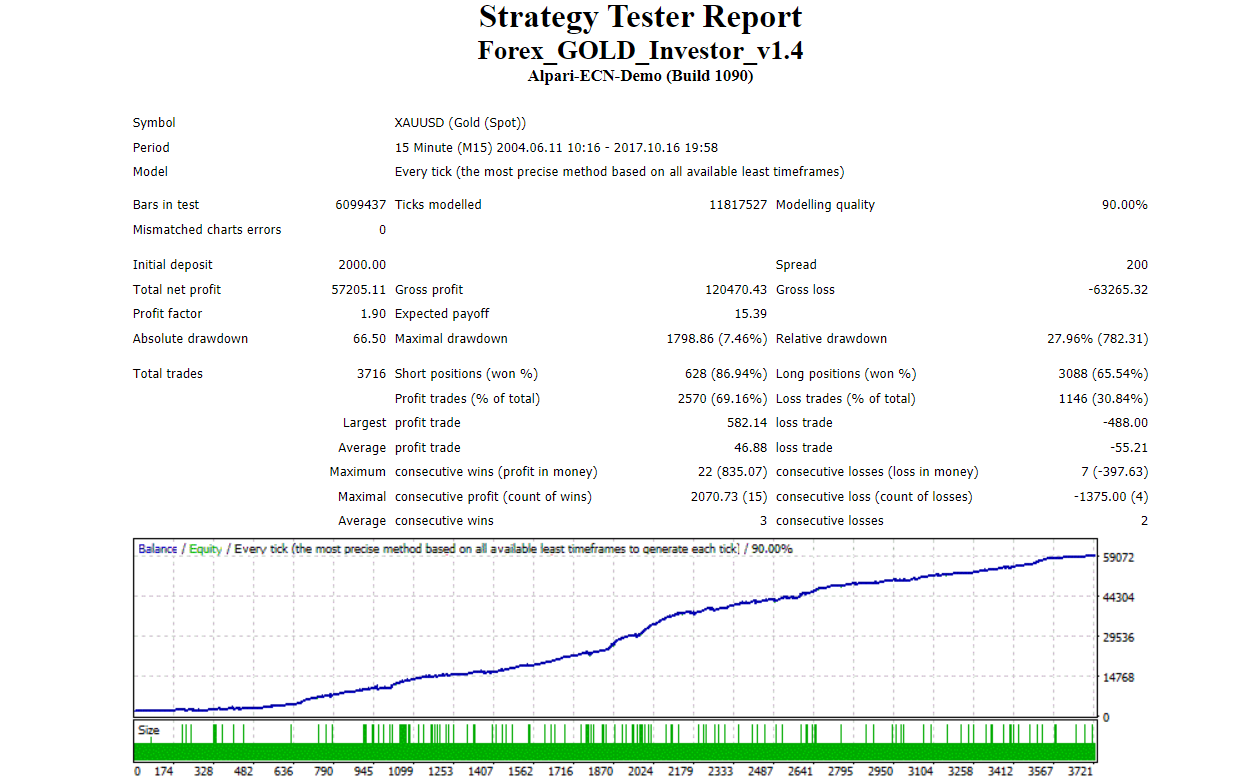 These are the results for a backtest conducted between 2004 and 2017 with 90% modeling quality. There were 3716 trades placed during this test, and the total profit generated was $57205.11. Here, the win rate is 69.16%, which is slightly lower compared to the live trading results. The high drawdown noticed in the live statistics can also be seen here, which reaffirms the fact that the robot uses a risky strategy.