Foreximba guarantees you success in trading. According to the devs, the EA has worked successfully on their accounts for years and shown stable and profitable outcomes. So, it will ensure that you have real money in your account. The identity of the devs has not been disclosed. In that regard, we don't know their qualifications, trading experience, history, contact info, parent company, etc.
Foreximba overview
The robot has the following features:
It requires a minimum deposit of $60 to begin trading.
It's simple to install and use.
The EA works on the AUDUSD and EURUSD currency pairs.
A 30-day money-back guarantee is available.
The system is compatible with all brokers.
A drawdown control system is present.
Pricing
A lifetime license for Foreximba costs $194.99. This price is rather reasonable when you compare it to the average price of trading systems in the market. A detailed manual guide, friendly customer support, a single lifetime license for a real account, and three lifetime licenses for demo accounts are included in the supply package.
How it works
Foreximba is essentially a system that takes over your trading decisions. It opens and closes trades signaled by statistical algorithms built by the vendor.
Trading strategy
The devs don't mention or describe the strategy the EA uses. The only available info is that the system is non-martingale and works with fixed lot sizes. We later noticed several grids of orders in the trading history of a live account the system is managing on Myfxbook.
Trading results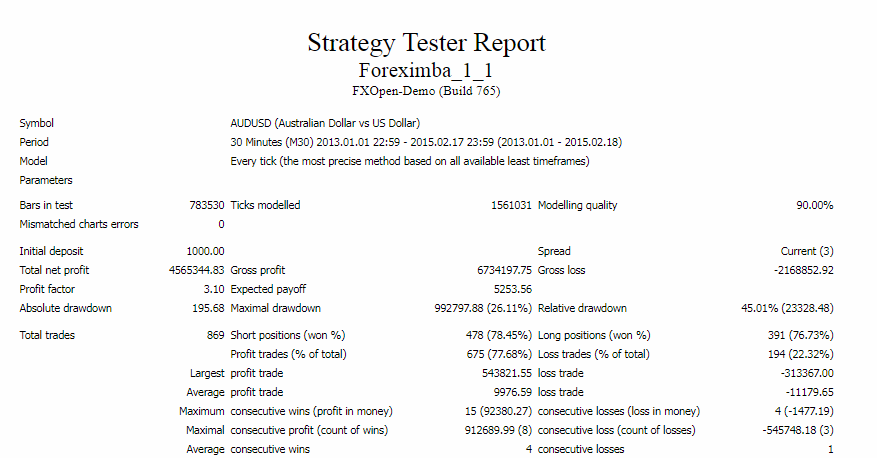 Using the M30 timeframe and a deposit of $1000, the system conducted 869 trades between January 2013 and February 2015. As a consequence, a large profit amount of $4565344.83 was attained. The profit factor was 3.10, whereas the win rates for short and long positions were 78.45% and 76.73%, respectively. There were 4 average consecutive wins and 1 consecutive loss. The relative drawdown was 45.01%, which suggests that the trading logic was dangerous.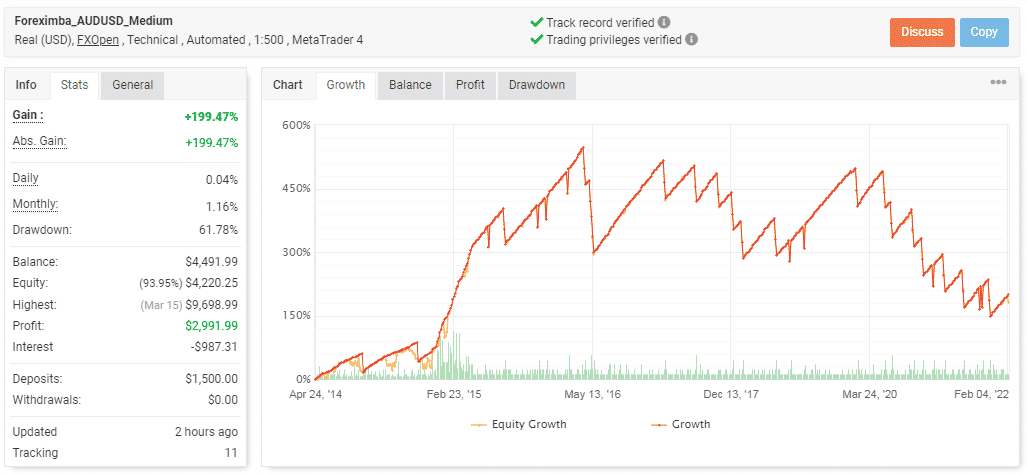 Foreximba has been managing a real account since April 2014. Averagely, it makes a profit of 0.04% daily and 1.16% monthly, and you may agree that these profitability rates are too low. Collectively, a total profit amount of $2991.99 has been made from a capital of $1500, increasing the balance to $4491.99. To date, the total gain made is 199.47%. The system's trading risks are quite high, given that it has a big drawdown — 61.78%.

The system has executed 921 trades with 2265.6 pips. The average loss is -64.03 pips when the average win is 28.20 pips. There's a significant difference between these two parameters, and this tells us that the EA is vulnerable to losses. A profit factor of 1.08 is reported, and so far, win rates for long (73%) and short positions (71%) aren't incredible. A trade is held for 3 days, on average.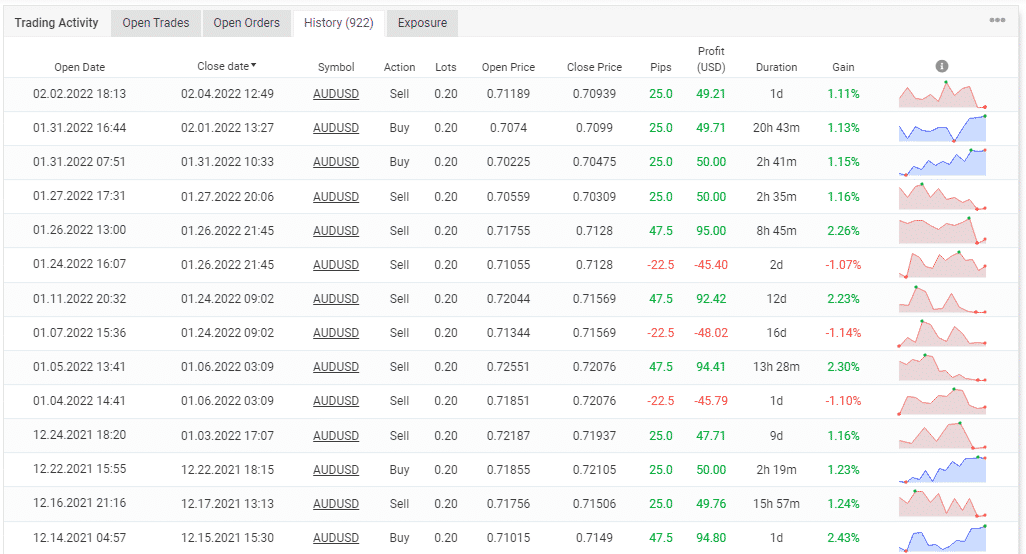 The data above proves that the system relies on the grid strategy to make profits, and in some cases, it holds profits for even 12 days. Substantial profits and losses have been made.

The account has a high chance of being burned.
Customer reviews
Foreximba does not have customer reviews as of now.