Powerhouse EA is a Forex expert advisor that is compatible with the Metatrader 5 trading platform. It is a combination of four other EAs developed by the same team, namely Gopher, Vigorous, Ranger, and The Comeback Kid. According to the developer, it is one of the most advanced automated trading systems available on the market today. They have also claimed that it lets you make a 5-8% monthly profit with a $5k starting deposit.
This is a product from Responsible Forex Trading, a company headed by Ryan Brown, an American trader. He has several years of experience in developing automated trading strategies. However, we don't know if he works alone or as a part of a team. We don't have a physical address for the headquarters and it is unclear when the company was founded.
Choosing the best Forex robot requires thorough research. You need to analyze the different aspects of the system like the features, price, trading strategy, trading results, customer reviews, etc. To know more, check out our best Forex robots list.
Powerhouse EA overview
On the official website, the developer has briefly explained how the system works. We have the link to a live trading account on Myfxbook along with a list of features and a video describing the working principle. They have also shared some screenshots of trade setups and the pricing details.
Since the system combines four different EAs, it can exit trades faster. As per the vendor's claims, this allows it to keep the drawdown at a bare minimum. The installation process is fairly simple and users get access to a detailed manual and an installation video. For the high-risk preset, you need to use 200:1 leverage and a deposit of $5k. The mid-risk preset requires a $10k deposit and 100:1 leverage, while the low-risk preset is compatible with 50:1 leverage and a $20k deposit.
Pricing
At $497, Powerhouse EA is not exactly cheap compared to the market average. The vendor has a 30-day money-back guarantee policy.
How it works
This robot is designed for passive investors. Apart from running four robots simultaneously, it also cross-pairs take profit. This way, it allows each strategy to play an active role. It is compatible with 13 trading pairs including AUD/CAD, AUD/USD, EUR/USD, GBP/CAD, GBP/USD, USD/CAD, USD/CHF, and USD/JPY. Powerhouse EA uses smart filters to keep all four strategies working together. The settings are quite flexible and you can trade with low, medium, or high risk. You also have the option to customize the protective stop-losses.
Trading strategy
Unfortunately, the developer has not clearly explained the trading strategy behind this expert advisor.
Trading results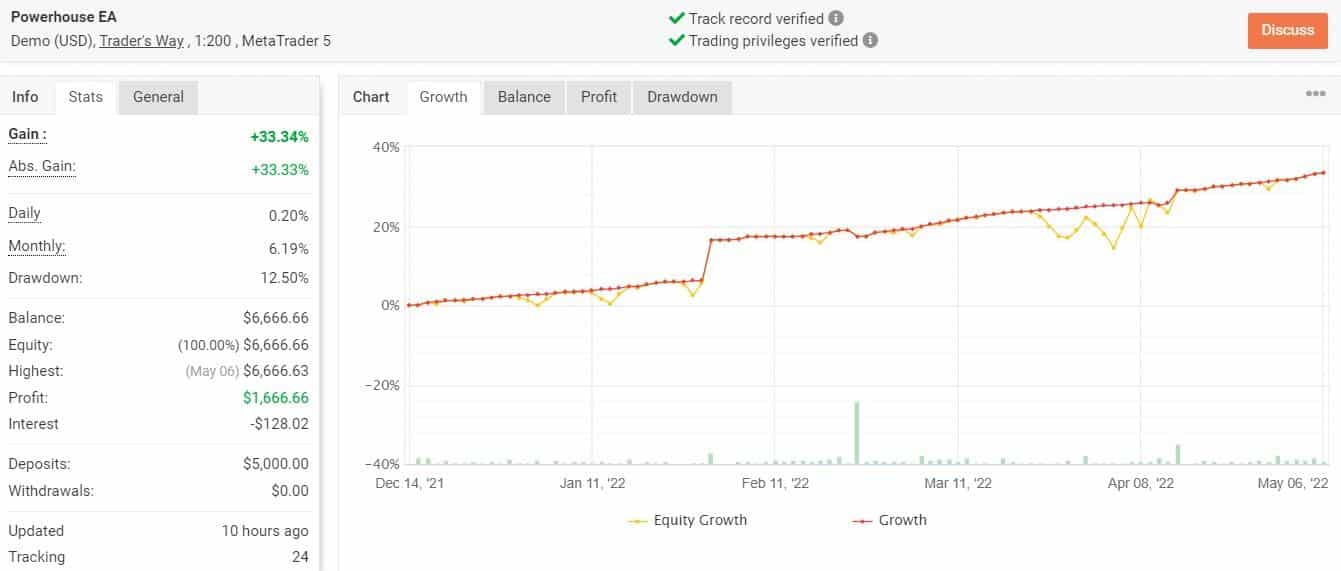 This live trading account on Myfxbook has been active since December 14, 2021. To date, the EA has conducted as many as 2157 trades through this account. This tells us that it follows a high-frequency trading strategy. The win rate is not that high at 59%, although the daily and monthly gains are decent at 0.20% and 6.19%, respectively. Because of the short trading history, it is difficult to accurately assess the profitability.
This account currently has a profit factor of 1.95, which can be considered above average. The drawdown of 12.50% is not too high and is suitable for trading. Currently, the total profit generated through the account stands at $1,666.66. It has a time-weighted return of 33.34%.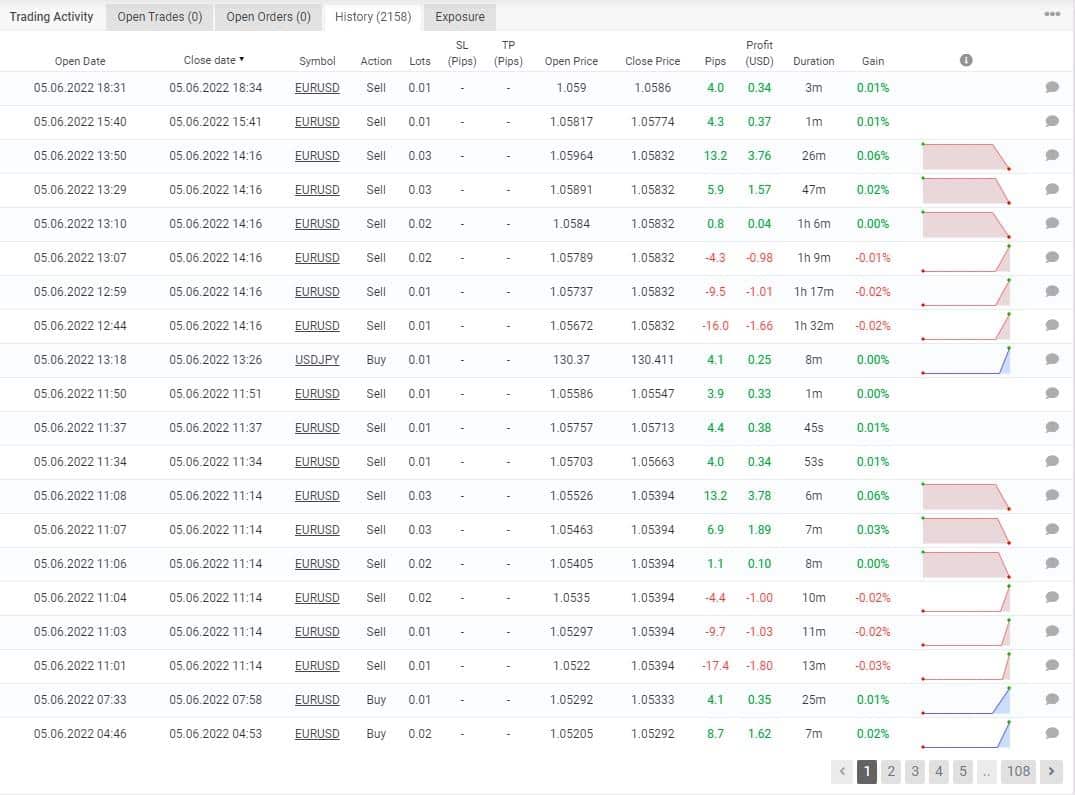 Here you can see the recent trades placed through this account. Evidently, the EA conducts a large number of trades on a daily basis, generating small profits from each. For the last 20 trades, it has used a lot size of 0.01-0.03. The average win and loss are 8.84 pips/$2.66 and -9.09 pips/-$2.00, respectively.
Customer reviews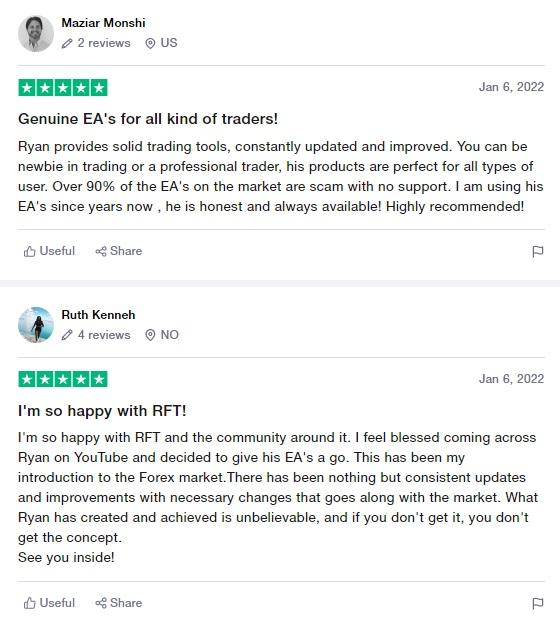 There are no reviews for this EA, but Responsible Forex Trading has a rating of 4.6 out of 5 based on 23 reviews on Trustpilot. Here, users have praised the performance of the EAs.
Backtests
On the official website, you can find the backtesting results for the component EAs. However, we don't have the consolidated results for this expert advisor.