Silent Master is an expert advisor that focuses on making profits during low market volatility. The developer assures us that the system does not utilize grid, martingale, or arbitrage strategies. Furthermore, it always protects positions by a stop loss and DD parameters.
This EA is the creation of an individual known as Evgeniy Machok. He lives in Russia, and so far, he has created 14 other trading systems. Examples include Elemental EA, South Night, SZ Scalper, Turn Indi, MIB Pro, etc. Machok is said to have 8+ years of trading experience.
Silent Master features
The EA has different features:
The minimum deposit needed to begin trading is $100.
Can work with any broker with small spreads and fast order execution.
Is a "set and forget" system and hence doesn't require user participation.
Trading on the EURUSD pair is recommended.
Works on the M5 timeframe.
The trading terminal is MetaTrader 4 or MetaTrader 5.
Pricing
A lifetime license for Silence Master currently costs $249. The devs offer a free Demo account to test the EA before purchase. A money-back guarantee is not included.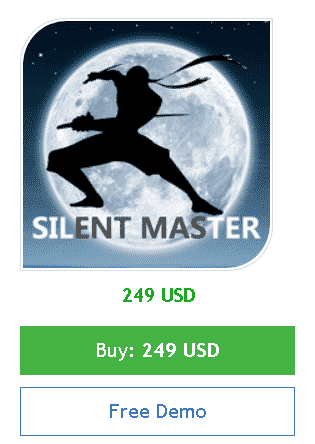 How it works
Silent Master is a Forex robot. This means that it handles trades for you automatically. All you have to do is to attach it to your account and follow the recommendations. Once activated, it can begin trading. We have described how the system looks for trades in the next section.
Trading strategy
This robot is designed to trade at night, a time when market volatility is low. The EA includes machine learning elements, which enables it to take into account the current market situation. Unfortunately, the vendor is not entirely honest about how this robot works. This is because he fails to indicate that the grid strategy is on the board. Some traders may not be willing to work with this approach, knowing how dangerous it is.
Trading results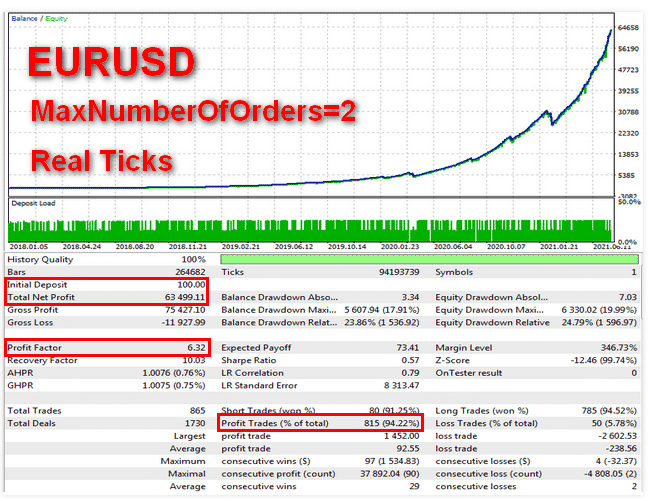 This backtest was conducted from 2018 to 2021 using the EURUSD currency pair. The EA used a deposit of $100 to conduct 865 trades. In the end, a total net profit of $63,499.11 was made after 94.22% of the trades were successful. The profit factor (6.32) was impressive, a sign that the EA's strategy succeeded in identifying profitable trades.
A drawdown of 23.86% was recorded, which means that medium-risks were involved during trading. The average profit trade was $92.55. The average loss trade (-$238.56) was much higher. Apparently, the robot had a higher likelihood of losing trades than winning them.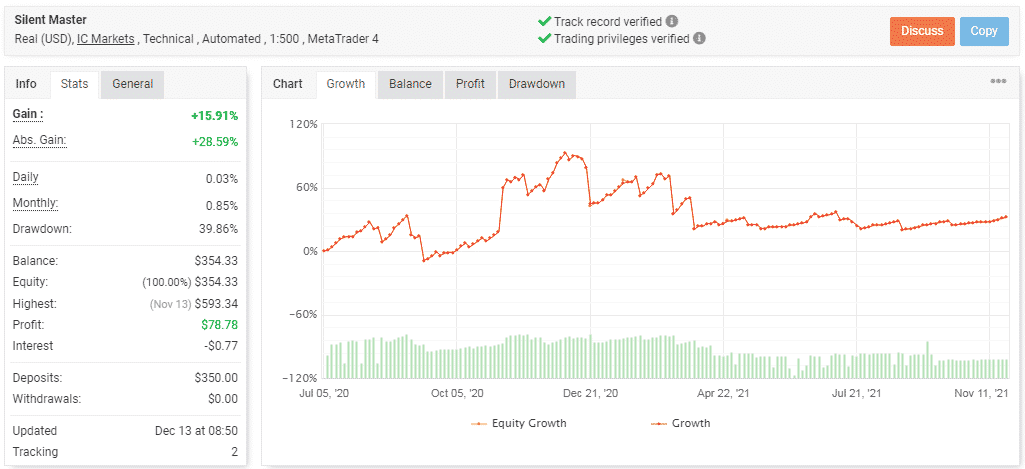 The robot's trading risks are much higher in the live market. As you can see, almost 40% of the capital is gone since the EA began running this account in July 2020. The profitability rate is also low. On average, a 0.85% profit is generated monthly. So, a paltry $78.78 profit has been made from a deposit of $350. Consequently, the account's value has increased by 15.91%.

The EA has already conducted 328 trades with an average trade length of 1 hour and 3 minutes. It is impressive that all the short positions have been successful. However, the performance of the long positions (79%) isn't that good. We are afraid that the account will struggle to make substantial strides with an average profit factor of 1.08.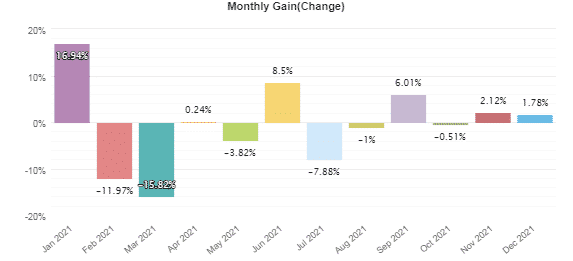 The EA started off the year well by generating remarkable profits (16.94%). Unfortunately, the 4 months that followed saw the robot perform very poorly. The only other time that the account has recorded substantial returns was in June and September.

This account is on its way to becoming worthless.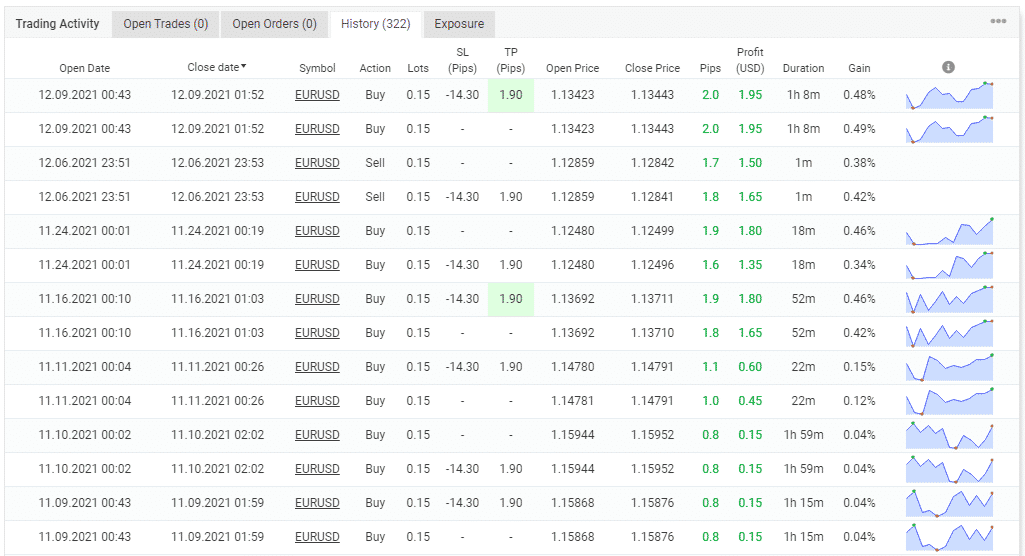 It is true that this EA trades during the night. You can also see how small the profits are. Large lot sizes and a grid of orders are applied during trading.

The system is particularly very active between Tuesday and Thursday. It tends to place lesser buy/sell orders on Monday and Friday.
Customer reviews
This robot has been reviewed by one customer. The client claims he backtested the EA for a year. According to him, the live results for the EURUSD and AUDUSD pairs match with the backtest data, and the robot has earned him profits so far.