BF Scalper Pro is a Forex EA from the FXautomater team that is an improved version of the free robot known as BF Scalper EA. This version was released with some advanced features to enhance the system's performance. It promises to enhance trading efficiency and reduce the drawdown while adapting to market volatility by taking an algorithmic approach.
The FXautomater team consists of expert traders having more than 15 years of experience in the Forex market and a decade's worth of experience in building automated trading robots. FXautomater's goal is to develop Forex trading strategies after carrying out research and testing, for the benefit of Forex traders. This company has developed several other Forex EAs and indicators in the past.
It is not an easy task to choose a trustworthy Forex EA, especially when the market is riddled with scam service providers who only seek your money. Assessing a system's profitability requires a detailed inspection of the features, the pricing details, trading strategy, trading results, customer reviews, etc. To know more, you can check out our best Forex robots list.
BF Scalper Pro Overview
On the official website of BF Scalper Pro, we have the main features outlined, along with the best recommendations and instructions on how to use the grid system of the Forex EA. The vendor has also provided us with the set files for the BF Scalper Pro grid system. A detailed explanation of the different system settings parameters has been provided for the user's convenience.
The presentation is extremely detailed, and the vendor has clearly explained how the system functions, apart from providing the live trading results and backtesting data. Very few Forex EAs have such detailed presentations on their websites, and we must say that we are impressed.
Pricing
BF Scalper is available for $137 and by purchasing it, you get access to a real account and three demo accounts. You also get dedicated support on a 24/7 basis from a Forex expert when you buy this product. The vendor also provides a 60-day money-back guarantee for this Forex robot, which means you will receive a full refund if the performance is unsatisfactory.
How it Works
BF Scalper Pro trades in the M15 timeframe and deals in pairs like USD/JPY, USD/CHF, USD/CAD, GBP/CAD, EUR/CAD, EUR/AUD, EUR/CHF, EUR/USD, and GBP/USD. This Forex EA has set files available for each pair, and the user should load them into the settings. The user is further advised to set the daily trading hours according to the GMT Offset of the broker. It is recommended that the user trades with an ECN broker with tight spreads and price quotes of 4 or 5 digits.
Trading Strategy
BF Scalper Pro uses the Average True Range (ATR) indicator to calculate the stop loss for each trade, so losses are kept to a minimum. The user also has the option of enabling the Grid system where there is a specific distance between each trade. You can use the Grid system independently or in combination with the Martingale risk policy where each subsequent trade carries a higher risk compared to the one that precedes it. This results in the trades being closed quickly.
Trading Results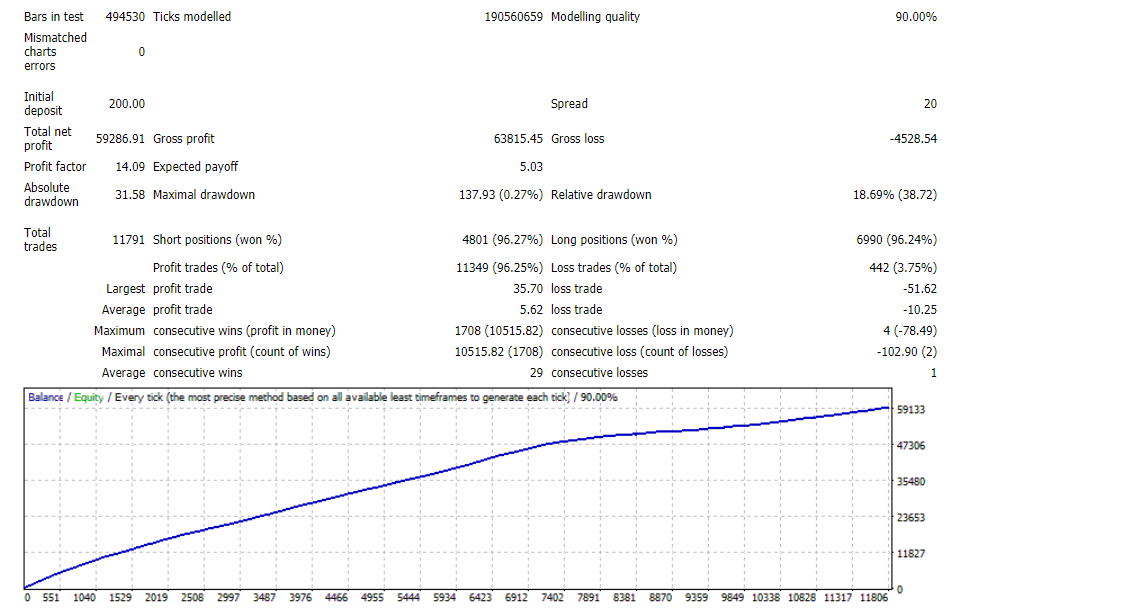 This is a backtest conducted on BF Scalper Pro for the EUR/CHF pair with a modeling quality of 90%. Here, a total net profit of $59286.91 was generated from an initial deposit of $200. 96.25% of all trades were won during this backtest, with 29 average consecutive wins. We can see that the system had a low relative drawdown of 18.69% during this backtest. Both the live trading results and the backtest suggest that BF Scalper Pro is a profitable Forex EA.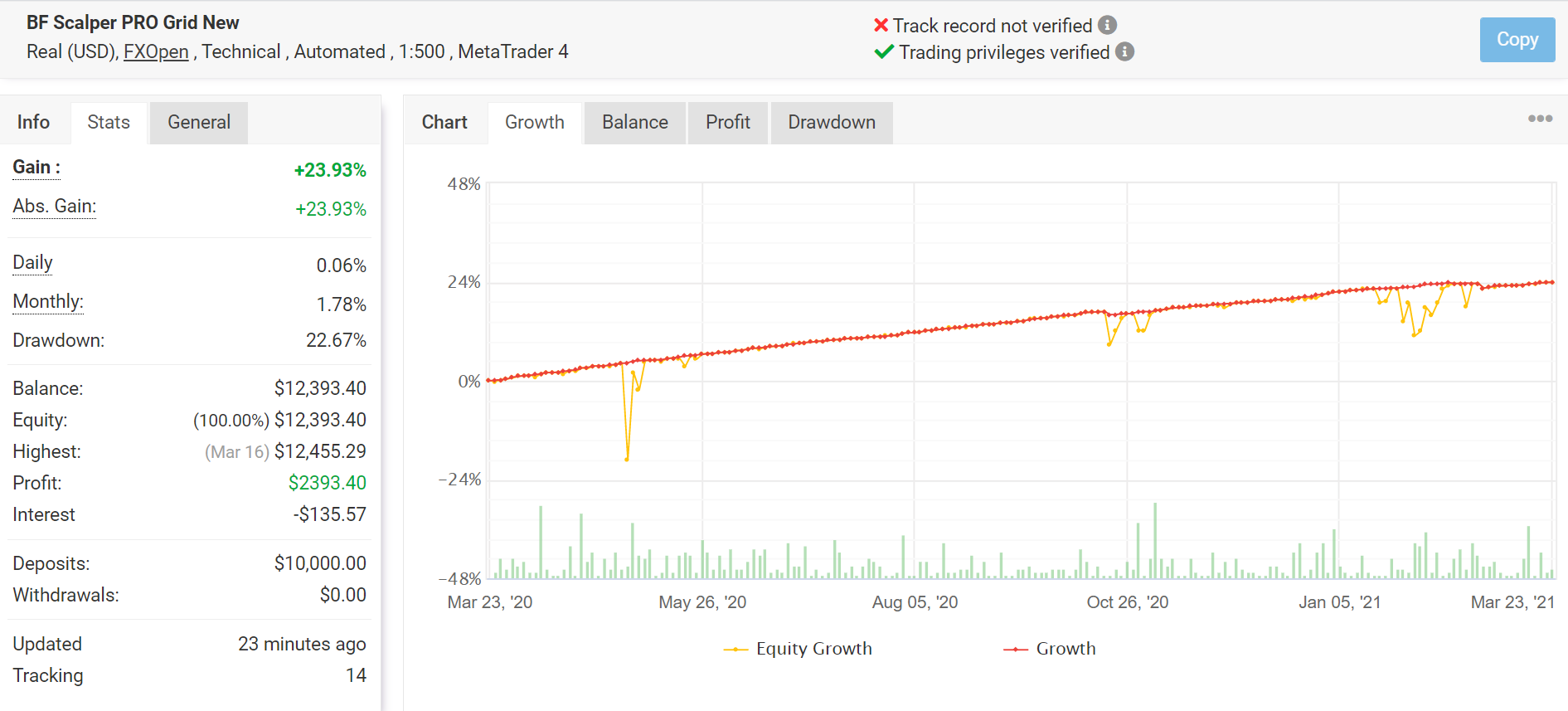 BF Scalper Pro provides us with live trading results verified by Myfxbook. This particular account was launched on March 23rd, 2020, and to date, it conducted 703 trades. It has a high win rate of 69%, having won 72% of long trades and 66% of short trades, with an average win of 9.73 pips/$11.57. Currently, the daily and monthly gains are 0.06% and 1.78% respectively.
Taking a look at the trading history, we can see that the system earns small profits from each trade, and when a loss occurs, it is never too heavy. That is why it has a low drawdown of 22.67% and a decent profit factor of 1.74.
Customer Reviews
There are no customer reviews on the web for BF Scalper Pro. The lack of reviews from real users may serve as a deterrent for potential investors.