Big Poppa EA is a Forex expert advisor that was launched in 2021. It promises a monthly return of 30%-50%. According to the vendor, the number of licenses sold for this robot exceeds 300.
This is a product from the BenderFX team that is known for developing systems like BenderV2, BenderV4, and Shizuka EA. The team consists of 3 young traders using data analytics, machine learning, and genetic algorithms to build Forex EAs. Although the vendor claims that the team has more than 5 years of trading experience, we have no way to verify this. We know nothing about the company's history or where it is located.
Before purchasing a Forex EA, we must conduct careful research. There are a lot of scam systems available on the market, so we must filter them out. This means we need to analyze the live performance, trading strategy, features, pricing plans, and customer reviews. To know more, check out our best Forex robots list.
Big Poppa EA overview
On the official website, the vendor has concisely presented information. They have mostly focused on the trading strategy used by this EA. There is a screenshot of a live trading account showing the robot's performance, however, it seems to have been taken quite some time ago, and the performance has deteriorated significantly since then. Compared to other services, Big Poppa doesn't have any unique features that will give you an edge over your competitors.
The minimum balance required for this EA is $500. You can run it on H1 and M15 charts. It is suitable for a market where the volatility is relatively low.
Pricing
Big Poppa EA is available for the price of $149. This provides you with a single lifetime license for the expert advisor. Additionally, you get a user guide and more than 10 set files. You can complete the payment via Crypto, Skrill, and Paypal. There is no mention of a money-back guarantee, which means the vendor is not prepared to stand behind their promises.
How it works
Big Poppa uses money management techniques like equity stop, hedging, and trailing stop. The vendor provides multiple set files for this product that were obtained using a genetic algorithm technique. You also have the option to boost backtesting performance to find your own set files.
Trading strategy
Big Poppa EA uses Fibonacci retracements and price action strategies for trading the Forex market. It captures the retracements and analyzes their extensibility by merging probabilistic zones and Fibonacci Golden Zones. For price action, it does not entirely rely on the crossover. It further validates that the crossover has a winning chance that exceeds 75%. Along with these strategies, the EA also uses a martingale technique, which most experts consider risky. Martingale techniques can drain your account balance overnight so it is better to avoid them.
Trading results
It is quite odd that the vendor has not shared the backtesting results of this expert advisor. It is important for every EA vendor to test their automated strategies using historical data to check their robustness.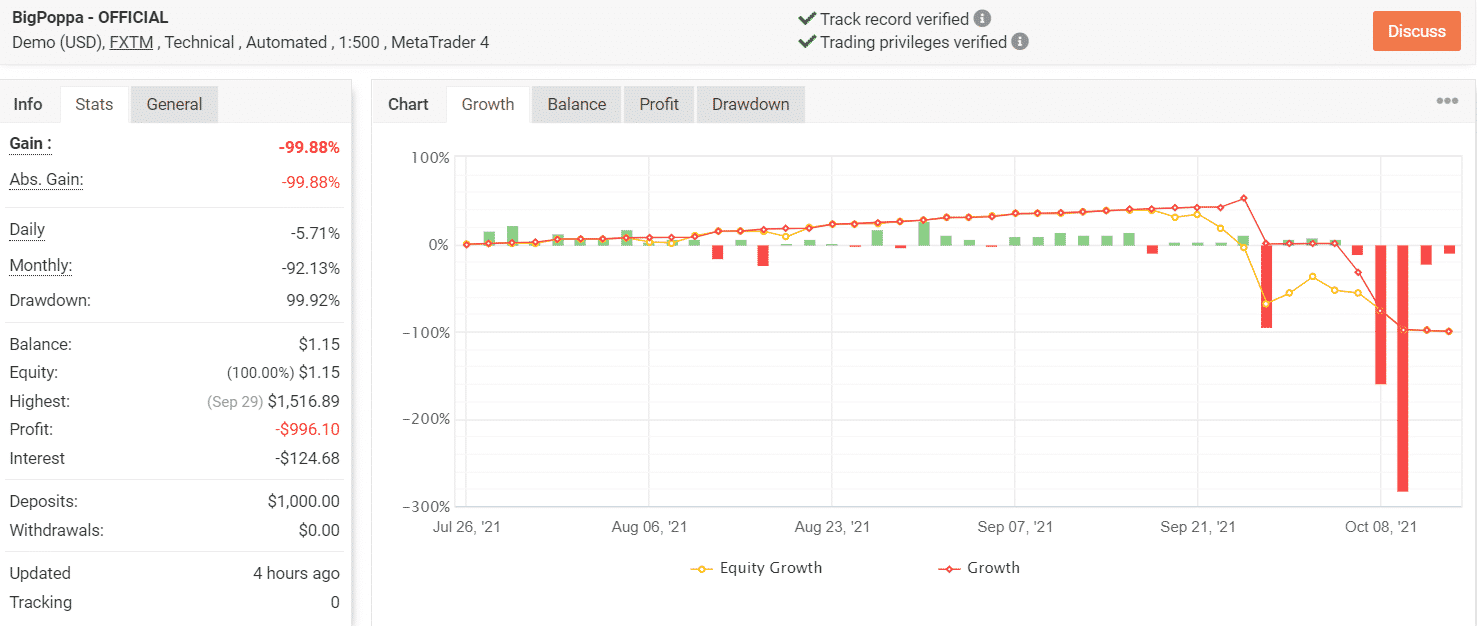 Since July 26, 2021, Big Poppa EA has conducted 180 trades through this account. The win rate of this ERA was 63%, but it cannot tell the entire story. The time-weighted return for this account stood at -99.88%, the total profit was -$996.10. Thus, it is clear that the EA lost more than won. It had an extremely high drawdown of 99.92%, which ruined this trading account.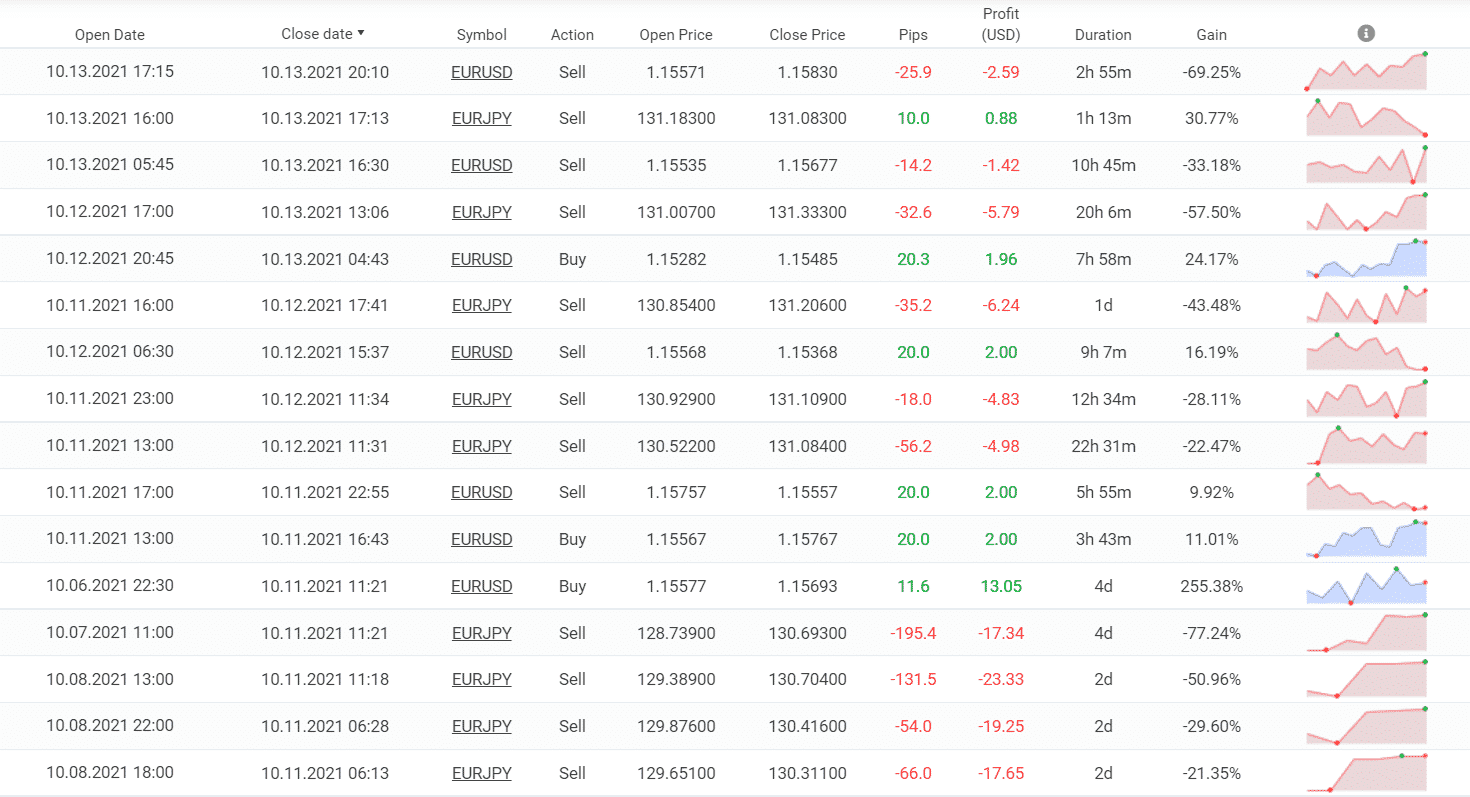 By analyzing the trading history, we can confirm our suspicions. Big Poppa EA clearly carries a high risk of ruin. As you can see, it has suffered some large losses in recent times. It comes as no surprise that the account owner hasn't placed any trades since 13th October 2021.
Customer reviews
Unfortunately, there are no customer reviews to analyze for this Forex EA. We could not find any authentic reviews for this robot on third-party websites, and this indicates a lack of reputation.