CryptoHero is a crypto bot that was designed to execute orders on the market automatically. It is introduced as a highly-rated crypto bot. So, with it, it would be impossible to miss trading opportunities. The system can be managed from anywhere.
What is CryptoHero?
The system works with a trend strategy in both directions to open and close orders. We have systemized the most important information in the table:
| | |
| --- | --- |
| Price: | $13.99/$29.99 monthly |
| Payment Options: | PayPal/Credit or Debit Card/Crypto |
| Supported Exchanges : | Binance, Tokocrypto, Huobi, OKEX, Coinbase Pro, Bittrex, Kraken, Gateio, Bitfinex, FTX, KuCoin, Binance US |
| Cloud Based: | Yes |
| Strategies: | Trend trading/4 indicators |
Is it easy to use CryptoHero?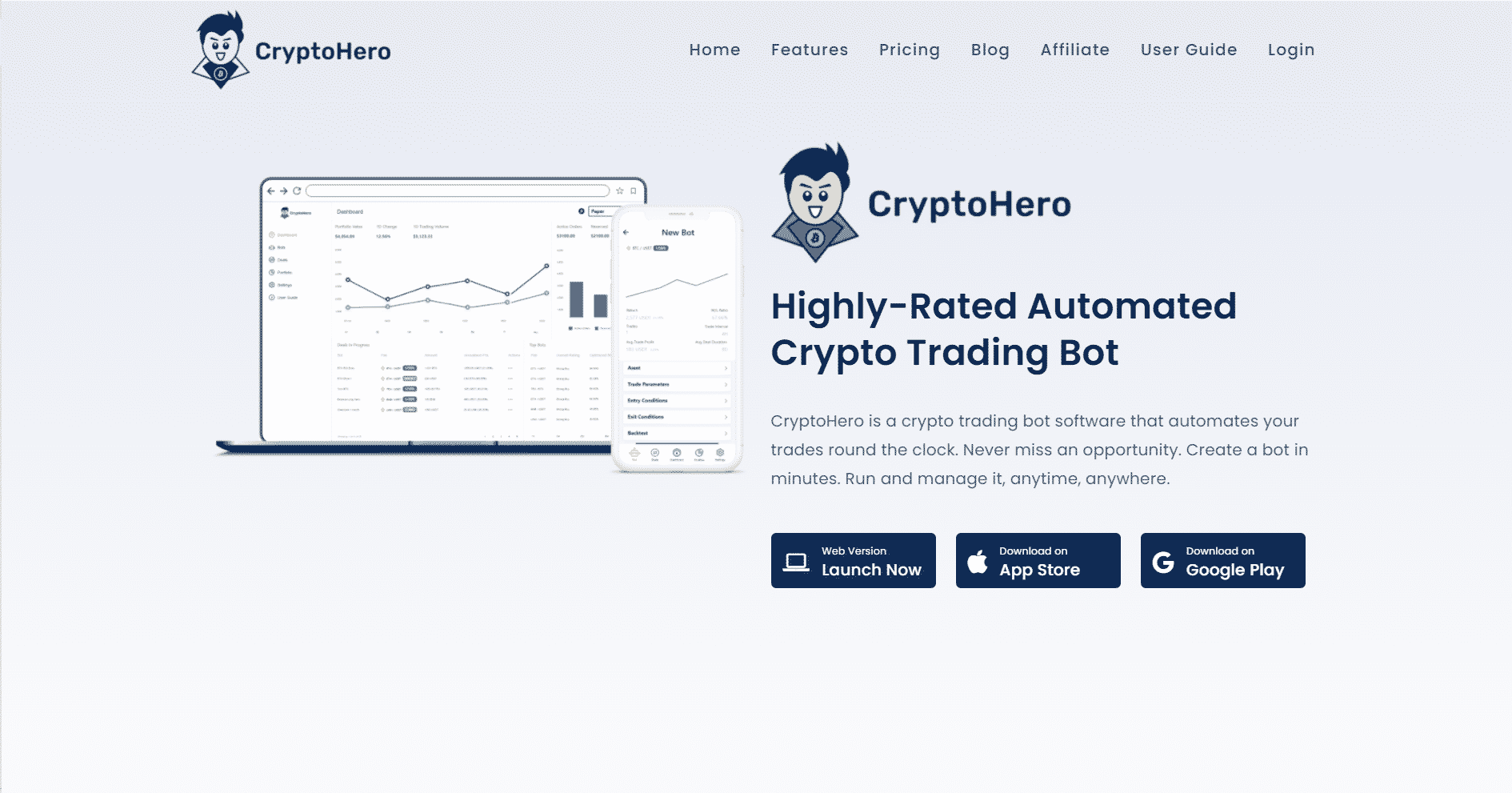 The system is not easy to use. It requires us to have at least general knowledge about trading to customize it properly.
Features of CryptoHero
Cloud solution
It can work 24/7 running the markets.
The robot works as a cloud solution. So, no installation on a PC is needed.
The system is connected to the market with API keys.
We can work with it through Web, iOS, and Android.
The system supports trading on Binance, Tokocrypto, Huobi, OKEX, Coinbase Pro, Bittrex, Kraken, Gateio, Bitfinex, FTX, KuCoin, Binance US, and others.
Automatic trading
The bot works fully automatically.
We can do just general supervision of it.
It works with a trend strategy in both directions.
It uses the following technical indicators such as Bollinger Bands, Exponential Moving Average, Relative Strength Index, Stochastic RSI.
Developers
The system is a part of the Novum group portfolio.
The founder of CryptoHero is Mr. Christopher Low.
He has proper experience of managing companies and processes.
Money-management
Thr advisor can provide us with a possibility to backtest the system before starting using it.
It will simulate trading on Binance.
If we need other exchanges to work, we can request them to be added.
We are allowed to customize SL and TP levels.
Trading features
It works with various crypto pairs.
It can work with a small crypto portfolio well.
Extras
The robot can be used for free, if we want to work with basic functionality.
There's a Premium pack to remove scaling restrictions.
The system doesn't require us to have coding skills.
We can get the system ready to go within several minutes.
The robot can be obtained for free.
Strengths and weaknesses of CryptoHero
| | |
| --- | --- |
| Strengths | Weaknesses  |
| A strategy indicators were explained | No team revealed |
| The robot can be papertested | No risk advice given |
| There's a free package available | No backtest reports provided |
| | No trading results shown |
| | No people testimonials provided |
Is CryptoHero good?
We can't claim this for sure. If the developers provide us with trading results it would convince us.
Is CryptoHero safe?
The advisor works through API. So, the system doesn't have access to our funds. At the same time, this doesn't guarantee stable performance.
Customer support
The developer provides average support via email.
Reputation
The company is officially registered in Novum Global Ventures Pte Ltd and has an address at 80 Raffles Place, UOB Plaza, #33-00, Singapore 048624.
The firm is represented in Switzerland, Vietnam and USA.
We can participate in a four-tier referral program.
Bottom line
CryptoHero can be both: good advisor and bad advisor. The presentation informs us about the strategy, indicators, and some details in general but lacks intel about backtests and trading results. So, the owners forced us to make a blind decision without understanding the whole picture of how the system performs on the markets.